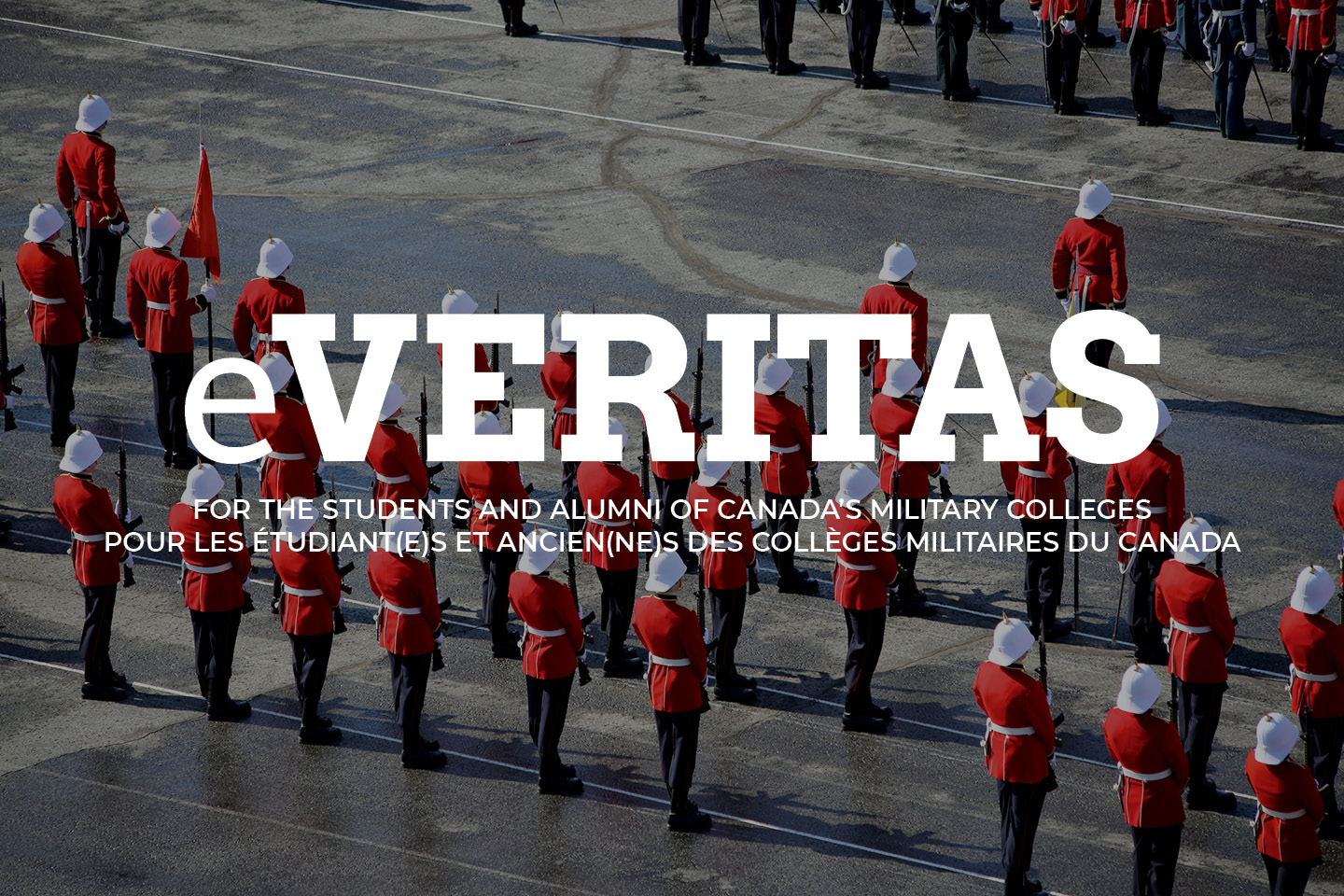 COPPER SUNDAY BAPTISM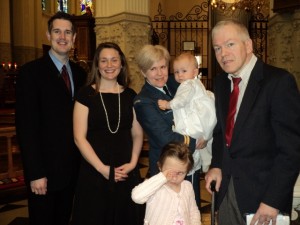 During the Copper Sunday services at St. George's Cathedral on 6 May 2012, and in the presence of the RMC Colours and the Commandant, a new member of the RMC family, James Frederick Klymchuk Carpenter was baptised. The baptism was officiated by the Very Reverend Mary Irwin-Gibson, Dean.
Freddy is the son of Lt(N) Ret'd James Klymchuk and Captain Gillian Carpenter, Staff Officer Careers at RMC, and is named in memory of his maternal grandfather 2368 Air Vice Marshal Frederick "Flat Top" Carpenter AFC, CD RMC Class of 1937.
Freddy is the nephew of 5721 Colonel (Ret'd) Frederic Carpenter RMC Class of 1963, and 9044 Commander (Ret'd) David Carpenter CMR Class of 1972, and the cousin of 23736 Captain Adrian Carpenter RMC Class of 2007.
Freddy will continue his affiliation with St George's Cathedral as he attends Copper Sunday services as a member of the RMC Class of 2033.
MORE CLASS NOTES: – '52; '63; '68; '70; '76; '84; ' 85; '86; '89; '90; '93; '94; & '02
3741 Jacques "Ernie" Boucher, '52 forcibly retired in 1995 due to lower back accident; relearned to walk after six  months in rehab following three discs removed. In 1997 he claimed his USA citizenship; during 2008, he had a heart attack & two angioplasties. He has two sons, five-kids in Canada & USA and travels a lot to see them. Ernie has learned to do PC repairs and is loving it, helping local seniors with the intricacies. "Planning to attend our 60th in September, where I will turn 79. Life is good!"
5786 The Royal Canadian Regiment's (The RCR) Colonel of the Regiment (CoTR), Col (Ret'd) William Joseph 'Joe' Aitchison, '63, recently visited members of the Canadian Contribution Training Mission – Afghanistan (CCTM-A). For the entire article & photos on the visit go here.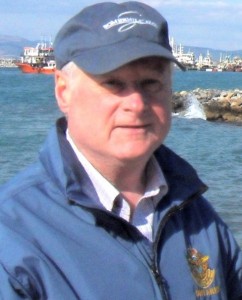 7743 Jim Gale '68 now resides on the shores of Lake Huron in the village of Inverhuron (near Kincardine) where he moved following his retirement from the CF as a Lieutenant Colonel in the year 2000. In 2002 he became a volunteer Director with the Air Cadet League of Canada and now happily devotes a good deal of his time and effort to supporting Air Cadet League activities, both provincially and nationally. He currently serves as a member of the Board of Governors of the Air Cadet League's Ontario Provincial Committee and also holds an executive position on the OPC's Squadron Operations Council. For the past four years Jim has also served as a volunteer with the Ontario branch of the Royal Canadian Humane Association which annually presents bravery awards to Canadians who have committed significant acts of heroism. In recognition of his volunteer work, Jim has recently been named to receive the Queen's Jubilee Medal, to be presented by the Lieutenant Governor of Ontario at Queen's Park in June.
7765 Roman Klimowicz, '68 is the Principal Consultant /Owner at Roman Klimowicz Consulting, he specializes in providing a broad range of policy and strategic advice to the federal government and to private sector companies engaged in government procurement and project management. Roman has 40 years of logistics, procurement and government administration experience.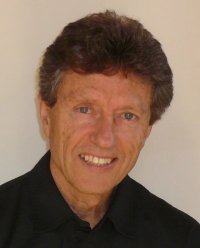 8576 Alan R. Roy, '70 completed architectural studies at the University of New South Wales in Sydney Australia and subsequently obtained a Diploma in Architecture from the RAIC Syllabus program in 1992. Prior to establishing his own firm, Alan gained experience over a period of 16 years on many challenging projects in Alberta, British Columbia and USA, in various roles from Designer to Contract Documentation Manager to Contract Administrator. Highlights of his experience include the innovative and award-winning Lindsay Park Aquatic Centre in Calgary (currently known as the Talisman Centre), a winning competition design for the Royal Theatre expansion in Victoria and a Habitat For Humanity project in New York City, where he supervised his design's construction by a team of volunteer builders including former President Jimmy Carter. More
10836 Ned Gravel, '76 background includes the command of operational military organisations in specific technical fields and the civilian management of international technical businesses. More
11032 Tim Addison, '76 spent 30 years with the Canadian Forces (Navy). After retiring from the CF Tim worked for a major IT and management consulting company as a Consultant, Delivery Manager and Director of Business Development on the DND Account. He is now an independent consultant providing business development expertise to defence industry firms in the Ottawa area.
14220 Robert Cue, '84 is a Senior Project Manager with over 20 years of engineering, information, and project management experience ranging from the implementation of technical information management systems to processing payloads destined for the International Space Station. He has authored several papers on aircraft maintenance information management, andhas presented at both national and international conferences.
14769 LCol Christian Lalande, '85 is currently working as A3 Search and Rescue (A3 SAR) at the 1 Canadian Air Division HQ in Winnipeg .This summer, he and his family are transferred to SHAPE HQ in Casteau, Belgium for three years. They are all very excited for the prospect of moving there and getting a taste of Europe. Christian looks forward to working with NATO countries and members of this organization.
15568 Allan Millard, '86 after obtaining his Bachelor of Engineering degree in 1986, Allan served for eight years in the Air Force as a communications and electronics engineering officer, during which time he obtained his designation as a professional engineer. He then attended Dalhousie Law School, graduating in 1996 with an LL.B. Allan became a registered Canadian patent agent in 1997, and in 1998 became registered to practice before the United States Patent & Trademark Office. He became a Canadian trade-mark agent in 2003.
15613 Alan Cassels, '86 is an investigative medical journalist and researcher at the University of Victoria. He just published his third book, this time examining the world of medical screening. If you find yourself asking questions about whether to get that prostate exam or a mammogram or why your doctor keeps wanting to check your cholesterol, you may want to find about all the things that could go wrong when you submit to screening. His book, Seeking Sickness: Medical Screening and the Misguided Hunt for Disease (Greystone Books, 2012) hits bookstores this month.
17019 Andre Sochaniwsky, '89 has been a member of the Ukrainian Credit Union Limited for over twenty years (since 1988) and was first elected to the board in 2009. He currently sits on three committees, of which he chairs two. In addition to his board work at the UCU, Andre serves as Vice-Chair of the Remembrance Committee of the Toronto Branch of the Ukrainian Canadian Congress (UCC). He is also a member of the Ukrainian National Federation (UNF), the Ukrainian War Veterans Organization and Plast.
17121 Caroline Fortier, '90 spent over 14 years following her RMC graduation working as an AERO officer with the CT-114 Tutor & CF-18 Hornet programs. Caroline joined the civilian firm L-3 Communications in 2005 starting as a CF-18 Modernization Program Manager; for the past two years she has been the Senior Manager Engineering – Aircraft Modification and Integration.
18794 Robin Auld, '93 is a licensed Professional Engineer and Certified Project Manager with an Engineering degree from the Royal Military College of Canada and an MBA from Queen's University. Robin is an active volunteer in his community and is currently a co-chair of the Calgary United Way Campaign.
M0628 Sylvia MacDonald, '93 is ING Engineering Inc VP Business Operations. Her academic achievements include a Bachelor of Sciences, Computer Science concentration Systems, from College militaire royal de Saint-Jean and an Associate in Arts from DeKalb College in Atlanta. Sylvia served for twenty years in the Canadian Forces, entering as a Private and retiring as a Captain.
18922 Maj Theodore Weber '94 was awarded the ADM(Mat) Merit Award. The Principal Compliance Verification Officer in the Ammunition and Explosives Regulation Directorate (DAER), displayed leadership qualities and vision well above his rank during a significant staff shortage in the directorate last year. He re-wrote major policy publications while developing and implementing a new compliance verification program for Ammunition and Explosives Safety for the CF and DND. A superb Officer, Maj Weber's actions and leadership have made a profound impact in advancing the departmental ammunition and explosives regulatory framework. http://admmat.mil.ca/en/materiel_group_awards1_e.asp
22181 Jason Quilliam, '02 was recently appointed Chief of Protocol for the Province of Saskatchewan. The job itself involves the management of the Provincial Honours and Awards Program, official visits, international visits, certain intergovernmental conferences, Provincial Symbols, as well as the Legislative Building's art collection. It's right up his alley as an military guy with a side-hobby in medal mounting, so his spouse Candyce and he are thrilled. Jason has a small staff of professionals at the Protocol Office on College Drive in Regina, and his first order of business is the Royal Visit that took place last week in Regina.
More Thank Yous & More Help Required
Once again, thanks to our our readers we have been able to make an other dent on our list. Any help readers can provide is still much appreciated.
The RMC Club recently had an independent audit completed. One of the findings from this audit was the observation a number of potential members who were making pay allotments for a Life membership overpaid. Most of the people involved have been notified and have been reimbursed, some (who we will list in a future e-Veritas) directed that their refund be used for e-Veritas O&M – which we very much appreciate.
We are still trying to contact the following people. If you know how to reach them would you ask them to contact Bill Oliver – william.oliver@rmc.ca
Class of 2002
22311 Mitch Rivest; 22473 Todd Johnson
Class 2003
22954 Matthew Fullerton
Class of 2005
23163 Melissa Haggart
Class of 2010
24658 Laura Duvall
Class of 2012
25291 Ewan Canning; 25338 Daniel Mantai;25381 Ryan Zorn; 25318 Jean-Michel Genest; 25410 Armaan Khan