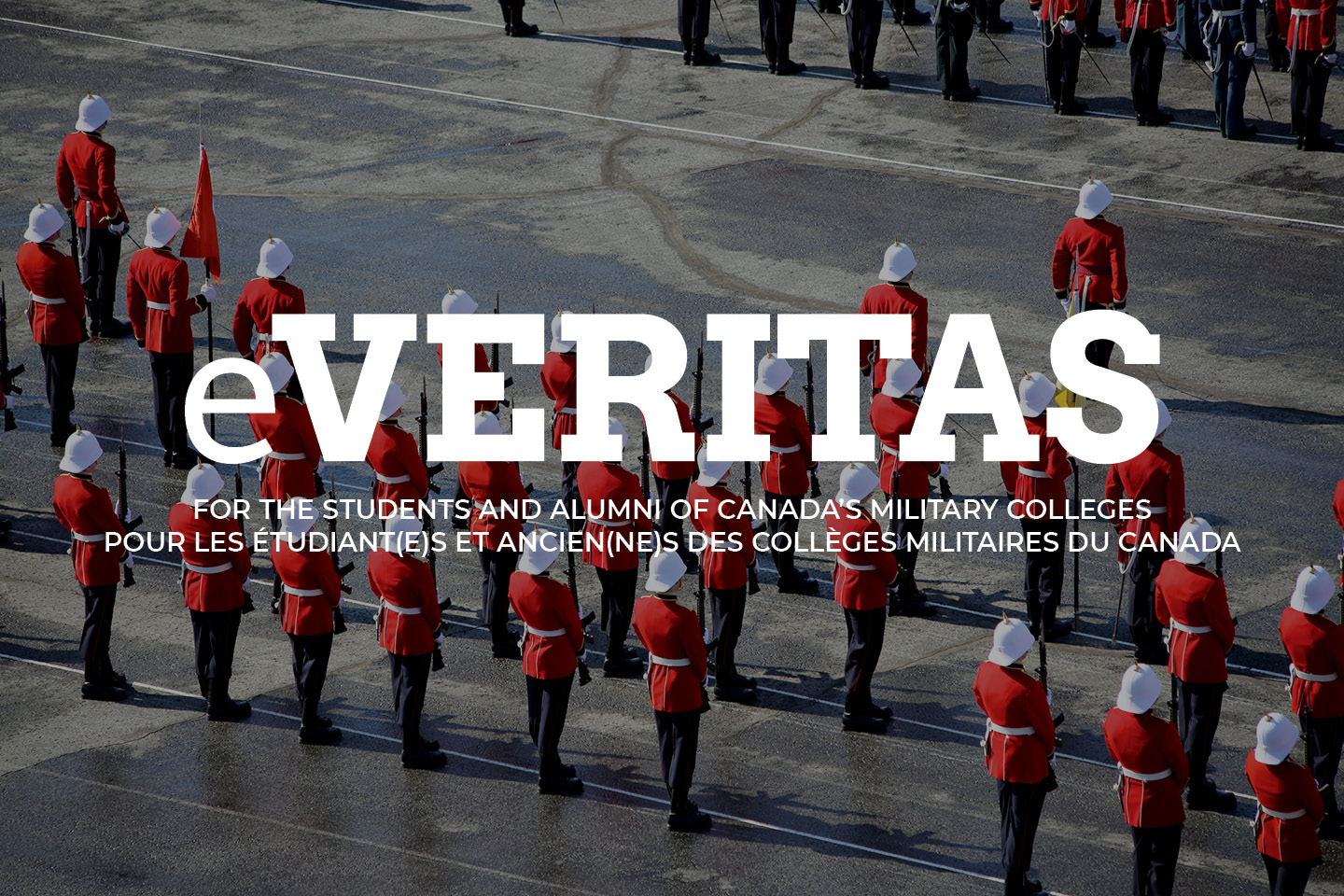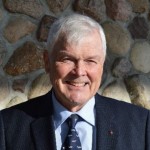 5868 Scott Clements (Class of 1963) has served in the position of President and CEO of the Fort McMurray Airport Authority since January, 2010. In this challenge he has the task of implementing the bold vision of the Authority to meet the very strong growth requirements for aviation facilities and services and to become the Premier Regional Airport in Canada
Scott was semi-retired after 10 years as CEO of the Edmonton Regional Airports Authority and has formed a personal services company called Leadership Works Canada. As on 1 January 2007, Scott had taken on the position of President and CEO of Aviation Alberta for a two year period. He also does consulting work in the Transportation and Aerospace sectors.
Scott is scheduled to be the keynote speaker: Economic Club of Canada – 29 September – 11:45am-1:30pm | The Fairmont Palliser – 133 – 9th Avenue SW, Calgary, Calgary. His topic: Challenges and Economic Benefits of Growth in Aviation in the Oil Sands.
Much more here
***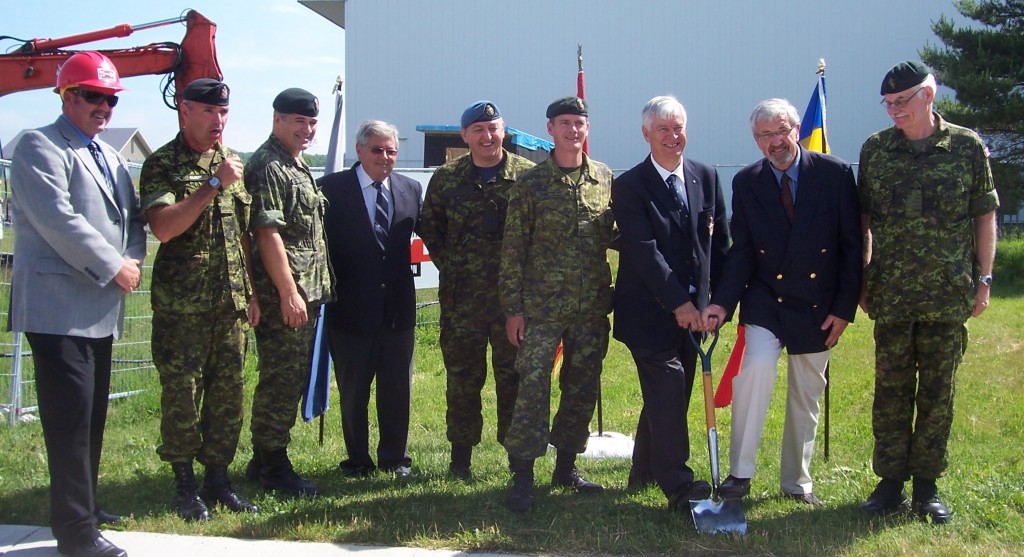 The start of a most historic and promising beginning. left to right are: Mark Emmons of Emmons and Mitchell Construction Kingston ON the contractor; CWO Réne Gilbert RCEME Corps SM; Col Sebastien Bouchard RCEME; Maj (Retd) Mike DeNoble Military Communications and Electronics (MC&E) Museum Director; Maj Craig Coish Acting CO MC&E Museum; Col Francois Chagnon Base Commander CFB Kingston; BGen (Retd) Pep Fraser President MC&E Museum Foundation; Col (Retd) Andrew Nellestyn Co-chair RCEME Heritage Committee; and BGen (Retd) Peter Holt RCEME Colonel Commandant
HISTORY IN THE MAKING: RCEME MUSEUM SOD TURNING
By – 6560 Colonel (Retd) Andrew Nellestyn OStJ KStG PhD PEng – (Class of 1965)

Co-Chair RCEME Heritage Committee
CFB Kingston. 17 June 2014. On a bright sunny day, the sky cobalt blue, RCEME and CELE flags fluttering in a gentle breeze, eighty plus RCEME personnel and guests gathered to witness history in the making as the sod was turned to start the construction of the RCEME Museum Phase I which will open to the public in the fall of 2015. The museum marks the return of the Corps of RCEME to its founding home at Camp Barriefield now known as CFB Kingston. The museum will be a notable and complimentary companion edifice to the nearby RCEME Memorial Gates.
Phase I, a shared expansion to the Military Communications and Electronics Museum (MC&E Museum), constitutes the first step in the creation of a military technology museum anchored by a stand-alone RCEME Museum (Phase II) and the MC&E Museum anticipated to open on the Corps' 75th Anniversary in 2019 or shortly thereafter.
Phase I will also include the construction of a pad in front of the existing MC&E Museum on which will be placed equipment, yet to be selected, typically supported by the Corps.
The sod turning ceremony was preceded by a town hall meeting held by the Corps of RCEME's Director Colonel Sebastien Bouchard which was attended by RCEME personnel stationed at CFB Kingston and surrounding units.
The sod turning ceremony also celebrated the expansion of the MC&E Museum with which the RCEME Museum Phase I will share space. The sod was turned jointly by BGen (Retd) Pep Fraser representing the MC&E Museum and Colonel (Retd) Andrew Nellestyn representing the RCEME Museum. Congratulatory speeches were made by both of these gentlemen as well as the Colonel Commandant BGen (Retd) Peter Holt, the Corps Director Colonel Sebastien Bouchard, the Corps SM CWO René Gilbert, Colonel Francois Chagnon CFB Kingston Base Commander and the MC&E Museum Director Maj (Retd) Mike DeNoble. Erl Kish and Larry Aubrey were present on behalf of RCEMEA and Tom Temple on behalf of EMEA. Tex Leugner sent a congratulatory message on behalf of RCEMEA Western Canada.
All attested to the historical significance of the occasion and the outstanding cooperation and team effort by the Corps of RCEME and the CELE Branch which made this project possible.
Maj (Retd) Don Chisholm, the Corps Padre, blessed the event and offered prayers for its success and in remembrance of all RCEME personnel who gave their lives in the preservation of peace.
The event was capped off by a well-attended and fine reception in the conference room of the MC&E Museum: a fitting gathering to mark the start of a most historic and promising beginning.
Arte et Marte
***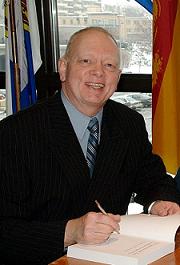 8662 Allan English (Class of 1971) served in the Royal Canadian Air Force (RCAF) and Canadian Armed Forces (CAF) for 25 years in various operational and instructional positions as an air navigator. He completed his MA in War Studies at the Royal Military College of Canada (RMC) in 1987 and taught in the Military Psychology and Leadership Department there until he retired from the CAF in 1991.
He completed his PhD in history at Queen's University, Kingston, Ontario in 1993. His book, The Cream of the Crop: Canadian Aircrew 1939-45 examines the RCAF's selection and training procedures and its policies governing aviators who were judged to have a "lack of moral fibre" (LMF).
More bio – http://www.queensu.ca/history/people/facultyinstructorsalpha/english.html
Whatever Happened to Mission Command in the CAF?
by 8662 Allan English
The Canadian Armed Forces (CAF) has arguably the best leadership and profession of arms doctrine in the world. Unlike the sterile doctrine manuals and turgid theoretical tomes that proliferate in this field, Duty with Honour and Leadership in the Canadian Forces: Conceptual Foundations deftly combine theory and the experience of the Canadian military to provide essential guidance on professional practice for leaders in the CAF.1
Why then have so many CAF members complained that this guidance is not being followed? Over the past year, I have heard an increasing number of complaints, from corporals to brigadier generals, that they are being constantly 'micromanaged,' and that their superiors are not following the tenets of mission command and distributed leadership, two key concepts in CAF leadership doctrine. Not all leaders are acting this way, but the situation now seems to be more acute than in the recent past. Therefore, I offer the following thoughts, based upon my 25 years of experience in the CAF and on my 25 years teaching subjects related to leadership, command, and ethics and the military profession at both Royal Military College of Canada and the Canadian Forces College.
***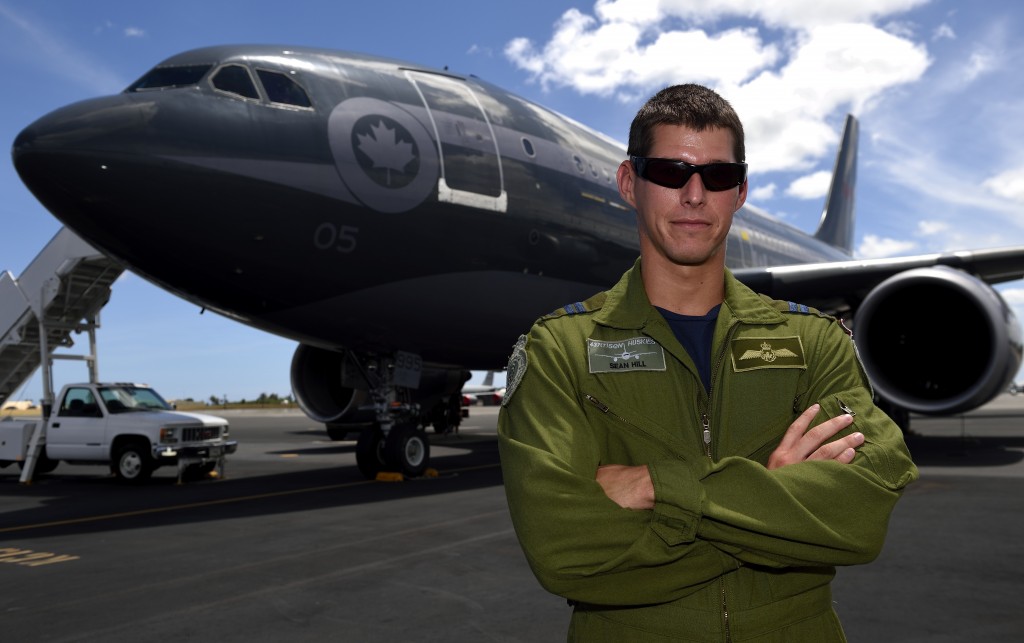 '09 grad proud to serve with RCAF at World's Premier Military Exercise
Article: By Captain Jeff Noel – RCAF Air Task Force RIMPAC Public Affairs
Centennial & RMCC grad 24490  Captain (Capt.) Sean Hill is one of a dedicated team of personnel assigned to the Royal Canadian Air Force's (RCAF) Air Task Force at Rim of the Pacific (RIMPAC) 2014, the world's premier combined and joint maritime exercise taking place around the Hawaiian Islands and in San Diego from June 26 to August 1.
The Brampton native is a 10-year veteran of the Canadian Armed Forces who graduated from the Royal Military College of Canada in Kingston in 2009 and following flight training was posted to 437 Transport Squadron, nicknamed 'The Huskies', based normally at 8 Wing in Trenton who recently deployed with a detachment from the squadron to Hickam Field, Hawaii.
"As a pilot serving aboard a CC-150 Polaris we get to travel to many places at home and overseas, "said the son of John and Leslie Hill.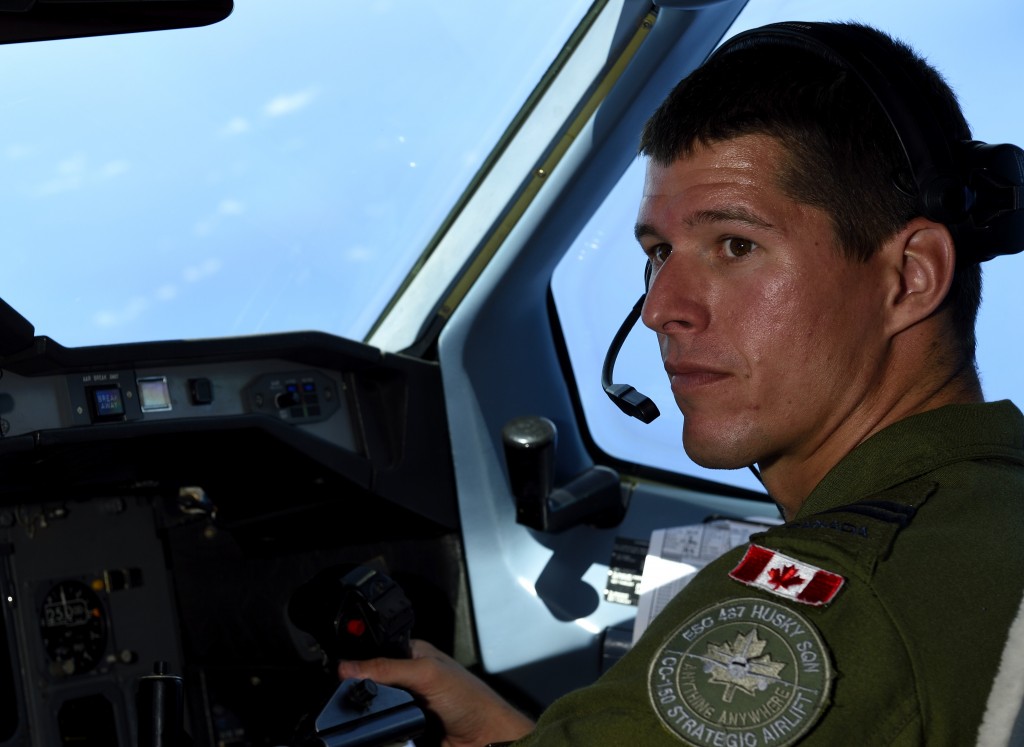 An extremely hard worker, his drive and determination assisted him greatly during his deployment to RIMPAC, and earned him great respect both within his squadron and among the RIMPAC aviation community.
"During one afternoon mission at RIMPAC, we refueled a variety of aircraft including US Navy 'Super Hornet' fighters, our own CF-18 Hornet's and a very unique aircraft for us, a US Navy FA-18F which is modified to serve as an air-to-air tanker," said Capt. Hill.
This year's Rim of the Pacific (RIMPAC), the 24th in the series that began in 1971 includes twenty-two nations, 49 surface ships, 6 submarines, more than 200 aircraft and 25,000 personnel participate. More than 1,000 Canadian airmen and airwomen, sailors, and soldiers are participating in the exercise.
***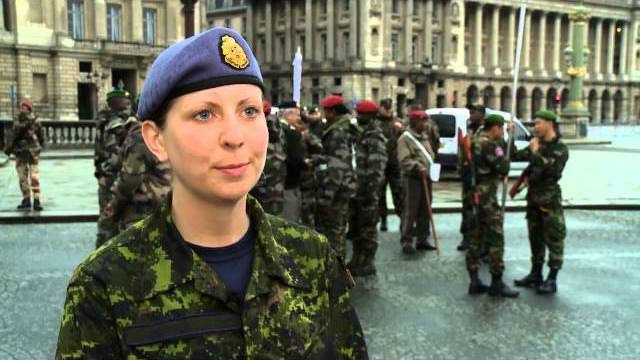 Canada was one of approximately 73 countries invited by the French government to participate in the 2014 Bastille Day Military Parade. Also known as "Grand Défilé militaire", this annual French military parade has been held in Paris on the morning of July 14 since 1880, almost without exception.
The parade's theme for 2014 was the First World War.
Among Canada's youth who were represented was Ex Cadet 25602  Lieutenant Marie-Ève Bernier.
Lieutenant Marie-Ève Bernier (Class of 2013) is originally from Laval, Quebec. She completed a bachelor's degree in psychology at the Royal Military College of Canada in Kingston. During college, she completed internships at Canadian Forces Base (CFB) Trenton and Canadian Forces Station Alert, in Nunavut. She also took part in a 6-month student exchange program with the United States Military Academy (West Point). Lieutenant Bernier is currently stationed in Bagotville, Québec, where she works as a Human Resources Officer. She enjoys travelling, volunteering, history and outdoor activities.
***
14 juillet – Mon premier défilé – lieutenant Marie-Eve Bernier …
***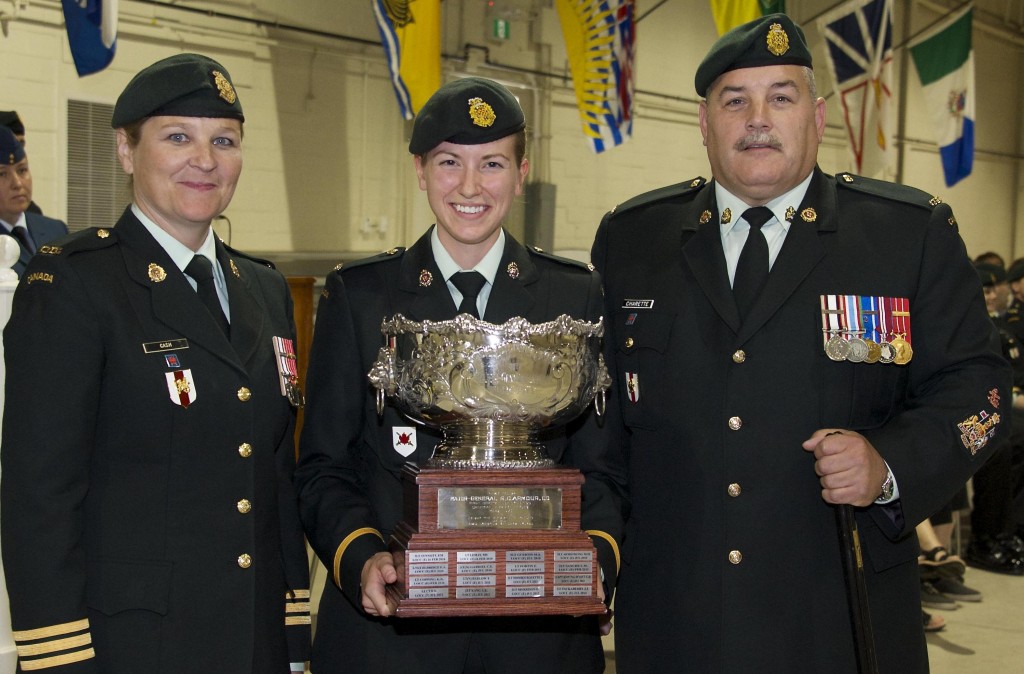 Former e-Veritas Team Member – Tops Phase 3 Logistics Officer Common Course
25936 Sarah Labrecque (Class of 2014) finished her Phase 3 Logistics Officer Common Course  at Canadian Forces School of Administration and Logistics in Borden, Ontario last week.
Sarah was the mainstay contributor to e-Veritas during the most recent winter term at RMCC. Her day-in and day – out efforts ensured our readers had a real taste of what was going on with the Cadets and their military training, in particular. Her regular articles on "Training for the "M" were especially well received by staff, cadets and family & friends.
Not only did Sarah complete the course; she finished as the Top Candidate in her class and was recognized on graduation parade with an award. – See photo above.
When we asked her how she has been doing, she replied. "I have been learning lots since leaving RMCC and enjoying it!"
Second Lieutenant Labrecque now moves on to Compagnie de transport | Transport Company 5e Bataillon des services du Canada | 5 Canadian Service Battalion which is located at CFB Valcartier, Quebec.
 Well done, Sarah all of us at e-Veritas are very proud of you!