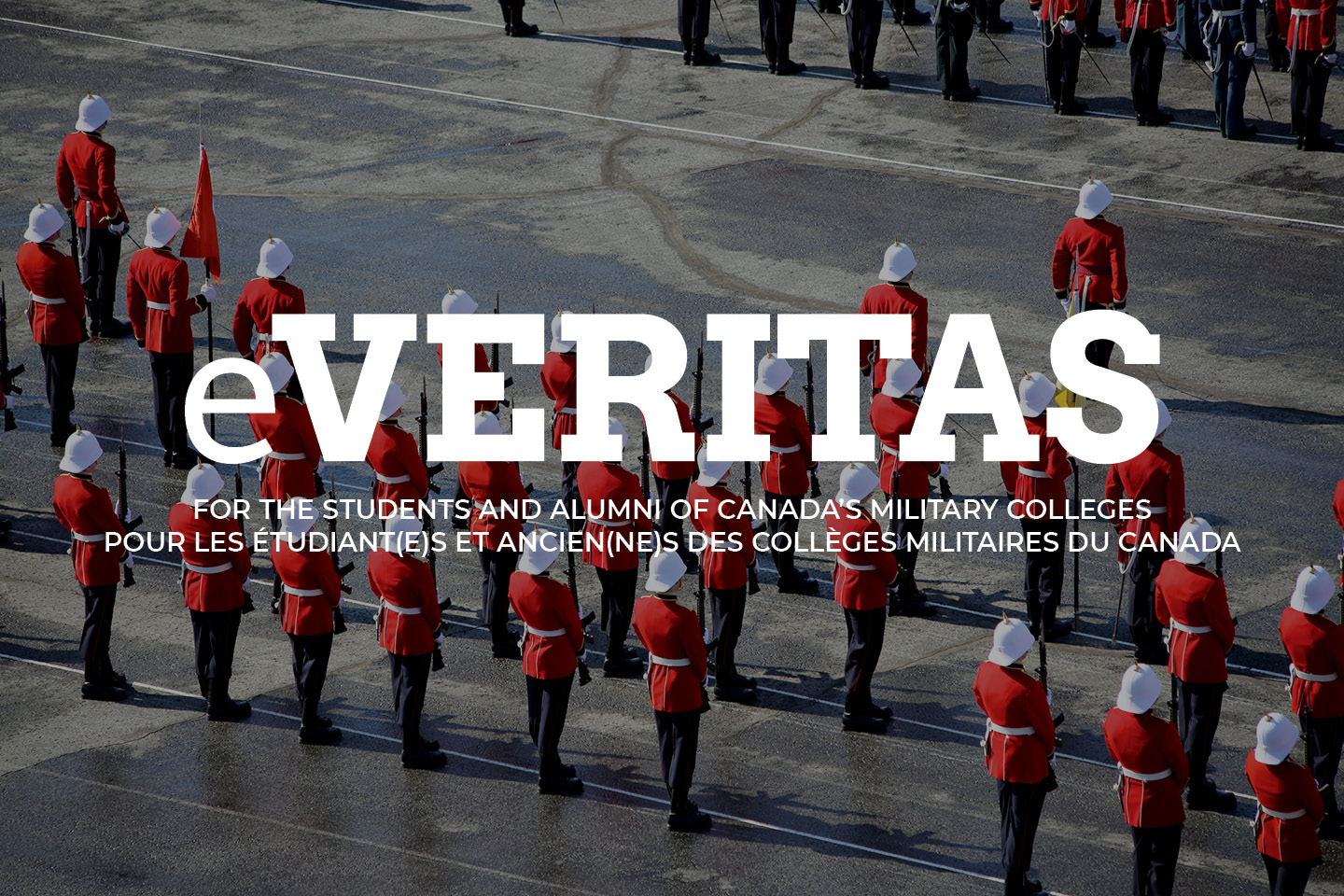 La date de sortie : 29 janvier.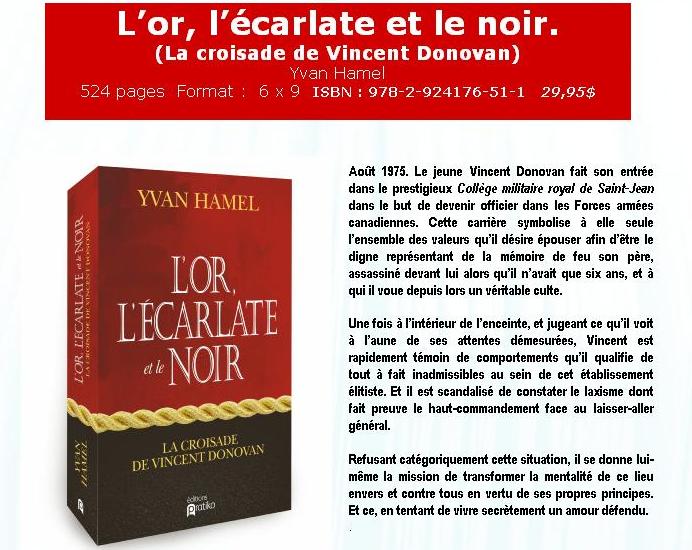 xxxx
En vente dans toutes les librairies du Québec, dans les Wallmart et dans les Jean Coutu.
Également en vente sous forme e-book.
12420 Yvan Hamel – CMR 1975
RETIREMENT – 17806 MAJOR TRAVIS BROOKS, TEST PILOT (CLASS OF 1991)

A Word From Last Year's Graduates!

Flag Day Feb 15 – Where were you Feb 15, 1965? – Let us know

2015 Nominations – Wall of Honour – Deadline 1 February
plus / more
RETIREMENT – 17806 MAJOR K.T. (TRAVIS) BROOKS, TEST PILOT (CLASS OF 1991)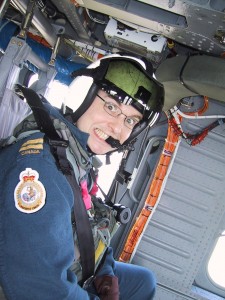 AFTER NEARLY 28 YEARS OF SERVICE TO CANADA, HALF OF WHICH HAS BEEN DEDICATED TO BRINGING THE CH148 CYCLONE INTO SERVICE, MAJOR TRAVIS BROOKS WILL RETIRE FROM THE CANADIAN FORCES ON 1 MARCH, 2015.
MAJ BROOKS JOINED THE CANADIAN FORCES IN JUNE OF 1987 UNDER THE REGULAR OFFICER TRAINING PROGRAM. HE ATTENDED THE ROYAL MILITARY COLLEGE IN KINGSTON, ONTARIO, EARNING A BACHELORS DEGREE IN MECHANICAL ENGINEERING IN 1991.
IN 1993, UPON GRADUATING FROM THE BASIC HELICOPTER SCHOOL AT CFB PORTAGE-LA-PRAIRIE, MANITOBA, MAJ BROOKS WAS POSTED TO SHEARWATER, NOVA SCOTIA. HIS FOUR YEAR TOUR AT 423 SQN WAS TO COMMENCE WITH FLYING THE CH124 SEA KING IN ANTICIPATION OF THE SOON-TO-ARRIVE NEW SHIPBORNE AIRCRAFT (NSA). HOWEVER, THE IGNOMINIOUS CANCELLATION OF THE NEVER-CHRISTENED CH148 PETREL IMMEDIATELY SHIFTED HIS INTEREST AWAY FROM OPERATIONS TOWARDS TEST AND EVALUATION.
HIS OPERATIONAL TOUR INCLUDED SAILING ON HMC SHIPS IROQUOIS, PRESERVER, FRASER, VILLE DE QUEBEC AND HALIFAX, THE COMMUNITY TRANSITION FROM HELICOPTER-SHIPBORNE (HS) TO MARITIME HELICOPTER (MH) AND REPEATED APPLICATIONS TO BE CONSIDERED FOR TEST PILOT TRAINING. IN 1997 MAJ BROOKS WAS ACCEPTED TO BECOME A TEST PILOT AND THUS BEGAN HIS TRUE CAREER OF TEST AND EVALUATION. WHILE WAIT-LISTED FOR TRAINING DUE TO COURSE AVAILABILITY, MAJ BROOKS COMPLETED THREE YEARS AT THE HELICOPTER OPERATIONAL TEST AND EVALUATION FACILITY (HOTEF). THERE HE WORKED ON SEVERAL CH124 IMPROVEMENT PROJECTS, BUT PRIMARILY ON THE NIGHT VISION GOGGLE LIGHTING CONVERSION.
IN 2000 MAJ BROOKS WAS POSTED TO NAVAL AIR STATION PATUXENT RIVER, MARYLAND, TO ATTEND THE YEAR-LONG TEST PILOT COURSE AT THE UNITED STATES NAVAL TEST PILOT SCHOOL (USNTPS). THERE HE HAD THE PRIVILEGE OF FLYING SIXTEEN DIFFERENT AIRCRAFT IN A TEN-MONTH SPAN, GRADUATING AS THE TOP CANADIAN IN HIS CLASS AND SECOND OVERALL.
IN 2001 HE WAS POSTED TO THE AEROSPACE ENGINEERING TEST ESTABLISHMENT (AETE) IN COLD LAKE, ALBERTA, AS A QUALIFIED TEST PILOT. UPON ARRIVAL AT AETE MAJ BROOKS WAS ASSIGNED AS THE PROJECT OFFICER FOR THE MARITIME HELICOPTER PROJECT (MHP), BEGINNING HIS OFFICIAL ASSOCIATION WITH THE FUTURE REPLACEMENT OF THE SEA KING. FOR THE NEXT FIVE YEARS HE PARTICIPATED IN SEVERAL KEY EVENTS OF THE PROGRAM, INCLUDING BEING THE SOLE CANADIAN TO CONDUCT A FLYING COMPARISON OF ALL THREE MHP FINAL CONTENDERS.
IN 2006 MAJ BROOKS WAS POSTED TO THE MHP COMBINED TEST FORCE (CTF) AT THE SIKORSKY AIRCRAFT DEVELOPMENT FLIGHT CENTER IN WEST PALM BEACH, FLORIDA, TO CONDUCT DEVELOPMENTAL TEST AND EVALUATION OF THE CH148 CYCLONE. OVER THE NEXT EIGHT-AND-A-HALF YEARS HE AIDED WITH THE DEVELOPMENT OF NEARLY EVERY ASPECT OF THE CYCLONE FLIGHT ENVELOPE. THESE INCLUDED SUCH PERSONAL MILESTONES AS: FIRST CANADIAN TO FLY THE CH148 CYCLONE; FIRST CYCLONE CLEARDECK LANDING, HAULDOWN LANDING, HIFR, HOIST AND VERTREP ON AN HMC SHIP; HEIGHT-VELOCITY ENVELOPE DEVELOPMENT; AUTOROTATION RECOVERY DEVELOPMENT; HIGH ALTITUDE FLIGHT TEST IN THE MOUNTAINS OF COLORADO; UNPREPARED SURFACE OPERATIONS TESTING ON THE SPACE SHUTTLE CRAWLER TRACK AT THE KENNEDY SPACE CENTER; AND CONTINUING TO BE THE HIGH-TIME CYCLONE PILOT IN THE ROYAL CANADIAN AIR FORCE SINCE HE FIRST FLEW IT IN JULY 2009.
AFTER A DECADE-AND-A-HALF OF TEST AND EVALUATION WITH THE ROYAL CANADIAN AIR FORCE, TRAVIS HAS ACCEPTED AN ENGINEERING TEST PILOT POSITION WITH TRANSPORT CANADA IN THEIR NATIONAL AIRCRAFT CERTIFICATION DIVISION IN OTTAWA. ALTHOUGH NOT HAVING THE EQUIVALENT CLIMATE THEY HAD BECOME ACCUSTOMED TO IN FLORIDA, TRAVIS AND NANCY LOOK FORWARD TO REMAINING IN THE OTTAWA AREA FOR THE FORESEEABLE FUTURE. IT BRINGS THEM CLOSER TO THEIR CHILDREN BEN AND REBECCA AS THEY ATTEND SCHOOL IN TORONTO, THEIR RESPECTIVE FAMILIES IN BELLEVILLE, ONTARIO, AND ALMA, QUEBEC, AND THE MANY FRIENDS THEY HAVE MADE DURING THE JOURNEY ACROSS CANADA AND THE USA.
PLEASE JOIN TRAVIS AND NANCY ON FRIDAY, 27 FEBRUARY, 2015, FOR AN INFORMAL FAREWELL AT THE MILL STREET BREW PUB, 555 WELLINGTON ST, OTTAWA. THE MUG-OUT BEGINS AT 1400 HRS WITH PRESENTATIONS AT 1430 HRS, FOLLOWED BY STORIES, ANECDOTES AND LIES.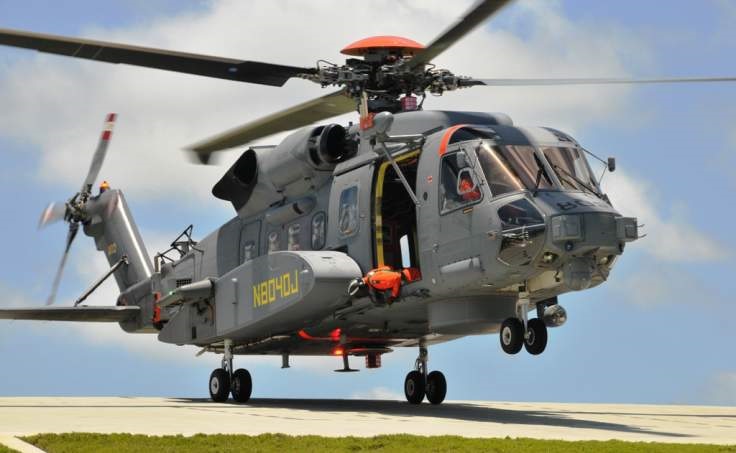 PLEASE SEND YOUR CONTRIBUTION TO THE STORIES, ANECDOTES AND LIES, WHETHER YOU'RE GOING TO BE THERE OR NOT, TO MAJOR TONY DUPLANTE (ANTHONY.DUPLANTE@FORCES.GC.CA).
***
A Word From Last Year's Graduates!
Coordinated by Danielle Andela 26659 OCdt (III) 1 Squadron –
E-Veritas Correspondant
Graduation Parade is drawing ever closer and a few ex-cadets have a few things to say about what they have been up to since graduation. The three questions these ex-cadets were asked are:
1) what have you been doing since graduation,
2) how did RMC help you in your current position and
3) what words to you have to impart on this year's graduates?
2Lt (25981) Megan Couto, Squadron 8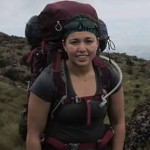 Since grad, I was tasked to 4CDTC in Meaford, ON and finished off phase 4 Infantry. After course I was posted to 2PPCLI in Shilo, MB. I'm currently a course officer at 3CDTC in Wainwright, AB for a dp1 Infantry.
Looking back I'm glad to have taken advantage of as many opportunities as I did while at RMC. Going on exchange to West Point, training with the Sandhurst team, and meeting officers who continue to mentor me today are things I look back on fondly.
For the almost-grads: congratulations! I hope that you not only survived but also thrived at the college. Life after graduation is different, there's no more "slasher", you're now the officer and have to step up into the role of leader – not only for a semester at a time, but 24/7. Always lead from the front in the ways you know how and I wish you the best of luck in the adventures that are about to come your way!
2Lt (25651) Kenny Panza, 6 Squadron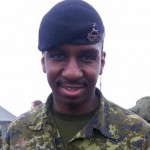 After successful completion of DP1.2 Armoured Recce Troop Leader course this past fall, I got posted to The Royal Canadian Dragoons. I've been assigned to a troop as soon as I arrived to the Regiment.
Going through RMC was extremely gratifying for me. I've made lifelong friends, great memories and most importantly, I've learn a lot about myself. Being part of the Men's soccer team and the Sandhurst team helped me develop my leadership skills, my physical abilities and my second language and I am forever grateful for all the experiences I went through at College.
To this year's graduates:
Take advantage of your last few weeks on campus to improve yourself as a leader. Once you're in charge of troops, it's not about you anymore. Your troops will have high expectations from you. Make sure you work hard!
***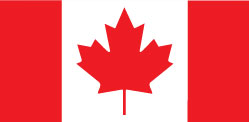 Feb 15, 1965
The official ceremony inaugurating the new Canadian flag was held on Parliament Hill in Ottawa on February 15, 1965, with Governor General Georges Vanier, Prime Minister Lester B. Pearson, the members of the Cabinet and thousands of Canadians in attendance.
The Canadian Red Ensign, bearing the Union Jack and the shield of the royal arms of Canada, was lowered and then, on the stroke of noon, our new maple leaf flag was raised. The crowd sang the national anthem O Canada followed by the royal anthem God Save the Queen.
The following words, spoken on that momentous day by the Honourable Maurice Bourget, Speaker of the Senate, added further symbolic meaning to our flag: "The flag is the symbol of the nation's unity, for it, beyond any doubt, represents all the citizens of Canada without distinction of race, language, belief or opinion."
If you are old enough to remember 15 Feb, 1965, we invite you to send us your memories of that day.
Be as brief or as wordy as you like. Include a photo(s) if you have any.
Send to William.oliver@rmc.ca prior to 12 Feb.
C'est le 15 février 1965, sur la colline du Parlement à Ottawa, que s'est déroulée la cérémonie d'inauguration du drapeau canadien, en présence du gouverneur général Georges Vanier, du premier ministre Lester B. Pearson et des membres du Cabinet, ainsi que de milliers de citoyens.
On descendit d'abord le Red Ensign, portant l'Union Jack et l'écu des armoiries royales du Canada. Puis, sur le coup de midi, on hissa l'unifolié. La foule entonna ensuite l'hymne national O Canada suivi de l'hymne royal Dieu protège la Reine.
Les paroles que prononçait en ce jour mémorable Maurice Bourget, président du Sénat, donnent un sens encore plus symbolique à notre drapeau : « Le drapeau est le symbole de l'unité de la nation, car il représente sans l'ombre d'un doute tous les citoyens du Canada, sans distinction de race, de langue, de croyance ou d'opinion ».
Si vous vous souvenez du 15 février 1965 nous vous invitons à nous faire parvenir, aussi bref ou prolixe, vos souvenirs de cette journée et y ajouter des photos si possible.
Faites parvenir à : rolande.oliver@rmc.ca avant le 12 février
***
2015 Nominations – Wall of Honour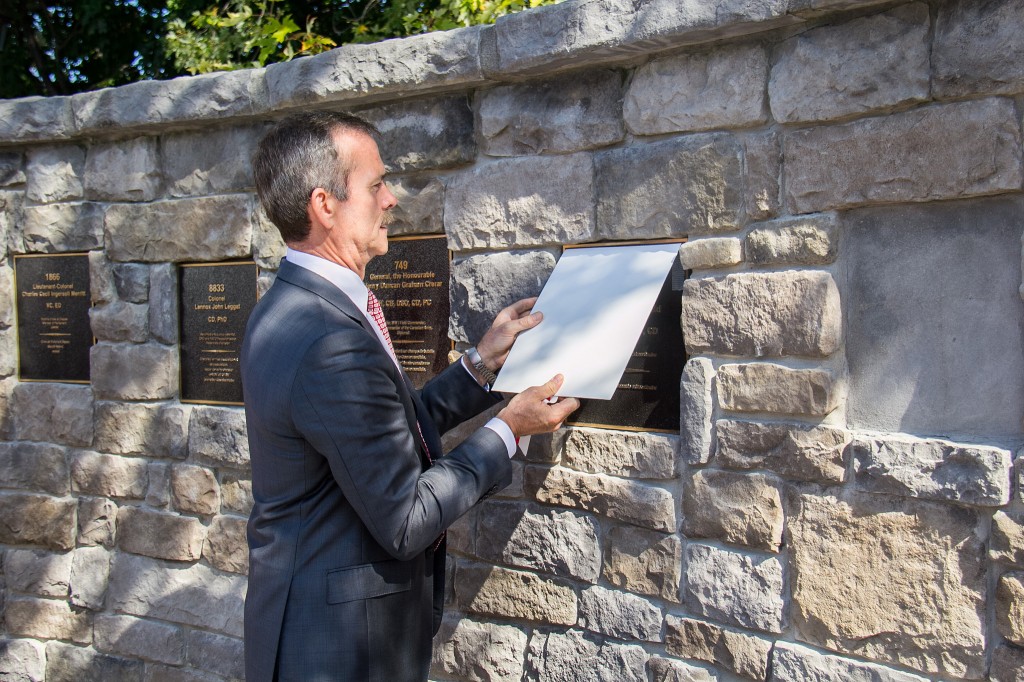 Hi Bill: Would greatly appreciate it if you would publish a gentle reminder in the next eVeritas to the effect that 2015 nominations for the  Wall of Honour need to be submitted no later than 1 February, and that all details can be found at http://www.rmc.ca/cam/wh-mh/cp-eng.php .  Nominations should be sent, preferably by email, to me at mfmorres@shaw.ca, or by snail mail to 1723 Richardson St, Victoria BC V8S 1R6.
Thanks!
Michael Morres – President RMC 1963 – Chair, Wall of Honour Nomination Committee