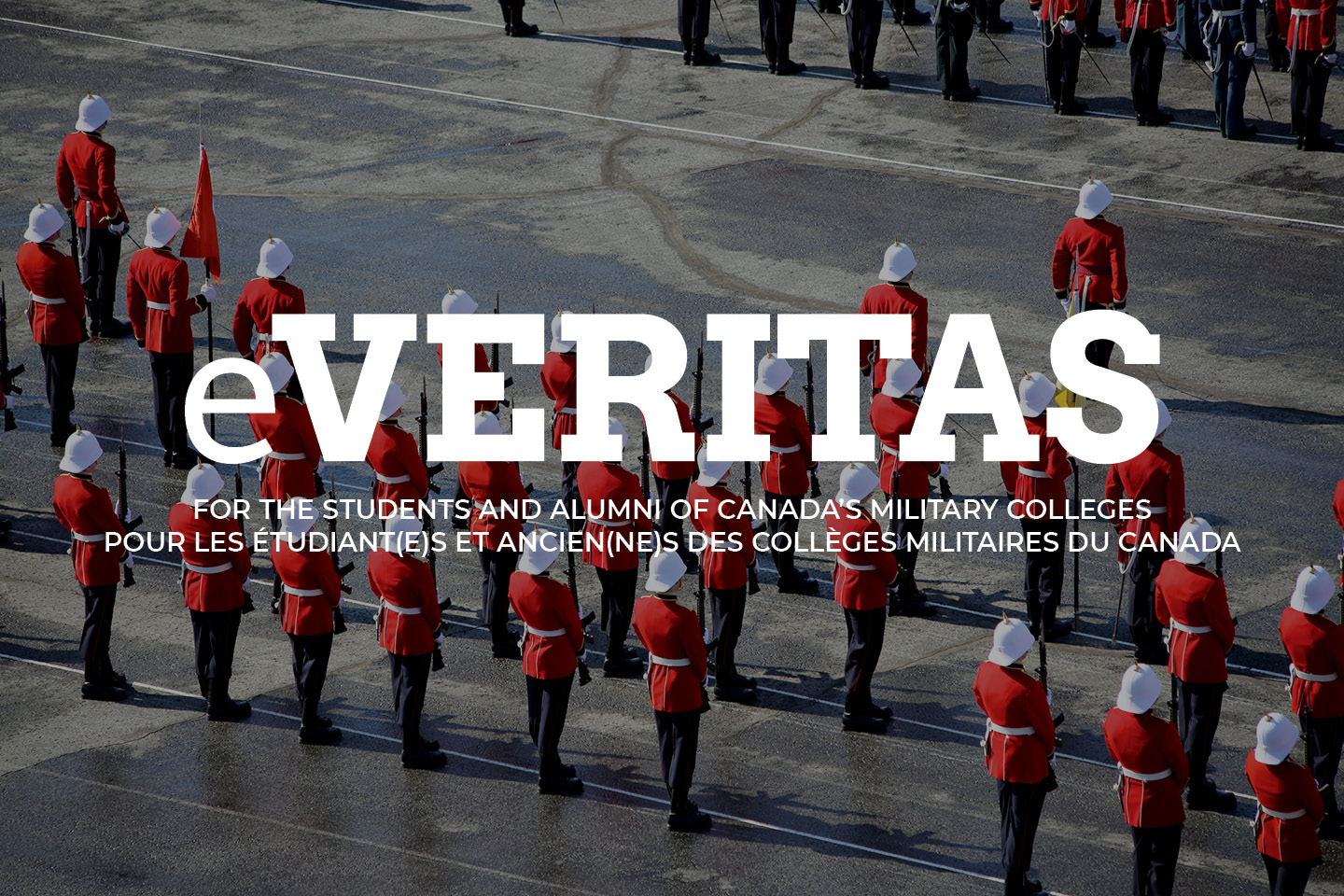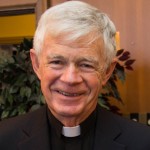 On April 12th, Trinity Anglican Church, Wolfe Island will be celebrating the 50th anniversary of 4328 Rev. Canon Chris Carr (Class of '59) of his ordained ministry.
In his last year at RMC, Carr won the HRH Prince of Wales Cup, presented for athletic performance and excellence in all aspects throughout his entire course. In addition to his time on the football field, Carr played hockey and "did a bit of gymnastics."
As a hockey player, Carr was captain of the team that defeated Army 6-1 in 1959. Winning the annual match was relatively common for the Redmen at the time, but as it turned out RMC wouldn't win again at West Point for 24 years. ()
The service begins at 9:30 AM with a reception to follow.
Kingston Branch members and others from the RMC community are invited to attend.
***
11002 Bill Sergeant Continues to Help Needy Children of India

14240 RAdm Patrick Finn (CMR RMC 1984) to take on ADM(Mat) duties

MORE
11002 Bill Sergeant Continues to Help Needy Children of India
11002 Bill Sergeant, Class of '76, who lives in Barrie, ON, led two teams of volunteers to western India with the Canadian charity, "Sleeping Children Around the World" (SCAW) from 7 February to 5 March 2015. Working closely with volunteers from various Rotary Clubs in India, they helped the '100% Charity' distribute 6,100 bed kits to needy children in 15 villages surrounding Mumbai, Belgaum and Hubli, India.
For Bill, this was his fifth trip with SCAW and third as a Team Leader. This month long trip took him to some of the poorest villages in remote parts of western India. He and his teams had the opportunity to visit some of the homes of the recipients where three generations of a family lived in very basic accommodations. When he asked a recipient from last year's distribution where he slept, he pointed to the dirt floor in the 8'x8' room but beamed when he showed us the mat, blankets and other items that he still had from his bedkit. The whole family used these items to make themselves comfortable. During an interview with some of the parents of this year's recipients, when asked what they would like to say to the donors, they said, "No one has ever done so much for my child.  This is a very good thing you have done for my child. Thank you." and, "God will bless you for what you have done.  I would like to give my blessings in return because I have nothing else to give."
Pictured above are some of the 6,100 children who received a bedkit during their distributions. 100% of the $35 donated to SCAW goes towards purchasing the items shown in the picture. Each bedkit had 35 items in it, including a mat to sleep on and mosquito net to protect them from Malaria.
SCAW is one of the few charities that can claim that 100% of each donation goes towards the bedkits for needy children. It is operated by volunteers, from the processing of donations to the distribution of bed kits. The Travelling Volunteers do so at their own expense and without benefit of a tax receipt. Travelling volunteers supervise the distribution of bed kits, photograph children with their bed kits, and write articles for the donor newsletter. Since SCAW's inception, over 200 individuals have gone on bed kit distributions. Requisites for travelling volunteers are a love of children and travel experience — with the physical and emotional capacity to withstand this form of travel. All pay their own travel expenses. SCAW offers volunteer information workshops twice a year. If you are interested in travelling with SCAW, please contact us to attend an upcoming workshop at the following link http://www.scaw.org/about/zero.html#travel.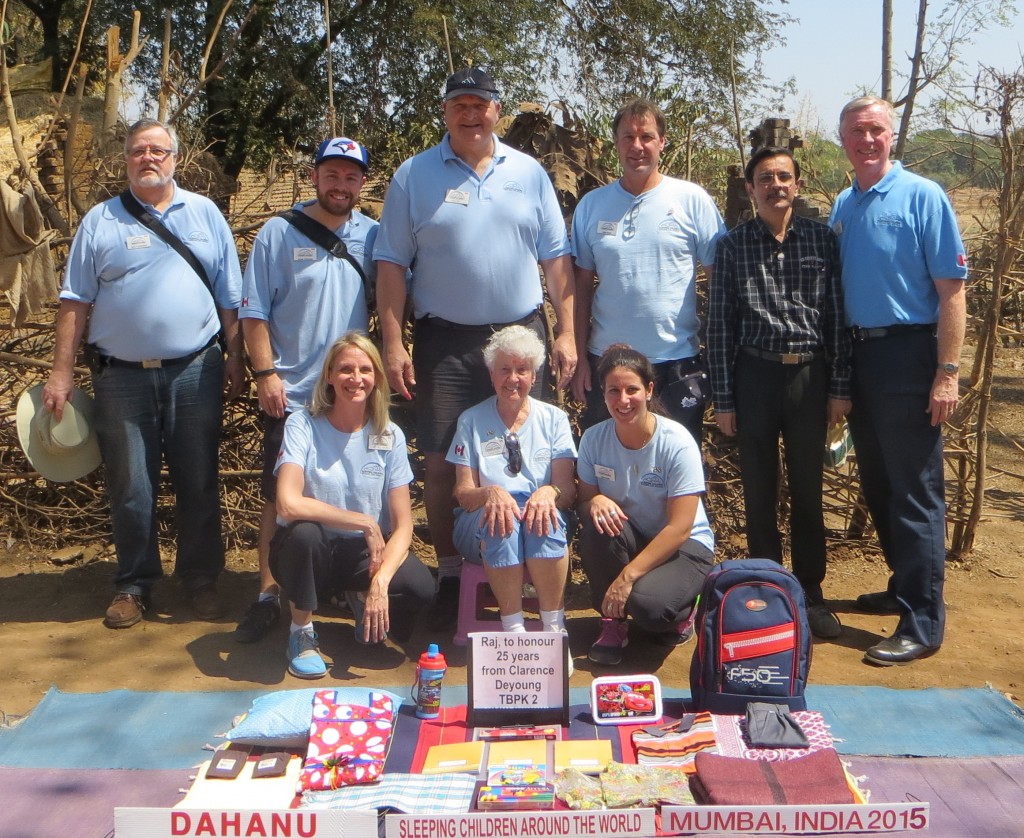 Sleep Country Canada, a corporate partner of SCAW, had three of its employees on Mumbai team. They all said that the distribution was an emotional, life-changing experience.
SCAW relies on Overseas Volunteers in the country of distribution who select children with the greatest need, organize the manufacture of bed kits, choose distribution sites, and help travelling volunteers distribute bed kits. Examples of overseas volunteers include groups such as Community Service Clubs, Salvation Army, and Religious Orders. Locally produced bed kits result in:
– elimination of transportation costs
– provision of materials and labour at minimal cost
– employment for families in the country
– assistance to the local economy and the country as a whole.
More information about SCAW can be found at www.scaw.org, including how to donate to the charity.
***
14240 RAdm Patrick Finn (CMR RMC 1984) to take on ADM(Mat) duties on 10 April

14240 RAdm Patrick Finn (CMR RMC 1984) will retire from the Canadian Armed Forces on 9 April 2015 after almost 36 years of service. He holds a Bachelor's degree in Electrical Engineering, a Master's Degree in Business Administration and a Master of Arts in War Studies. He is a graduate of the Canadian Forces Command and Staff College and completed a fellowship in international studies at the Royal College of Defence Studies in London, England.
His naval career spans three decades and he has extensive experience in leadership and management in the domain of materiel readiness for ship operations and in complex project management.
On 10 April 2015, he will take on the civilian position of Assistant Deputy Minister (Materiel) as per the formal announcement below from Mr. Forster, Deputy Minister.
"I am pleased to announce that on April 10, 2015, Patrick Finn will take on the position of Assistant Deputy Minister (Materiel).
Pat brings a wealth of expertise to the Materiel Group and the Department due to his thirty-five years in uniform and his many years spent in materiel management.
I would like to take this opportunity to welcome Pat, and I look forward to working with him in this new capacity as Assistant Deputy Minister (Materiel)."
John Forster
Deputy Minister