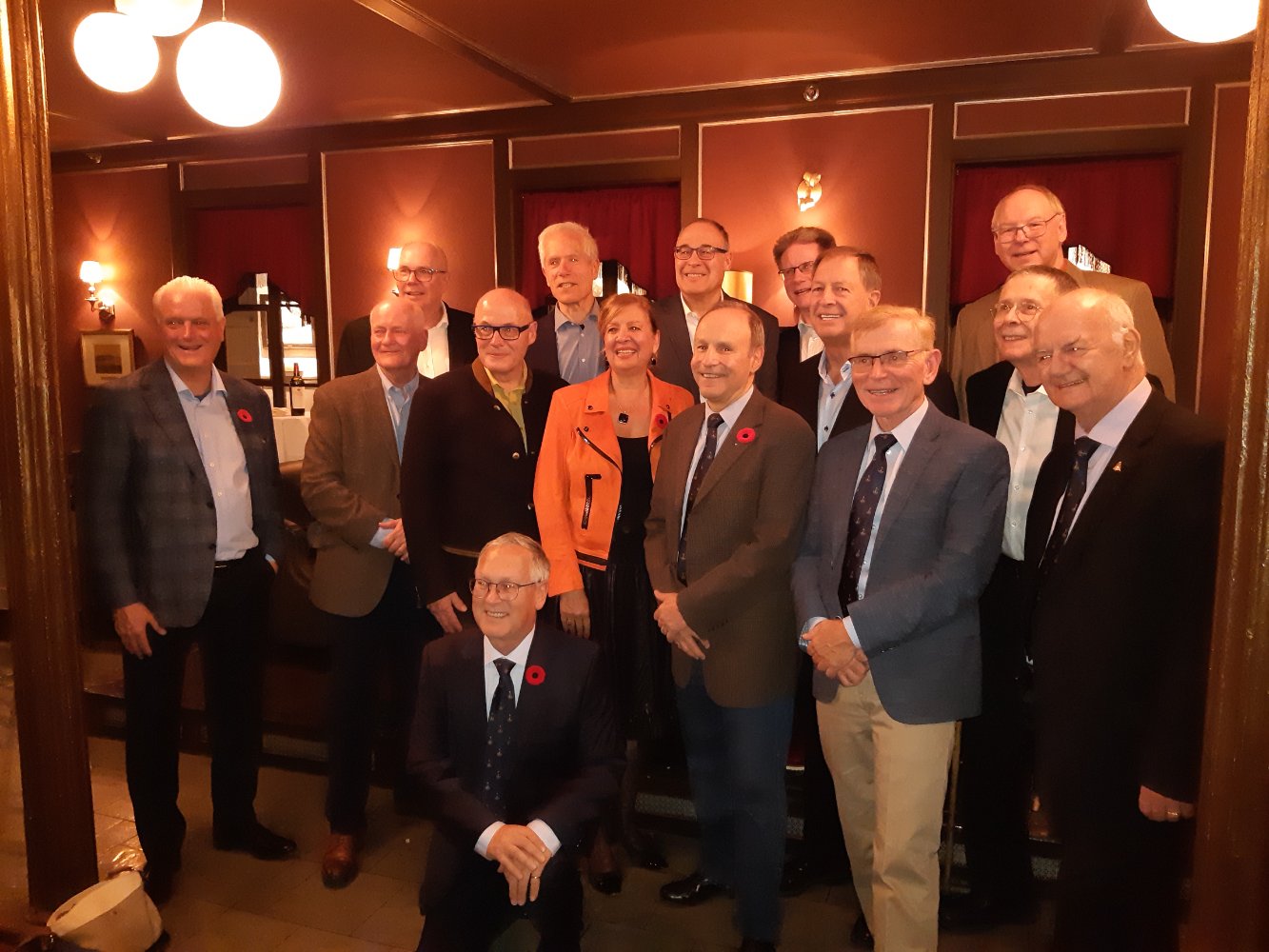 Le 5 novembre 2022, la classe de 1972 a organisé une rencontre dans la belle ville de Québec.  Le clou de l'événement était un magnifique souper au célèbre Cercle de la garnison, club privé au cachet militaire.  Une dégustation de vins et de fromages a servi de toile de fond pour ressasser des souvenirs et refaire le monde.   Normand Perreault (11298, major de classe) et Pierre Rivard (11306), que l'on peut voir sur une photo, ont été les principaux instigateurs de ces retrouvailles.  Le Chapitre Québec est heureux d'avoir soutenu cette initiative.
Deux photos de groupe montrent tous les participants.  Il y a aussi une photo de Normand et de Pierre ainsi qu'une d'Hélène Ladouceur (H17090), figure de proue et pilier du CMR St-Jean, en compagnie de Serge Gaudreau (8277), secrétaire du Chapitre Québec.  C'est d'ailleurs cette année qu'Hélène Ladouceur, Directrice Générale de la Fondation du CMR, a fait son entrée dans la Vieille Brigade au sein de la classe de 1972.  Quel bonheur pour elle de célébrer l'événement en compagnie de ses camarades de la Vielle Brigade.  Aussi à noter la présence du Président de la Fondation du CMR, François Bureau (11620), qui, avec la complicité d'Hélène, a livré les dernières nouvelles en provenance de notre Alma Mater.
Notre Chapitre est heureux de soutenir ces événements à Québec, ville du patrimoine mondial et héritière d'une tradition militaire depuis ses tout débuts.  Nous sommes toujours ravis d'accueillir les gradués des collèges militaires dans notre belle ville.
---
On November 5, 2022, the Class of 1972 held a reunion in beautiful Quebec City.  The highlight of the event was a wonderful dinner at the famous Garrison Club, a private club with a military character.  A wine and cheese tasting provided the backdrop for reminiscing and solving the world's problems.   Normand Perreault (11298, Class Major) and Pierre Rivard (11306), who we can see on one photo, were the main instigators of this reunion.  The Quebec Chapter is pleased to have supported this initiative.
Two group photos show all the participants.  There is also a photo of Normand and Pierre as well as one of Hélène Ladouceur (H17090), figurehead and pillar of RMC St-Jean, with Serge Gaudreau (8277), secretary of the Quebec Chapter.  It was this year that Hélène Ladouceur, Executive Director of the CMR Foundation, joined the Old Brigade in the class of 1972.  What a joy for her to celebrate the event in the company of her fellow members of the Old Brigade.  Also to be noted was the presence of the President of the CMR Foundation, François Bureau (11620), who, with the complicity of Hélène, delivered the latest news from our Alma Mater.
Our Chapter is pleased to support these events in Quebec City, a world heritage city and heir to a military tradition since its very beginnings.  We are always delighted to welcome military college graduates to our beautiful city.