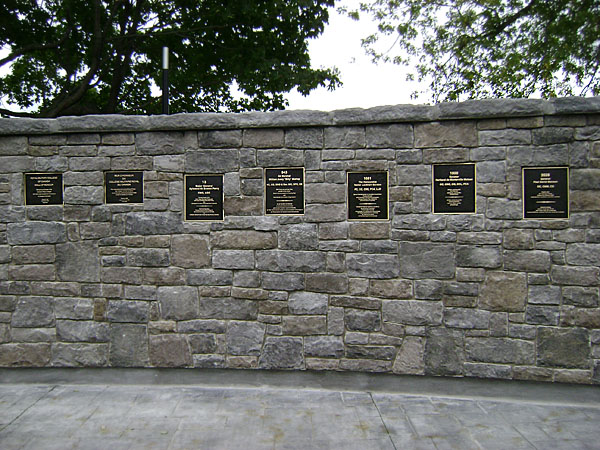 Do you know an RMC graduate or classmate who has made a difference in their community, their profession or the CAF?  An ex-cadet who has had a career of outstanding achievements and/or contributions to Canada or the world, that would inspire present day cadets at RMC to strive to similar heights in their lives?  Someone who has personified the qualities of Truth, Duty, and Valour in their personal and professional lives through their time at the college, their career and thereafter?  If so, they could be a candidate for the RMC Wall Of Honour and YOU can nominate them.
Capture their story in a concise narrative of 750 to 1000 words, (MS Word format please) in either official language. Be original; try not to copy an obituary or other recognitions the candidate has received. We hope for an inspirational summary of the candidate's life and achievements.  Full name, College number, College(s) attended and at least one picture should be included. Attachments or historic references outlining awards, service branch and units, can supplement the narrative.
Detailed eligibility and criteria for nominations with pertinent information on submissions can be found here with more information under the "How you can Nominate a Candidate" tab on the Wall of Honour web page.
---
Le comité des nominations sollicite maintenant des mises en candidature pour les intronisés au Mur d'honneur du CMR pour l'année 2023.
Connaissez-vous un diplômé ou un camarade de classe du CMR qui a fait une différence dans sa communauté, dans sa profession ou comme membre des FAC? Un ancien élève-officier qui a eu une carrière de réalisations et/ou de contributions exceptionnelles au Canada ou dans le monde et qui inspirerait les élèves-officiers actuels du CMR à viser des sommets similaires dans leur vie ? Quelqu'un qui a personnifié les qualités de vérité, de devoir et de vaillance dans sa vie personnelle et professionnelle tout au long de son séjour à l'université, de sa carrière et au-delà ? Si oui, ils pourraient être candidats au Mur d'honneur du CMR et VOUS pouvez les nominer.
Racontez leur histoire dans un récit concis de 750 à 1000 mots (format MS Word svp) dans l'une ou l'autre des langues officielles. Soyez original et unique. Par exemple, nous vous recommandons de ne pas copier une nécrologie ou d'autres reconnaissances que le candidat a déjà reçues. Nous souhaitons recevoir un résumé inspirant de la vie et des réalisations du candidat. Le nom complet, le numéro de collège, le ou les collèges fréquentés et au moins une photo doivent être inclus avec la candidature. Des pièces jointes ou des références historiques décrivant les récompenses, la branche de service et les unités peuvent également compléter le récit.
Les détails portant sur l'éligibilité et les critères de nomination, incluant des informations pertinentes sur les soumissions, peuvent être trouvés ici sous l'onglet "Comment vous pouvez présenter une mise en candidature" sur la page Web du Mur d'honneur.