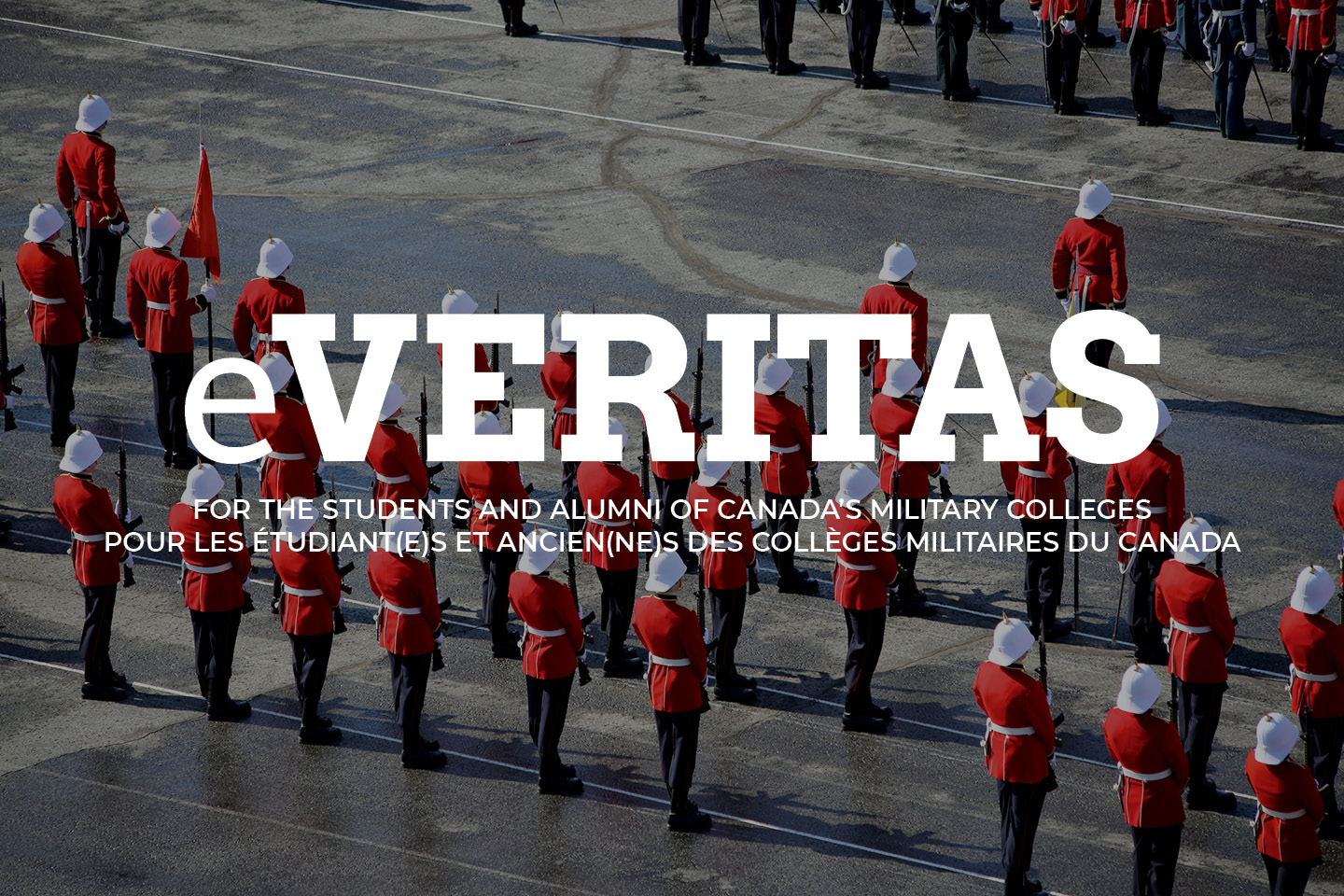 Teaching "is necessary for the advancement of society": Celebrating teaching excellence and the dynamic relationship between teaching and research at the RMC Class of 1965 Teaching Excellence Award Public Lecture
By Dr Heather Evans, Department of English, Chair of the Class of 1965 Teaching Excellence Award Committee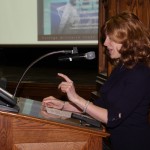 On Thursday evening, January 17, 2013, about seventy members of the RMCC community and visitors to the College gathered in Currie Hall to honour and celebrate the RMC Class of 1965 Teaching Excellence Award winner for 2012, Dr Yahia Antar of the Department of Electrical and Computer Engineering. The Award was established in 1990 on the occasion of the twenty-fifth reunion of the Class "to recognize excellence in teaching and to promote that standard throughout the College." This year's public lecture attested to the commitment of the Class of 1965 to celebrating the standard of teaching excellence that is the hallmark of RMCC and that has been especially demonstrated by Dr Antar.
The evening began with a welcome address by our principal, Dr Joel Sokolsky, who anticipated several of the central themes of Dr Antar's lecture,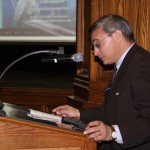 particularly in his emphasis on the "essential bond between students and teacher" that contributes to effective student learning and to the cultivation of strong leaders. Teaching, he noted, involves more than the mere conveyance of information, and students "must know us as people who listen to them as people." Moreover, as Dr Sokolsky observed and Dr Antar later affirmed, this dynamic relationship is mutually beneficial, and "teachers also benefit by being students themselves" as they continue to participate actively in research, often itself inspired by engagement with students. Through their research, faculty ensure that they will be able to continue to inform students at the university, as well as non-academic industries and the broader Canadian public.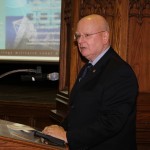 Following Dr Sokolsky's address, 6604 Jim Carruthers, Vice President of the RMC Club Foundation and a member of the Class of 1965, described the work of the Foundation and of the Class, and their vital contributions to the college. This year alone, Mr Carruthers noted, the Foundation has put in place over a hundred and ten projects that have contributed to both the beauty of the RMCC campuses and the enrichment of students, faculty, and staff. Of the tremendous role of the Class of 1965 Mr Carruthers declared, "I believe our class can demonstrate what can be done. To quote a great philosopher, Buzz Lightyear, 'to infinity and beyond.'" Summing up, Mr Carruthers reminded the audience that "both campuses need your support. The amount of money raised is directly related to the quality of the projects" that can be developed at the College for the benefit of current and future students and researchers.
6496 Charles Emond, the Class of 1965 representative on the Teaching Excellence Award Committee, spoke about the Award and its origins, and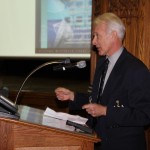 emphasized that it was motivated by a desire to give back to the institution that had provided members of the Class with a strong foundation for success in their professional and personal lives. As members of the Class approached middle age and were "mi-carrière, nous avons réfléchi comment dû remercier ceux qui nous avons influencé." Looking back, it struck the members of the Class "qu'il y a tellement de bon professeurs au collège," an observation that has been borne out by Mr Emond's involvement for the past two years with the TEA Committee. Commenting specifically on Dr Antar, Mr Emond observed that "what struck me was that . . . this is a person who has sustained his commitment to teaching excellence throughout his long career."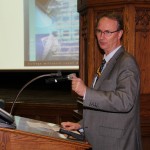 Dr Antar's highly impressive career of accomplishments as a researcher and a teacher were the subject of Dr Phil Bates' introduction of his colleague. The Dean of Engineering noted that although "many people know Dr Antar because of his research accomplishments, out of all these accomplishments, it is probably the students [from the College] that Dr Antar is most proud of." As Dr Bates remarked, echoing Dr Sokolsky's address, "For people like Dr Antar, the line between teaching and research is blurred; maybe even non-existent." Moreover, Dr Antar's influence extends far beyond the walls of the college: his "research, through his students, who wear many different 'uniforms,' allows him" and his tremendous knowledge "to go out into Canada" at large.
In his lecture entitled "Integrating Teaching and Research for Excellence in Teaching," Dr Antar similarly highlighted the importance of teaching, not only at RMC, but beyond: "teaching is a key important function of the university life," he told us, "it is necessary for the advancement of society." It is an especial honour, Dr Antar noted, to teach "at an institution that trains so many leaders," and he acknowledged the many, many students who have "helped [him] fight" his "battle" towards excellence.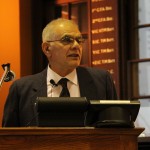 Giving us a "crash course in electromagnetics," Dr Antar introduced us to James Clark Maxwell, a nineteenth-century scientist whom many believe to be in a class with Einstein and Newton for his contributions to science and society. As Dr Antar explained, Maxwell "formulated some of what we know about electromagnetism and affected all of human life." Dr Antar took us back to the beginning of the study of electromagnetics in 1834 and introduced us to some of the many electromagnetic devices that are all around us, including antennas, radars, the microwaves we use to jump-start our mornings, and microwave cardiac ablation therapy to treat cardiac conditions – an application of electromagnetics that saved Dr Antar's own life: "That's why I always say microwave is close to my heart," he quipped.
Dr Antar guided us along his professional journey that took him from sunny Egypt to windy Winnipeg, and on to chilly Ottawa, a journey that took him through academia and industry, and finally brought him to sunny Kingston where he built the lab and developed undergraduate and graduate courses that have contributed to the establishment of RMC as not only the best place in Canada to study electromagnetism, but one of the best places in the world. That success, Dr Antar emphasized, is in large part due to the commitment and accomplishments of undergraduate and graduate students at the College.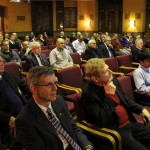 That success, Dr Antar reminded us, is also attributable to collaboration with other academic institutions, industry, agencies such as Defence Research Development Canada, and learned societies. "Teaching is closely dependent on research and research benefits from teaching," Dr Antar asserted. Recognizing that what he was doing as he launched his career in the 1960s is not the same as what he is doing now in the twenty-first century, Dr Antar emphasized the importance of preparing engineers for their work forty years hence in an ever-changing field. This, he suggested, requires encouraging and financially supporting students to attend conferences, to contribute articles to scholarly publications, and to participate in learned societies, all of which promote exchanges of knowledge, and ensure students and professionals learn about the latest advances and new technologies in the field. "Our students benefit from interacting with industry, scientists in government, foreign teammates, visiting scholars, doctoral fellows," and others in the field of engineering. The remarkable accomplishments of Dr Antar's many award-winning former graduate students who have moved on to highly successful professional careers attests to the merits of his approach to teaching. Ultimately, as Dr Antar's work has shown, what best serves the students, also best serves the College now and in the future.
Following Dr Antar's warmly received lecture, Dr Aboelmagd Noureldin from the Department of Electrical and Computer Engineering presented Dr Antar with a gift on behalf of the Egyptian Student Association of Queen's and RMCC. 14037 Dr Scott Knight, Head of the Department of Electrical and Computer Engineering, formally thanked Dr Antar for his presentation and his incalculable contributions to teaching and learning at the College. Dr Sokolsky and Jim Carruthers returned to the podium to present Dr Antar with a framed copy of the poster that advertised Dr Antar's lecture and the Teaching Excellence Award honorarium generously provided by the Class of 1965. The thoroughly enjoyable evening wrapped up with a reception in Baronial Hall, graciously sponsored by the Commandant, 14835 BGen Eric Tremblay.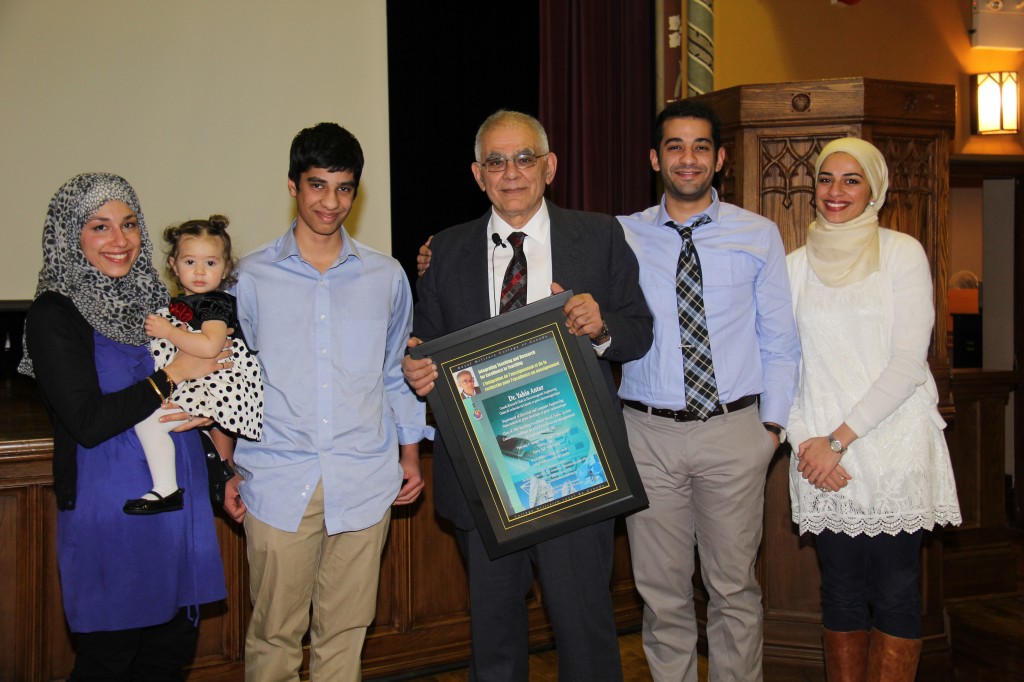 More photos from the evening (click to enlarge):