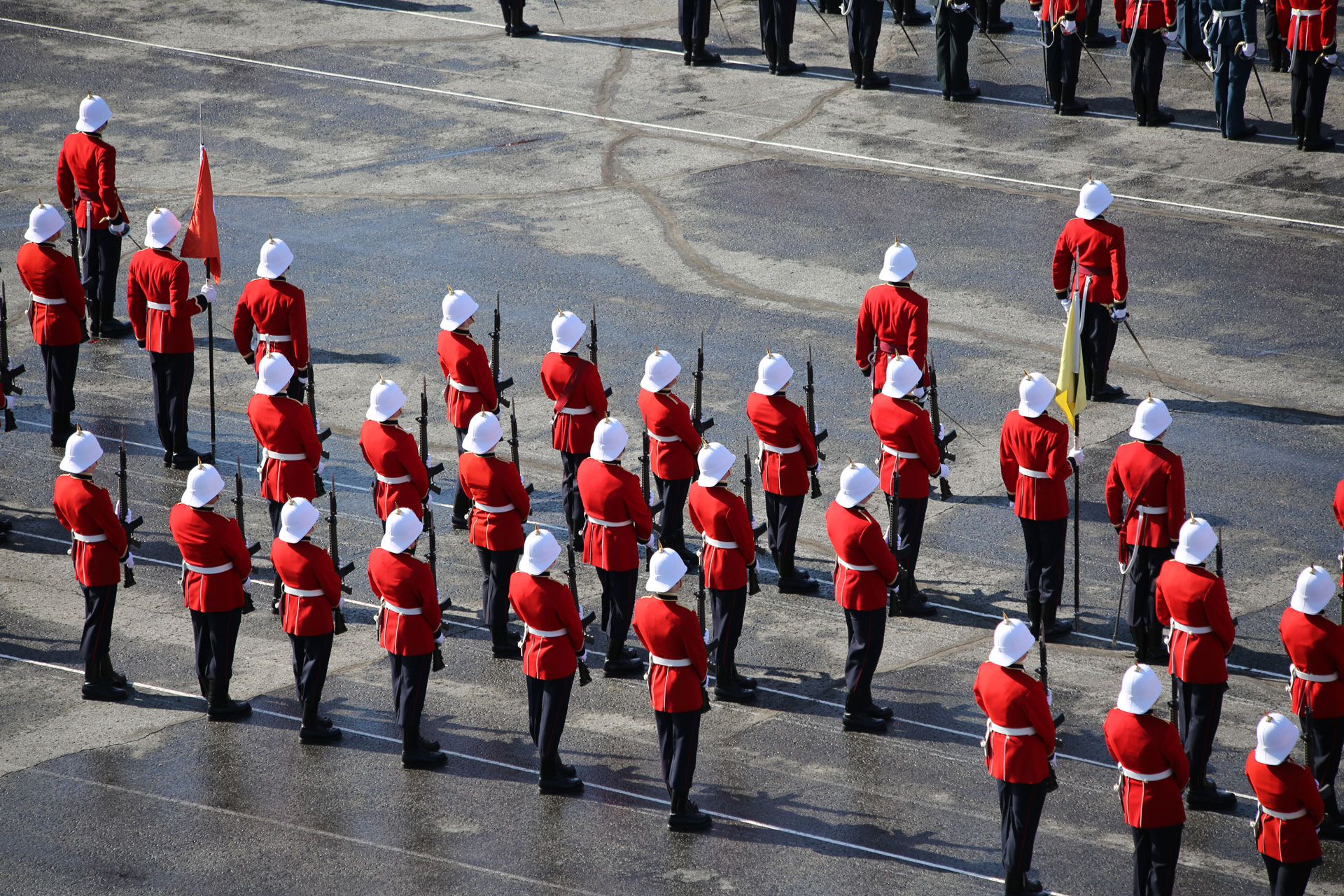 "College Mom" – The strength behind the uniform
A/SLt 24498 Noelani Shore (RMC 2009)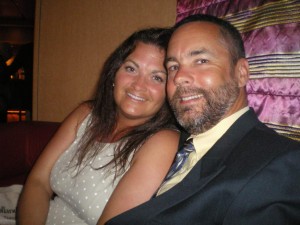 Over the past several months, E-veritas has had a chance to hear from the Commandant on a few occasions. Since arriving, we have all grown use to seeing him, along with Brenda and the College "Big Dog" – Bailey, at many events, and many cadets have had the opportunity to get to know them on a more personal level during the brunches. Recently, E-veritas' A/Slt Shore had the opportunity to spend some time at the Commandant's residence one on one (over tea and cookies!) with the "College Mom" to learn a bit more about Brenda and to get her perspective on a range of issues. Here's what she discovered:
Born and raised in Victoria, B.C., Kingston is a nice compromise for Brenda Truelove.
"Having been born and raised on an island, this feels very right, with the water all around me," she said.
Commodore Bill Truelove, Commandant of the Royal Military College, met Brenda while he was attending Royal Roads Military College.
"I was a first aid instructor at Work Point in Victoria, and my friend pestered me for about a year and a half to go on a blind date with a friend of her boyfriend. I finally agreed to go on the date, and I met Bill, had a great time at the talent show, laughed all evening with our mutual friends, and I haven't looked back since!" Brenda explained.
Being married to a man in the military has posed challenges along the way, but Brenda knew that she had to be strong for her family.
"It's difficult at times, because you have to be both mother and father to your children. You have to make decisions on your own when he's away and can't be reached; anything from selling a house, dealing with an ailing pet, or a death in the family, which can be especially difficult on your own. Then there are birthdays, anniversaries, holidays, and even the birth of our first child, Anthony, which occurred while Bill was at sea and on his way to Norway," she said. "He returned when Anthony was 5 weeks old and sleeping through the night – he got off easy!"
While living life separated from Cmdre Truelove was hard, Brenda wouldn't give it up for the world.
"It has made me stronger, and has taken me on so many adventures with life-long memories to hold close to my heart. Having to live separately gives you space to grow as a person, and time to do things on your own," said Brenda.
Brenda prides herself on being independent, and the proudest moment for her, other than the birth of her children, was the day Cmdre Truelove told her that he never had to worry about her when he was on deployment.
"As a military wife, I feel this is the highest compliment I could ever receive. I'm doing my part, so my husband can concentrate on his job without distractions from home. He can deploy knowing that I can handle things and that all will be well and right when he returns home. I truly believe, as a military spouse, and the "strength behind the uniform," that it's important for me to be strong and independent," she said. "I take great pride in knowing that I remove the stress, allowing him to focus on looking after the demands of deployment. An example is when he had Command of HMCS REGINA, and he took her to the Persian Gulf just as combat operations started in 2003. I was comforted in knowing he wasn't distracted by wondering how we were making out at home – leaving him to concentrate on his ship and the welfare of the crew, and in the end, bringing them all home safe to their families."
Another challenge of being married into the military is the ongoing requirement to move around to many different parts of the country. However, that too is a matter of perspective.
"It's hard to leave a place after you have made friends, are happy with your job, and have gotten comfortable in your community, but the excitement of something new pushes you forward. I have learned over the years that no matter where we are posted, we usually run into someone we know. The military is a small community, so the chances are good that you won't be alone in your new posting, and this becomes more apparent the longer you are a member of the "military family." I get excited at the prospect of moving, and look at each posting as a new adventure and chapter in our lives," she said.
Brenda and Cmdre Truelove have moved more than the vast majority of naval officers, including seven jobs in the last seven years. She jokingly tells her husband that he can't hold down a job.
"I'm not worried this year though, because we are scheduled to stay here at RMC until at least 2011," she said. "We have moved to many places, but this is an amazing posting, and it's also very different. This is the first time we have lived in a residence that is strictly put aside for a position, so it's the first time I haven't had to search for a house to buy."
Living at RMC has been a positive change for Cmdre Truelove and his family because he was extremely busy in his last two jobs. He worked for the Vice Chief of Defence Staff, and then for the CDS, so this posting is quite different.
"It's less 'all-consuming' than his last job, and it's easier for him to leave his work in his office. He is loving his job here," she said.
As the Commandant's wife, Brenda is more engaged here than in any other posting they've had so far, but the energy and enthusiasm of the young cadets is refreshing, and it energizes her.
"I try to support the cadets by cheering them on in their sports, the band, pipes and drums, or in any competition they may have. I enjoy attending the lectures and academic activities as well as the various parades and other special events. The cadets don't always see me, but I'm usually there, in the back cheering them on, smiling proudly," she said.
A recent highlight was the Talent Show. "I was so proud of all the cadets and amazed at their incredible talent. It was so much fun," she said.
One of Brenda's biggest responsibilities at RMC is being "mom" to the cadets, and she takes this very seriously.
"I am constantly making sure, on behalf of their parents, that the cadets are well looked- after and safe. I do this quietly by reminding Bill that, at the end of the day, it's all about the cadets," she said. "When we found out we were going to be posted to RMC, we decided that we would host brunches for the cadets. We try to do that twice per month, but that depends on our schedule. We believe strongly that though we live in this wonderful house, it belongs to the College, and should be seen. Having the brunches gives us an opportunity to get to know the cadets on a more personal level, and it gives them the chance to explore the house. It also gives them the chance to speak with other cadets that they may not normally meet for a range of reasons. The brunches allow them to build new relationships, and this is important as it will pay dividends in the future."
Brenda is perhaps the most qualified person to step into the role as "mom" for all of the cadets, as she is, in fact, the mother of a cadet.
"Anthony is in the third year Mechanical Engineering program," she said. "He's married to a wonderful lady named Candace, and they are expecting our second grandchild in August. We also have a daughter, Ashley, who is in Grade 12 at LaSalle High school, and she works part time at Tim Horton's."
The Trueloves have also opened their home to an exchange student from Germany, named Tina. She came to Canada to experience Canadian culture and to become fluent in English. Many of us know her as the girl at the top of the RMC Cheerleading Squad pyramids!
Brenda enjoys kayaking, crafts, and getting her hands dirty.
"I can't wait for the gardens to be planted so I can get out there and "play." Because I was raised by an engineer, fixing things around the house comes natural, and sometimes to Bill's horror! I try to fix things while he's not around, or better yet, I don't tell him what I'm doing. If he asks, I tell him I'm 'puttering.'"
Living in Kingston and on campus has been a positive experience for Brenda, as everyone has been so welcoming in the community, both military and civilian.
"The grounds are beautiful, the people are incredible and everything is within walking distance in town," she said. "We have been posted many places, and this is the only place that has us thinking that, when all is said and done, we could retire here."
It was clear during my visit with Brenda that she is enjoying life at the College. Her openness and genuine concern for the cadets was clear not only in her words but in her constant presence and support to the entire Cadet Wing. So, next time you see Brenda and Bailey "out and about" – go up and say 'Hi' – you won't be sorry, and you also won't meet a bigger fan of the cadets! Thanks "Mom."