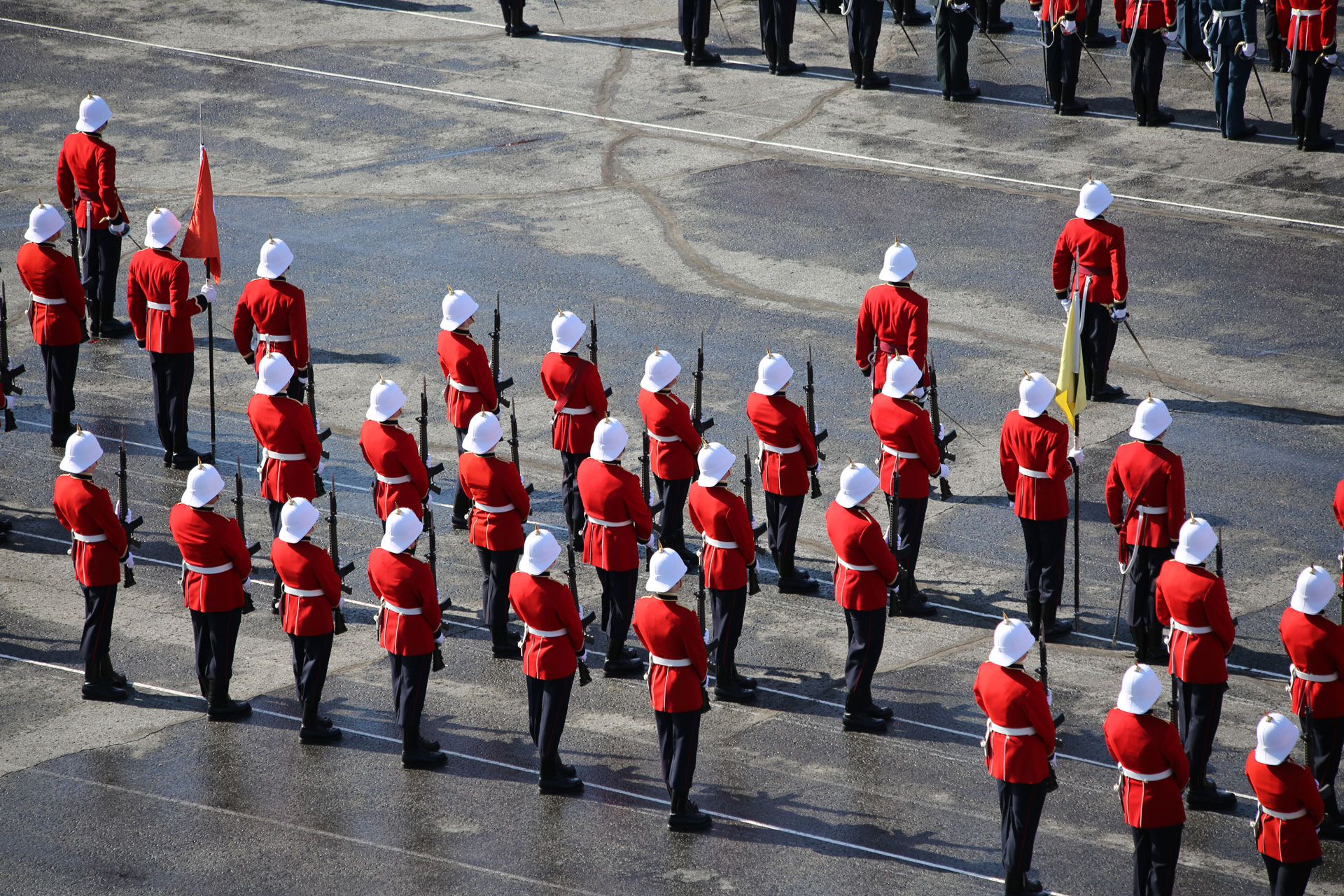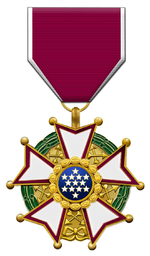 15706 Paul Wynnyk – Awarded Legion of Merit – CWC Class of 1986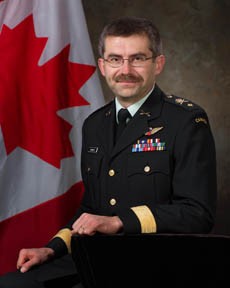 LTG William B. Caldwell, IV, Commander, NATO Training Mission – Afghanistan (NTM-A) / Commander, Combined Security Transition Command – Afghanistan (CSTC-A) awarded 15706 Paul Wynnyk (RRMC RMC 1986) the Legion of Merit for exceptionally meritorious service to CSTC-A and Afghanistan.
He was particularly eloquent about the extremely close and professional relationships that Paul made with Min Wardak, Gen Bismullah Mohammedi, Gens Akram, Noori and Karimi and how that focus, dedication and unceasing support ensured that the ANA successfully weathered a tumultuous period of dramatic growth.
12632 MGen Michael J. Ward, (RMC 1980) DCOM – Police NATO Training Mission – Afghanistan had this to say. "I can attest to the tremendous professionalism that Paul has demonstrated in everything he's done and especially in the leadership of his Ministerial advisor team. Another in a long and distinguished line of Canadian one-stars in the ACG-AD appointment."
Back at NDHQ, Jill Sinclair, Assistant Deputy Minister (Policy) was equally impressed with the recognition bestowed on the former Gunner from the 20th Field Regiment, RCA (Militia)  – the Regiment in which he served prior to his acceptance under the Regular Officer Training Plan at Royal Roads Military University in 1982.
"He is truly an extraordinary officer who brings honour, pride and excellence to every position he holds. We are fortunate to have him representing Canada in his current position in Afghanistan. And I'm thrilled he has been recognised in this way."
LTG Caldwell hostged a Special Dinner for Paul on Tue 16 Mar just prior to his departure from Theatre.
A FEW WORDS TO EXPRESS THE THOUGHTS OF MANY…
From LGen Lessard – CEFCOM:
"On behalf of all members of CEFCOM, I would like to thank you for all the hard work but more importantly for your very significant achievements during the last year. Whether it was your constant interaction with the MODs or just the staffing of myriad of projects related to the continuous effectiveness of the ANA, you have made quite a difference. The Legion of Merit you have been awarded is a testimony of your professionalism.
We all wish you a safe trip back to Canada. Enjoy your well deserved leave with your family. The Canadian Army and the Canadian Forces are anxiously awaiting your leadership as Commander Land Forces Western Area/ Commander Joint Task Force Western."
From LCol Perry Grandy – (former) Executive Officer:
"It was certainly a career highlight and privilege for me to serve BGEN Wynnyk during my short 7 months on his staff with Travis. Since arriving home, I have often told others, my wife included, of the great work he was doing and of the tremendous skill he exhibited as the ACG ANA Development.
As a Canadian, I felt tremendous pride when observing the respect he commanded from his coalition peers and of the faith exhibited in his leadership ability by those who worked for him.
Repeatedly, throughout my deployment, US and Coalition officers expressed to me how lucky they felt to be given the chance to serve under such a talented leader and gifted General Officer. I know he made personal sacrifices to take on this challenging 14 month assignment away from family, friends and Canada. He was motivated purely to help make the world a safer place and I believe he has positively contributed to that challenge significantly. Capt Travis Sherriff must also be recognized for his great dedication and service to country in keeping BGEN Wynnyk not only safe but on schedule throughout! That is certainly a feat.
BGen Wynnyk is well-deserving of this award and I would appreciate it if you could simply pass on my complements and appreciation, as a Canadian, for the great service he has provided to the safety of my family and for the future security of the people of Afghanistan."
xxxx
________________________________________________________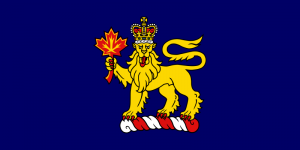 Her Excellency the Right Honourable Michaëlle Jean, Governor General and Commander-in-Chief of Canada, announced March 18, 2010 the names of 58 individuals mentioned in dispatches for specific achievements that have brought honour to the Canadian Forces and to Canada. A ceremony will take place at a later date to be announced by the Department of National Defence. Recipients are entitled to wear a bronze oak leaf on the appropriate campaign or service medal ribbon. The list of mentioned in dispatches includes:
* 22905 Captain Robert E. Barker (RMC 2005) is a n Advanced Military Studies student at the Canadian Defence Academy at RMC. Barker.RE@forces.gc.ca
* 23137 Captain Aaron Edward Corey (RMC 2006) is Second in Command, E Company, Land Force Central Area Training Centre Meaford, Ontario. Corey.A@forces.gc.ca
* 23079 Captain Daniel J. Vincent (RMC 2001) is a Light Armoured Vehicle Captain, N Company, Head Quarters, 3 RCR Battle Group, 2 CMBG, CFB Petawawa. Vincent.DJ@forces.gc.ca
Mentions in Dispatches http://www.gg.ca/document.aspx?id=13558
Submitted by: E3161 Victoria Edwards (RMC 2003)
xxx
________________________________________________________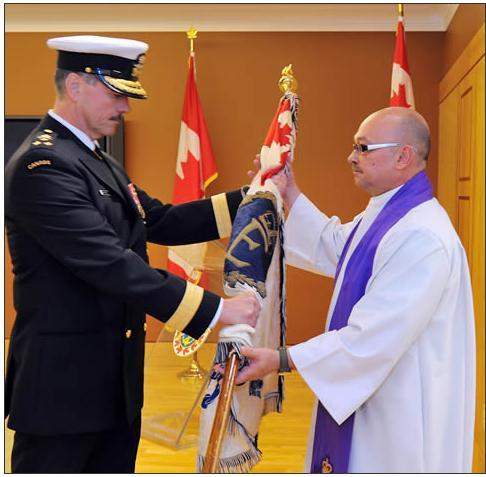 11919 Vice-Admiral Dean McFadden, Chief of the Maritime Staff (RRMC 1978) passes the old Queen's Colour to Padre Maj Jean-Paul Rochefort for safekeeping in the Hall of Colours at the National Memorial Centre in Ottawa. It joins the retired Colours of the Royal 22e Régiment and 2nd Battalion, The Royal Canadian Regiment. More than just a flag, the Queen's Colour is a symbol of respect to military service, representing heroism and honour, according to Dean McFadden, "This is an important day for us to bring to closure the presentation of a new Colour and the placing of the old in a location where we are assured it will receive the respect and dignity that appropriately reflects the 30 years that it served and represented the loyalty and the service of the Canadian Navy," he said. http://www.dnd.ca/site/Commun/ml-fe/photo-eng.asp?id=4213
________________________________________________________
Canada needs to update its aging fleet of CF-18s, but when will Ottawa get around to it?; Another pie in the sky?
"You can take a handful of paper clips and they're all going to break at about 16 bends," said Lt. Col. Allen, an asscociate professor at the Royal Military College and an expert on Canada's past aircraft acquisitions.
15595 Billy Allan (RRMC RMC 1986)
We can do better recognizing military service
"Canadian Forces were awarded almost 30 per cent of the medals issued then. Many of us in the Canadian Forces thought it was wrong to recognize only a small percentage of those servicemen and women in the Forces. We understood that the medals were awarded on a lucky draw basis."
3958 Ian D. Isbester
Airmen gain experience while supporting Canadian military training
"We're already operating side by side overseas," said Canadian Capt. Eric Rheaume, the 425th Tactical Fighter Squadron maintenance officer. "This just amplifies the fact that we're allies, and we're going to support each other as much in the real world as in our training to prepare for those missions overseas."
22514 Eric Rheaume (RMC 2003)
________________________________________________________