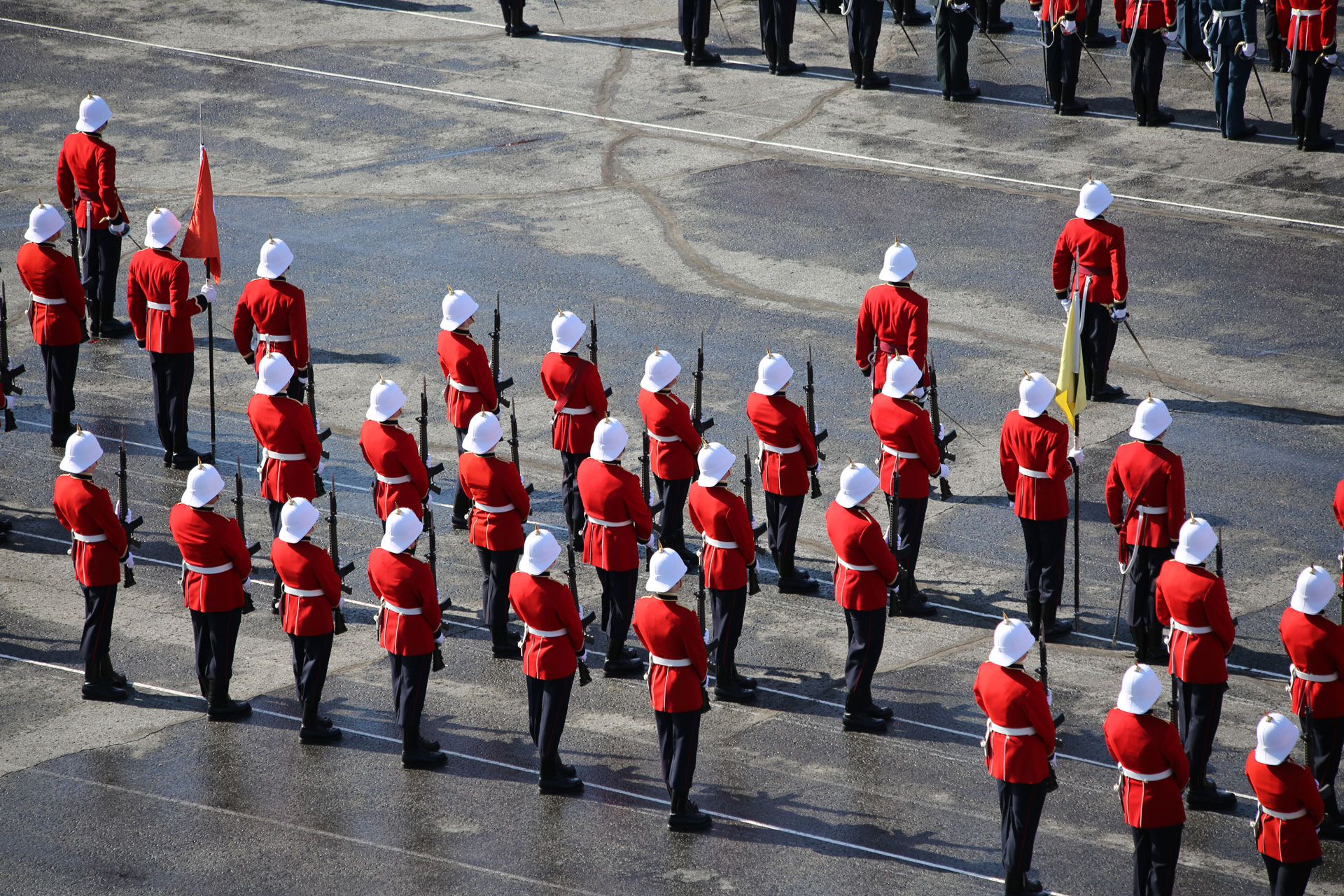 XVIII Commandant RMC: 1945 to 1946
(Researched by E3161 Victoria Edwards)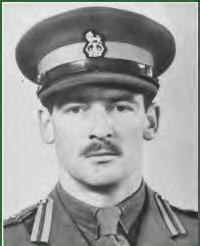 2120 Major General (Ret'd) James Desmond Blaise Smith C.B.E., D.S.O., C.D., C.ST.J., ADC (RMC 1929) was born in Ottawa in October 2, 1911. Before entering RMC in 1929, he studied at the St. Patrick School and the University of Ottawa. At RMC, he played rugby and was runner up in the College heavyweight boxing championship. He served as the Company Commander at RMC. Upon graduation from RMC in 1933, he was commissioned into the Royal Dragoons. He was married from 1937 to Miriam Blackburn, who d ied in 1969 and the couple had two sons James and Stephen.
At the outbreak of the Second World War, he sailed to England as staff captain with the 1st Canadian Division. Before returning to the 1st Canadian Division as General Staff Officer 2, he completed a staff course at Camberley. He was Brigadier General Staff I Canadian Corps from 1943- 1944. He was appointed Brigade Major of the newly raised 2nd Canadian Armoured Corps. In
1942, he was Commanding Officer of the 1st Armored Car Regiment. From 1942 – 1943, he served as General Staff Officer 1 of the 5th Canadian Armored Division, England.
During World War II, he served as General Officer Commanding: 4th Canadian armoured brigade (Sussex England 1944); 5th Canadian armoured brigade (Italy 1944).
In 1944, he was made a Commander of the Order of the British Empire (CBE). In 1944, Major General Smith was awarded the Distinguished Service Order (DSO) for gallantry and leadership in the action involving the crossing of the Melfa River. He was mentioned in despatches twice. He was decorated by the governments of France, Greece, Italy, Poland and the United States.
When the war in Europe ended, he returned to Canada and trained a brigade for the assault on Japan until VJ day.
His first peacetime task as the 18th Commandant at the Royal Military College in Kingston from 1945-6. This was the command of a training establishment since the departure of the cadets from Point Frederick had left the facility fully available for the training of officers. The courses offered in Kingston under Smith's command included the Canadian war staff course, a Canadian civil affairs staff course, various intelligence courses for officers and other ranks and courses for field security personnel. In 1946, the RMC Club recommended the reopening of RMC as a cadet college to the Lett Committee, headed by Brigadier Sherwood Lett. At the RMC Club's annual dinner in 1947, the Club announced that the cadet college would reopen in September 1947.
Brigadier Smith was appointed Military Secretary to the Cabinet Defence Committee in Ottawa, then promoted quartermaster general. He was awarded the Canadian Forces Decoration in 1948.
He served as the Canadian Military representative of the Canadian Joint Staff SHAPE, 1951-4. He returned to Canada as Commandant of the National Defence College 1954-8. He served as Adjutant-general of the Canadian Army from 1958-62. Upon his resignation from the Canadian Army in 1962, he moved to Britain where he worked initially on the shop floor of an engineering firm. As personal assistant to director responsible for provincial newspapers at Thompson, his team implemented the Colour Supplement to the Sunday Times. In 1964, he moved to Pillar Holdings as executive in charge of non-aluminum operations, where he formed their engineering subsidiary in 1966. He was married to Mrs. Belle Shenkman in 1979. After retiring from business in 1986, he became the first Canadian member of the Commonwealth War Graves Commission. 5105 Doctor Jack Lawrence Granatstein (CMR RMC 1961), an historian, interviewed Smith for his book 'The Generals: the Canadian Army's Senior Commanders in the Second World War". Before his death in the autumn of 1991, he served with the Canada Memorial Foundation and helped organize the Canada Memorial in London's Green Park, which was unveiled in 1994.
David Twiston Davies 'Canada from Afar' The Daily Telegraph Book of Canadian Obituaries, Dundurn Press
Preston 'Canada's RMC: A History of the Royal Military College'
__________________________________________________________________
XXIV Commandant RMC: 1962 to 1963
(Researched by E3161 Victoria Edwards)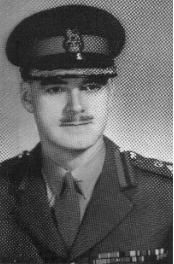 2424 Major General George Hylton Spencer, O.B.E., C.D., A.D.C., (RMC 1934) was born on November 20, 1916 in Seaford, Sussex, England. His grew up in Toronto with his parents Angus Farquharson and Nora (Taylor).
After graduating from RMC in 1938, he was commissioned as Lieutenant. In 1938 he was posted to the 1st Field Company, Royal Canadian Engineers, 1st Canadian Division. He earned a Bachelor of Science in Civil Engineering from Queens in 1939. He was deployed overseas in late 1939 with the 1st Field Company, Royal Canadian Engineers, 1st Canadian Division. He served in various regimental, command, and staff capacities in England, Burma, Belgium, Holland and Germany 1942-45. These included being a senior planner and director for the very successful "cover and deception" strategy for Operation Overlord, the Normandy landings. His decorations include: Officer of the most Excellent Order of the British Empire, 1939-45 Star, Burma Star, France and Germany Star, Defence Medal, Canadian Volunteer Service Medal and Bar, War Medal 1939-45, Queen Elizabeth II Coronation Medal 1953, The Canadian Centennial Medal 1967, Canadian Forces Decorati o n and Bars.
He served as Commander of the 1st Field Squadron, Royal Canadian Engineers in 1942. He attended Camberley Staff College in 1944. Immediately after the war, General Spencer served at Army Headquarters, Ottawa, and at the Canadian Army Staff College in Kingston. In 1951 he was promoted to the rank of colonel and appointed Director of Weapons and Development. He was subsequently appointed Commander, Headquarters, Canadian Base Units Europe in 1955 and from there was posted in 1957 to the Imperial Defence College, England. After completing this course he was appointed Colonel in Charge of Administration, Headquarters, Eastern Command, Halifax 1958 – 1961.
He served as the 24th Commandant of RMC from 1962-3. The first RMC degrees in engineering were given in 1962, under his watch.
Following that command, he became Commander and Chief Engineer of the North-West Highway System in 1963. Brigadier Spencer returned to Ottawa and became Director General of Training and Recruiting in 1964. Promoted to Major-General in 1967, General Spencer was appointed Assistant Chief of Staff for Plans and Policy at Supreme Headquarters Allied Powers Europe. In 1970 he returned to Canada and was Deputy Comptroller General at Canadian Forces Headquarters in Ottawa until retiring in 1971.
He retired from the Canadian Army in 1972. He served as Director of Metric Conversion for the Standards Council of Canada 1972-77, after which he and Jean relocated from Ottawa to Marriott's Cove. He was appointed as Colonel Commandant Canadian Military Engineers, and chaired the Fishermen's Memorial Hospital, Lunenburg, and South Shore Regional Hospital, Bridgewater. He and his wife Jean Frances (Fitzgerald) had three sons: Peter, Kenneth, and Michael. He received a Doctor ate (Hon.) in Engineering from Royal Military College of Canada in 1982. He passed away peacefully in his 92nd year at home in Chester, on July 31, 2008.
Preston 'Canada's RMC: A History of the Royal Military College'