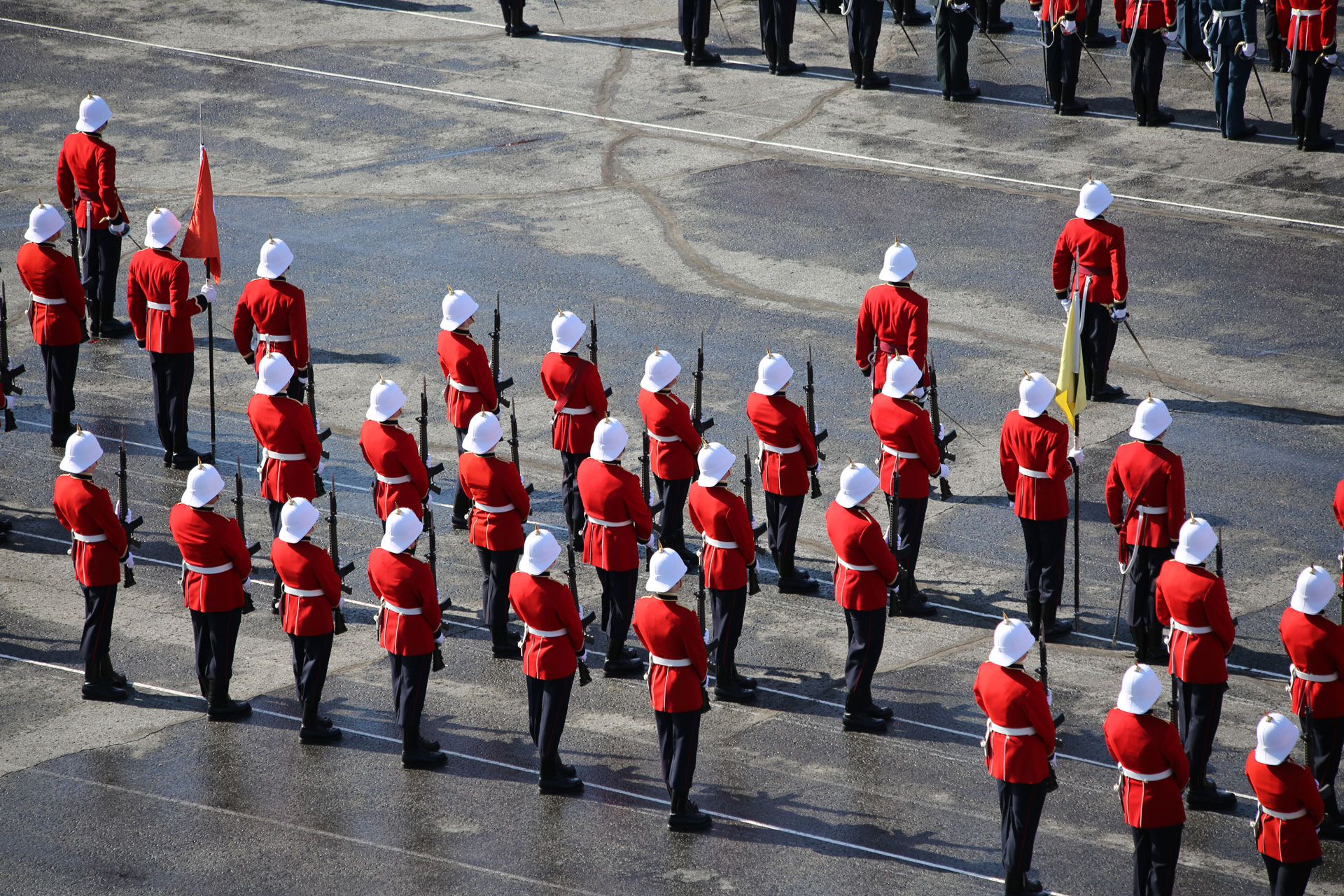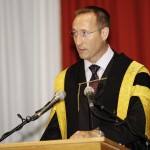 xxxxx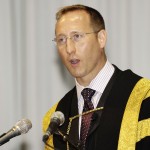 xxxxx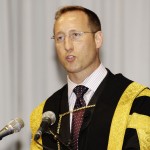 The Honourable Peter Gordon MacKay, PC QC, MP
Chancellor Royal Military College of Canada
Excerpts from his address at the 2009 Convocation
"With the Canadian Forces playing a critical role at home and abroad, Canada needs a strong, smart, innovative and well educated officer corps."
"Au cours de l'année passée, notre gouvernement a lancé la Stratégie de défense Le Canada d'abord. C'est un plan visant à restructurer les Forces canadiennes pour qu'elles deviennent une armée moderne de première classe, prête à affronter l'avenir."
"Canadians are relying on you to fulfil our most basic mandate: The defence of Canada, the defence of our values of democracy, freedom, respect for human rights and the rule of law."
"Parce que les Canadiens et Canadiennes veulent être confiants que les FC sont en mesure de faire ce qu'on attend d'elles."
"The CF is operating in many countries around the world – we have 18 operations on the go – and of course our largest is Afghanistan."
___________________________________________________________________________
Excerpts from text of the John Scott Cowan speech from May 14, right after he received the degree Doctor of Military Science (Honoris Causa).
Veritas magazine readers will find the full speech in the Summer 2009 edition which will be mailed out to all members of the RMC Club in good standing.
e-Veritas readers who are not currently members of the Club may find membership info here.
"I've long believed that RMC is the finest university in Canada, and extraordinarily high on the world scale as well. I explain this to colleagues at other universities by saying, "First, imagine the radical concept of a university where people do what they say they're going to do.""
"Les étudiants mûrs du premier cycle à temps partiel partagent quelques aspects des qualités des étudiants de deuxième et troisième cycle, parce que, après des années ou des décennies d'accomplissement dans d'autres défis, ils apportent ces perspectives très expérimentées dans leur nouvelle tâche d'étudiant."
"The comparison between RMC and other universities is awkward. RMC is not like other universities. It has a different mission and it fits in a different frame. It is the only federal university and the only military university. The "idea" of RMC is fundamentally different. And that idea has three parts."
"The graduates of this place also built our railways, negotiated our borders, policed the remote vastness of early Canada, and have always been and are still disproportionately represented in every aspect of public life in Canada."
"Victor Hugo held that, "Nothing is more powerful than an idea whose time has come". Well, by all indications, RMC is an idea whose time has come. You are a part of that idea, and your future deeds will confirm its truth and add to its story. I applaud you as the new leading edge of the "idea" that is RMC. Well done all."
___________________________________________________________________________
Convocation Citations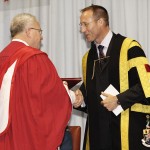 John Scott Cowan, B. Sc., M. Sc., PhD, Principal Emeritus RMC
John Cowan often boasted that as Principal of the Royal Military College of Canada (RMC-C) he had the best academic administrative job in the country. His only complaint, one which he voiced frequently, was that he was having just too much fun! Those privileged to be at RMC-C during his tenure as Principal continue to reap the benefits of his outstanding leadership. It was indeed a joy to work with him as he guided this University over nine of the most exciting and productive years of its storied history.
Dr. John Scott Cowan was born and raised in Toronto, Ontario where he attended Upper Canada College. From there he entered the University of Toronto where he eventually obtained a Ph.D in Physiology. After a Postdoctoral fellowship at the University of Laval, he joined the Faculty of Physiology at the University of Ottawa in 1972 where his rise to the highest ranks of academia was nothing short of meteoric. He researched and taught in a wide range of subjects including endocrine physiology, respiration, cardiovascular systems, and neurophysiology. He is one of only a select few researchers who has held research grants from all three of the National Tri-Council granting agencies. While maintaining an excellent research record he also served as Chair of the Physiology Department, Vice-Rector Resources and Planning and Advisor to the Rector until his move to Queen's University in 1995 where he became Vice-Principal Operations and Finance.
While the above career accomplishments would seem remarkable in their own light, John had a parallel career in labour relations that was equally distinguished. During his time as Senior Advisor on Labour Relations and Human Resource Issues to the AUCC he was instrumental in negotiating almost every collective agreement for university faculties across Canada. His expertise in this area became world renowned, which resulted in him being asked to mediate a labour dispute between the Zimbabwean Government and the University of Zimbabwe as well as to investigate the Fabrikant case at Concordia, the report of which significantly shaped modern university labour relations.
In fact, his expertise in labour relations first brought John to RMC when, in 1995, he helped arbitrate the first collective agreement for the RMC Faculty Association. Subsequently he was a major contributor to the Withers Report, which redefined how RMC provides liberal, yet technically robust, education to its students. We were even more fortunate when he agreed to become RMC's fifth post war Principal. Under his leadership RMC was transformed from a primarily undergraduate university into a truly national treasure with a vibrant and extremely productive graduate program and research culture.
John's life give lie to the phrase "Jack of all trades but master of none." John was master of all to which he put his hand, from the intricacies of marine diesel engines, to the physiology of the human body, to the iconic Harvard aircraft in which he probably logged more flight time than any person alive. His breadth of knowledge into the exploits of the Canadian Army in the Great War rival formally trained experts in the field. Anyone who has been privileged to hear his description of the actions of the Canadian Expeditionary Force using Currie Hall as a canvas have come away with a deeper understanding and appreciation of what these times meant to both the armed forces and to Canada's coming of age.
While his public persona casts a huge shadow, his private endeavours have equally affected the life of countless others. While John tried to portray himself as hard nosed, he didn't fool anyone. His caring, empathy, and compassion were evident in the way that he dealt with all members of the College community from students, to staff, to the quirky personalities of its many academics. Probably, one of the worst kept secrets at RMC was his generosity to the RMC Foundation. Mr. Chancellor, I am honoured to present to you Dr John Scott Cowan, scholar, teacher, labour relations expert, university administrator extraordinaire, and humanitarian that he may receive at your hand the degree of Doctor of Military Science, honoris causa.
John Scott Cowan, B. Sc., M. Sc., Ph.D., recteur émérite CMR
John Cowan s'est souvent vanté qu'en sa qualité de recteur du Collège militaire royal du Canada (CMR C), il ait eu le meilleur emploi administratif universitaire du pays. Sa seule plainte, qu'il a d'ailleurs fréquemment exprimée, c'est qu'il y prenait trop de plaisir! Ceux et celles qui ont eu le privilège d'être au CMR-C pendant la durée de ses fonctions à titre de recteur continuent d'engranger les profits de son remarquable leadership. Ce fut en effet une joie de travailler avec John Cowan durant les neuf années où il a présidé à la destinée de cette Université – des années qui furent sans conteste parmi les plus passionnantes et les plus productives de sa longue et riche histoire.
Né et élevé à Toronto, en Ontario, John Scott Cowan fréquente l'Upper Canada College, puis l'Université de Toronto, d'où il sort avec un doctorat en physiologie. Après avoir bénéficié d'une bourse de recherche postdoctorale à l'Université Laval, il se joint à la faculté de physiologie de l'Université d'Ottawa en 1972, où son ascension aux plus hauts échelons du monde universitaire n'est rien de moins que météorique. Il fait de la recherche et enseigne dans les matières les plus diverses, notamment en physiologie endocrinienne, en physiologie de la respiration, ainsi qu'en physiologie cardiovasculaire et en neurophysiologie. Il fait partie d'un petit groupe sélect de chercheurs ayant disposé de subventions de recherche des trois conseils de recherches nationaux du Canada. Tout en maintenant un excellent dossier de recherches, John Scott Cowan exerce également les fonctions de président du Département de physiologie, de vice-recteur aux ressources et à la planification et de conseiller au recteur jusqu'en 1995, alors qu'il se joint à l'Université Queen's, où il est nommé vice-recteur – Opérations et finances.
Si les réalisations professionnelles susmentionnées semblent déjà remarquables en elles-mêmes, John a eu une carrière parallèle en relations du travail qui s'est tout autant distinguée et qui fut tout aussi brillante. Alors qu'il était conseiller principal de l'Association des universités et collèges du Canada (AUCC) sur les questions de relations de travail et de ressources humaines, il a joué un rôle décisif dans la négociation de pratiquement toutes les conventions collectives des professeurs d'université du pays. Son expertise dans ce domaine est aujourd'hui réputée dans le monde entier comme en attestent les demandes de service qui lui sont adressées, par exemple, pour servir de médiateur dans un conflit de travail entre le gouvernement zimbabwéen et l'Université du Zimbabwe ou pour diriger l'enquête du cas Fabrikant à Concordia, dont le rapport a influencé les relations de travail au sein des universités modernes.
En fait, cette expertise en relations de travail a d'abord amené John au CMR, où, en 1995, il a prêté son assistance dans l'arbitrage de la première convention collective de l'Association des facultés du Collège. Par la suite, il a contribué au Rapport Withers, qui a redéfini la manière dont le CMR dispense à ses étudiants une éducation en culture générale dont la solidité ne laisse rien à désirer sur le plan technique. Puis, nous avons eu encore plus de chance quand John a accepté de devenir le cinquième recteur d'après guerre du CMR. Sous sa gouverne, le CMR est devenu un véritable trésor national, passant d'une université principalement axée sur l'enseignement de premier cycle à une université dotée d'un programme d'études supérieures passionnant et extrêmement productif et imprégnée d'une palpitante culture de la recherche.
La vie de John fait mentir l'adage « qui est propre à tout n'est propre à rien ». John maîtrisait tout ce qu'il touchait, des complexités des moteurs diesel marins à la physiologie du corps humain, en passant par les aéronefs iconiques Harvard dans lesquels il a probablement enregistré plus de temps de vol que toute autre personne vivante. L'étendue de ses connaissances qui embrassent les exploits de l'Armée de terre du Canada au cours de la Grande Guerre rivalise avec le savoir des experts dûment formés en la matière. Quiconque a eu le privilège d'entendre sa description des actions de la Force expéditionnaire du Canada en utilisant l'édifice Currie comme canevas est ressorti de l'expérience avec une compréhension et une appréciation approfondies de ce que cette époque a signifié pour les Forces armées et pour cette « entrée en maturité » du Canada.
Alors que sa persona publique projette une ombre immense, les activités privées de John Scott Cowan ont également influencé la vie d'innombrables individus. John a certes tenté de se décrire comme un homme qui ne fait pas de sentiment, mais il n'a dupé personne. Sa généreuse empathie et sa compassion sont évidentes dans sa façon de traiter les membres de la communauté du Collège, des étudiants au personnel en passant par les personnalités bizarres des nombreux professeurs. L'un des secrets les plus mal gardés du CMR est probablement la générosité de John envers la Fondation du CMR. Monsieur le Chancelier, j'ai l'honneur de vous présenter John Scott Cowan, docteur, érudit, professeur, expert en relations de travail, administrateur d'université extraordinaire et humaniste, afin qu'il reçoive de vos mains le titre de docteur en sciences militaires, honoris causa.

_______________________________________________________________________________

Pierre Laviolette, PhD
Pierre Laviolette earned a PhD in mathematics from the University of Montreal in 1974, several years after starting his academic career at the Royal Military College Saint-Jean in 1970. He was very involved in college life and in the community, and he was quickly noticed by the administration, who gave him administrative duties. He performed them so well that they continued to grow throughout his career of 36-plus years in the Canadian military college system.
He was briefly Head of the Mathematics Department before taking the responsibility of Dean of Collegiate Studies and later Dean of Studies and Services. In these positions, he had the main responsibility for the recognition of the CEGEP level studies offered in Saint-Jean. He always showed a marked interest for University pedagogy and was the driving force in the development of pedagogical services offered to the College professors. Shortly after the 1994 announcement of the closure of the Royal Military College Saint-Jean, he became its last Principal.
He was also involved in academic social life as an active member of various organizations and associations, such as Development and Peace, the Refugee Sponsorship Committee, the Board of Directors of CÉGEP Saint-Jean-sur-Richelieu, and the Canadian Military Colleges Faculty Association as the Saint-Jean representative.
When the Royal Military College Saint-Jean closed, the Royal Military College of Canada was required to become a fully bilingual institution. This involved two things. First, college personnel had to be able to offer courses and services in both official languages; and second, there had to be enough Francophone students at RMC for college life to truly reflect Canada's two main cultures.
High school graduates from the Quebec school system cannot enter the Royal Military College of Canada directly, and in general, few candidates were interested in transferring from CEGEP after one year to RMC of Canada. This was a real problem. In light of this situation, Pierre Laviolette came up with the idea to use the human resources that were already in place at Saint Jean to create a prep year. On the one hand, this prep year gave high school graduates from Quebec access to RMC of Canada and, on the other hand, it helped preserve the military presence at the RMC Saint-Jean site.
So in 1995, immediately after the closure of the Royal Military College Saint-Jean, he started Prep Year in Saint-Jean which has assured RMC of Canada of a steady intake of Francophone culture and students ever since. This success was confirmed, when, after operating until 2001 under contract with the CÉGEP de Saint-Jean, Prep Year was officially reintegrated into the Canadian military college system. Dr Laviolette retired in the fall of 2006, but the repercussions of his outstanding efforts and selfless dedication were still felt when a few months later the reopening of the Royal Military College Saint-Jean was announced.
Mr Chancellor, it is my honour to present to you Pierre Laviolette, mathematician, professor, academic administrator and dedicated servant of Canadian military colleges and the Armed Forces, so that you may confer on him the degree of Doctor of Military Science, honoris causa.

M. Pierre Laviolette, PhD
M. Pierre Laviolette a obtenu un doctorat en mathématiques de l'Universtité de Montréal en 1974, quelques années après avoir amorcé sa carrière universitaire au Collège militaire royal de Saint-Jean en 1970. Très impliqué dans la vie du Collège et dans la communauté, il a vite été remarqué par la direction qui lui a assigné des responsabilités administratives. Il les a tellement bien remplies que l'importance de celles-ci n'a cessé de croître au cours de sa carrière de plus de 36 ans au sein du système des collèges militaires canadiens.
M. Laviolette a brièvement dirigé le département des mathématiques avant d'accepter le poste de doyen des Études collégiales, puis celui de doyen des Études et des Services où il était chargé de la reconnaissance des programmes de niveau CÉGEP offerts à Saint-Jean. Il a toujours manifesté un intérêt marqué pour le domaine de la pédagogie universitaire et a été l'instigateur du développement des services pédagogiques offerts aux professeurs du Collège. En 1994, quelque temps après l'annonce de la fermeture du Collège militaire royal de Saint-Jean, il agira comme le dernier recteur de l'établissement.
Il a également été impliqué socialement en tant que membre actifs de plusieurs organisations et associations, tels « Développement et Paix », comité de parrainage de réfugiés, conseil d'administration du CÉGEP Saint-Jean-sur-Richelieu, représentant de Saint-Jean auprès de l'association des professeurs des collèges militaires canadiens…
La fermeture du Collège militaire royal de Saint-Jean s'accompagnait de l'obligation pour le collège militaire royal du Canada de devenir une institution entièrement bilingue. Ceci sous-entend deux choses. D'abord, que le personnel du collège soit capable d'offrir les cours et les services dans les deux langues officielles. Ensuite, qu'il y ait suffisamment d'étudiants francophones pour que la vie du collège reflète véritablement les deux principales communautés de la société canadienne.
Étant donné que le système scolaire québécois ne permet pas aux diplômés des écoles secondaires d'entrer directement au Collège militaire royal du Canada et que le nombre de candidats intéressés à faire la transition du CEGEP au CMRC après une année d'étude collégiale a toujours été faible, ce deuxième aspect posait véritablement problème. C'est ainsi que Pierre Laviolette a eu l'idée de mettre à profit les ressources humaines qui existaient déjà à Saint-Jean pour créer l'année préparatoire qui d'un côté a offert aux diplômés du secondaire québécois un accès au CMR du Canada et qui, d'un autre côté à contribué à assurer la continuité de la présence militaire sur le site du CMR de Saint-Jean.
Ainsi, en 1995, dès la fermeture du Collège militaire royal de Saint-Jean, il a inauguré l'année préparatoire à Saint-Jean qui a assuré depuis, au CMR du Canada, un contingent régulier d'étudiants de culture francophone. Le succès de cette initiative, opérant en vertu d'un contrat avec le CÉGEP de Saint-Jean depuis 2001, s'est confirmé lorsque l'année préparatoire a officiellement réintégré aux collèges mililtaires du Canada.. M. Laviolette a pris sa retraire à l'automne 2006, mais les répercussions de son travail et de son dévouement étaient toujours sensibles à l'annonce de la réouverture du Collège militaire royal de Saint-Jean, quelques mois plus tard.
M. Le Chancelier, j'ai l'honneur de vous présenter Pierre Laviolette, mathématicien, professeur, administrateur universitaire et collégial et dévoué serviteur des collèges militaires canadiens et des Forces armées, afin qu'il puisse recevoir de vous le diplôme de Docteur ès sciences militaires, honoris causa.

_______________________________________________________________________________

James Downey O.C., Ph.D., LL.D.
The Board of Governors of the Royal Military College of Canada was established in 1997, to enhance the College's mission of providing the highest level of university teaching and research as part of the professional military education it provides to the CF, to DND, and ultimately to the nation. The Board's role is "to review and approve the strategic direction of the College, and to provide advice to the Minister of National Defence on all matters relating to the College." When the Minister of day went searching for a new Chairman of the Board in 2005, one candidate stood out amongst those considered — Dr. James Downey.
Along with other great Canadians and servants of RMC, Jim Downey hails from Newfoundland where he earned both his Bachelors and Masters Degree at Memorial University. The awarding of the prestigious Rothmere Fellowship took him to the University of London where he earned a PhD in eighteenth century English literature in 1966.
Upon return to Canada he assumed a post at Carleton University where he taught, researched, and published widely in his field. His talent for administration was quickly recognized as he assumed ever increasingly responsible positions at Carleton from Department Head to Dean of Arts. In 1979, he was eventually selected as President pro tempore.
From there Jim Downey went on to successfully lead two of Canada's major universities, the University of New Brunswick and the University of Waterloo. His expertise in all aspects of university affairs also made him the obvious choice to head several high-level regional and national educational organizations and studies. After leaving Waterloo he went on to found and direct the Waterloo Centre for the Advancement of Co-operative Education and became President of the Higher Education Quality Council of Ontario. So well regarded was Downey by other university presidents that he was routinely persuaded to lead the national level "course" for new Presidents. Foreign governments and universities have also called upon his expertise to advise them on matters of university education and governance.
In recognition of his contributions to higher education, Dr. Downey has received numerous national and global honours, from honorary degrees, to outstanding achievement awards, to one of the highest distinctions this nation can bestow – the Office of the Order of Canada.
But it was Jim Downey who honoured RMC in 2005 when he agreed to serve as the Chair of its Board of Governors, providing the Minister and the College the benefit of his deep wisdom, his acute insight, and his enthusiastic support in all matters academic. The Board under his leadership became better at insuring that RMC adhered to the ideals and standards of top tier Canadian and US universities, and he made sure that Board members who had little exposure to the civilian university world understood the key features of that world, and appreciated where it was good for RMC to be similar, and where it was even better for RMC to be different.
Mr. Chancellor, it therefore gives me the highest pleasure to present to you Dr James Downey, teacher, scholar, university administrator extraordinaire, and a great friend and champion of RMC for the Degree of Doctorate of Laws, honoris causa.

James Downey O.C., Ph.D., LL.D.
Le Conseil des gouverneurs du Collège militaire royal du Canada a été établi en 1997 dans le but d'améliorer la mission du Collège, qui consiste à assurer un enseignement et des recherches universitaires de très haut niveau dans le cadre de son programme de formation militaire professionnelle des membres des FC et du MDN et dont profite, en fin de compte, la population canadienne dans son ensemble. Le rôle du Conseil est « d'examiner et d'approuver l'orientation stratégique du Collège et de fournir, au besoin, des conseils au Ministre de la Défense nationale sur toutes les questions relatives au Collège ». Lorsque le Ministre de l'époque s'est lancé à la recherche d'un nouveau président du Conseil en 2005, un candidat s'est distingué parmi les autres — c'était James Downey, Ph.D
Comme d'autres grands Canadiens et serviteurs du CMR, Jim Downey vient de Terre-Neuve-et-Labrador. Il y fréquente l'Université Memorial où il a obtenu un baccalauréat et une maîtrise. L'octroi de la prestigieuse bourse Rothmere l'amène ensuite à fréquenter l'Université de Londres, où il obtient, en 1966, un doctorat en littérature anglaise.
À son retour au Canada, l'Université Carleton lui offre un poste de professeur. Il enseigne, fait de la recherche et publie énormément dans le domaine de la littérature anglaise du 18e siècle. On lui reconnaît rapidement un talent d'administrateur et il assume des postes où les responsabilités sont de plus en plus élevées, passant de chef de département à doyen de la Faculté des arts. En 1979, Il est nommé président pro tempore.
Par la suite, Jim Downey occupe, à tour de rôle et avec un succès remarquable, des postes à la direction de grandes universités canadiennes : l'Université du Nouveau-Brunswick et l'Université de Waterloo. Son expertise dans tous les aspects des affaires universitaires fait de lui un candidat de choix pour diriger plusieurs études et organisations à caractère éducatif de haut niveau aux échelles régionale et nationale. Après son départ de l'Université de Waterloo, Jim Downey fonde le Waterloo Centre for the Advancement of Co-operative Education et devient président du Conseil ontarien de la qualité de l'enseignement supérieur. Ses talents sont prisés à un tel point par les autres présidents universitaires qu'il est régulièrement appelé à diriger le « cours » pour les nouveaux présidents au niveau national. Les universités et les gouvernements étrangers recourent également à son expertise de conseiller sur des questions d'enseignement et de gouvernance universitaires.
Ses contributions à l'enseignement supérieur lui valent de nombreux honneurs nationaux et internationaux, incluant des doctorats honorifiques et des distinctions pour contribution exceptionnelle, ainsi que l'une des plus grandes distinctions qu'une nation puisse accorder, le titre d'Officier de l'Ordre du Canada.
Mais c'est Jim Downey qui honore le CMR en 2005 lorsqu'il accepte la présidence du Conseil des gouverneurs et offre ainsi au Ministre et au Collège la possibilité de profiter de sa profonde sagesse, de sa grande perspicacité et de son soutien enthousiaste dans la gamme complète des domaines universitaires. Sous son leadership, le Conseil s'est amélioré dans sa manière de s'assurer que le CMR adhère aux idéaux et aux normes du meilleur percentile des universités canadiennes et américaines, et il s'est assuré que les membres du Conseil qui avaient peu d'expérience dans les universités civiles comprennent les caractéristiques clé de ce monde au point de rendre tout un chacun conscient des moments où il est avantageux pour le CMR de se mesurer à ces universités, et où il est plus avantageux encore pour le CMR de s'en différencier.
Monsieur le Chancelier, c'est donc avec un immense plaisir que je vous présente James Downey, docteur, professeur, érudit et administrateur d'université extraordinaire, ainsi qu'un grand ami et un véritable champion du CMR, afin qu'il reçoive de vos mains le titre de docteur en droit, honoris causa.

Photos by: BRADLEY LOWE