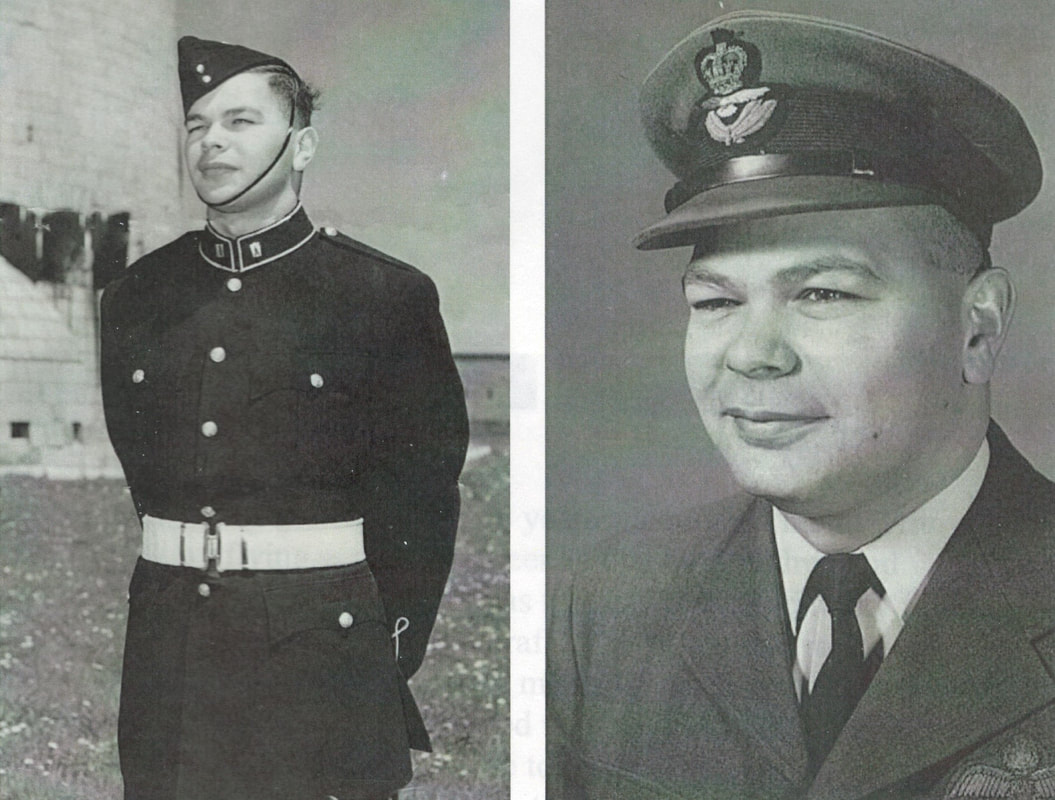 2900 Joe Pagnutti, RRMC RMC, Class of 1952
Joe Peter Pagnutti, 93, of Ottawa, Ontario, passed away peacefully on Tuesday, January 4, 2022.
Born in Fort William (Thunder Bay), Ontario, Joe became hooked on aviation when he saw a flying circus performance as a youth. Reading books by Jules Verne got him interested in space. Together, they inspired him to become a pilot and engineer involved in the advancement of aerospace technology.
Joe studied in the RCAF Aeronautical program at Royal Roads and graduated in Engineering. He went on to attend Royal Military College (RMC) and Queen's University, graduating with a degree in Advanced Mathematics and Thermodynamics.
Joe's passion in life was flying, and as a young man he received the Siddely Trophy and was recognized as a Top Gun Fighter Pilot. He was very proud to be assigned as the lead navigator in Queen Elizabeth II's Coronation fly-past, the RCAF's largest peacetime aircraft formation over the Peace Tower in Ottawa, Canada. They arrived at 12:00 noon sharp!
He also loved his career as an aeronautical engineer. Joe was instrumental in developing many designs to improve aircraft safety practices. This included ejection seat modifications that resulted in a fully inflated parachute, and rocket motor designs for supersonic and subsonic ejection seats that were adopted by the USAF for their fleets and by NASA for the Gemini Space Capsule. The subsonic aircraft ejection seat rocket motor, with an automatic parachute opener and an automatic seat restraint release system can be found in the NATO F-86, T-33 fleets and the CL-41 Snowbird aircraft.
Joe loved sports, and played both competitive hockey and football as a young man. When he became a father, he delighted in coaching and watching his children participate in their many activities. He was also an avid sportsman who loved to hunt and fish in Algonquin Park and throughout Canada well into his 80s.
Joe's biggest accomplishment was being a loving and caring father and grandfather. He always wanted to have children and cherished family gatherings, whether it was to celebrate the holiday season or someone's birthday. More recently, he looked forward to his morning breakfast with son Mike who kept him going with his organic concoctions (including his homemade sauerkraut), and daughter Sue's fantastic Sunday dinners.
Joe was always there through his children's ups and downs, and was a tower of strength for his entire family. He offered sound advice and imparted wisdom when asked, even if it was 2:00 in the morning. He was a great storyteller (did he really drive the lunar module better than Neil Armstrong?), and was a true legend to his family. He taught them all to enjoy every moment life has to offer. One of Joe's favourite sayings was "every day is a good day" and this is exactly how he lived his life.
Predeceased by his loving and supportive wife for 58 years Lynn (Newton), sons RCAF Flight Surgeon "Dr. Dave", and Robert. Survived by daughter Susan and son Michael, grandsons Douglas, Daniel, Evan, Lee, Harrison, Cruz, Tristan, and great-grandchildren Andre and Adele.
---

20172 Simon Jacques, RMC, 1996
It is with deep sadness that we announce the untimely death of Simon Jacques who passed away peacefully on the evening of Tuesday, April 5, 2022, with the love of his family surrounding him.
Simon was born in Sherbrooke, Quebec in 1974 to Luc Jacques and Angèle Gouin. He received a bachelor of engineering, in chemical and material engineering from the Royal Military College of Canada where he met the love of his life, Marie-Andrée. They married in 1996.
Simon served in the Royal Canadian Navy, and after a successful military career he joined MacDonald, Dettwiler and Associates, as Director of Defence Sales, then Airbus Defence and Space Canada, as President. However, Simon will be remembered mostly for the number of people he has touched through his love of life, compassion and exuberance. Simon knew how to captivate a crowd through his magic tricks and comedic approach to life.
Simon was a man of many passions including, hunting & fishing, skiing, hockey, traveling and later in life, golf.
He will be missed by his partner in life of 26 years, Marie-Andrée; their sons Marco and Rémi; his father Luc, his mother Angèle and brother René, and their dog Roxy; as well as numerous extended family members and friends.
A memorial gathering for Simon will be held on Saturday, April 9th, 2022, from 2 to 5 p.m., at the McEvoy-Shields Funeral Home & Chapel, 1411 Hunt Club Road, Ottawa, ON.
Memorial donations may be made to Pancreatic Cancer Canada, or the Ottawa Hospital Foundation.
_________________________________________________
C'est avec une profonde tristesse que nous annonçons la mort prématurée de Simon Jacques, décédé paisiblement mardi le 5 avril 2022 en soirée, entouré de sa famille aimante.
Simon est né à Sherbrooke, Québec en 1974 de Luc Jacques et Angèle Gouin. Il a obtenu un baccalauréat en génie chimique et matériaux du Collège militaire royal du Canada où il a rencontré l'amour de sa vie, Marie-Andrée. Ils se sont mariés en 1996.
Simon a servi dans la Marine royale canadienne et, après avoir fait une belle carrière militaire, il s'est joint à MacDonald, Dettwiler and Associates, en tant que directeur des ventes en matière de défense, puis à Airbus Defence and Space Canada, en tant que président. Cependant, on se souviendra surtout de Simon pour le nombre de personnes qu'il a touchées par son amour de la vie, sa compassion et son exubérance. Simon savait comment captiver une foule grâce à ses tours de magie et à son approche humoristique de la vie.
Simon était un homme aux multiples passions, notamment la chasse et la pêche, le ski, le hockey, les voyages et plus tard dans la vie, le golf.
Il manquera à sa compagne de vie de 26 ans, Marie-Andrée; leurs fils, Marco et Rémi; son père Luc, sa mère Angèle et son frère René; et leur chien Roxy; ainsi que de nombreux membres de la famille élargie et amis.
Un rassemblement commémoratif pour Simon aura lieu samedi le 9 avril 2022, de 14h à 17h, à la maison funéraire et chapelle McEvoy-Shields, 1411 chemin Hunt Club, Ottawa, Ontario.
Des dons commémoratifs peuvent être faits à Pancreatic Cancer Canada, ou la fondation de l'Hôpital d'Ottawa.