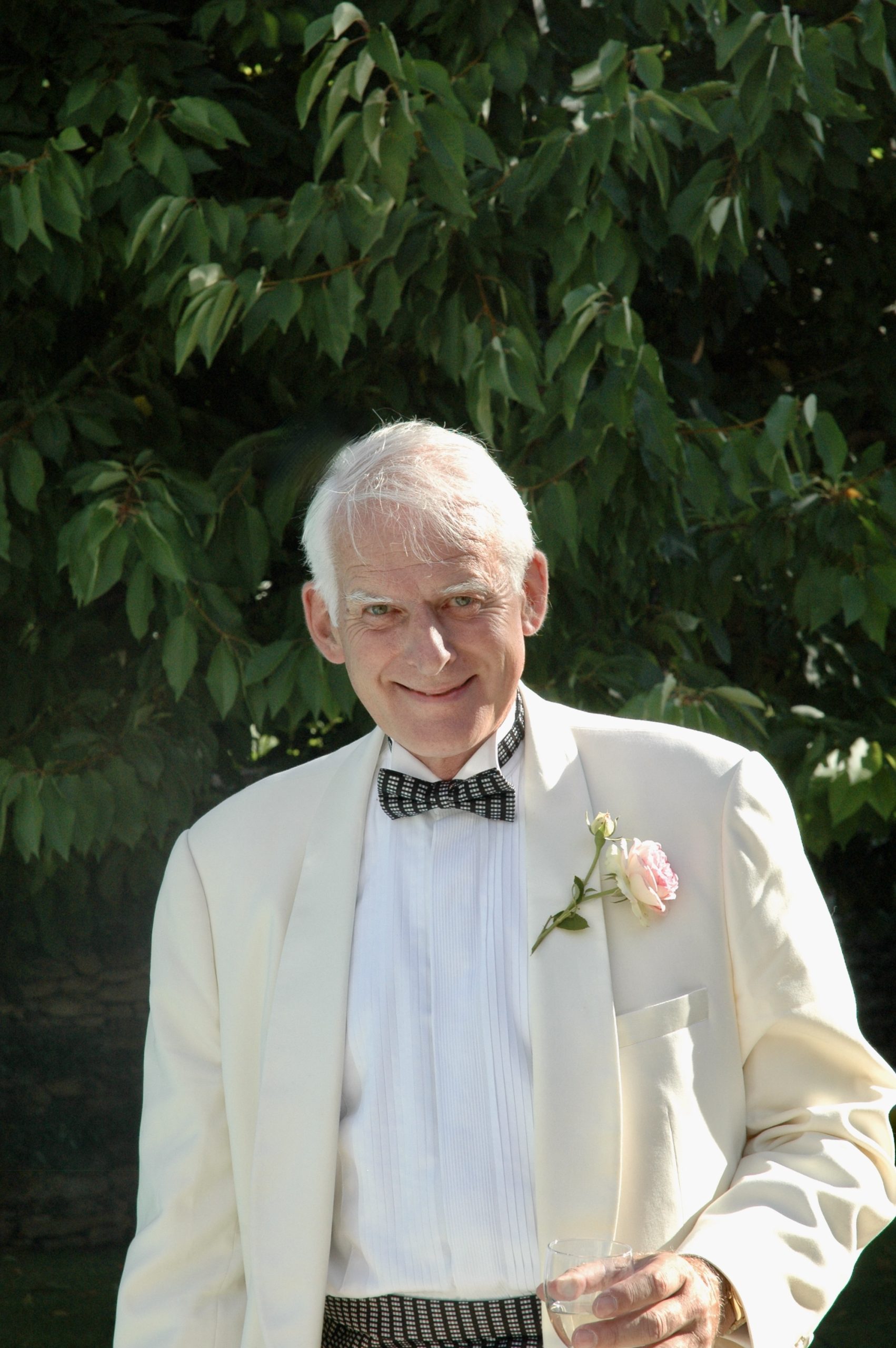 7291 Thomas Anthony John Keefer, RMC 1967
Born in a log cabin in a northern Québec mining community on December 20, 1945, Tony Keefer gave early evidence of extraordinary abilities. Growing up in Toronto, where his family moved when he was six, he was a keen sailor at the RCYC Junior Club; a budding entrepreneur who supplemented his boyhood newspaper route with a solo business of designing, building and marketing wooden birdhouses across north Toronto; the most highly decorated Queen's Scout in Ontario; and an outstanding student, routinely earning the highest grade average in the province.
Following in the wake of family members including great-grand-uncle Harold (College number 17), his father Thomas (2330), and his brother Bowie (6395), Tony entered RMC in 1963. He graduated four years later with the highest grades in the College's history, with widespread gratitude for the generosity with which he had put his own abilities to work in assisting classmates and junior cadets in their studies, and with a Rhodes Scholarship to Oxford.
Tony's accomplishments at Oxford included (in ascending order of importance) piloting a fast and powerful sports car, writing a brilliantly complex doctoral thesis on control theory, and, in 1969, winning the heart of Deborah Syson, the love of his life, to whom Tony was very happily married for fifty-three years.
After several years of consultancy work for the UK government, Tony entered the Canadian civil service. His abilities were quickly recognized in Ottawa, and he enjoyed a meteoric rise to positions of senior responsibility in several ministries. He was subsequently 'head-hunted' for senior positions in the United Nations in Geneva: there he worked for several UN agencies, but concentrated his efforts in the World Intellectual Property Organization, whose work he guided for more than two decades.
Tony was impelled throughout his life by high ideals—to which he himself gave memorable expression at the time of his graduation from RMC in an address he was invited to give to the College's faculty and students. Taking as his subject the pursuit of excellence, he demanded that we reject "the cult of mediocrity" and stand up to challenges and difficulties.
The "highest aim of life," Tony said, "is not the negation of all that has gone before." And yet "To excel, to become a person of integrity and quality, it is necessary […. to] make a positive offering to counter the error and ignorance that undoubtedly exist in the world; [… and to] accept the responsibility given us by the present and the future." History, he said, "shows us the mistakes of the past. But it also indicates that it would be presumptuous to assume that we will not also make mistakes. Let us then use past experience, and more important, the lessons of the present, to minimize our inevitable errors."
In working to make the world "a better place in which to live," and at the same time to excel as individuals and as leaders, "we must try to replace apathy with enthusiasm, aimlessness with ambition, and complacency with determination. I believe that we must have the vision to set our sights high, the courage to adhere to a set of principles, and the self-discipline to keep ourselves headed toward our goals. Let us not be self-centered and petty; let us dedicate our lives not to small purposes but to lofty ideals." In Tony's professional and personal life, in which he was devoted throughout to the well-being and happiness of others, these ideals found a very full expression.
Following his retirement, Tony was invited to lecture at the University of Geneva. But he took more pleasure in following the brilliant careers in finance and business of his and Deborah's two daughters, Lucy and Rosie, and of their husbands Piers Playfair and Simon Hansford—and greater pleasure still in the role of loving grandfather to Lucy's and Piers' children Scarlett, Georgina and James, and Rosie's and Simon's children Charlotte, Henry, and Nicky.
Tony died, after a long illness, on October 19, 2022. He is remembered, with imperishable love and deep admiration, by Deborah, by Lucy and Piers, by Rosie and Simon, and by their dear children; by Tony's siblings Bowie (and his wife Anna), Michael (and Janice), and Anne Elise (and Marko); and by a wide circle of loyal friends and former colleagues.
Tony's memory would be honoured by a gift to one of his favourite charities:
Médecins Sans Frontières, CH18 0024 0240 3760 6600 (www.msf.ch)
Parkinson Suisse, CH48 0900 0000 8000 7856 2 (www.parkinson.ch).
---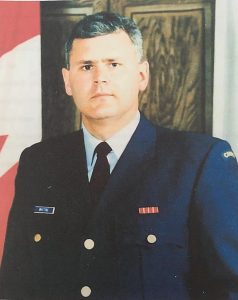 13703 Timothy "Tim" Grant Whiting, RMC 1982
With great sadness, we regret to inform you that our dear friend, classmate, Frigateer and engineer Tim Whiting passed away November 1, 2022, in Calgary, in the Peter Lougheed Centre, at age 63.
Tim served 35 years in the Canadian Armed Forces as a Construction Engineer and reached the rank of Major. He was predeceased by his mother Marcia and will be remembered by his sister Tammy and nephew Nathan.
Around a year ago, Tim was afflicted with mantle lymphoma, and he began chemotherapy treatment before Christmas 2021. Upon assessment, he satisfied the requirements as a candidate for stem cell transplant and indeed completed that procedure in late March of this year. His progress since then had its ups and its downs, and it certainly wasn't smooth sailing. Recently, the medical staff had approved him to undergo a new form of treatment with high hopes of improvement, CAR-T cell therapy, and Tim was looking forward to getting that started soon. Alas, on November 1, Tim was not feeling well, he called an ambulance and was admitted to hospital. There he succumbed.
At his request, there will not be any memorial service. Tim has been cremated, and the ashes interred alongside his mother in Calgary. He was a bachelor with no dependants. His sister, the only immediate family member, lives in the vicinity of Calgary.
Tim was a grand gentleman who was fiercely proud of his experiences gained and friendships solidified while an officer cadet at RMC. He cherished his military college Buds and fellow engineers more than anything in the world, his whole adult life. Tim was a brilliant and meticulous planner towards everything he did in life. To quote his best pal and fellow Frigateer Scott Mitchell, if Tim considered you a friend, you earned his friendship.
Tim was a humble, kind, reserved and generous man and remained so throughout his year of illness. He was a significant supporter of the Class of 1982 Legacy Fund (held within the Truth Duty Valour Fund), and that too was done without fanfare. He purchased paver stones at The Arch for several classmates. He deeply wanted to attend our recent reunion weekend in Kingston, marking forty years since Grad, but was not well enough to travel.
Please spend a few moments pondering our vibrant and loyal friend, Tim. He asked that others should consider contributing in his memory to a charity of their choice.
---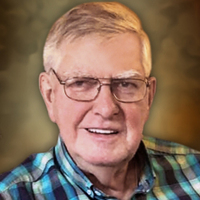 5869 Raymond Max Coatsworth, RRMC RMC 1963 
Ray passed away peacefully at his home at Stamford Estates in Niagara Falls, Ontario, 17 January 2022 at the age of 82.  A self-professed mischief-maker, Ray was an avid world travelling, game playing, "try anything" kind of guy. He loved adventure and leaping into the unknown.
Ray grew up in Chatham, Ontario as an only child to doting, loving parents, Max and Irene Coatsworth. Being a good grade 12 drafting graduate, he was offered a six-month training course with Avro Aircraft and received a job as an entry level draftsman soon after. On a weekend trip to Toronto's CNE in 1958, he approached a booth of smartly dressed cadets, in bright red uniforms, for the Royal Military College. It seemed kismet that his initials matched his college of choice. With a lot of hard studying, he passed grade 13 mathematics and physics to qualify as an Officer Cadet in the RCN. Ray started out at RRMC in 1959, graduating in 1963 with a Bachelor of Mechanical Engineering degree from RMC.
Only two weeks into pre-fleet training, Ray met Acting SLT and proud Newfoundlander, Selena Marie Butt in the wardroom. After a few dates in Ottawa and Montreal and Marie fixing Rays' favourite meal of pork chops, potatoes and cream corn, they were officially a couple.  Ray joined HMCS Kootenay patrolling in the North Atlantic. After a long-distance romance, Ray proposed to Marie and they married in Halifax, Nova Scotia in 1965. On leaving the church ceremony, they were saluted by a guard of honour and passed through an arch of swords by ten fellow officers with traces of snow in the confetti.
That same year Ray was transferred to HMCS Saguenay in Victoria and was appointed as the Assistant Supply Officer. They sailed from Victoria to Halifax, via the Panama Canal. Marie was amongst the mob of wives that were on the dock awaiting arrival. After two weeks home, Ray then traveled to the Azores Islands, Ireland, England, Amsterdam, Italy and Gibraltar. Having been promoted to Lieutenant in 1965, the following year Ray decided to go directly into the industrial work world and accepted an offer to be Mine Engineer at the Canadian Rock Salt Company in Windsor.
It was the perfect time to start a family. Ray and Marie wanted many children and they rejoiced in each one. Settling in Niagara Falls with four young children, they bought their dream home and lived in it for over 40 years. Ray flourished in many companies in his time, including Maintenance Manager at Canadian Carborundum Company, Engineering Manager at Cyanamid and owner of Wash on Wheels. After many years of owning this business, and as retirement grew closer, he took a simpler 'nine to five' job at the new Niagara casino, first as a dealer and then pit manager.
Ray loved people and being social. At Stamford United Church, he met many close friends and participated for decades in all the social gatherings there. After true retirement, you would find him as the friendliest waving crossing guard twice a day, for a few years, steps from home. In 2016, after 51 years of marriage, Marie passed away. Ray put family first and loved each of his children immensely: James Jay, Stephen Boyd (spouse Martha), Diana Leigh (spouse Kevan) and David Alan. Ray adored his grandkids, Peter, Andrew, Lucas Coatsworth and Luke McKenzie.
In recent years, his teenage sweetheart, Glory Desjardins, was a true and loving companion. Ray knew how to have fun, he was restless and adventurous, curious and kind. He was a charmer, a joker, a risk-taker, and a family man. He will be deeply missed by all his friends and family.
A Funeral Service in celebration of Ray's life was held Saturday, 22 January 2022 at the Patterson Funeral Home in Niagara Falls. In memory of Ray, memorial contributions may be made to Parkinson Canada, and would be appreciated.  Online condolences at pattersonfuneralhome.com remain open.
---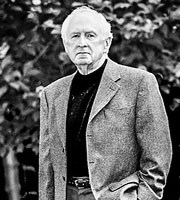 2994 William Allan, RMC 1952
WILLIAM ROBERT ALLAN June 6, 1931 – October 11, 2022 "I must go down to the seas again, to the lonely sea and the sky, And all I ask is a tall ship and a star to steer her by." Bob Allan slipped away October 11, 2022, surrounded by family, accompanied by poetry, stories and song. He was 91. Bob considered any day spent on water a good day. He bequeathed to his kids and grandkids a steadfast work ethic, love for the outdoors and an unapologetic stubborn streak. He was quiet and kind in equal measure. Sherrill was Bob's world. They climbed Mount Royal on their first date, married in Hawkesbury in 1958, then raised their four kids in three provinces. They travelled the world, danced the strathspey and binged-watched British mysteries.
William Robert was born in 1931 to Donald and Eula. He was raised in Bronte where his family ran Allan's Drug Store, a pharmacy at the heart of village life. He was the eldest of four children. Predeceased by Paul and Walter, he is survived by Mary Jane. Bob was a graduate of Royal Military College in Kingston and served in the Royal Canadian Naval Reserve. In 1954, he earned a second chemical engineering degree from the University of Toronto and joined the British American Oil Company.
During his career, he worked with Gulf Oil, Petro Canada and Husky. He almost never missed an RMC reunion. Bob was an active member of the 78th Highlanders and a founding member of the Schiehallion Scottish Heritage Society. He loved pipes and drums and turned over Januarys to Burns Nights (plural) – his final one celebrated on Zoom. He belonged to the Stanley Park Lawn Bowling Club, played a mean game of bocce and was a long-time member of St. Andrew's Presbyterian Church and the Naval Officers Association of Calgary.
A diehard Stamps fan, Bob was a Trivial Pursuit ace and a history buff who would never bypass a roadside marker. You could usually find him lost in a book. During his final years, which were not easy, Bob approached days with tenacity and grace. A boffo grandfather and great-grandfather, Pops always had time for one more bedtime story. One day, Janelle, Schevann, Trekk, Dan, Owen, James, Will and Leo will pay it forward.
Bob leaves behind Sherrill ("my dear"), his cherished partner of 64 years, and will be hugely missed by his kids: Bruce (Debbie), Peter (Nancy), Sue (Scott) and Keith (Laura). His lessons in generosity will guide our days. Bob wanted us to extend gratitude to We Care and the teams on Unit 73 at Rockyview for round-the-clock tenderness and care. Even on his final day, he was reciting poetry: "And all I ask is a merry yarn from a laughing fellow-rover, And quiet sleep and a sweet dream when the long trick's over."
A family celebration will be held. Internment at Oakville's Trafalgar Lawn Cemetery will take place next spring. Condolences, memories, and photos may be shared and viewed at www.McInnisandHolloway.com. In living memory of William Allan, a tree will be planted in the Ann & Sandy Cross Conservation Area by McInnis & Holloway Funeral Homes, Fish Creek, 14441 Bannister Road SE, Calgary, AB T2X 3J3, Telephone: 403-256-9575.
---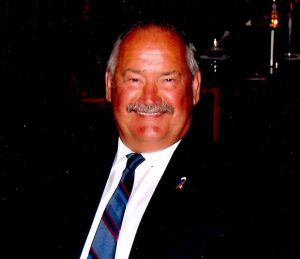 7815 Marvin R, Sywyk, Colonel (Ret)
The 20 October issue of eVeritas contained an obituary for Marv Sywyk as well as a tribute from Digger MacDougall, President of the Ottawa Branch, RMC Alumni Association.
A Celebration of Life was held on 27 October at the Carleton Golf and Yacht Club in Manotick, ON. Marv's family was joined by many classmates, colleagues, friends, and neighbours to share treasured memories of Marv and his rich, full life.
Marv had a distinguished career in the RCAF/Canadian Armed Forces (CAF), beginning as an Officer Cadet at Royal Roads in 1964 and retiring as a Colonel 30 years later. He graduated from the Royal Military College (RMC) with a degree in electrical engineering and was commissioned as a Telecommunications Officer. He took on challenges in increasingly demanding positions in the air defence world and earned his master's degree from RMC in 1974. Over the next two decades he had a leadership role in the design, development, and deployment of several major projects, including: the CAF Air Traffic Control terminal radar & communications system (TRACS) project; the NATO AWACS project; the Forward Operating Location (FOL) project for CF-18 operations in the Arctic; and the project to replace the DEW Line with the North Warning System in a joint undertaking with the US Air Force. These projects significantly enhanced the capability of the CAF and our allies. Marv also served at the Aeronautical Engineering & Test Establishment (AETE) Cold Lake as the Senior Data Engineer. He was a former President of the Ottawa RCAF Officers' Mess Committee.
After he retired from the CAF, Marv continued to serve his country and his community as a defence contractor and consultant, as the Regional Vice President (Canada) for AFCEA International, as a Regional Director for the Air Cadet League, as the organizer of the annual Ottawa RMC Golf Tournament, and as an executive with his neighborhood association. Marv's many accomplishments were matched by his sterling character and magnanimous personality which together earned him the respect and friendship of a vast network of colleagues and associates across Canada and beyond.
Many personal memories of Marv were shared with, and among, those attending the celebration:
as a loving husband, father, grandfather. brother, uncle, and stalwart classmate, colleague, and friend;
as the Royal Roads soccer goalie whose nickname was 'Sieve' (for Sywyk?), and as the senior who provided considerable 'corrective guidance' to junior cadets;
as the classmate who loved to attend reunions, who was a key organizer for the 2015 Roads reunion, and who enjoyed our annual Renfrew County 'Roads vs RMC' golf extravaganza;
as the 'better homes and gardens' guy who always had a project or four on the go;
as the Caribbean cruise enthusiast who became a rum aficionado;
as the keen fisherman who pursued pickerel in Cold Lake, salmon in BC, and Arctic Char in the North;
as the great neighbour who hosted Canada Day celebrations and Grey Cup game parties; and
as a strong supporter of the Air Force and Communications & Electronics Branch communities, participating in various formal and informal events.
Marv will be greatly missed but long remembered for the outstanding character that he was. Friends and colleagues from across the country offered condolences to Marv's family along with fond recollections of their time with him. In the words of our friend and classmate, 7426 Paul Rowe: 'First as a senior cadet to Marv, and subsequently as a classmate, I always found Marv to be undeterred and unperturbed by the antics that went on… but more importantly enthusiastic, involved, and positive about all things.'
May he rest in peace.
7826 Ivan J. Wawryk
---
We have just learned that 4518 Greg Welch, RMC Class of 1959, has passed away peacefully in North Bay, Ontario on Wednesday, October 19, 2022. An article on Greg we hope will be published in a future issue of eVeritas.
---