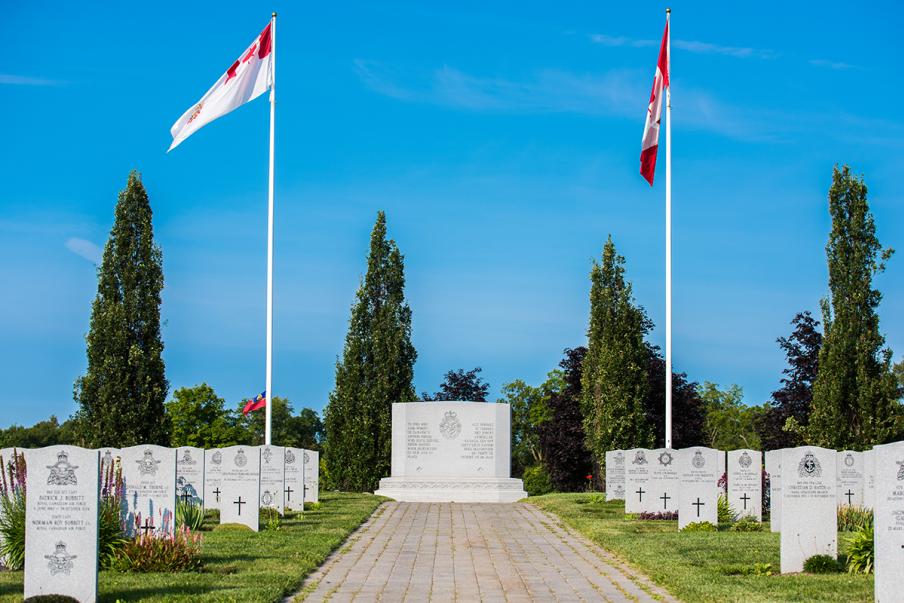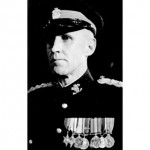 ALBERTSON, Irvin J. "Pic" – Proud WWII Veteran -14th Field Reg. RCA and D-Day. Peacefully at his home, with family by his side, on Sunday, August 10, 2014 in his 95th year. Beloved husband of the late Helen Isabelle (Burke). Loving father of: Mary Thachen-Cary of Toronto, Tom Albertson (Cathy Marshall) of Kingston and John (Laurie) Albertson of Kingston. Cherished by his grandchildren: Ryan, Lauren and Emily. Predeceased by his parents Irvin William and Josephine Albertson, and by his sisters: Rosemary and Lois, Amey Clesse and Kathleen Burns. Fondly remembered by his many nieces and nephews. Friends will be received at the GORDON F. TOMPKINS FUNERAL HOMES , 49 Colborne Street (at Clergy St.) on Tuesday, August 12th from 5 until 9 p.m. Mass of Christian Burial in the church of St. John the Apostle, Patrick Street, on Wednesday, August 13th at 1:00 p.m. Rite of Committal with prayers in St. Mary's Cemetery. For those wishing, donations to the Salvation Army or St. John the Apostle Church, would be appreciated in Pic's memory. A special thank you to Friar David Collins for his spiritual and moral attention, to Doctors Stephen Hinton and Joyce Hataley and to the caregiver Erin Shaw for their kindness and caring concern for Dad.
Ed Note: "Pic" Albertson was a longtime employee at RMCC. For the majority of the time he worked in clothing stores; he would also be seen swimming regularly at the college pool mostly over the noon hour. He organized and ran very popular  swimming classes for children of military & civilian staffs fro years starting back in the 1950s.  He did this as a volunteer on saturday mornings.
He retired around 1985 and at his retirement he was presented with a lifetime pass to the RMCC pool by then commandant BGen Frank Norman. The lifetime pass was an enormous source of pride to "Pic". We would meet unexpectedly from time-to-time – he never failed to mention the lifetime swimming pass he had for the RMCC pool.
***
BAYNE, David Grant 'Dave' July 8, 1945 – July 31, 2014.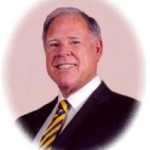 RCN, LCdr (Ret'd.), passed away peacefully surrounded by his family in Hospice Wellington after a very brief illness. Family meant everything to Dave and there is nothing he wouldn't do for those he loved. He is survived by his loving wife of 48 years, Elizabeth 'Liz' Bayne and his wonderful children, Michelle Karker (Michael) and Peter Bayne (Jennifer). He was a proud Grandpa to Austin, Riley and Rachael Karker and Cate and Amanda Bayne and a devoted son of Francis (Frank) Bayne of Guelph, Ont. and Gladys Bayne of Barrie, Ont.
David was a brother, an uncle and a friend to many through¬out this wide world of ours. Dave served Canada as a member of the Royal Canadian Navy for 25 years, first as a MARS officer then as a Pilot. He was a graduate of VENTTURE (Naval Officer Training Centre (1965) and the Royal Military College of Canada (RMC) (1976). Dave's career has spanned many facets of military and commercial aviation and he was most recently Director of Flight Operations for George Weston Limited. He was fortunate to have had a vocation which he loved and never considered to be work. Dave always embraced adventure and he and Liz travelled extensively throughout this amazing world of ours. Their favourite place was always 'the Cottage' in Chance Harbour, where family and friends would meet and celebrate being together.
Dave was a respected leader and mentor to man y within the military and aviation industry. His ability to recognize the capabilities and talents of individuals was remarkable. He was a loyal friend and colleague who considered others before himself. Dave had a great life but had so many plans for the future. The family is devastated that this disease brought down such a strong man, a loving man, a man who seemed at times larger than life, in such a short period of time.
A celebration of David's life was held August 7th. Source
***
RCNC 340 William George Welbourn was a member of the class entering RCN – RCAF College Royal Roads in 1947 and graduating in 1949.

WELBOURN, William George -aged 85, died peacefully on August 9th following a brief illness. Bill experienced a distinguished career as an officer of The Royal Canadian Navy and as a professional engineer for Ontario Hydro. Post retirement, he relocated to British Columbia with his wife of 36 years, Judith. An active and proud member of The Masonic Society and The Gizeh Shrine, Bill enjoyed a close friendship with his brethren. His love of music was evident by all who heard him play at special events and for patients in the extended care ward of Saanich Peninsula Hospital. His generosity will live on in the many causes he will continue to support. Remembered as a gentle bear who adored Judith, Bill loved his 3 sons, their spouses, his 6 grandchildren and 6 great-grandchildren. The family has requested that, in lieu of flowers, donations be made to Bill's charities of choice: The Montréal Childrens' Hospital Foundation and The Saanich Peninsula Hospital Foundation. As per his wishes, no funeral or memorial service will take place. We, the family, would like to thank the staff of Saanich Peninsula Hospital. We are grateful for their care and respect. We also acknowledge the many, many friends who have touched Bill's life. We wish him "Fair winds and a following sea". – See more at: http://www.legacy.com/obituaries/timescolonist/obituary.aspx?n=william-g-welbourn&pid=172101887#sthash.2BFdmAMC.dpuf
***
BAUMGARTEN, PHILIP It is with great sadness that we announce the passing of Philip Baumgarten on Sunday August the 3rd. Philip passed away peacefully at home surrounded by his family after fighting a courageous battle of cancer since November 2013. Born September 7th, 1938 in Rosetown, Saskatchewan. Philip was the oldest of six children. He is predeceased by his mother and father, as well as his youngest sister, Marylou. He is survived by his loving and dedicated wife of 48 years, Karin, son Roger (Miu) daughter Ramona (David), granddaughters Nicole and Natalie and their father Serge, and his brothers Lloyd (Ethel), Gene (Chrissy), Joe and Denny (Elaine). Philip was a dedicated soldier, retiring as Sergeant Major in 1989 after 32 years of service. He served a number of tours which included Vietnam, Cyprus, and Germany, and ended his career teaching at Royal Roads Military College in Victoria. He and Karin moved to Kelowna in 2000. Philip will be remembered lovingly by his family as a man with a big heart, a love of classic country music, and an unwavering devotion to his family and his career. Our family would like to express our utmost thanks and appreciation to the all members of the Palliative team, the Cancer agency and Dr. Du Plessis for the compassionate care and enormous support that they offered throughout his battle, and a very special thank you to David Kyle, his friend and nurse during his last weeks. He will be dearly missed. Arrangements in care of Everden Rust Funeral Services, (250) 860-6440. Condolences may be sent to the family by visiting everdenrust.com
***
5872 Coppin , James "Al"
June 12, 1940 –August 3, 2014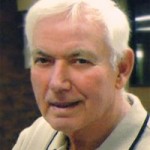 It is with great sorrow that we announce the passing of our beloved husband, father, grandfather, brother and brother-in law on Sunday, Aug. 3, 2014. He fought his long battle with Lewy-Body Disease to the end. Loved and dearly missed by his wife Sharon, son Steve (Sue), daughters Laurie (Dave) and Shannon, grandchildren Elysia (Robbie) and Aaron (Jessica) and great granddaughter Brooklyn and another grandchild on the way. Loving son of the late Betty and Alf Coppin of Thunder Bay. Sadly missed by his brother Doug (wife Susan), sister Cherie (husband Larry) a niece and nephew and families in Thunder Bay; and sister-in-law Linda Kipot (Husband Mike) and nieces and nephew and families in Sidney, B.C. and many good friends made throughout the years. Al was born and raised in Thunder Bay, Ontario. At 19 he entered Royal Roads Military College (1959–1961) and Royal Military College (R.M.C.) (1961-1962). He met his wife Sharon on a blind date at Royal Roads (Victoria, B.C.). They were married in 1963 in Montreal (where he completed a Science degree) and had a son. In 1966 they moved to Vancouver and 2 daughters were born (1966 and 1969). Al worked as a chemist for Lenkurt Electric (1966-1972) then worked as plant manager for Mortifee Munshaw for 9 years. He completed an M.BA degree at SFU then returned to Lenkurt and on to the Research Division (MPR TelTec). He managed the packaging division then moved on to the satellite beacon program and travelled a fair amount on business. He worked as a consultant in various applications until he retired in 2000. Al was an active and outgoing man, with a sharp mind, quick wit and great sense of humour. He loved his golf, squash, and curling. (Also basketball in early years). He was a long time member at Pitt Meadows Golf Club. He coached his kids sports and loved going to the grand children's events. He was a wonderful husband and family man; He was the rock of our family.
We will love him
and miss him forever. Rest in peace our beloved man.
Celebration of Life to be held Saturday, Sept. 6th, 2014 from 2-5pm at Meadows Gardens Golf Club, 19671 Meadow Gardens Way, Pitt Meadows, B.C. No flowers please-if you wish- donations to the Alzheimer's Society or charity of choice.
***
Donna Diane Niemy ( Wife of 3543 Walter Niemy (Class of '56 & former RMCC commandant 1985-87)
(nee Fraser)
Peacefully on July 21, 2014, in her 81st year, at Foothills Medical Centre in Calgary, following an accidental injury while vacationing in Canmore, Alberta. Blessedly, her three children were at her side to the end. Donna is survived by her husband Walter of Sidney, B. C.; and her children and their families: Peter (Lisa) and grandchildren Florence and Holly, of Bramley, Surrey, UK; Carole Stark and grandson Taylor, of Canmore; and Eric (Nunun) and grandchildren Olivia and Alexander, of Hong Kong.
Donna was an outgoing, sensitive and passionate woman and a beloved wife, mother, grandmother, aunt and cousin. Born and raised in Toronto, she was a graduate of Lawrence Park Collegiate Institute and The Wellesley Hospital School of Nursing. She worked briefly as a nurse before marrying her beau, Walter Niemy, an RCAF officer and pilot, in 1956. Thus began their joint adventure of raising their family at multiple addresses across Canada, the United States and Europe. A lifelong learner and world traveller, Donna enjoyed working with children and volunteering in museums and nature centres where she lived, to share her knowledge of natural and cultural history.
Donna had an inquisitive mind and thoroughly enjoyed deep conversations with friends and family members of all ages. A dedicated writer and a voracious reader, she was – not surprisingly – a crossword-puzzle ace. Her artistic interests ranged from playing the ukulele to collecting paintings and crayon sketching. She played competitive basketball in her youth and continued to enjoy activities such as hiking and swimming throughout her life. She also had a great passion for birds and animals, and she held an abiding appreciation and respect for the natural environment, be that her backyard garden or the varied and vast wilderness areas of Canada. To her, bliss was summer-cottage living in Haliburton in her youth and in the Laurentians in later years, where she loved to explore the lakeshore in her rowboat.
Donna will be dearly missed by her extended family and her many friends, and always remembered for her loving and generous nature. She will be buried at Mount Pleasant Cemetery in Toronto, and the family will be hosting a celebration of her life in Sidney, B. C. on August 20th, 2014. Memorial tributes may be made to Nature Canada.