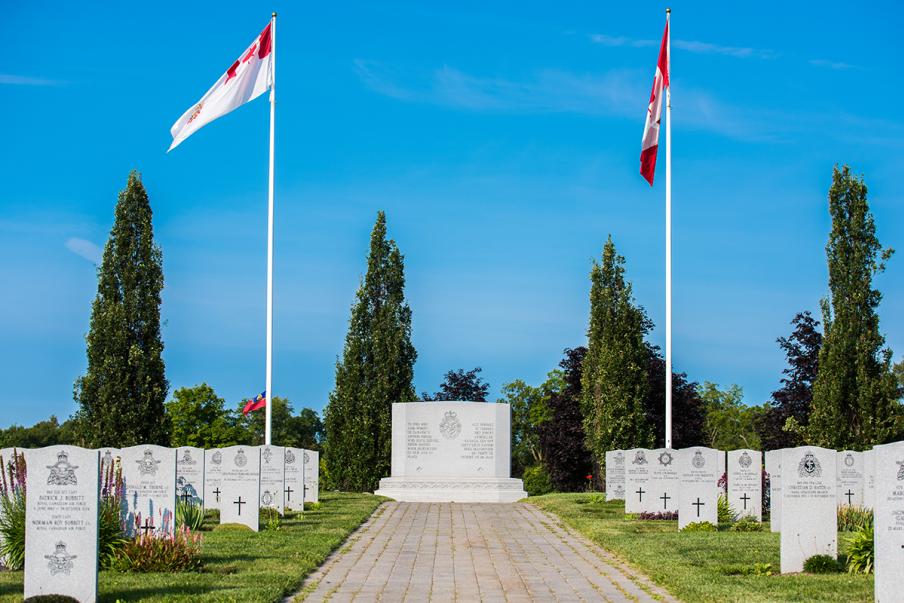 Late Breaking News… Please pass on to members from the Class of '67
7389 Dave Knapton (Class of 1967)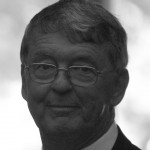 David William Knapton, 69, of Maple Bay, B.C., passed on August 14th, 2013 in Edmonton, AB, as a result of injuries suffered in a motor vehicle accident.
A celebration of life will be held from 12:00pm until 3:00pm on Saturday, November 30th in the lounge at Olympic View Golf course, 643 Latoria Rd, Victoria BC. Friends, relatives and colleagues are invited to attend.
David was born July 6th, 1944 in Bella Coola, B.C. to Francis Lucy Knapton and Richard Cyril Knapton, the 2nd child in a family of 7 kids. He graduated from Sir Alexander Mackenzie high school in 1962. He attended UVic, Royal Roads, RMC and Queens university, obtaining a master of science degree in physics. He was married to Janet Lousie Knapton from 1967 to 1986, with whom he had three children, John David Knapton, Robert William Knapton and Pamela Nichole Janet Kendall.
David had a clear love of sharing knowledge, starting when in the military and teaching at fleet school. He was honourably discharged from the force, continuing to teach physics at Fanshaw College in London, Ontario. In 1978 he took an opportunity to move back to the west coast, always considered his home, settling in Victoria, BC. He taught at St. Michael's University School, then moved to Camosun College in 1980 to teach physics. He taught at the college level for years, moving in the role of chair of the physics department. Finally retiring as the Dean of Arts & Science in 2004 and moving to Maple Bay, B.C.
In 2004 he married his current wife Bev, who he lived with in Maple Bay. After retiring he sought out his other passions in boating an travel, spending the last years of his life travelling across North America and boating in Georgia Straight. He passed doing what he loved doing, driving through Canada towing his 5th wheel.
He was survived by his three children: John, Robert and Pamela; three brothers: Ron Knapton of Bella Coola, Frank Knapton of Kitimat, and Art Knapton of Powell River; two sisters: Elsie Cronin of Ladymsith and Edie Pagani of Nanaimo; 4 grandchildren: Nick Knapton, Ashley Knapton, Brandon Kendall and Kyle Kendall; his current wife, Beverly Knapton of Maple Bay, as well as numerous loving friends and extended family members. He was predeceased by his older sister, Flo.
  ___________________________
7502 LYRETTE, Jacques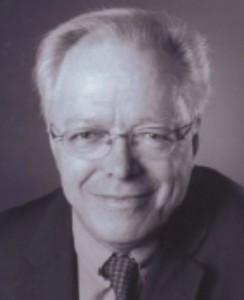 Les familles Lyrette et Richer ont le regret de vous annoncer le décès de M. Jacques Lyrette décédé le 18 novembre 2013, à l'âge de 68 ans. Il était l'époux de Madeleine Richer et le fils de feu Lionel Lyrette et de feu Yvette Laliberté. Outre son épouse, il laisse dans le deuil ses enfants: Jean-Bruno (Andrée) et Andrée-Anne. Il laisse également frères, sœurs ainsi que beaux-frères, belles-sœurs, neveux, nièces, cousin(e)s, parents et plusieurs ami(e)s. Il fut prédécédé par une soeur et trois frères. La famille recevra les condoléances à la COOPÉRATIVE FUNÉRAIRE DE L'OUTAOUAIS située au 95, boul. de la Cité-des-Jeunes, Gatineau (secteur Hull), où il reposera le dimanche 24 novembre 2013 de 9h à 12h et de 14h à 17h. Un service religieux aura lieu ultérieurement à sa ville natale de Prévost, Qc. Vos marques de sympathie peuvent se traduire par un don à la Société canadienne du cancer ou à la Société canadienne de la Sclérose en plaques. La famille tient à remercier le Dr Jean-Serge Lalonde, son épouse Solange ainsi que le personnel de l'hôpital de Gatineau pour les bons soins prodigués et leur dévouement à son égard. Vos messages de condoléances peuvent être envoyés à: www.cfo.coop
7502 LYRETTE, Jacques – Class of 1968
It is with great sadness that we announce the peaceful death of Jacques Lyrette on November 18, 2013, at the age of 68. Beloved husband of Madeleine Richer and proud father of Jean-Bruno (Andrée) and Andrée- Anne. He also leaves many brothers, sisters, many brothers-in-law, sisters-in-law, nephews, nieces, relatives and friends. Predeceased by one sister and three brothers. Visitations will be held at LA COOPÉRATIVE FUNÉRAIRE DE L'OUTAOUAIS, 95 Cité-des-Jeunes Blvd, in Gatineau (Hull sector), on Sunday, November 24, 2013 from 9 a.m. to 12 p.m. and 2 p.m. to 5 p.m. The funeral service will be held on later date at his hometown in Prévost. Online condolences may be made at www.cfo.coop. For more information: 819-568-2425 Fax: 819-568-2426 conf@cfo.coop. – See more at: http://www.legacy.com/obituaries/ottawacitizen/obituary.aspx?pid=168107758#sthash.Dur0Piu2.dpuf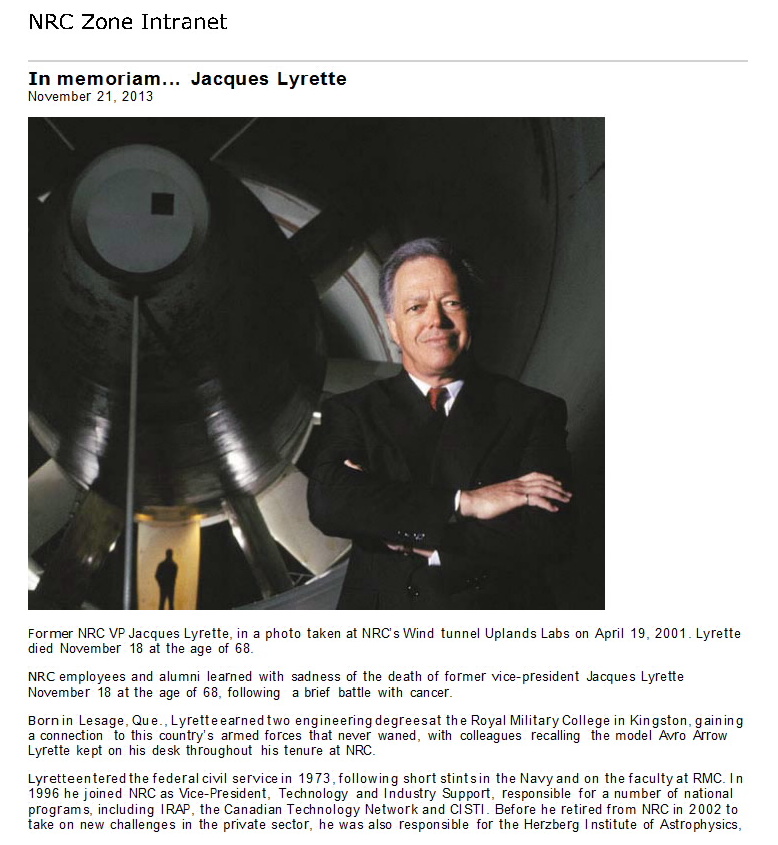 ___________________________
4547 CABLE, John William – Entered Royal Roads 1955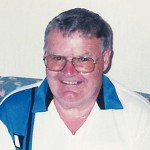 CABLE, John William – Retired Superintendent of Business and Finance with the Limestone District School Board and the former Frontenac County Board of Education It is with great sadness that we announce the passing of John on Wednesday, November 13, 2013 in his 79th year. Beloved husband to Joan for 54 years. Loving father of Doug (Jackie) of Barrie, Ruth Patrick (Doug) of Sudbury and Diane Taggart (Jeff) of Kingston. Proud papa of Stuart (Stacey), Sandra (Mike), Jamie (Ashleigh), Jeff, Jason (Julia), Lindsay (Max), Kyle (Gillian), Josh (Rebecca), Emma and Maggie. Great papa of Brady, Jackson and Jack. Dear brother of Brenda Kelly (George) of Guelph. The family wishes to extend their thanks to the owner and staff of Fox Run Retirement Home in Gananoque.