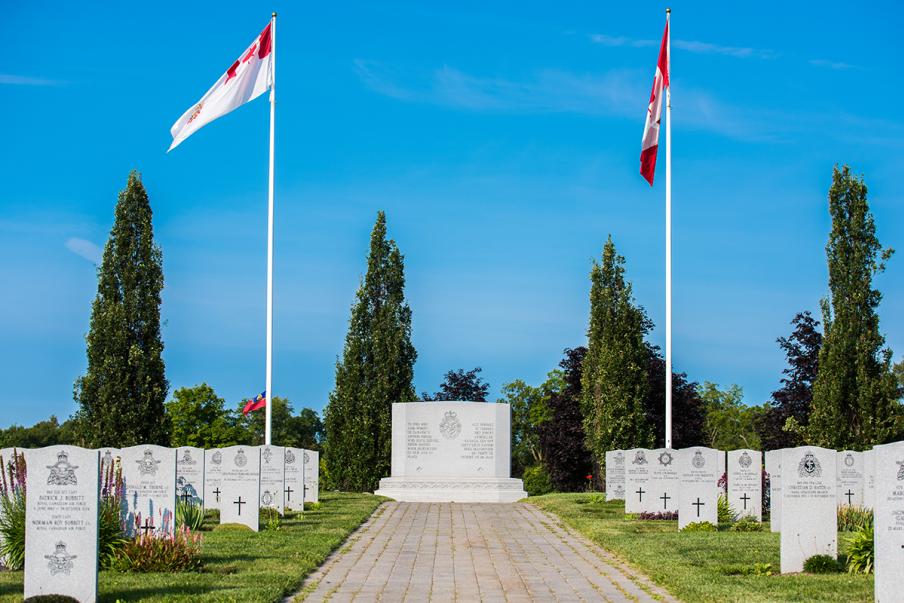 Notice from RMCC Operations and Planning Officer, Michael Lewis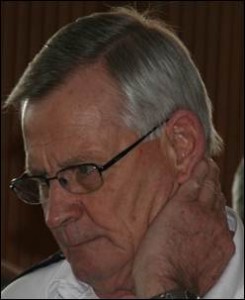 It is with a very heavy heart that I announce the passing of Commissionaire MWO Brown – a key member of the RMCC team for over 23 years. He passed peacefully at home with family by his side.
Cmre Brown was in the Military for 30 years and served as a lineman for his entire career. During that time, among his many postings, he was posted to Germany and thoroughly enjoyed travelling through Europe. Following his career in the military, he was employed in the Corp of Cmres for 23 years and had been with RMCC that entire time. He tremendously helped with organizing 22 Reunion Weekends, Graduation Ceremonies and countless other major events while at RMC. He was an avid gardener and was famous for his tomatoes.
He is succeeded by his wife of 40 years, Dianne. Brownie was very close to his siblings, which includes his twin brother. He has 1 son and 1 daughter as well as 6 grandchildren, and he was extremely proud of them, attending as many of their competitions and events as possible.
Brownie always enjoyed a pint, "a big feed of mussels", and a good laugh. Please take a moment to reminisce on all the ways Commissionaire MWO Brown had a positive impact at RMCC. He will be missed.
Family and friends are invited to a celebration of life Friday May 23, 2014 from 1-4pm at the Royal Canadian Legion Branch 631, 4034 Bath Rd Kingston ON K7M 4Y4. Private family burial will be held at the Cataraqui Cemetery.
***
C'est avec grands regrets que je vous annonce le décès du commissionnaire et Adjudant maitre Brown – un membre clé de l'équipe du CMRC depuis plus de 23 ans. Commissionnaire Brown est décédé hier soir paisiblement dans son domicile entouré de sa famille.
Cmre Brown servi dans l'armée comme technicien monteur de lignes pour l'ensemble de sa carrière soit 30 années de service. Pendant sa carrière , il fut affecté en Allemagne pendant plusieurs années ou il a adoré sillonné l'Europe lors de nombreux voyages. Il servit ensuite dans le Corps de Cmres pour plus de 23 ans au CMRC . Il a contribué a l'organisation d'innombrables événements dont 22 fin de semaines de la Réunion, bal de la graduation ainsi que de plusieurs autres moments importants pour le CMRC. Il était un jardinier passionné et était reconnu pour ses tomates délicieuses.
Il laisse derrière lui son épouse de 40 ans, Diane. Browie était très proche de ses frères et sœurs, dont deux frères jumeaux. Il a un fils et une fille ainsi que six petits-enfants. Brownie était très fier d'eux et assistait à autant de leurs compétitions et événements que possible.
Browie était un bon vivant qui ne disait jamais non a une pinte , " un plat de moules " , et un bon rire.
Veuillez s'il vous plaît prendre un moment afin vous remémorer l'impact positif que le commissionnaire Brown a eu sur le CMRC.
Il nous manquera.
D'autres informations seront mises a votre disposition, lorsque disponibles.
***
Décès du 2704 BGén. (ret) Marcel Richard
C'est avec regret, que nous vous informons du décès du Bgén (ret) Marcel Richard, CD décédé, le samedi 22 février 2014, à l'âge de 92 ans.
Le Brigadier général Richard est né à Québec le 19 mars 1921. Il s'enrôle aux Royal Rifles of Canada en 1937 comme homme du rang jusqu'en 1939. En 1941, il gradue du Collège militaire royal du Canada et rejoint le Royal 22e Régiment avec le grade de lieutenant, au mois de mai de la même année. En mars 1943, il est déployé outre-mer et servira avec son régiment dans la zone méditerranéenne de septembre à décembre 1943. Blessé en décembre, il est hospitalisé durant plusieurs mois. Il retournera en Angleterre en juin, promu au grade de capitaine, il est nommé adjoint à l'entraînement de la Compagnie no 6 de la « Canadian Infantry Reinforcement Unit ». Au mois d'août 1944, il rejoint son unité avec laquelle il combat en Italie et dans le Nord-Ouest de l'Europe. Il est nommé officier d'intelligence à la « 6th Canadian Infantry Brigade » au mois d'avril 1945. Il revient au Canada en juillet 1945.
Au mois de septembre 1945, il rejoint son régiment où il sert comme adjudant. Nommé au Quartier général, Québec Command, en qualité d'officier d'état-major en octobre 1946, il y demeure jusqu'à janvier 1948. Par la suite, il sert au Quartier général de l'armée à titre de « General Staff Officer » à la direction de l'Infanterie et à la direction de l'Instruction militaire. Lorsqu'éclate le conflit de la Corée, il rejoint son Régiment avec le grade de Major et sert en Corée de décembre 1950 à janvier 1952, date à laquelle il revient au Canada pour suivre des cours au Collège d'état-major de l'Armée canadienne.
Gradué en novembre 1952, il est nommé officier d'état-major au Quartier général, Québec Command. En octobre 1954, on le nomme officier d'état-major au « Headquarters Eastern Quebec Area » poste qu'il occupe jusqu'en octobre 1957, date à laquelle il est muté à la direction de l'Infanterie, au War Office en Angleterre. Il devient commandant adjoint du 2e Bataillon Royal 22e Régiment en novembre 1959, poste qu'il conserve jusqu'en août 1961, lorsqu'il est promu Lieutenant-colonel et nommé Commandant du 3e Bataillon du Royal 22e Régiment.
Au mois d'août 1964, le Brigadier général Richard est nommé assistant adjudant-général à la direction de l'Administration au Quartier général de l'Armée à Ottawa, et l'année suivante on le choisit pour suivre des cours d'état-major au Collège de la Défense nationale à Kingston en Ontario. Après avoir terminé ces cours, il est nommé officier d'état-major (plans et opérations) au Quartier général du District de l'Est de Québec en juillet 1966.
Le Brigadier général Richard est promu colonel et nommé Commandant de la Base de Valcartier en septembre 1966. Après la réorganisation de cette base, il assume la fonction de Commandant adjoint en août 1968.
Promu Brigadier général en juin 1970, il est nommé chef de l'administration du personnel au Quartier général de la Force mobile. Il a de plus été attaché militaire à l'Ambassade canadienne à Paris du 7 août 1972 au mois d'août 1975.
Le 5 août 1975, on le nomme à la Division d'Instruction francophone dans la ville de Québec où il prend sa retraite le 31 décembre 1975. Il demeurait à Québec depuis lors.
La famille recevra les condoléances en présence des cendres, le samedi 15 mars 2014 à compter de 13h00 en l'église des Saints-Martyrs-Canadiens, 955, avenue de Bienville, Québec G1S 3C1. S'en suivra à 14 h une cérémonie religieuse. La cérémonie honneur au défunt sera effectuée par l'Association du R22eR, Succursale Québec. De plus, une délégation du Régiment sera également présente aux funérailles. L'inhumation se fera à une date ultérieure.
Le drapeau régimentaire sera mis en berne, le samedi 15 mars, 2014.
Pour de plus amples renseignements, veuillez contacter le 418 694-2800, poste 2901.
Je me souviens.
***
4750 McGOWAN, Stewart (Stu) Edwin OStJ, CD BGen Retired March 1, 1938 – February 17, 2014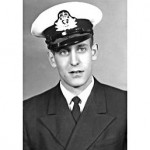 With great sadness the McGowan family announces the unexpected death of Stu while in Lima, Peru. Paddy and Stu were on a glorious cruise through the Panama Canal. His last days were spent enjoying the seas in a magnificent ship, lying in the sun on the pool deck with a rum and coke in hand.
Stu was born in the Town of Mount Royal, Quebec, the son of Muriel (Muffet) Stewart and Edwin Archibald (Mac) McGowan. He graduated from Victoria High School in 1955 and Royal Military College in 1960. Stu's career included flying Trackers off HMCS Bonaventure; an exchange posting with the USN; flying Sea King Helicopters from HMC Ships Margaree and Assiniboine; Commander of 408 Tactical Helicopter Squadron in Edmonton (his favourite posting); Base Commander in Winnipeg during visits of Queen Elizabeth and Pope John Paul II; Director of Army Aviation in St. Hubert; Command Director at NORAD Headquarters in Colorado Springs; and finally Deputy Director of NORAD, Alaska Region.
Stu retired in Victoria in 1993. He loved being the skipper of a Harbour Ferry and was "lead ballerina" in the Sunday morning Blue Danube Waltz of the Ferries. As President of the Board of St. John Ambulance, Stu oversaw their building expansion on Pandora St. After helping with security during the Vancouver Commonwealth Games he joined the Rotary Club where he found his place in a group of like-minded individuals. "Service Above Self" is what guided Stu his entire life.
Stu leaves his loving wife Paddy, sons Blair and Bryce (Chanida) and beloved grandchildren Draeven, Carly and Ryan. He will be sadly missed by brothers Kim (Dawna), Jay (Sandra), sister Robyn Whitbread (Ian) and was predeceased by Sister Peta Ann (Jackson) of the Convent of St. John the Divine in North York, ON. A Memorial Service will be held at 1:00 p.m. on Monday, March 3rd, 2014 at St. John the Divine, 1161 Quadra Street, Victoria. Reception to follow. Flowers gratefully declined. If desired donations to a charity of choice would be appreciated.
***
THIS JUST IN…
Tragedy has struck the Class of 60 again, the fourth death within a month. The latest is 4637 Ken Stefanson of Gabriola Gourmet Garlic fame who passed away on 26 Feb, shortly after undergoing double by-pass surgery at the Royal Jubilee Hospital in Victoria.
Regards,
Toivo Roht – Class of 1960 Secretary…
***
Over the weekend, Toivo shared a note he received from the family of Ken Stefanson…
4637 Ken Stefanson – Apr. 27, 1937 – Feb. 26, 2014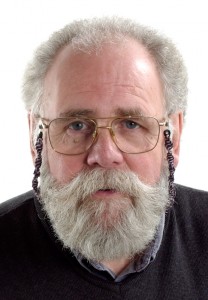 On Wednesday, February 26, after heart surgery, we lost Ken Stefanson.
Ken was born in Selkirk, Manitoba, eventually making his way out west to Gabriola.
Those of you who knew him (or of him) were aware of his persona, his larger than life approach, and love of Gabriola.
We will miss him dearly and he would want you to hear of his passing on a more personal level.
Known as Mr. Gabriola Gourmet Garlic, he was also lover of live music, and an avid supporter of singer-songwriters.
Ken was also a long-time attendee at Farmer's Markets and other markets up and down Vancouver Island and on the Mainland.
Ken requested no funeral, no memorial.
He asked instead for the island to have a concert down the road in his memory to support and help restart the Hot-Lunch Program at the Gabriola school.
With all our love,
Llie, Gerry, Lynn, & Bree
***