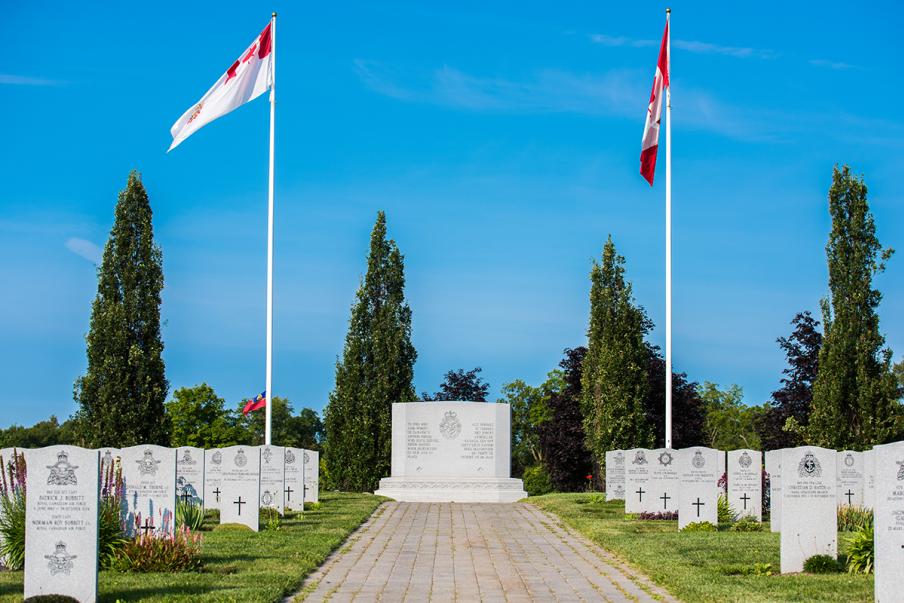 6513 John Telesphore Bart April 28, 1943 – September 28, 2014
I'm Glad for All the Life I've Had!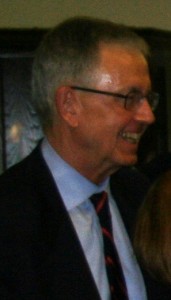 There's nothing like a cancer diagnosis to force a man to take stock of his life. This is particularly true when you find out you have a glioblastoma-an incurable brain cancer. Two and a half years ago when I was almost 69, I got the news about my tumour after experiencing only a couple of weeks of mild symptoms. Up until the afternoon of my diagnosis, I lead a busy, productive life running a business I started more than two decades earlier. My wife and I travelled extensively, we ate well and exercised several times a week. In fact, I was in excellent health for my entire life having been fortunate enough to dodge the many bullets that can cut a man down in his prime or destroy his quality of life. Still, here I am now, done with treatments and surgeries, facing the end of my life. Most people are satisfied waiting for others to write about them after they're gone, but leaving things to others has never really been my style. And it hardly makes sense to change that now.
I was born April 28, 1943 in Thorold, Ontario. From my modest beginnings as a young lad growing up on Patricia Street with my sisters Geraldine and Patsy and my brother Chris, I worked hard to make a better life for myself. As a teenager, I was eager to help out in our many family businesses, from dry cleaning to television repair to dairy delivery.
Although many people would call the experiences of my youth 'character building,' none of them prepared me fully for the next chapter of my life. After high school, my family had no money for costly university tuition, so in 1961 I did the only thing I could do to secure myself the future I wanted: I enrolled at the Royal Military College of Canada in Kingston where I could trade three years of military service for an education. As an engineering student, the academic load was rigorous, but it was the mandatory participation in athletics that really took a toll-though mostly on my ego. Despite all the challenges of RMC, I emerged four years later a better man, with a Bachelor's Degree in Chemical Engineering. I've always credited RMC with teaching me the lessons I would need to continue down the road to a successful life. That's why I was so delighted to be able to create an endowment at RMC that funds both the Captain John Bart Teamwork Prize and the Captain John Bart Leadership Award for new recruits each year.
After my service in the military, I returned to school and earned an MBA and PhD in Finance from the University of Western Ontario. I went on to teach corporate finance and stock marketing investing at several Canadian universities. It was during my tenure at the University of Windsor that I discovered the Stock Selection Guide™ developed by the late George Nicholson Jr. of the Detroit-based National Association of Investment Clubs (NAIC). I updated the Guide and began introducing it to Canada's individual investors. Subsequently, I developed the Canadian Shareowner Association in 1987 which came to include various investing educational publications, seminars and events. Now known as Canadian ShareOwner Investments Inc., this unique organization became the only Canadian investment dealer to sponsor a real-money stock market competition for university and college students ('Doublescoop'). Today, ShareOwner continues to provide Canada's only dollar-based stock trading service to individual investors.
I feel very happy that my investment education and stock brokerage business have touched the lives of thousands of Canadians. Hopefully, they will all continue to follow the sensible investment principles taught by Canadian ShareOwner such as dollar-cost-averaging, investing over the long-term, and limiting portfolios to a few high quality growth stocks and low cost exchange-traded funds that track indices such as the Standard & Poor's 500 Index.
Despite the cancer that is ravaging my brain, I really do believe I have been one of the lucky ones. I have truly enjoyed a rich life. Not only am I thankful for the many opportunities I have had to help improve the lives of others, but also for the strong, loving relationships I have built with my wife, Mary, my children, Angela Bart, Sarah Rogers and David Bart as well as with my grandchildren Ellie Bart Bailey, Evelyn Bailey, Emma Rogers, Max Rogers, Zac Rogers, Bobby Bart, Johnny Bart and Annie Bart. I am also grateful for Dr. Mark Bernstein's neurosurgery team and the doctors and nurses at the Gerry and Nancy Pencer Brain Tumor Centre at Princess Margaret Hospital for helping extend my life for considerably longer than might have been expected.
Mary has stood by me since my tumor was first diagnosed and has helped me live comfortably with the side effects of the surgery, radiation and chemotherapy. I don't know what I would have done without her. Even when the treatments and the disease itself left me weary and battered, Mary would insist that we get up and do things-even simple errands-just to get out of the house. It is thanks to Mary's spunk and determination that we were even able to spend a good part of the last two winters out of the cold in a beautiful condo in Florida. And right up until the end, she would always insist that we honour our weekly 'date night' on Friday evenings where we would drink wine, eat cheese and dance or just listen to a selection of special music we compiled together. It seems fitting then, that I should leave her with the lyrics of one of our all-time favourite songs by Alan Jackson: 'We won't be sad. We'll be glad for all the life we've had.' And I am very glad for all the life I've had.
Cremation has taken place. Family and close friends will gather at a future date for a celebration of John's life. In lieu of flowers, donations to the Gerry and Nancy Pencer Brain Centre at Princess Margaret Hospital would be appreciated.
***
2932 Garry Foster Hammond

Passed away peacefully on September 20 at the Victoria General Hospital surrounded by family. He is survived by his loving wife of 60 years Dorothea (Dodie Yellowley), his children Lorne (Monica) Hammond, Elizabeth (Mark) Kaarremaa, Catherine (Tauno) Tuominen, Sarah (Bruce) Fraser, James (Fern) Hammond, and grandchildren: Jayne, Anne, James, Alexander, Emily, Kavan, Darby, Adèle, Darcy and Lara and great grandchildren, Georgia and Jedidiah.
Born in 1929 in Trochu AB, he graduated from Lisgar Collegiate in Ottawa and began his 27-year military career at Royal Roads in 1948. On graduation from Royal Military College Kingston he went directly to combat in Korea with the 81st Field Regiment, Royal Canadian Artillery. On return he completed a degree in economics at Queen's University before continuing his career with the Royal Canadian Horse Artillery.
Garry remembered fondly the life-long friendships of postings across Canada, in Germany and England. He was presented to Her Majesty The Queen while instructing at the Royal School of Artillery in England. He finished his career in Victoria responsible for the cadet program across BC.
On retirement he opened Hammond's Books in Victoria. He then completed a Master's of Public Administration at UVIC and worked for the Office of the Comptroller General of BC.
The family wishes to thank Dr. A. Attwell and Dr. S.D. Hartford, as well as the healthcare professionals and organizations who assisted with palliative home care, especially the home care workers who brought help, humour and wise advice.
In lieu of flowers donations to BC Cancer Agency or Victoria Hospice. A Celebration of Life will be held at St. John the Baptist Heritage Church, 537 Glencairn Lane, Colwood, on Saturday, October 11th at 1 pm.
***
3782 Rayner Jobson
Peacefully at his home in West Lorne on Monday, September 1, 2014, Rayner John Stewart Jobson passed away at the age of 80. Loving husband of Dagmar Jobson (nee Liepmann) for 54 years. Beloved father of Roger Jobson (Joan Bryce) of Newbury, Jane (Tim) Nesseth of London and Catherine (Steve) Adams of Reno, Nevada. Dear grandfather of Joshua (Jelisa) Nesseth of London, Thomas (Kelsey) Jobson of Glencoe and Jacob Adams of Reno, Nevada. Predeceased by Grandson John Jobson (2011) and granddaughter Taylor Nesseth (2012). Ray served his country for 22 years in the Armed Forces both domestically and over seas as a peacekeeper. After retirement he settled in West Lorne and worked with family at the Milner-Rigsby company Ltd.
Funeral service was held on Saturday, September 6th.
***
22814 CUTLER, Aaron Leigh (Class of 2004) Air Force Major 1982 – 2014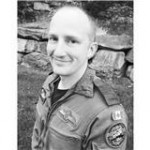 Left us suddenly on September 30, 2014. Aaron was a highly decorated officer who served in the Persian Gulf and was last stationed in Ottawa. He leaves behind his wife, Johanna Cutler (Scouten); mother, Angela; Nanny; brothers, Adam and Jason (Ashley); Julie and Carl Scouten; Cameron (Baeli); nephews, Austin and Jacob; as well as many relatives and friends who loved him and will miss him dearly.
Services will be held at Victory Memorial Park, Surrey, BC on Thursday, October 9 at 1 p.m. In lieu of flowers, donations may be made to the MS Society of Canada, the Alzheimer Association, or Wounded Warriors Canada.
***
Expert Marksman who Shot Al Brady Dies at Age 106