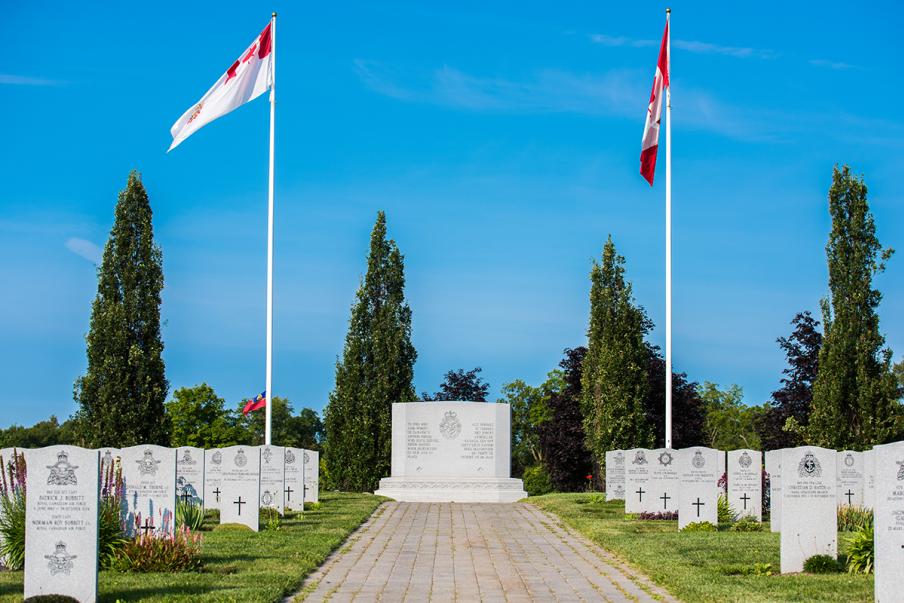 2399 Rear-Admiral William Moss Landymore, OBE, CD, RCN
31 July 1916 – 27 November 2008
2399 Rear-Admiral (Ret'd) William Moss Landymore, OBE, CD, MID, RCN (RMC '34) died peacefully at The Veterans' Memorial Hospital, Halifax, Nova Scotia on Thursday, 27 November, 2008. Born in Brantford, Ontario, the only son of Dr. Frederick and Gladys (Moss) Landymore, he enrolled in 1934 at The Royal Military College of Canada, whose motto 'Truth, Duty, Valour' was to be the inspiration for his 32 year military career.
Landymore entered the RCN in 1936 and saw active service in Palestine, World War II and Korea. He served with distinction in 13 RN & RCN ships as well as training the gunnery crews of 7 allied ships at Scapa Flow in 1943. He commanded HMCS Iroquois for two tours of duty in Korea and later HMCS Bonaventure. His final sea-going appointment was as Senior Canadian Officer Afloat Atlantic. Landymore served as both Flag Officer Pacific and Atlantic. He was twice appointed the Senior Officer in Chief Command Atlantic Sub-Area.
Landymore led the Canadian Naval Contingent in the United Allied Parade, 14 June 1942 in London and he was Parade Commander when H. M. Queen Elizabeth II presented her colour to the RCN, 1 August 1959.
During the unification crisis in the 1960's, Admiral Landymore, with many of his naval contemporaries, was in the forefront of the campaign to retain the unique identity and strategic expertise of the RCN in the defence of Canada & her NATO allies.
In retirement, he served as Chairman of the Board of the Grace Hospital, Halifax for which he was awarded the Salvation Army Cross of the Order of Distinguished Auxiliary Service.
Throughout his life, he thought of others for whom he was responsible before himself. He gave generously of his time, skill and resources, particularly encouraging education & children's therapeutic riding and assisting those in need.
A beloved husband, father and grandfather, Bill married in 1940, Joan 'Judy' L. G. Hall (1918-1998). He is survived by their three children: Lauretta Harris (Terence), Dr. Roderick Landymore (Frances) and John Landymore (Melanie), eight grandchildren and six great-grandchildren. He married in 1999, Eleanor Fairn, widow of Sydney Riggs Kennedy. Bill is survived by Eleanor and his four step-children: Derek Kennedy (Barbara), Gay Kennedy, Krista Kennedy (Eric) and Craig Kennedy (Donna), and six step-grandchildren. He is also survived by Dr. Kathleen Quinlan Landymore (Covert) and his niece Joan Innes Hoffman (Robert) and nephews Robert Innes and Scott Innes. He is predeceased by his only sister Lauretta Landymore Innes.
In his later years, Bill Landymore was cared for compassionately by the staff of the Veterans' Memorial Hospital, Halifax to whom his family, shipmates, colleagues & friends express their most sincere thanks and admiration. Sincere thanks also to those veterans and their families who shared in this support.
Cremation has already taken place. A memorial service to celebrate his life will be held at a later date in Halifax at Stadacona Naval Chapel followed by a burial of his ashes at sea. Family flowers only. Donations in his memory, if desired, may be made to Cedar Crest Ward, Veterans' Memorial Hospital, Halifax, Nova Scotia B3H 2E1 or to APSEA Library, School for Deaf & Blind Children & Youth, 5940 South Street, Halifax, NS B3H 1S6
There will be a memorial service at Stadacona and a committal of his ashes at sea in the spring on a date to be arranged by the navy.
Any replies to my usual email laurettaharris@hotmail.com
Regards,
Mrs. Lauretta Harris
Daughter & Executor
_______________________________________________________________________________________
2835 Doctor Charles "Charlie" Cross Bigelow
25 April 1928 – 25 November 2008
2835 Doctor Charles "Charlie" Cross Bigelow (RMC '52), of Victoria, died on November 25, 2008, of complications following a fall and subsequent surgery. Son of the late Tupper S. and Helen Cross Bigelow, Charlie is survived by his wife Elizabeth (Sellick); son David of Nanaimo, British Columbia and daughter Ann of St. Thomas, Ontario. He had two grandchildren, Ian and Ryan Siess. After a somewhat dubious academic start seemingly aimed at graduating in the playing of bridge at the University of Toronto, Charlie went to the Royal Military College in Kingston as a member of the Class of the First 100 (2835), receiving a diploma in chemical engineering in 1952. A year later he received a B.A.Sc. in chemical engineering from the University of Toronto. He earned an M.Sc. in 1955 and a Ph.D. (in physical chemistry) in 1957, both from McMaster University. After completing graduate school he worke d in the field of protein chemistry at a number of important institutions including the Carlsberg Laboratory in Copenhagen, Denmark and The Sloane-Kettering Institute in New York City. Charlie started his teaching career at the University of Alberta and then settled in London, Ontario working as a professor of biochemistry at the University of Western Ontario. Following a decade of highly successful work at Western, Charlie became interested in administrative positions. He was head of biochemistry at Memorial University in St. John's, Newfoundland (1974 to 1977), Dean of Science at St. Mary's University in Halifax, Nova Scotia (1977 to 1979), and from 1979 to 1989 he held the position he loved the most, Dean of Science at the University of Manitoba. On stepping down from the deanship a year before the end of his term ( Always leave before they want you to ) he was named a senior scholar and Dean Emeritus of the university, and later became Provost of University College at th e U. of M. Throughout his administrative career he remained an active researcher and influential teacher. Charlie was politically involved both in and out of universities. He became active in the faculty association while at Western and in 1972 was elected president of the Canadian Association of University Teachers (CAUT). He was provincial secretary of the Newfoundland New Democratic Party (1974 to 1976), president of the Nova Scotia NDP (1978 to 1979) and president of the Manitoba NDP (1982 to 1984). Charlie's political awareness and scientific background naturally led him to environmental education. He was very early in his identification of global warming as a real and serious problem and, as the self-declared local expert on the hole in the ozone screen, he was often invited to speak before groups of teachers and other interested parties. Charlie was a passionate book collector and reader. He loved the challenge of a good crossword puzzle, and became a legend the day he declared that the answer to 13 Across was rodomontade. He enjoyed a good party and his repertoire of stories and jokes seemed endless. Charlie and Elizabeth travelled extensively, most recently to San Francisco so as to be in the United States for the historic Obama election. At Charlie's request there will be no funeral, memorial, speeches or maudlin gatherings. His family asks that he be remembered by the raising of a glass and a toast to a life well lived.
http://www.passagesmb.com/obituary_details.cfm?ObitID=143163