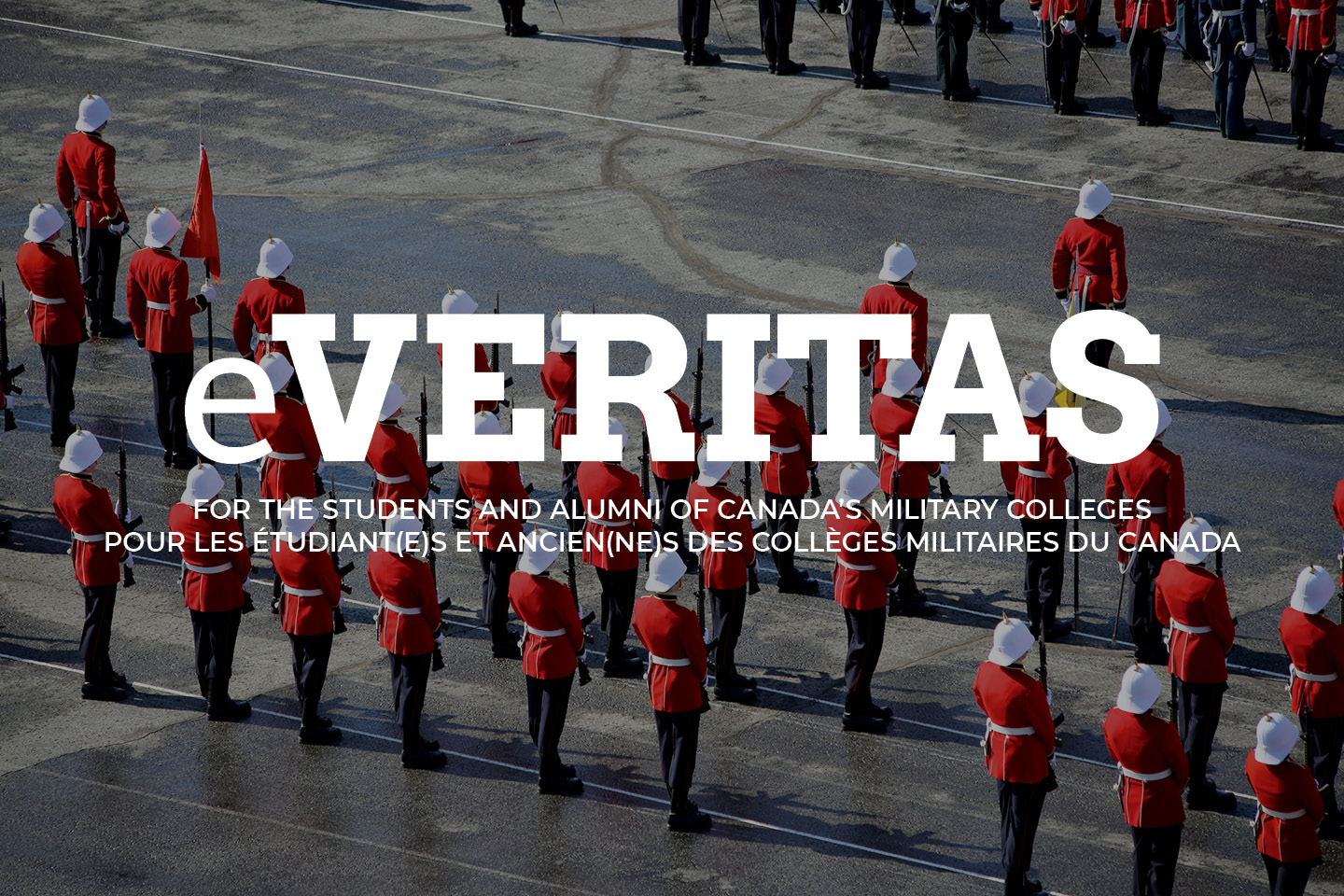 E3161 Victoria Edwards (RMC 2003) in conversation with 5244 Tony Downs (RRMC RMC 1962), who served as president of the RMC Club 1993-94. (3rd in a series)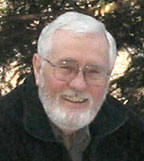 e-Veritas: What extracurricular activities were you involved with at Military College? Did you hold leadership position(s)?
Tony Downs: I studied Civil Engineering at RMC. I was on the Fencing Team for all of my five years. Academically I had a bit of a struggle and this detracted any aspirations I might have had for more senior leadership positions. As a Cadet Section Commander (CSC) in fourth year I found my close interaction with the Cadets in my section stood me in good stead when I graduated and went into the field.
e-Veritas: I read in e-Veritas that your wife Jane passed away in 2011.
Tony Downs: I married Jane Saint in 1962. She worked in a small business and had taught swimming and lifeguarded at Queen's and various pools in the Kingston area until we met and later moved from Kingston. We had two daughters Kathryn and Brenda and two grandchildren Sam and Emilie. Jane passed away on December 3, 2011. She was an incredible supporter of everything I did or tried to do and a true partner.
e-Veritas: Outline your career progression after Military College.
Tony Downs: I spent 26 years as a Military Engineer and retired as a Lieutenant Colonel in Ottawa. I then went to work for DND as a civilian for 19 years, retiring as Director General Environment in 2001.
e-Veritas: Experts from RMC were involved in environmental assessments of DND sites when you were Director General Environment (DGE).
Tony Downs: Yes. The Environmental Sciences Group provided scientific support for many environmental projects while I was DGE, notably the Distant Early Warning (DEW) Line Clean Up project which is now in its 22 year. Their accompanying research was, if you will excuse the pun, ground-breaking. Their credibility was respected by other government departments and more importantly by the many resident groups with whom we had to negotiate during clean ups.
e-Veritas: How did you get involved with RMC Club business? How did you end up as RMC Club president?
Tony Downs: Like many ex-Cadets it took some time before I realized the importance of the Club to the alumni and especially to the Colleges. I attended Branch functions and eventually joined the executive of the Ottawa Branch. Part of this decision was to give some payback for what I considered a great education both academically and personally. I moved through all positions in Ottawa including President. It was after that I was invited to join the national executive, which I readily accepted.
After three years as a member of the Executive Committee I was asked to become an officer of the Club, which then meant you were making a commitment to rise to President. I assumed the position of President in 1993-4. At that time it was the policy under the old Foundation organization that the Past President of the Club became President of the Foundation, which I was in 1994-96. The executive committee also acted as the Foundation Board.
e-Veritas: What are you most proud of?
Click Here to continue with this outstanding interview…
Tony Downs: The President before me, H3356 Robin Cumine (RMC 1955), pointed out that this type of organization did not meet the requirements of a charitable foundation since there was too much vested interest in the membership. (i.e. there was no arm's length relationship between the Board and the recipients). So with Robin's expert guidance we re-organized the Foundation into a separate entity with its own Board of Directors. That took two years so I stayed on to see that to completion. H7543 Senator Joseph Day (CMR 1968), who followed me as President of the Club, finished it off. It now operates as it should, as a separate accountable entity.
e-Veritas: What were some of the biggest challenges during your tenure as president?
Tony Downs: When I initially became President there was a financial problem in the Club. Presidents should normally travel to effect a dynamic working relationship with the Branches. I could not do that due to the lack of discretionary funds. Executive meetings were not a problem since my work took me to the general areas that we held our meetings (St. Jean and Victoria)
However, the biggest challenge was the closure of Royal Roads Military College and the College Militaire Royale de St Jean. I was a Roadent myself so I felt the closures personally. I will outline what transpired from my viewpoint but I trust that this will not refresh the bad feeling that has festered with many over the years.
After the closures were announced I met with the Chief of Defence Staff, H4860 General John de Chastelain (RMC 1960), and the Assistant Deputy Minister Personnel, 6097 LGen Paul Addy (CMR 1964) who was the immediate boss for the Colleges. I also talked to the Minister of National Defence's Office and the Prime Minister's Office. Meanwhile delegations from the CMR Club were making strong representation to the Minister and Prime Minister' office in an effort to prevent the closure of CMR. The Vancouver Island Ex-Cadet Club was also making similar overtures for Royal Roads. About that time I received word that there was a serious consideration that RMC might also close as it was not seen as essential by our political leaders, as well by some of our military leaders who were facing severe budget cuts that could result in elimination of some operational units. At that time, I was told in no uncertain terms that the College would close before another operational unit.
When you look at the overall situation, when we had over 150,000 forces members when I joined in1957, there was one main college (RMC) and two feeder colleges (RR and CMR). That was considered adequate to maintain a flow of qualified officers as well as the need for each service to each have a role in managing a College. In 1993, with a force size of less that 80,000 (and reducing) there were three degree granting Military Colleges. Since there is a very large increase in cost when one looks at the infrastructure and personnel requirements for a degree granting role, the cost of maintaining three institutions had become too much for DND and the CF.
I was closer to the issue than most since I was a DND employee at the time. However, there was no conflict of interest in my mind. I was not part of those kinds of policy decisions and the CDS did not mind that I was lobbying on the Colleges' behalf.
When we received word that there was a real danger of RMC being also closed, the Club took the stand that, while decrying the closures as destroying the regional opportunities for many prospective candidates, RMC should be retained and strengthened in bilingualism and made more relevant directly to the Canadian Forces.
I think the current model is affordable and that RMC programs are serving the Forces in general much better. As a result the future of RMCC is much more secure. CMRSJ is providing an excellent feeder role for Francophones, getting them prepared for life at RMC and the military in general. And, as a feeder college it is seen as affordable by DND.
e-Veritas: What do you know of the Club business today? What are the Club's/College(s) biggest challenges?
Tony Downs: I am a member of the Kingston Branch of the RMC Club. The Kingston Branch of the RMC Club gathers at the Senior Staff Mess (SSM) for a monthly luncheon – the first Wednesday of each month – 12 months a year. I enjoy the camaraderie and the usually excellent addresses given at these luncheons. Ex-Cadets from the Kingston area – and those visiting are welcome to attend these highly enjoyable monthly luncheons.
The recent study that was done describes the Club's situation very well and I hope the National Executive will be acting on the recommendations of the study. I cannot add anything to that but I congratulate the committee on some comprehensive and excellent analysis.
The Colleges will always have budget problems, as does any University these days. As such the role of the Foundation continues to be vital to the Colleges. I am pleased with the shift back to giving the Cadet leadership more responsibility on a day to day basis. It had gone too far the other way with putting regular force officers too deep into the day to day running of the Cadet Wing. In my time, our Cadet officers got irreplaceable leadership experience by actually being leaders and commanders in the true sense of the words.
e-Veritas: Any suggestions for alumni who think they are not in a financial position to give to the Colleges?
Tony Downs: Current Cadets and recent graduates sometimes think they are not in a financial position to give to the College. You don't have to have a lot of money to give and that donation of a small amount every year is important to the Foundation. If everyone gave a little on a regular basis, the Foundation would be on a very firm footing to deal with the needs of the Colleges and the Cadets that DND cannot provide.
e-Veritas: You donated a RRSP to the RMC Foundation.
Tony Downs: It was a "painless way" of helping a good cause that in effect doubles your tax deduction and one which I'd very much like to promote. I made the RMC Foundation the beneficiary of one of my RRSPs, which was originally worth $6,000. Over the years the value of my investment has increased and the Foundation will benefit from the interest as well as the principal. I'd have a tough time coming up with $10,000 otherwise so it would be a good way for others to make a donation as well. As well as getting the initial tax benefits of buying an RRSP, I will also get the full benefit of the tax deduction against the income to my estate for the donation of the investment to charity.
e-Veritas: Would you advise Cadets/ex-Cadets and former students to get involved with the College extracurriculars & RMC Club?
Tony Downs: In retrospect, Cadets getting involved in extracurricular activities greatly enhance the overall education while at the College. It also gives them a start on the volunteering ethic.
Ex-Cadets should get involved in the Club. There is a need for new blood to keep a fresh perspective on the club's role and to ensure its future. Ex-Cadets can also provide a mentoring role for Cadets as well as some financial support through the Foundation. I am strong supporter of the role of the Foundation, especially in light of the reduced DND support for extracurricular activities.
Supporting the College is important to me because it's a way of paying back an institution that has given me so much. Budgets have been cut over the years and we had more amenities when I attended RMC, so it's very important to give back to build the margin of excellence and ensure that Cadets can enjoy what we had. Think about what you got out of this place, think of it as a debt you owe and the Foundation is one way of paying it back. RMC develops character as well as giving an excellent education. You come out better for it and that's the debt I'm talking about.
e-Veritas: What are you up to these days?
Tony Downs: I am retired. Until recently I was a part time instructor at RMCC in the Division of Continuing Studies, teaching a second year course. It was part of my payback to the College. That part time work put me over the 45 year marker in the service of Canada. That includes military (Reserve and Regular force) and civilian public service time plus the part time instructing at the RMCC.
I have been on my Condo Board for 11 years now and no end to that in sight. I have been on a Non-Profit Housing Board in Ottawa for 15 years and have just joined the Board of the Friends of the Salmon River, a group dedicated to protecting the watershed of the Salmon River. Until recently, I was also been on the executive of our Lake Association and participated in the Lake Stewardship committee.
e-Veritas: As an avid cottager, do you have any environmental tips?
Tony Downs: I have written many articles with environmental tips for the Kennebelake newsletter. For example, phosphorus is now recognized as a serious nutrient in creating algal blooms that eventually can lead to gradual taking over by vegetation, called eutrophication. The total phosphorus levels in Kennebec Lake are high and may soon result in the algal blooms if we do not take steps to control what goes into our lake now. Good home practice is currently the best method we have to keep the phosphorus out of the lake.
Keep the phosphorus out of your septic tank. Most laundry, dishwasher and hand-washing detergents are now available in phosphate-free form. Be vigilant. Check the label to be sure any cleaning product that will end up in your septic tank is phosphate-free.
Think of the phosphorus coming out of your septic tank, and create the best buffer possible to make it hard for the phosphorus to reach the lake. Keep a sufficiently wide area of trees, grass, shrubs, leaf litter, fungus and soil between your septic bed and the water.
http://kennebeclake.ca/modules/newsletter/newsletter/KLA_NL_Summer_2011_Newsletter.pdf
e-Veritas: Anything else you want to talk about?
Tony Downs: I had hoped my time as President would have been a highlight in my life, but it turned out to be a constant trial due to the closure issue. I maintain a strong love for the Colleges and as I said earlier, I am a strong supporter of the Foundation which is of great benefit to the Colleges and therefore the cadets.
Previous interviews with Club Presidents: