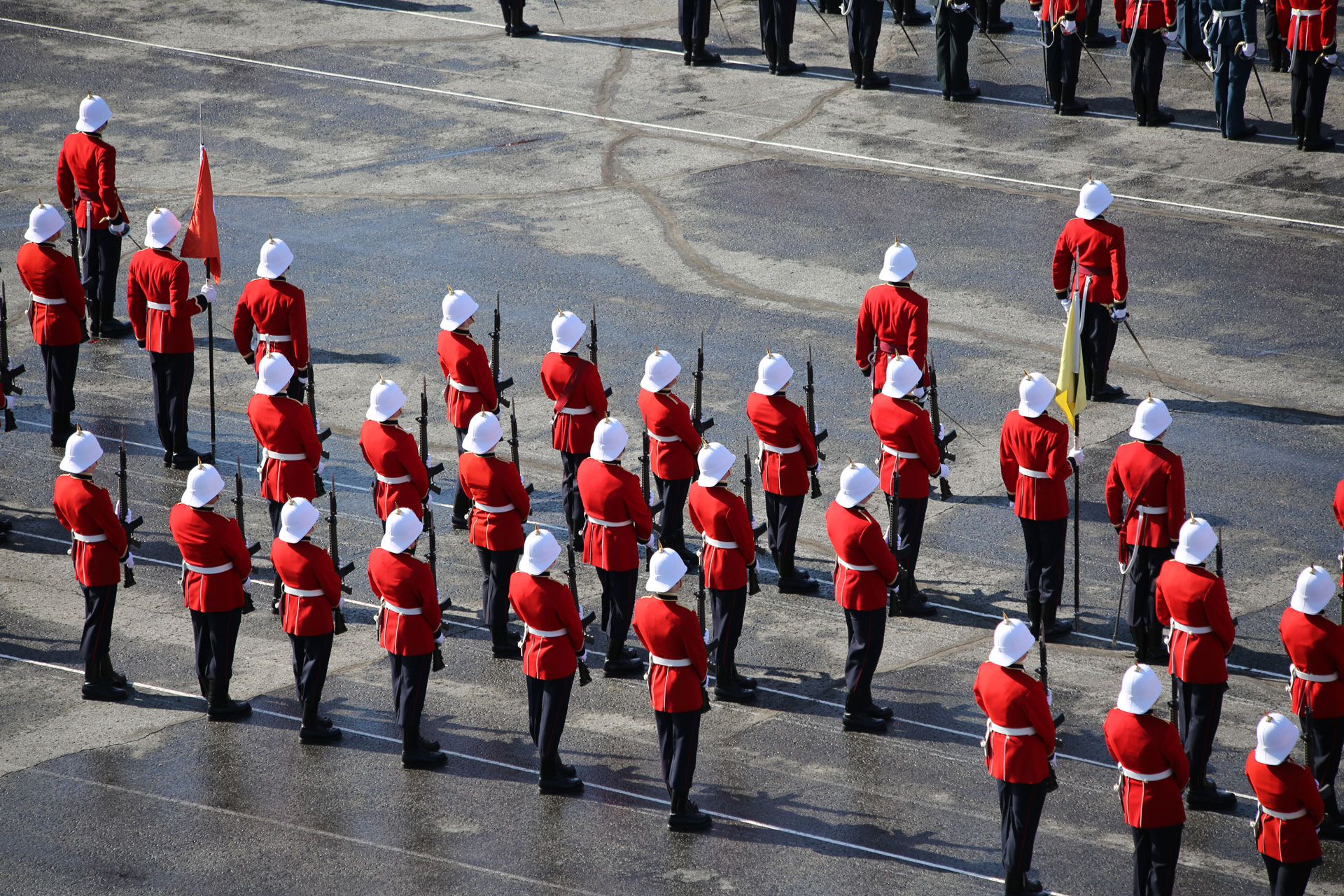 Snorkelling in retirement!
Photo by: Brenda Moyer
RETIRING FROM THE MILITARY IN KINGSTON OFFERS MANY IDEAL OPTIONS
By: 8851 John Moyer (RMC 1971) LCol(ret'd), The Royal Canadian Dragoons

I retired from the Canadian Forces in September 2003 after 36 years in an Army uniform and regardless of the colour of your parachute, Kingston is arguably the ideal location in which to retire from the military. I began my military career at RMC, so it was fittingly a full circle when I found myself in Kingston for my final tour of duty. As well, with its military and public service industrial base, educational institutions, cultural offerings, recreational facilities, service clubs and similar organizations, health services, restaurants and historic beauty, Kingston almost seduces you into considering it for retirement. It's also just the right size, and ideally located, for those seeking a small urban community.
As well, numerous friends and acquaintances had retired in the area so we were leaving one community to join another and that made the transition easier. Advice was therefore readily at hand from those who had gone before. It also helped that our son-in-law was in the Communications Branch of the Army and would probably return to Kingston on a future posting. In 2005, he and our daughter did, and we have watched grandchildren grow for several years.
Kingston also offers the opportunity of continuing to "serve," albeit as a civilian and part-time, in support of military activities. This can be accomplished in several ways and can be exceptionally rewarding as it maintains both contact with the CF and permits a retiree to contribute his or her experience in preparing individuals and groups for the challenges and demands of overseas service.
With all that it offers, Kingston is certainly an attractive location in which to begin the rest of your life. For example, here's what I do: golf, read, walk in Lemoine Point, volunteer at the RBC Canadian Open Golf Championship, serve as the national Secretary-Treasurer of the Royal Canadian Dragoons Association and as second-term president of the Civil War Round Table of Greater Kingston and, as a member of Edith Rankin Memorial United Church and several of its committees.
Article first appeared in the Whig Standard 6 June
____________________________________________________________
No longer meet the requirements of an elected official for the City of Cold Lake because of posting to Goose Bay.
17266 Jean-Yves Tascherau (CMR)
_____________________________________________________________
The Chief of the Defence Staff has approved CF awards to the following deserving individuals:
A. CDS Commendation
* 14600 LCol Ken Moore (RRMC RMC 1984) for outstanding dedication and leadership as the task force commander, task force Darfur, Nov 07 to Apr 08. LCol Ken Moore is currently serving on the Medium Support Vehicle System (MSVS) project management office in Ottawa.
* 20007 LCdr Matt Bowen (RRMC 1995) for outstanding dedication as the Operations officer, task force Arabian Sea, Apr to Sep 08. He is currently serving in a Military Manning Overhead position Maritime Forces Pacific Headquarters at CFB Esquimimalt, BC.
* 18778 Major David J Broomfield (CMR RRMC 1993) for tactical acumen and outstanding leadership as a tank squadron commander, Joint Task Force Afghanistan, Feb to Sep 07. He is currently serving with Joint Task Force Games in Esquimalt, BC.
* 21630 LCdr Rory K Dolan (RMC 2000) for outstanding leadership and dedication as the int officer, Joint Task Force Arabian sea, Apr to Sep 08. He serves as Fleet INT Support Officer at CFB Halifax.
* 21871 LCdr Jay T Turner (RMC 2000) for superb leadership as the combat system engineering officer, HMCS Protecteur, Task Force Arabian Sea, Apr to Sep 08. LCdr Turner is CSE Div Command, Canadian Forces Fleet School, at CFB Esquimalt.
* 22131 LCdr Sean Williams (RMC 2001) for leadership and technical expertise as the marine systems engineering officer, HMCS Ville de Quebec, Task Force Arabian Sea, Jul to Dec 08. LCdr Williams is Director Maritize Fleet Management 2-6, Assistant Chief Maritime Staff, in Ottawa.
B. CF Medallion for Distinguished Service
* 6811 MGen (Ret`d) Keith G McDonald (CMR RMC 1966) for his contribution to the defence and security of Canada through his role as consultant to the Standing Committee on National Security and Defence since 2001.
C. CF Unit Commendation
* 435 T and R Sqn Winnipeg – for outstanding professionalism and dedication in defending Canada`s national borders in operation Northern denial and executing Canada`s mission in Afghanistan, 2005 to 2008.
Source: CANFORGEN 104/09 Honours and Awards – courtesy of E3161 Victoria Edwards (RMC 2003).
_____________________________________________________________
Phone call home from Afghanistan

22629 Capt. Robert Alexander (Sandy) Cooper (RMC 2003)