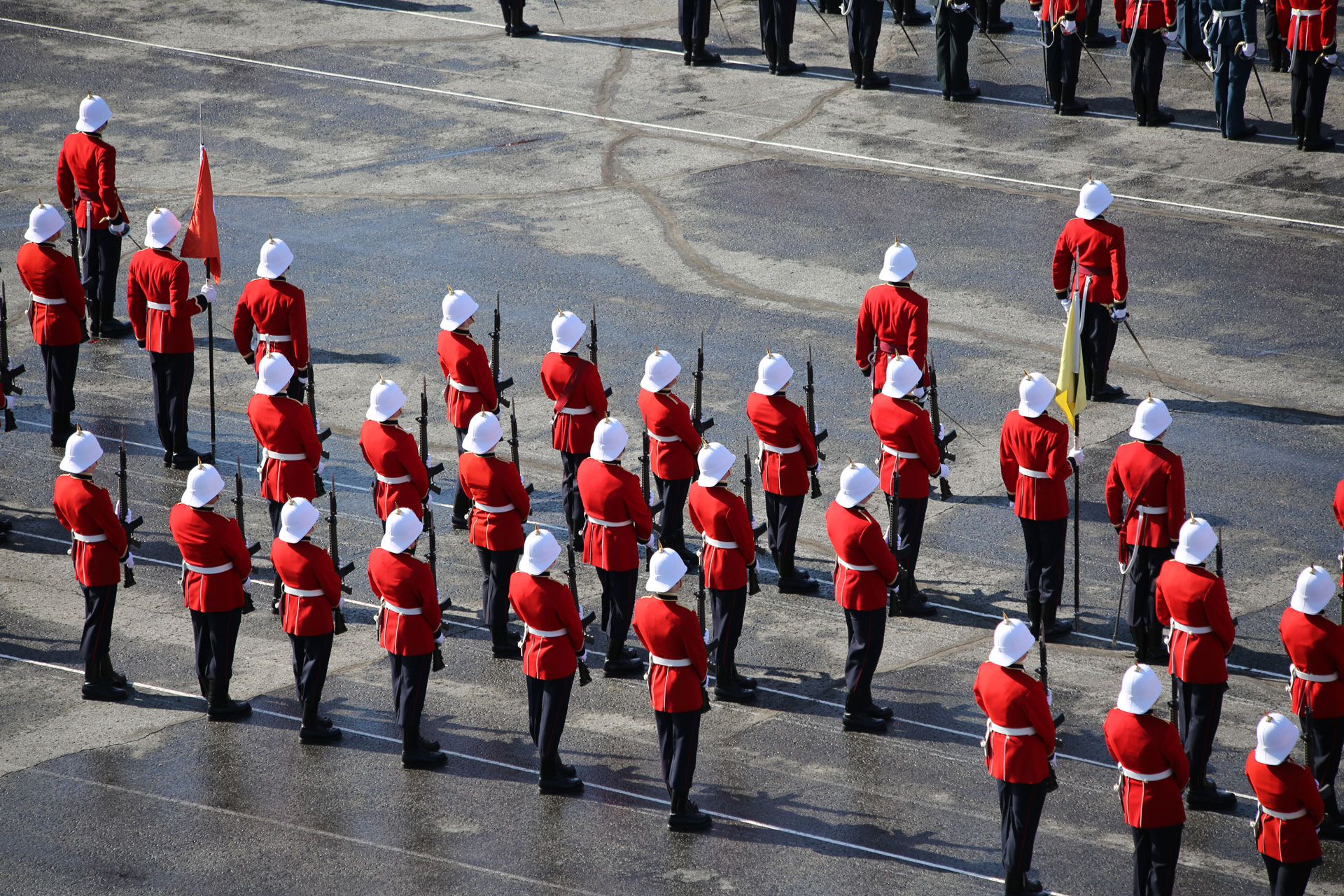 Article from the Ottawa Citizen
OTTAWA — A pair of Ottawa police constables who broke into a darkened apartment and arrested a man who had just stabbed his 21-year-old ex-girlfriend to death are among a dozen Canadians to receive the medal of bravery, the Governor General's office announced Monday.
Constables Sean Ralph and 14353 Alain Rochette (CMR RMC 1984), will receive Canada's highest honour for courage at a date and time still to be determined.
While he is deeply touched to be receiving such a prestigious award, Rochette said that the medal came with some painful memories as well.
"I'm happy I'm getting a medal," he said. "It's an honour. But it also reminds me of a poor little girl being stabbed. That's why it's really mixed emotions."
On Dec. 8, 2005, Ralph and Rochette responded to a call on Queen Victoria Street, where they saw a man attacking a woman with a hunting knife.
As they walked toward the house, 21-year-old Anthony Roach grabbed K'leigh Cundall and dragged her into her basement apartment, locking the door behind him.
Ralph and Rochette pounded on the door before finally kicking a small hole in the bottom of it. Despite being unsure what they might face inside, they crawled through the hole to try to save the woman.
While they were too late to save Cundall, who died after being stabbed 20 times in the neck and chest, they arrested Roach. He was sentenced to life in prison after pleading guilty to first-degree murder.
Looking back, Rochette said he only remembered thinking one thing that night: "When this all happened, I wasn't thinking of a medal, I wasn't trying to be brave. I was just thinking of saving that girl."
The eight-year veteran added that while a medal may help him realize that he couldn't have done any more to save Cundall, it still didn't take all the pain away.
"I don't like to think about that night," he said, but added, "That's part of my job, and the way I am, putting my life on the line to save the citizens. I'd do it again, definitely."
Ten other Canadians were also named recipients of the medal of bravery, which is awarded annually in recognition of "acts of bravery in hazardous circumstances." Nearly 2,500 Canadians have been awarded the medal since its inception in 1972.
Among the other recipients was Port Hope Police Const. Bryant Wood, who saved two people and a dog from a fire in 2006.
He will also receive the Star of Courage for another fire rescue in 2007, when he saved four people from a burning house that was collapsing.
Ralph could not be reached for comment on Monday, but Rochette said the two rarely spoke of the incident. Nonetheless, he said, both officers still looked forward to receiving the medals for bravery.
"It will be a happy day."
_______________________________________________
In exclusive company
By IAN ELLIOT IELLIOT@THEWHIG.COM
A Royal Military College student has won one of the world's most prestigious scholarships.
Gino Bruni, a 2008 graduate, will be named a Rhodes Scholar on Saturday, becoming just the 12th RMC ex-cadet to win one of the scholarships and the first from the school in more than 20 years.
The last cadet to be named a Rhodes Scholar was Billy Allan in 1987.
Allan, a retired Lt.-Col. who still teaches at the college, happens to be Bruni's academic adviser and the person who nominated him for the honour, and still recalls his own experience at Oxford.
"As an academic, there is really nothing that you can compare it to," said Allan yesterday.
"The only way that I can put it is imagine you have gone your whole life only knowing two colours and then all of a sudden someone shows you a paint box. It is that dramatic."
Bruni, a native of Calgary, went through RMC as a member of the Reserve Entry officer program, meaning he graduated as a qualified officer in the reserves but is not obligated to serve a certain number of years in the regular force as are the majority of graduating cadets.
He got his bachelor's degree in chemical engineering and then stayed at RMC for his master's in nuclear engineering, in no small part because RMC is one of the few universities in the country with an onsite Slowpoke nuclear reactor for research.
Upon his graduation in 2008, Bruni won a slew of academic and military awards, including the Military Support Award of Merit, and he maintained his high standards in post-graduate work with an A-plus average in his nuclear engineering studies.
"I think it's an incredible honour, and I'm a little surprised that more RMC students don't become Rhodes Scholars, because the four pillars of RMC [academics, athletics, bilingualism and military training] seem to mirror the qualifications set out by Cecil Rhodes," said Bruni.
The Rhodes are the oldest international study awards in the world and provide all expenses for two or three years of study at the University of Oxford in England, valued at approximately $50,000 per year.
Only 80 Rhodes scholars are named each year from around the world, and the application process is rigorous, taking in not just a student's academic achievements but athletic and community involvement as well as character.
The scholars are free to study whatever they like, and in Bruni's case, he will switch from his hard science focus into the arts, pursing a bachelor's degree in the arts while studying philosophy, politics and economics.
The college also greeted Bruni's selection warmly, saying it is a testament to the kind of scholarship that takes place at the country's only military university.
"Gino Bruni's selection for this prestigious award, RMC's first since 1987, is further evidence of the incredible talent present at RMC both in the cadets as well as the academic faculty," said Commodore Bill Truelove, the commandant of RMC, in congratulating the former cadet squadron leader.
_______________________________________________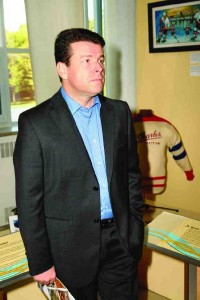 Vanier resident 14344 Bruce Poulin (CMR RMC 1992) has donated three historic military uniforms to the Vanier Museopark, inspired by their work during the Maple Sugar Festival this past February.
"I gained a new appreciation of the Museopark. It's the only French museum in Ottawa," and one of the few Francophone museums outside of Quebec, said Poulin during a telephone interview from his office at the Royal Canadian Legion offices on the morning of Thursday, September 24. "I decided to hand them over and it was because of my association with Action Vanier and the Maple Sugar Festival."
The uniforms were worn by Poulin at various times throughout his military career. The donations include…
-An officer cadet uniform worn at College Militaire Royal de Saint-Jean in Quebec from 1979 to 1980, complete with Franco-Canadien badges.
-A green army officer uniform, first produced in 1986, when the Canadian military went back to three distinct environment uniforms for each branch, navy, army and air force. Beforehand, all military members had to wear the same, generic, green uniform.
-An officer uniform of the Royal Military College of Canada in Kingston, circa 1990.
"Not only is the uniform no longer in service, but the French badges are no longer in service," Poulin said of the oldest uniform. As a member of the army's recruiting service in 1986, Poulin was also one of the first recipients of the army's new, unique uniforms.
Poulin wore his Royal Military College of Canada uniform in 1990, later graduating from the Kingston institution in 1992. Because of his high marks, he later attended Johns Hopkins University in Baltimore, MD.
"They were welcomed and appreciated," Poulin said of the reception his donation received at the Museopark, 300 Avenue des Peres Blancs recently. "Now, it's a question of trying to fit them into the display…having the space and making sure that they fit in with the theme. I thought that it was a good match. I'm looking forward to the day when they will be on display."
Poulin, who is perhaps best known for his work as the past president of the Vanier Optimist Club and the Progressive Conservative candidate in the October 2007 provincial election, and he still calls Vanier home.
"It's a close-knit community. Everybody knows everyone," he said. "But when someone became successful, they usually moved away."
While he may have a bit more room in his bedroom closet now, he noted that the donation was intended for the greater good.
"I've been holding on to one of them since 1979," he said. "Why hold on to them myself when they can be appreciated elsewhere? It could be appreciated by more people and could even be seen as a source of inspiration."
He conceded however that, for him personally, "they have a lot of sentimental value. It was not a loss, but a bit of me was donated."
_______________________________________________
23448 Captain Christina Garrison (RMC 2006), who aged out of the cadet program in 2002, went on to graduate from the Royal Military College in Kingston, ON and currently works for the Canadian Forces as an aircraft engineering officer  Source
_______________________________________________