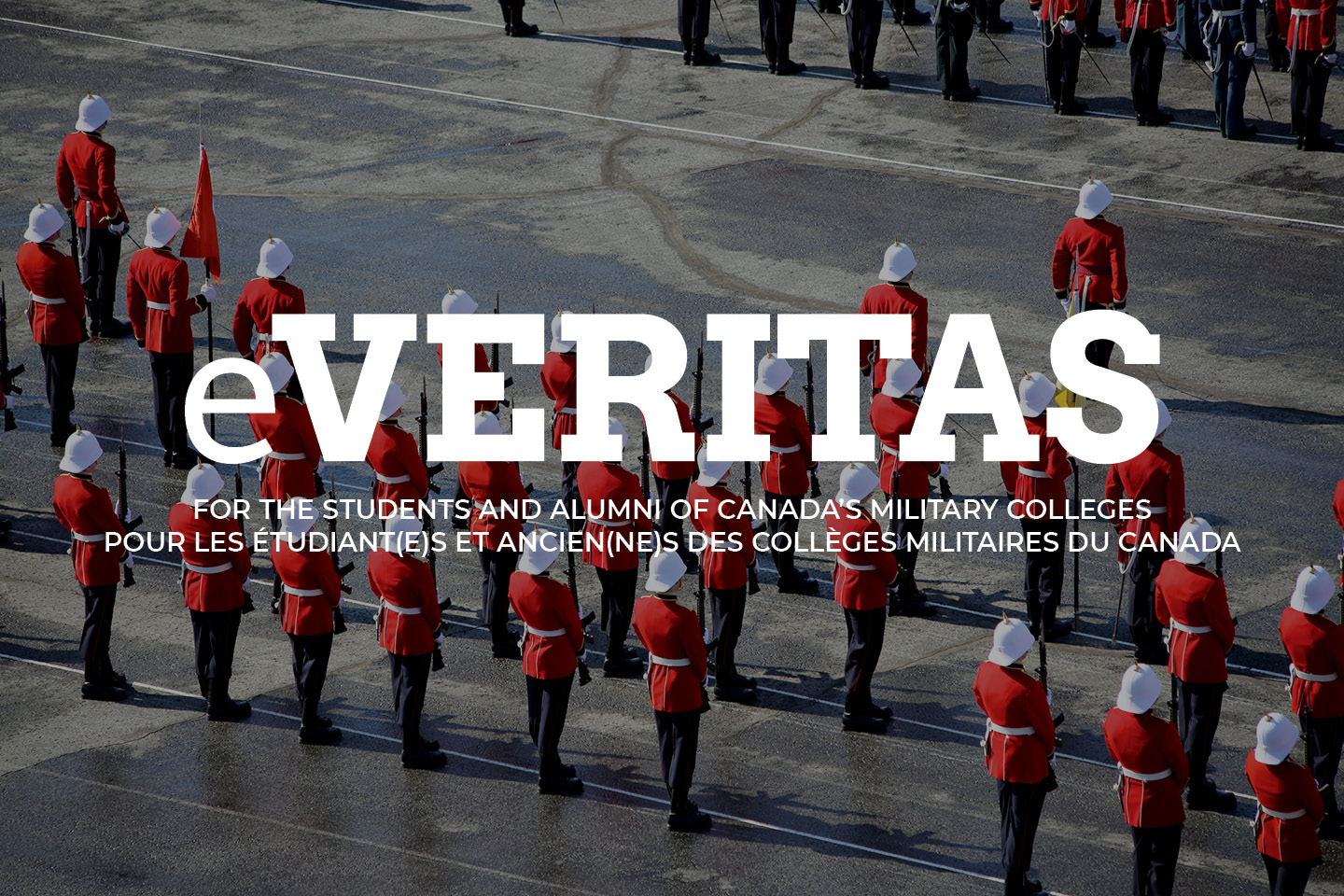 Recalling the 1978 Duntroon visit to RMC of Canada

The End of an Era

HMC Ships Nanaimo and Whitehorse return from Operation Caribbe

Naval war veteran surprised with Arctic Star medal

8276 Marc Garneau se demande ce qu'Ottawa attend pour agir

As many as 400 Canadian D-Day veterans miss out on French honour because names weren't forwarded

Don't Call Them Army! It's 'Army West Point' Now

100th Anniversary of the Landing at Gallipoli
MORE
Recalling the 1978 Duntroon visit to RMC of Canada
By Lionel Boxer 12506 Cl80/81
What started out as a photo opportunity in Melbourne a few weeks ago has had provided some pleasure to the family of a deceased RMC Duntroon cadet who visited RMC of Canada in 1978.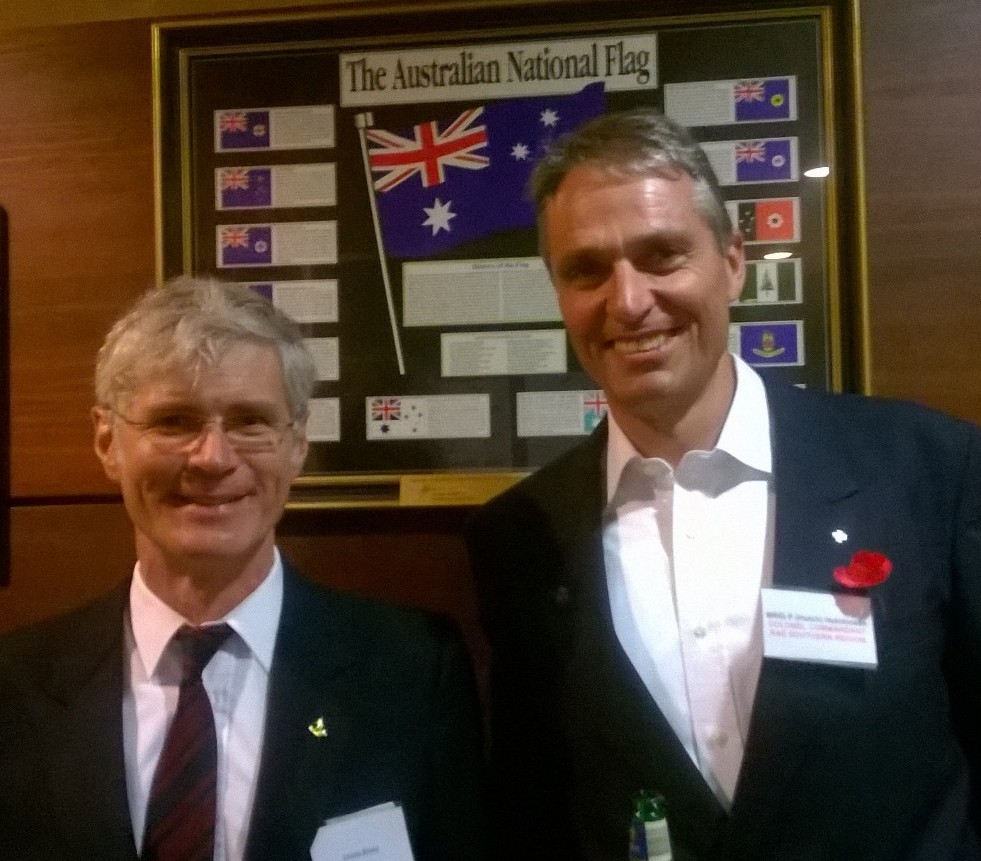 When Captain Lionel Boxer (12506) (left) and Brigadier Peter "Hutch" Hutchinson had their photo taken at a recent Royal Australian Engineer gathering they achieved more than recollecting Hutch's 1978 exchange visit to RMC of Canada from RMC Duntroon. 37 years after they met in Kingston, Hutch is now the Colonel Commandant of the Royal Australian Engineers. Lionel has completed fifteen years with the Royal Australian Engineers since transferring from the Royal Canadian Engineers, which he first joined in 1974 in Toronto.
When Bill Oliver asked for some 1978 photos of the Duntroon visit, an effort was initiated to get names for the photos. Hutch was able to provide the names of the four Duntroon cadets and Peter Avis (79) was helpful correcting the Canadian names.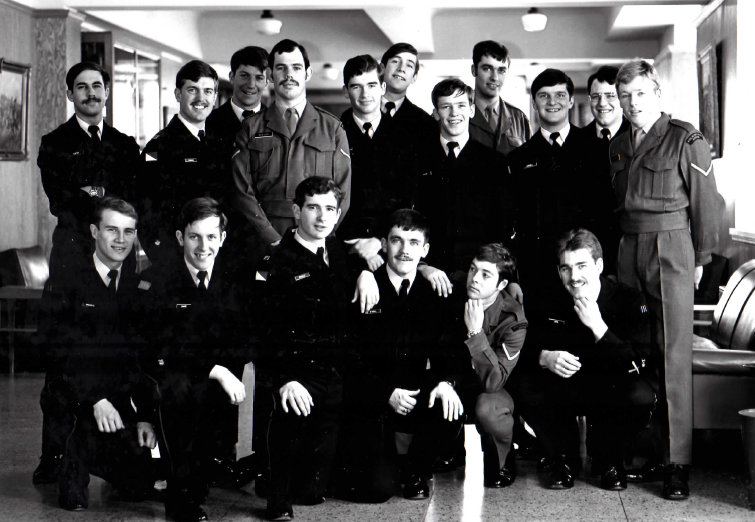 Rear Row: John Slater (79), Jim Parker (78), Don Allen (79), Bryce Reeves (Duntroon), Pete Harrison (79), Jaques Levesque (79), Kevin Biggar (79), Peter Hutchinson (Duntroon), Doug Campbell (79), Rick Bracken (79), John Withers (Duntroon)
Front Row: Tim Greenwood (79), Guy Simard (79), Tim Crowley (78), Laurence O'Neil (79), Pete McKay (Duntroon), Peter Avis (79)
What was not expected was the story that follows told by Major Peter McKay, who was one of the four RMC Duntroon cadets who visited in 1978:
"I am a member of the Australian Rugby Choir. By way of background we have a broad repertoire and have had three concerts in the last three days (with more to come), as we also sing for the Australian War Memorial a few times this week. Our new Musical Director is a lady called Rachel Campbell. When I was chatting last year, I discovered that Rachel is the daughter of the one Aussie cadet that visited Canada that is no longer with us (Bryce Reeves). What do you think were the chances of discovering that in first time small talk?
"Back to the present. When I first received the photos I printed them and passed them to Rachael, who subsequently spread them around the family, including her Mum, Maria (Bryce's wife). Rachel recently told me that the photos had a very significant effect on the grandchildren who had never been given the opportunity to meet their grandfather. You have done a great service.
"So to all of you, many thanks and God bless, your collective actions have left a great legacy."
***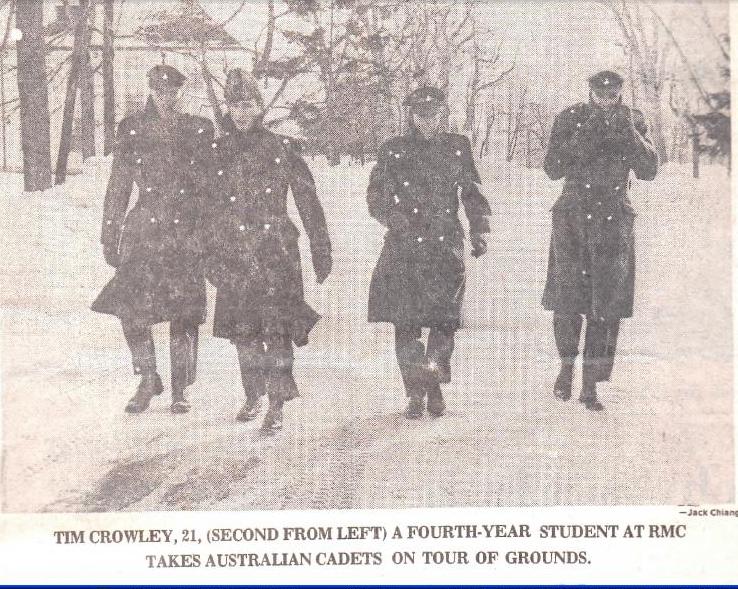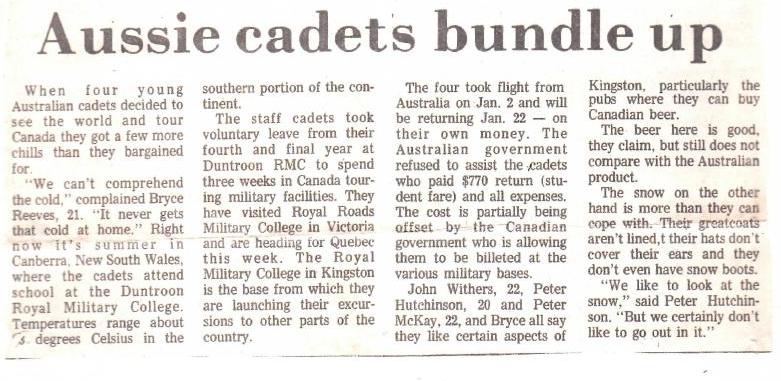 What Peter "Hutch" Hutchinson recalls of the trip to Canada back in 1977-78.
"We were looked after fantastically well while we were in Canada. We arrived at Royal Roads, Victoria BC, in very late December 1977 and then were flown across the country to RMC Kingston. All up we had about four weeks in Canada, visiting Montreal, Quebec City, Toronto and Ottawa, using Kingston as our base. See the commentary on the attached article. It would be great to hear from some of those guys who looked after us."
Hutch Hutchinson    hutch.hutchinson@jacobs.com
***
The End of an Era – Article
***
HMC Ships Nanaimo and Whitehorse return from Operation Caribbe
"All the training that we conducted in preparation for Operation Caribbe paid off in our collaboration and support of the U.S. Coast Guard," said 21842 Lieutenant-Commander Chris Rochon, Commanding Officer of Whitehorse. "I was fully confident that our crew would perform to the highest standards on this operation and they proved me right."
"The Canadian Armed Forces have seen great success on Operation Caribbe, year after year, directly contributing to the interception of illicit trafficking in the region. Bravo Zulu to the crews of Nanaimo and Whitehorse for your steadfast efforts in working with our partners to counter international criminal activity," said 15185 Rear-Admiral Bill Truelove, Commander, Maritime Forces Pacific.
– Article
***
Naval war veteran surprised with Arctic Star medal
"He had tears running down his face," says LCol Bowes. "You know, these old veterans don't expect anything. They are humble to the core."
14525 Lieutenant-Colonel (retired) Rick Bowes – Article
***
8276 Marc Garneau se demande ce qu'Ottawa attend pour agir – Article
***
As many as 400 Canadian D-Day veterans miss out on French honour because names weren't forwarded – Article
***
Don't Call Them Army! It's 'Army West Point' Now – Article
***
100th Anniversary of the Landing at Gallipoli – Article