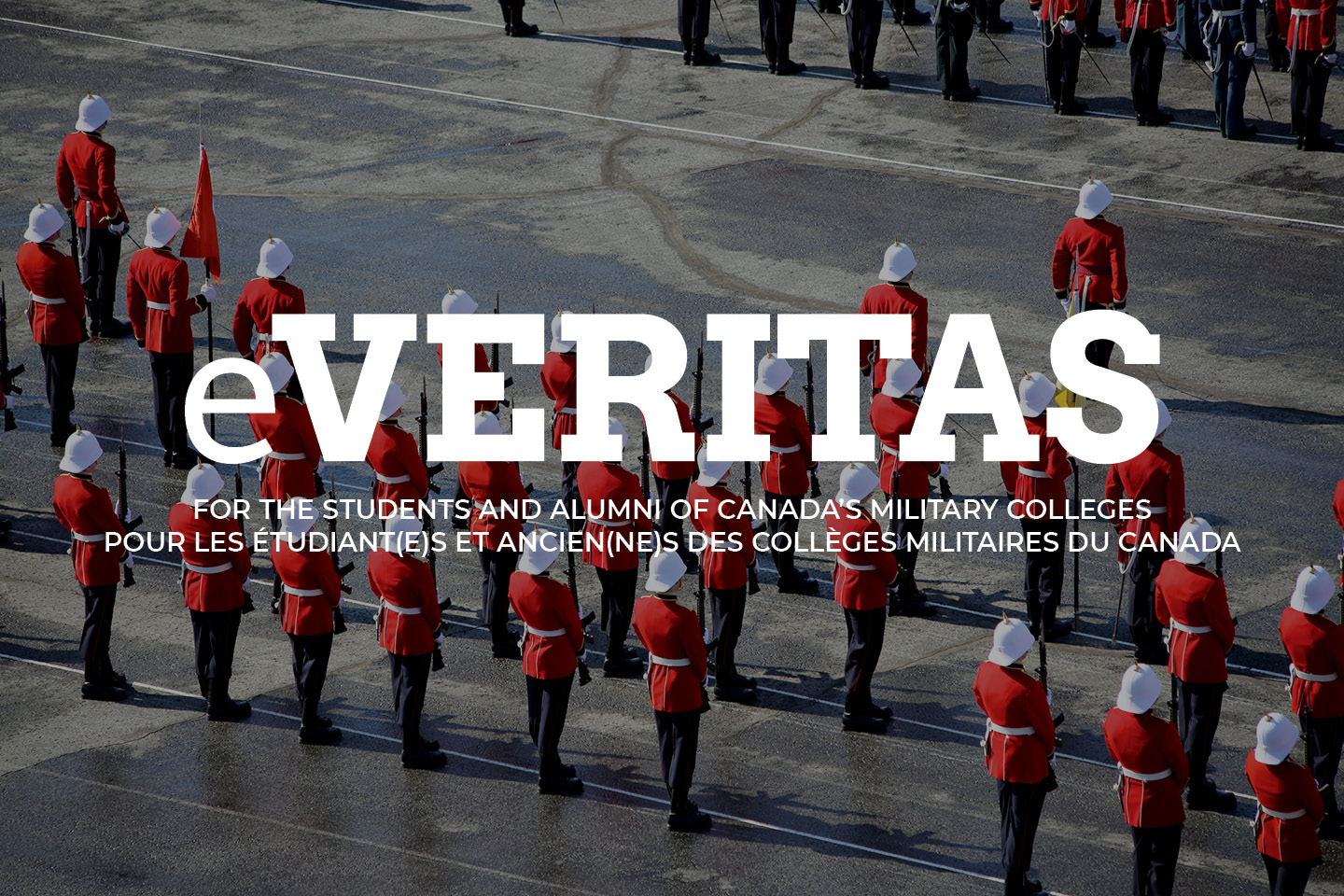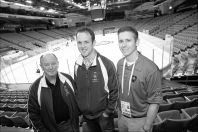 M0135 Don McLeod, (RRMC RMC '79) Matt Fegan and 16986 Don McLeod Jr. (RRMC RMC '89) have their hands full until May 14 at the IIHF world hockey championship at Halifax's Metro Centre. Don Sr. oversees 140 volunteers as co-ordinator of game operations and game production. Matt and Don Jr. work closely with him as sub-committee heads. (Eric Wynne / Staff)
Hockey worlds big deal for McLeod family
Article first appeared in The Chronicle Herald – May 2, 2008
By JOEL JACOBSON
AT THE END of May, Don McLeod plans to take his grandson, Nick Malbeuf, to a baseball game at Yankee Stadium in the venerated ball park's final year.
When other family members heard, they all wanted to be part of the event and by game time, 11 members of the extended McLeod family will be in New York.
It took weeks and weeks to arrange transportation, accommodation, and tickets for Yankees and New York Mets games and a Broadway play.
Don's eyes twinkle as he remarks, "This is a piece of cake, compared to organizing that trip.
"This" is the IIHF world hockey championship being held at the Halifax Metro Centre for the next two weeks.
Don is in charge of team facilities and services, off-ice officials, opening and closing ceremonies, and logistics – basically, game production and operations for the event – meaning most things won't happen unless his team of 140 volunteers performs.
This is the third world hockey championship at the Metro Centre in which Don has been involved, following the world juniors in 2003 and world women's in 2004.
"The biggest challenge is always finding what the International Ice Hockey Federation wants," he says. "They're comfortable with (Halifax) doing it because of our experience, but it can sometimes be frustrating dealing with the different layers. I might have an issue and have to go through Leroy (MacKinnon, the local rep for Hockey Canada), then Scott (Ferguson, vice-president of World Trade Centre Ltd, the host facility), then Hockey Canada itself and finally to the IIHF."
Don is a retired air force colonel with 36 years of service. He still works full time as Atlantic Canada marketing and attractions representative (recruiter) for Royal Military College in Kingston, Ont., a position from which he'll retire in June after eight years. During that time, he's had 125 people sign up from the region.
He runs his committee like a mini-military operation but with a big heart that understands volunteers and the commitment and time they can give.
"I pick my sub-committee heads myself and give them leeway," he says. "This being the third international event, I've leaned heavily on people who started with me at the juniors and have carried through."
The effort is also a family affair. His son, Don Jr., a lieutenant-colonel in the air force, has been in charge of game operations for all three events. Don Jr.'s partner, Wendy Donovan, is information technology co-ordinator for the championships. Her son, Steven Campbell, is on the team services committee, working with Don Sr.'s son-in-law, Matt Fegan, who's in charge of that committee. Matt's wife – Don Sr.'s daughter, Heather – and another of Don's daughters, Debbie Malbeuf, and Debbie's daughter, Amy, are also on that committee.
"Our family does lots of things together. Every Sunday, there are 17 of us at my house for dinner. All my committee is there," Don says with a chuckle. The rule is supposed to be we don't just talk hockey. But that rule gets broken as we talk about our various responsibilities and how things are going."
When the games begin, Don will be at the Metro Centre 15 hours a day. Most of the others will put in 10- to 12-hour days. They have to be sure there are enough pucks, with the teams for warm-ups and with the officials for play. They ensure the teams have their laundry done, skates sharpened, and bellies full with in-game liquids and post-game food.
If there isn't a timer, scorer, penalty box attendant, bilingual announcer, promotion announcer, and any other required off-ice official present, the IIHF will ask Don why. The timing, from pre-game ceremonies to end-of-game flag-raising and anthem playing, is Don's responsibility.
Is it a headache? Don is asked. "Not at all. The best part is working with the volunteers, feeding off their enthusiasm and dedication, and seeing the hours they put in with no expectations of reward (each volunteer gets a couple of World Hockey-logoed shirts and a jacket)."
He thinks the commitment is different because his son, Don, and he are from military backgrounds where everything is structured. "Our volunteers respond to that very well. I think they recognize that we know what we're doing."
He admits he learned from the juniors in 2002.
"For the women's, we became more efficient. We utilized our volunteers better. For example, at the juniors, people were assigned to one task and when that was done, they were finished. Now, they are given another responsibility so are kept busy for their entire shift. The entire operations team is working together."
Don may be a hockey fan but he sees little of the games.
"We're usually on the go. At the juniors, I saw a couple of minutes of the final and that was all."
He says, with pride, "You know, Halifax is the only city in the world that has hosted all three major hockey events. And Don, Matt and I have worked all three. There are probably 300 other volunteers at this event this week who can say the same thing. That's quite something for our city."
( jjacobson@herald.ca)
'The best part is working with the volunteers, feeding off their enthusiasm and dedication, and seeing the hours they put in with no expectations of reward.'
DON McLEOD Organizer with IIHF Men's World Hockey Championship