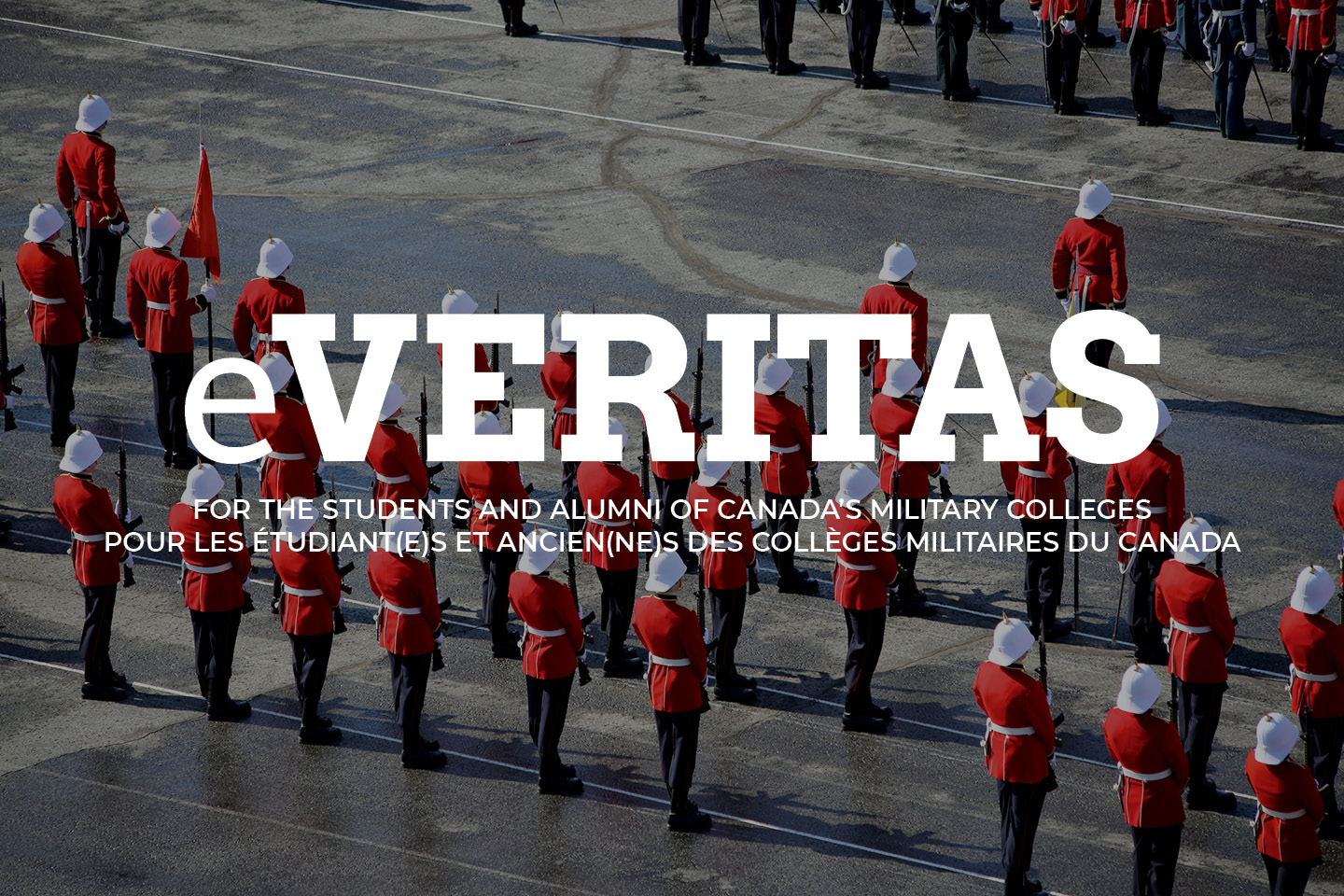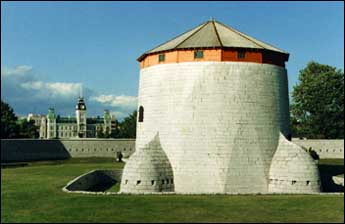 May is Museum month, museums are featuring hundreds of exciting exhibits and events during May, including special programs for International Museum Day on May 18. Events and exhibits will take place at museums, art galleries, and heritage sites.
The Royal Military College Museum, housed in the 1846 Fort Frederick Martello Tower, features displays relating to the military history of the site, which was a naval dockyard and garrison between 1789 and 1870. The site also tells the story of the Royal Military College and its graduates from 1876 to the present. The curator, 8057 James Ross Mackenzie (RMC 1970) says the museum is open from Late June to Labour Day, daily 10am-5pm. The admission is free. mackenzie_r@rmc.ca More
Le Musée du Collège militaire royal du Canada, logé dans la tour Martello Fort Frederick (1846), présente des expositions ayant trait à l'histoire militaire de l'emplacement qui servit d'arsenal et de garnison entre 1789 et 1870. Il relate également l'histoire du Collège militaire royal et de ses diplômés depuis 1876 jusqu'à nos jours. Les heures d'ouverture sont de 10 h à 17 h tous les jours, de la dernière fin de semaine de juin à la fête du Travail. le conservateur 8057 James Ross Mackenzie (RMC 1970) dit les heures d'ouverture sont de 10 h à 17 h tous les jours, de la dernière fin de semaine de juin à la fête du Travail.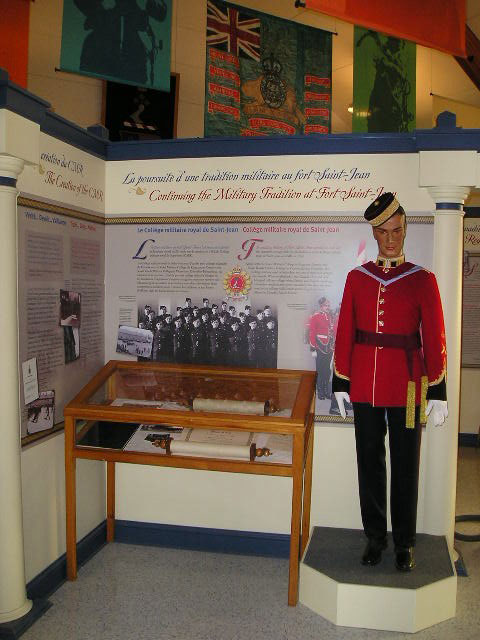 (Click on photo for larger view)
The Fort St-Jean museum, housed in the former protestant chapel, offers the possibility to admire many artefacts witnessing the military presence in Saint-Jean-sur-Richelieu. The museum narrates the history of this patrimonial site occupied since 1666 by different garrisons, a shipyard and a military college. Subjects maps, models, videos and historical objects will bring you back in time to discover an important location in the Canadian military history. The Fort Saint-Jean Museum will be opened Wednesday to Sunday, from 10h00 to 17h00, from May 24th until September 1st, and is situated on Campus Saint-Jean, 15 Jacques-Cartier North. For more information please contact 450-358-6500, extension 5769. http://www.cmrstjean.com/musee/
Le Musée du Fort Saint-Jean, logé dans l'ancienne chapelle protestante, offre la possibilité d'admirer de nombreux artefacts témoignant de la présence militaire à Saint-Jean-sur-Richelieu. Le musée raconte ainsi l'histoire de ce site patrimonial qui a été occupé depuis 1666 par diverses garnisons en plus d'avoir été un chantier naval et un collège militaire. Cartes thématiques, maquettes, vidéos et objets historiques vous feront faire un voyage dans le temps pour découvrir un lieu important de l'histoire militaire canadienne. Le Musée du Fort Saint-Jean sera ouvert du mercredi au dimanche, de 10 h à 17 h, du 24 mai au 1 er septembre, et est situé sur le site du Campus Saint-Jean, au 15 Jacques-Cartier Nord. Pour information, contactez le 450-358-6500, poste 5769. http://www.cmrstjean.com/musee/
(Photo credit Maurice Robinson)
The Hatley Castle Museum houses artifacts and exhibits that tell the story of the site from the days when the property was a Coastal Salish Indian burial site to the present time when it is home to the campus of Royal Roads University. The museum has many original artifacts from the days when Laura and James Dunsmuir lived an elegant life here on this estate. For 55 years the site was also an military officer's training school and the museum highlights that era in a room named for one of the college's most supportive commandants, 2444 RAdm (Ret'd) John A Charles (RMC 1935). The displays also relate the development and history of one of Canada's most innovative universities as Royal Road University evolves to meet the needs of learners in the global economy. Hatley Park Museum is open every afternoon from 10:15 p.m. to 3:00 p.m. It is located in the basement of Hatley Park Castle, the administrative centre for Royal Roads University, 2005 Sooke Road, in Colwood on Vancouver Island. http://www.hatleycastle.com/
…
Quotes:
"I remember coming here [Royal Roads Military College]. We came into the parade square and we all lined up, and it was the first time that I got the feeling that I was in this with a bunch of other people that were in the same boat as me. So, there was some reassurance that we were all doing this together."
10340 Rick Wing (RRMC RMC '74)
"Wakey wakey was 6:30 in the morning. You had 20 minutes to get your bed perfectly made, get properly dressed, get cleaned up, and fall in. And then you went to breakfast. And then you went down to the locker room and you got properly brushed because we wore navy blue uniforms, and everything had to be totally free of this rather strange substance called 'froust' – that was anything that was detectible by the naked eye on your navy blue outfit which was not supposed to be there."
4459 Commodore (Ret`d) Edward RA Murray (RRMC RMC '59)
What do you remember about attending Royal Roads?
The Ex-Cadet Oral History Project is a pilot project dedicated to preserving the cadet experience at Royal Roads. From 1940 until 1995 Royal Roads served as a military training institution. Originally opened to train naval reserve offices for service in World War II, it was soon expanded to provide a military and academic education for all three military services. Many of the traditions practiced at Royal Roads originated from its navy background and provided a unique training atmosphere. The training at Royal Roads provided cadets with a solid foundation to advance both their character and careers in the military and in civilian life. We are interested in preserving stories that capture moments throughout the cadet experience. From'wakey wakey' to 'kye' in the gunroom; from initiation to skylarks; from new recruit to graduation. The aim of this project is to document the history of Royal Roads through the stories of cadets and staff. The information may be used in a variety of ways – in exhibits at the museum, tours, publications, on the web and as a publically accessed research source.
x
How to Participate:
Interviews – We would like to interview up to 50 ex-cadets and staff about their Royal Roads experience. Some of the interviews will be videotaped, and the others recorded. Typical questions will be: What were your first impressions when you arrived at Royal Roads? What was a typical day like? What did you do for fun? What was unique about Royal Roads? How has your training at Royal Roads served you throughout your life?
Photos – If you have photos depicting Royal Roads life that you would be willing to share, we would be happy to receive digital copies of them.
Stories – It you are unable to participate in an interview, but have written stories and anecdotes, we will be happy to include them in the collection.
http://www.royalroads.ca/about-rru/the-university/foundation-rru/ex-cadet.htm
For more information, contact Karen Inkster, Oral History Project Coordinator Phone: 250-391-2600 ext. 4405
E-mail: Karen.Inkster@royalroads.ca
Virtual Tour of Hatley Castle
Hatley Park is one of Canada's largest and most diverse National Historic Sites. At the centre is a magnificent castle built in 1908 by former British Columbian Premier and coal baron, James Dunsmuir. Echoes from the past link you to present day adventures as you enjoy a virtual tour of Hatley Castle http://www.hatleypark.ca/visit-us/virtual-tour/