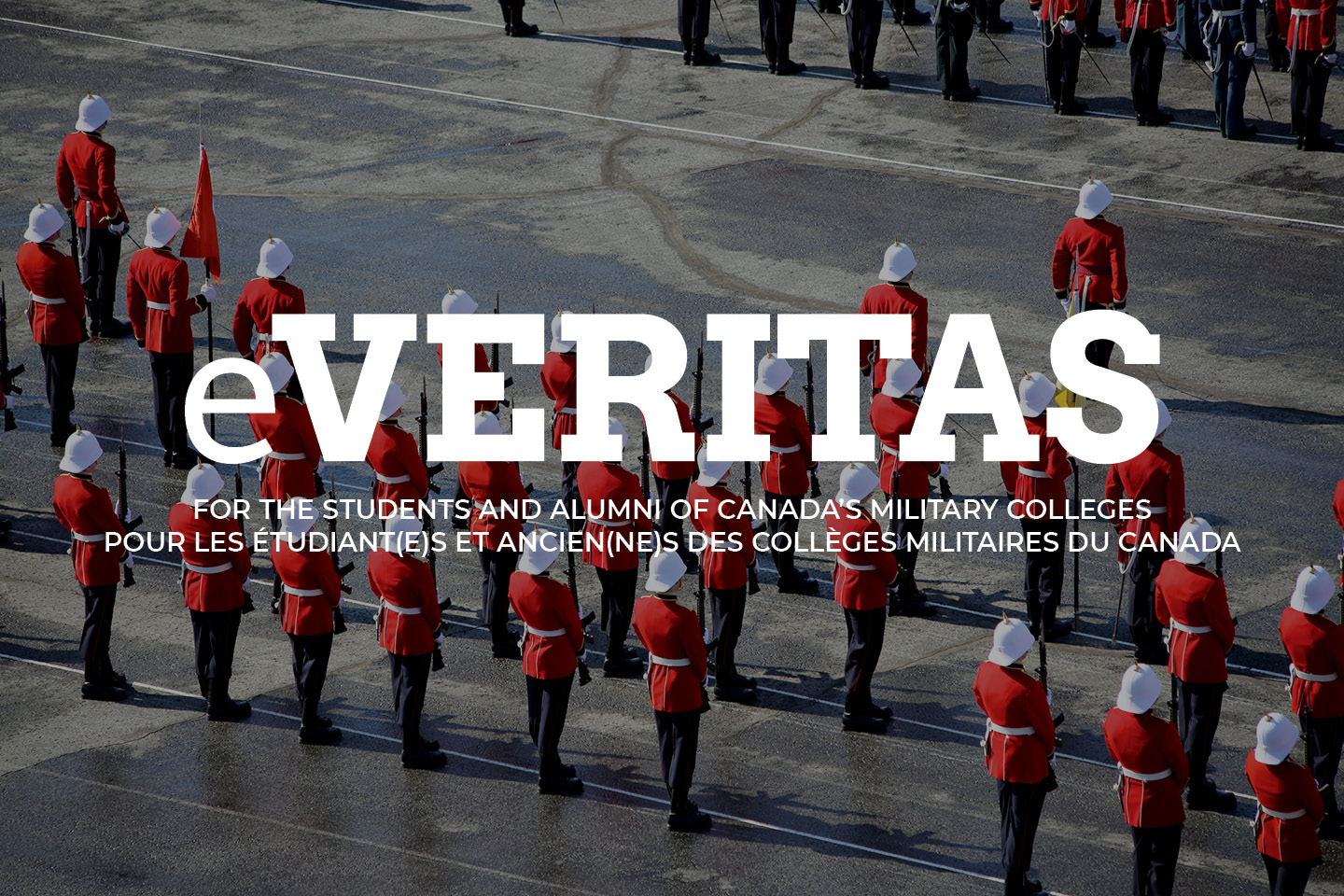 Fencers Impressive During Tour of England –
Competition; Culture & Socialization – Caps Off Great Season!
Victoria, B.C. – Triathlon training camp.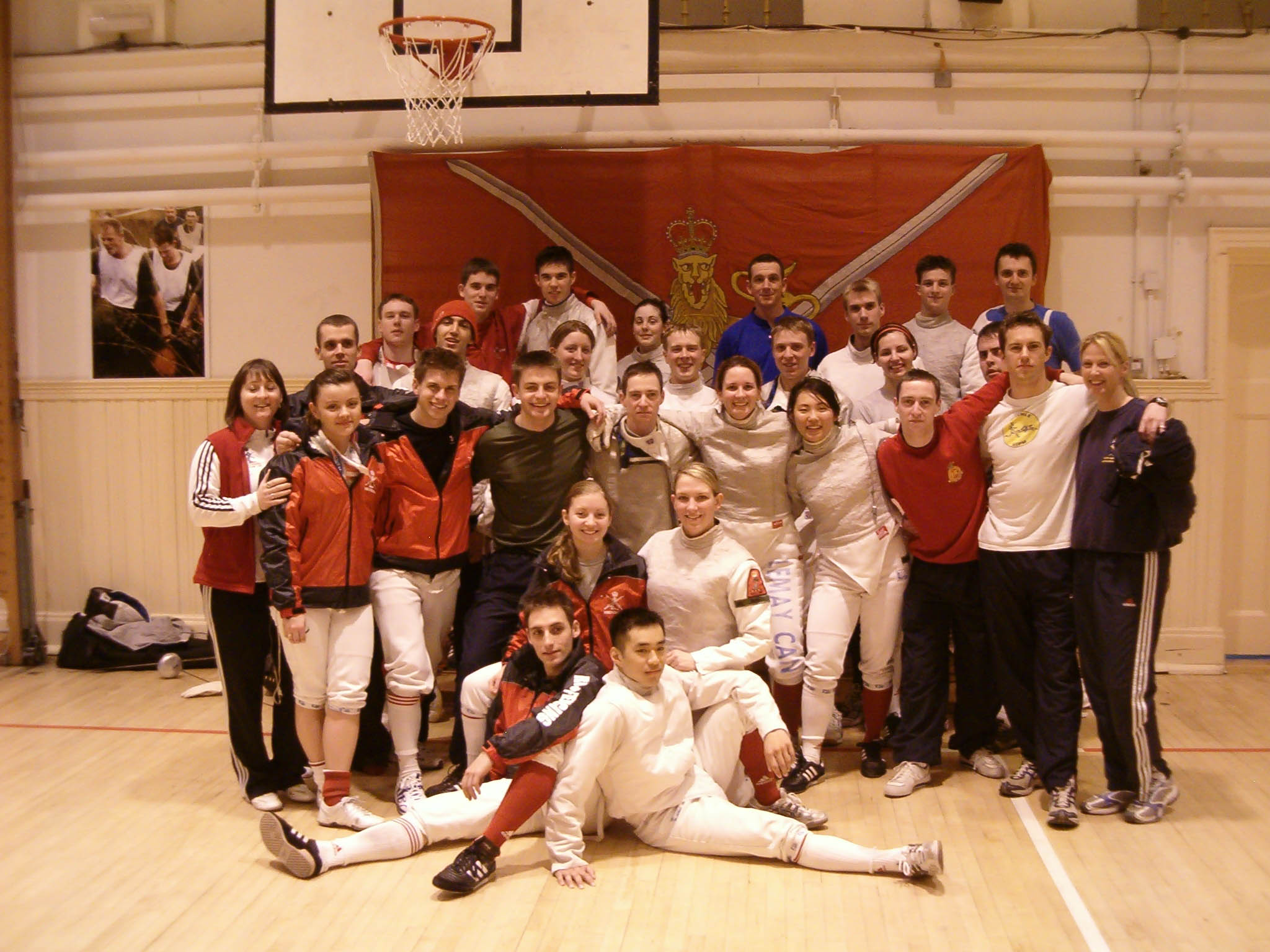 (Click..Click for larger view)
Fencers Impressive During Tour of England –
Competition; Culture & Socialization – Caps Off Great Season!
By: David Howes
Less than 24 hours after hosting the 2008 OUA Fencing Championships, RMC Head Coach Patricia Howes, along with 15 members of the men's & women's varsity fencing teams, boarded a plane for London, England. Upon their arrival in the UK, they were met by Maj John Grodzinski, who is the military chairman of the fencing program. Maj Grodzinski, who also teaches history at the college, had arranged a number of tours for the group during their visit. There were three main goals for this trip: compete in some friendly fencing matches against military & civilian university teams in the UK; participate in some tours of military historical significance; & socialize
with their British counterparts.
The RMC contingent began their trip with a visit to the Royal Military
Academy Sandhurst, where they toured the grounds and won their fencing matches against their British counterparts. They then moved on to Portsmouth in the south of England, where they again defeated their opponents in competition, & did some sight-seeing at the dockyard, including a visit to HMS Iron Duke & HMS Victory. The group then headed back to London where they defeated the civilian teams from the University of London & did some more sight-seeing, including a London Blitz tour.
Overall, this was a very successful trip, not only in terms of the
competitive results, but in that it also gave the cadets the opportunity to visit & interact with cadets at another military academy, and provided them with some additional education in the military history of one of Canada's closest allies.
This was definitely not your average reading week!

(Click..Click for larger view)
Victoria, B.C. – Triathlon training camp
By/par: 24352 III, OCdt Cristy Montoya
Reading break is usually enjoyed by most officer cadets as a time to get away with friends and share fun in the sun or travels to an exotic destination. However, reading break is also a time to find some of the best opportunities offered by RMC and the CF.
On such occasion, seven officer cadets took part in the first ever triathlon training camp held in Victoria BC for all serving CF members. But what is a triathlon you may ask? Well, it's a combination of swimming, cycling and running. It provides a challenge to those individuals who enjoy a variety of sports and who are up for a dare to test their physical endurance. There are different distances, yet the most common and the focus of the camp was the Olympic distance composed of a 1.5km swim, followed by a 40km bike ride finished with a 10km run.
La semaine de relâche est généralement appréciée par la plupart des élèves-officiers comme un temps pour sortir et s'amuser avec des amis sous le soleil, ou se rendre à une destination exotique. Cependant, la semaine de relâche est aussi le bon temps pour trouver certaines des meilleures opportunités offertes par le CMR et les FC.
À cette occasion, sept élèves-officiers ont participé au premier camp d'entraînement de triathlon pour tous les membres des Forces Canadiennes qui s'est tenu à Victoria en Colombie-Britannique. Mais vous vous demandez qu'est-ce qu'un triathlon? Eh bien, c'est une combinaison de natation, de cyclisme et de course à pied. Cette discipline offre un défi pour les personnes qui pratiquent une variété de sports et qui veulent tester leur endurance physique. Il existe différentes distances, mais l'une des plus populaires, et celle qui était l'objectif du camp, est la distance Olympique composée de natation sur une distance 1.5 km, suivi de 40 km de vélo et finissant avec une course de 10 km.
The week started early, with a departure at 3 in the morning to Pearson International Airport in Toronto. The arrival in Victoria was exciting since the temperature was in positive numbers and the sun was shining bright. We headed to Work Point, in Esquimalt as this is where we were lodged for the week. There were a lot of faces to meet and it was a very welcoming atmosphere. The first night we had the privilege of hearing Kirsten Sweetland speak on motivation and mental preparation; she is a 20 year old professional triathlete who won Jr worlds this past year.
La semaine à commencé tôt, avec un départ à 3h00 du matin vers l'aéroport international Pearson situé à Toronto. L'arrivée à Victoria était excitante car la température était chaude et le soleil brillait radieusement. Nous sommes allés à Work Point à Esquimalt, où nous sommes restés pour la semaine. Il y avait beaucoup de nouveaux visages et l'atmosphère était très accueillante. La première nuit, nous avons eu le privilège de recevoir une présentation de Kirsten Sweetland qui a parlé à propos de motivation et de préparation mentale. Elle est une triathlète professionnelle de 20 ans qui vient de gagner Les championnats mondiaux juniors
By the second day and for the rest of the week, we were up bright and early having breakfast at 06:00 and commencing the day's activities at 07:00 and by 21:30 everyone was ready for bed! The second day also set the pace of the camp, as it started with a morning warm-up in the pool followed by a time trial of the 1.5km swim. We then had lunch, had time to assemble bikes and proceeded to bike over to a track where we then had a second time trial for a 5km run, biked back and enjoyed supper at the NOTC galley. The evenings were composed of guest speakers and seminars on topics such as the intent of the camp, and introduction to the program, bike skills…etc. On the second last night we had the privilege of hearing 2006 Ironman Canada's winner Jasper Blake talk about nutrition and race preparation.
Dès le deuxième jour et pour le reste de notre séjour, nous étions debout à 6h00 pour le petit déjeuner. On commençait les activités de la journée à 7h00 et par 21h30 tout le monde était prêt a se coucher! Le deuxième jour a également établi le rythme du camp, puisque celui a commencé par une matinée de réchauffement en piscine suivi d'un essai chronométré de 1,5 km de nage. Ensuite, nous avons déjeuné, et nous sommes montés sur nos vélos pour se rendre à une piste où nous avons eu un deuxième essai chronométré d'un 5 km de course. De retour aux logements, nous avons soupé au « NOTC galley ». Les soirées étaient généralement composées de conférenciers invités et de séminaires sur des sujets tels que l'intention du camp, l'introduction du programme et les compétences en vélo. Lors de l'avant-dernière soirée, nous avons eu le privilège de recevoir le gagnant de l'Ironman Canada 2006, Jasper Blake qui a discuté de nutrition et de préparation à la course.
The week provided great training for everyone from beginners to advanced athletes, and it gave the opportunity to enjoy beautiful Victoria. Biking over 60kms a day proved to be a great experience filled with fantastic scenery and cooperating weather. Although the training was challenging, it proved to be one of the finest experiences brought along with many stories to share, and it was concluded with a wonderful social night on Friday evening, hosted by one of the coaches. It felt like it came to an end quickly, as such a hectic week provided lots to do, but if this is the first time doing such a thing, the body can only take so much at a time. From our part, we are looking forward to continuing training and learning more about the sport and its challenges. This program is currently looking for anyone interested so if this sounds like something you'd like to try, check out www.cftriathlon.ca for more information; and there will also be a triathlon club starting out here at RMC, so don't hesitate to contact II Desaulniers (s24508@rmc.ca) for more information!
La semaine a fourni beaucoup d'entraînement pour tous, de l'athlète débutant au plus avancé, et elle a donné l'occasion de profiter de la belle ville de Victoria. Faisant du cyclisme pour plus de 60kms par jour s'est avéré d'être une grande expérience fantastique rempli des beaux paysages et de la coopération du météo. Bien que l'entraînement ait été difficile, s'était une des plus belles expériences portées avec beaucoup d'histoires à partager, et il a été conclu avec une magnifique nuit sociale, le vendredi soir, animée par l'un des entraîneurs. C'était comme la fin est arrivé rapidement, car une telle semaine a fourni beaucoup des choses à faire, mais si c'est la première fois a faire une telle chose, le corps ne peut prendre tellement à la fois. De notre part, nous sommes impatients de continuer l'entraînement et d'apprendre plus sur le sport et ses enjeux. Ce programme est présentement à la recherche de toute personne intéressée donc si cela ressemble à quelque chose que vous voulez essayer, consultez http://www.cftriathlon.ca pour plus d'information, et il y aura également un club de triathlon qui débutera ici au CMR, donc contactez II Desaulniers (s24508@rmc.ca) pour plus d'information!