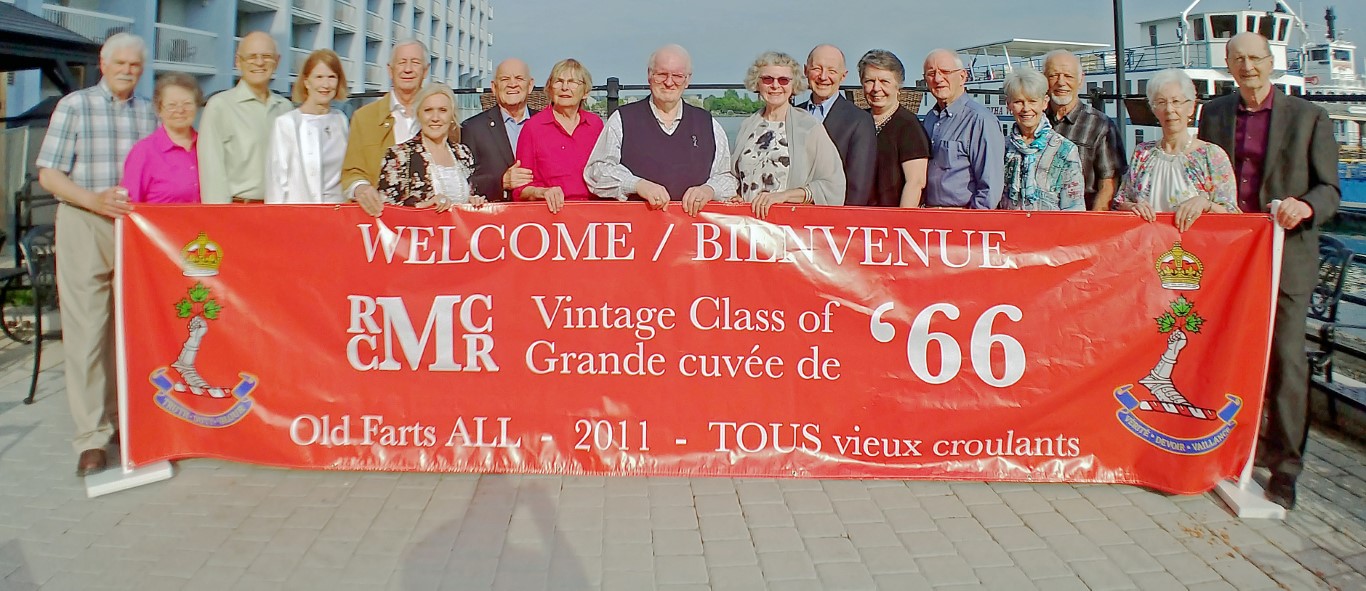 Fate has not been kind to the attempts of the Class of 66 to have a reunion. Early In 2020 when planning for our class reunion for the following year had started, COVID came along.  We believed the health sages who said that COVID would be short lived but this was not to be. The 2020 Reunion gathering was cancelled because of the continued presence of COVID and the non-existence of a vaccine.  We then looked to our 2021 Reunion.  Once more we believed that by the time September 2021 came around, COVID would be in our rear view mirror and reunions would be back.  Then the question of when to hold our 2021 reunion came up.  There was a bow wave developing from a failure to add the tranche of new inductees to the Old Brigade in 2020.  The addition of 2021's tranche worsened the situation.  So we decided to look at the May 2021 convocation.  However the Delta variant emerged and put an end to assembling in Kingston for a spring 2021 reunion.  Also RMC was closed to the public which included ex-cadets.  We then looked to 2022.
May 21st weekend 2022 was the next date we considered even while we were in the downside of Omicron BA.1.  However, with new BA variants on the horizon, a vote of the Class Committee led by 7073 Jim Thomson decided that the possibility of travel restrictions made it too risky to have classmates commit to a reunion with the possibility of having to cancel.  At this point, 6810 Gilles Nappert who was on the Reunion Organizing Committee put forward the possibility of arranging a dinner on 21 May 22 for classmates living in the Ottawa and Kingston regions and any classmate who wanted to make the journey.  The call went out and we managed to entice a total of 17 classmates and partners including a classmate from Meaford to meet at the Holiday Inn for dinner on the aforementioned date.  It was a pleasant event and provided those attending, the opportunity to enjoy some long absent normality if only for a few hours.
---
Enfin – Un rassemblement de la classe 66
Le destin n'a pas été gentil avec les tentatives de la classe de 66 d'avoir des retrouvailles.  Au début de 2020, lorsque la planification de notre réunion de la classe pour l'année suivante avait commencé, COVID est arrivé.  Nous avons cru les sages de la santé qui ont dit que COVID serait de courte durée, mais ce n'était pas le cas.  Le rassemblement de la Réunion 2020 a été annulé en raison de la présence continue de COVID et de l'inexistence d'un vaccin.  Nous nous sommes ensuite tournés vers nos retrouvailles de 2021.  Une fois de plus, nous pensions qu'au moment où septembre 2021 arriverait, COVID serait dans notre rétroviseur et les réunions serait de retour.  Ensuite, la question de savoir quand tenir notre réunion de 2021 s'est posée.  Il y a eu une vague d'étrave qui s'est développée à la suite d'un échec à ajouter la tranche de nouveaux intronisés à l'ancienne brigade en 2020.  L'ajout de la tranche de 2021 a aggravé la situation.  Nous avons donc décidé d'examiner la convocation de mai 2021.  Cependant, la variante Delta a émergé et a mis fin à la rencontre d'automne à Kingston pour une réunion au printemps 2021.  De plus, le CMR a été fermé au public, qui comprenait d'anciens cadets.  Nous nous sommes ensuite tournés vers 2022.
La fin de semaine de convocation de 2022 était la prochaine date que nous avons envisagée, même lorsque nous étions dans la baisse d'Omicron BA.1.   Cependant, avec de nouvelles variantes à l'horizon, un vote du comité de classe dirigé par 7073 Jim Thomson a décidé que la possibilité de restrictions de voyage rendait trop risqué d'avoir des camarades de classe s'engager à une réunion avec la possibilité de devoir annuler.  À ce stade, le 6810 Gilles Nappert, qui faisait partie du comité organisateur de la Réunion, a proposé la possibilité d'organiser un dîner le 21 mai 22 pour les camarades de classe vivant des régions d'Ottawa et de Kingston et pour tout camarade de classe qui voulait faire le voyage.  L'appel a été lancé et nous avons réussi à inciter un total de 17 camarades de classe et partenaires, y compris un camarade de classe de Meaford, à se rencontrer au Holiday Inn de Kingston pour le dîner à la date susmentionnée.  C'était un événement agréable et a fourni aux participants l'occasion de profiter d'une certaine normalité absente depuis longtemps, ne serait-ce que pour quelques heures.