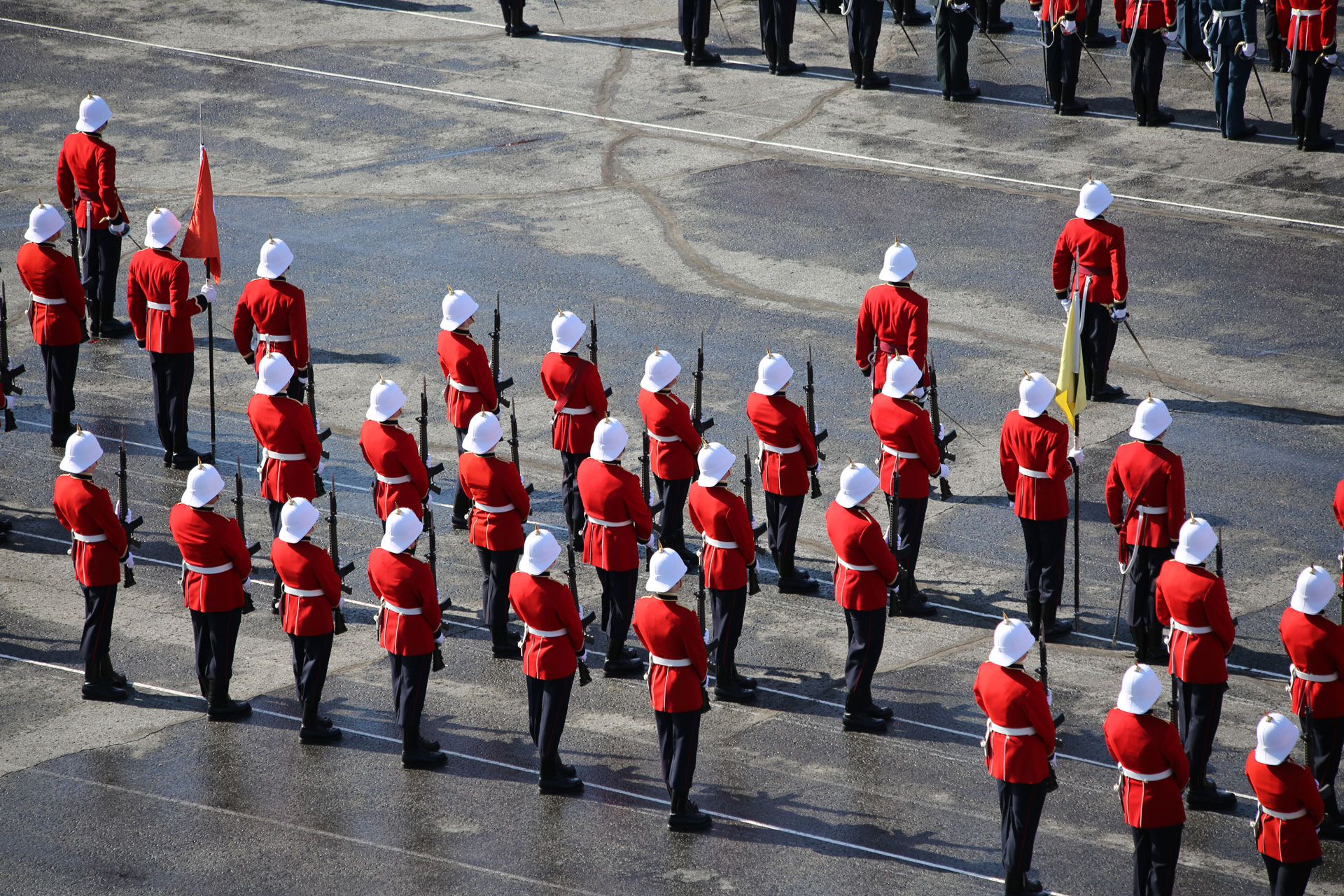 Golf Manoir Richelieu Aug 04: Golf a favourite pastime of my wife, Suzette and I.
Ex- Hockey team captain reminisces about his final year
By A/Slt 24498 Noelani Shore (RMC 2009)
Assistant 1 Wing PAO
This Drummondville native is no stranger to hard work and performing under pressure.
6810 Gilles Nappert (CMR RMC 1966) still fondly remembers his time at the Royal Military College, especially when he led the RMC hockey team to victory against West Point.
He tributes his success in his final year, as well being awarded the Tommy Smart trophy as best all around athlete in his final year, to his efforts on the hockey team.
"No doubt a big part of my being awarded this trophy was the fact that I captained the RMC hockey team that beat West Point at the Kingston Memorial centre in spring 66 (my graduation year). Winning a closely fought game against West Point (following a lost the previous year) in front of a capacity crowd was a moment that I cherish. Reliving it brings back memories and emotions that I will never forget," Nappert explained, who is married to the former Suzette Frenette of Pont-Rouge, and has three children, as well as three grandchildren.
Hockey played an important role in Nappert's career, and the experience he gained at RMC stayed with him throughout.
"The hockey skills and lessons that I learned from Coach Danny Macleod and his example as a coach during my time at RMC served me well both as a hockey player later on, but also as a coach in minor hockey," said Nappert. "What I learned from him set me up to captain the 4 Service Battalion Huskies hockey team that won the Canadian Forces Europe (CFE) in 1979. It was one of my proudest accomplishments as a hockey player."
Nappert thinks back to his days at RMC, sure that the leadership he witnessed in older cadets played a significant role in his own military success. He was able to follow the example of senior cadets in positions of leadership, and then be placed in those positions in his own senior years.
"In my senior year at CMR and RMC, the leadership appointments that I was given were great opportunities to develop leadership skills and style. It is during these formative years that I developed confidence in my leadership abilities," Nappert said.
Before he came into those positions of leadership, Nappert recalls an anecdote from his first year regarding the power of leadership:
"One particular leadership incident/experience that I remember vividly from my college days occurred during my pre-obstacle course time at CMR. The section leader who was giving us drill made us march towards the boat ramp going into the Richelieu River. We were all expecting a left or right wheel at some point before the water but it never came so we marched as a section into the river until we discovered that the section leader had disappeared. We found him and he had his turn into the river. It was a good example of the power of leadership – by appointment not necessarily by example. Later we found out that it was a bet he had made with another senior cadet – he could make us walk into the river!"
Though he had many great postings since graduating from RMC, the fondest memories he has are of his command appointments.
"Amongst these my times as Officer Commanding (OC) Maintenance Company of 4 Service Battalion in Germany (1977-79) and as Commandant, Canadian Forces Electrical and Mechanical Engineering (CFSEME) in Borden (1985-89) stand out," Nappert said.
While in Borden, Nappert was able to speak with RMC graduates who were undertaking the basic EME officer training, and it brought back fond memories of his own college years.
"Since I relinquished my EME Colonel Commandant appointment in August of 2008, I continue to be involved with the EME Branch as a member of the Executive of the EME Association. Like the RMC Club it tries to keep the regimental spirit alive amongst the group of retired EME folks. In a small way, I see it as giving back to the EME Branch some of what I received during my career," said Nappert.
He recalls his time at RMC with pride, and maintains that the lessons he learned played a large part in his later career.
"The experience and lessons learned during my time in cadet command appointments at RMC made me a better leader of soldiers during my career. There is no doubt about it."
The signature of documents during the change of EME Colonel Commandant parade on 15 May 2004. At the table Col Murray Johnston (departing Colonel Commandant), Bgen Peter Holt (Presiding Officer) and myself. We are all ex-cadets.

_____________________________________________________________
Commandant Does Walkabout
Last week RMCC commandant, 15181 Commodore Bill Truelove,  (RRMC 1985) did an informal walking tour over to the soon-to-be officially opened Air Commodore Birchall Pavilionwith with his Chief of Staff, Commander Darren Rich (RRMC 1983). There to greet them were Darren Cates, Director of Athletics and Chad Beaulieu, head coach of the (W) soccer team.
From all accounts the boss is quite impressed and  he likes what he sees at the 1.4 million dollar state of the art sports facility. "This is huge for both soccer and rugby at RMCC," said Commodore Truelove. "The immediate fix for both sports is that it gives us one of the best dressing room facilities in the OUA."
Our camera lady, 25275 Julia Anderson caught coach  Chad Beaulieu not only talking about the new facility but giving an up-to-date progress report on the (W) soccer team to the commandant.  Commodore Truelove is getting his first taste of what competition is like in the highly competitive OUA.