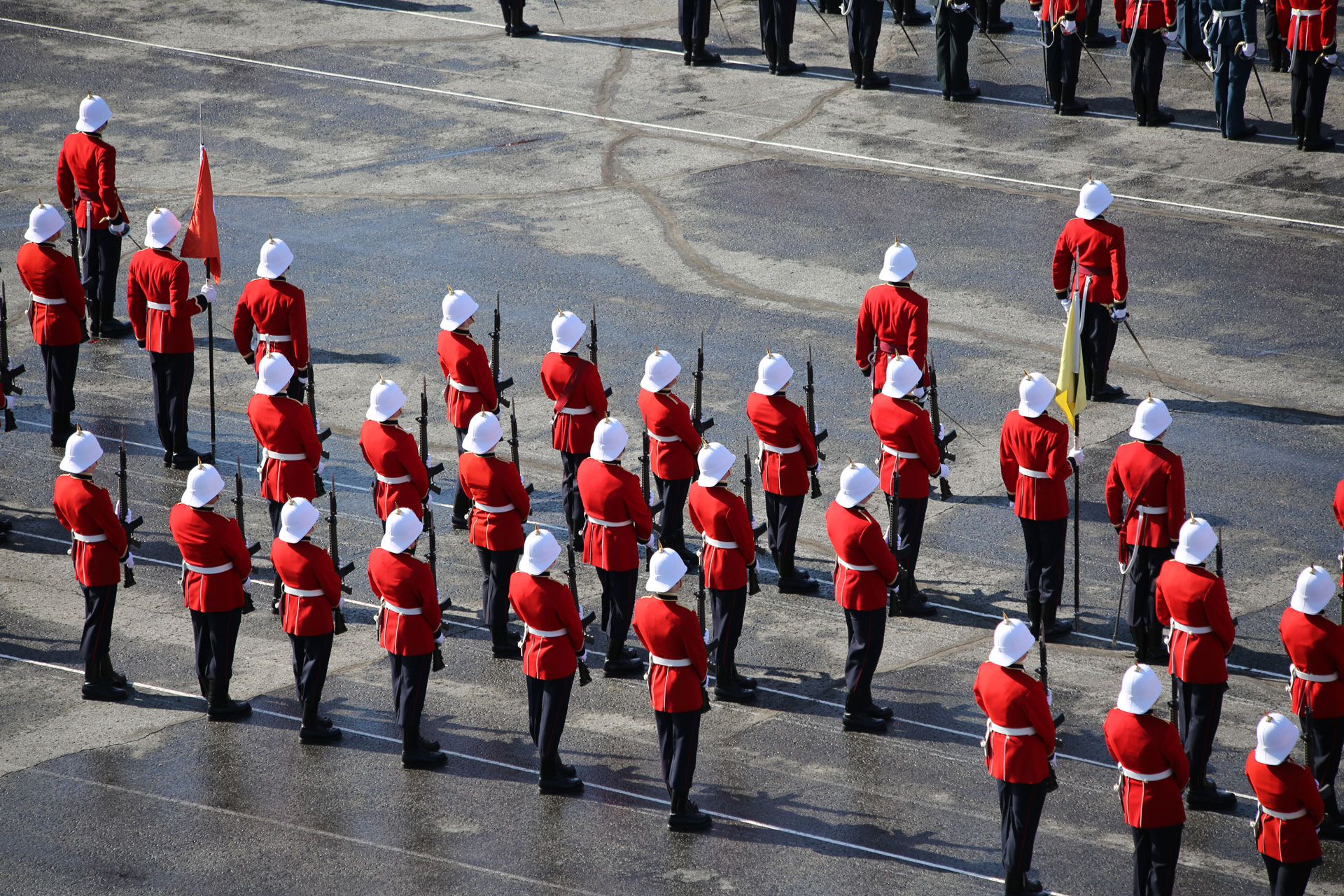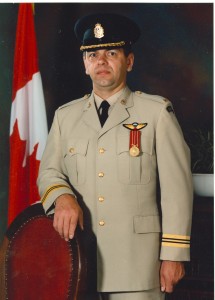 "I did spend 24 years, as a PERO and I can tell you that we had remarkable success in our involvement in delivering fitness, sports, recreation, health promotion, messes and family programs. I am proud of all those who participated in this challenge and made a difference for our military personnel."
Gaétan Melançon started in the PERO Branch as an Officer Cadet while studying at the University of Ottawa during the mid-1970s.  He remained as a PERO until the Branch stood down in 1997.  Over the past 12 years he has held senior positions within Canadian Forces Personnel Support Agency (CFPSA) the group that took over the role of PEROs & PERIs. Gaétan has an insight based on his experience that he recently shared with Victoria Edwards and Bill Oliver.
e-veritas: How did you come to be a Physical Education and Recreation Officer (PERO)?
Gaétan Melançon: I joined the CF as an Armoured Officer in September 1973. At the time, the Armour Corps was in transition. The Centurion Tanks were being removed from commission before the new generation of Leopard Tanks were on hand. As a result, for a period of time, the Corps had a surplus of officers. Since I was studying Physical Education at the University of Ottawa, I applied for a transfer to the Physical Education and Recreation Branch. My transfer was authorized in November 1974.
e-veritas: At which Military College(s) did you serve? Which years?
Gaétan Melançon:  I truly enjoyed my time educating Officer Cadets at the Royal Military College of Canada and Collège militaire royal de Saint-Jean (CMR). I first served as the Intramural Sports Officer at RMC from 1977 to 1979. I was sent to CMR as the Physical Education Officer from 1984 to 1987. Promoted to Major in 1987, I served as Athletic Director at CMR until 1989.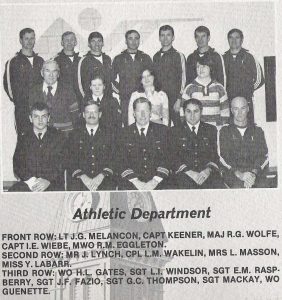 e-veritas: What were your primary duties?
Gaétan Melançon: As Intramural Sports Officer, I worked with a fourth year four bars Officer Cadet responsible for the IM program at RMC. I supervised his plan, ensured he had enough funding, qualified the officials and provided technical support where required. I also guided him in organizing the award ceremony at the end of each season. During the summers, I was part of the training staff for the summer training program for civilian ROTP Officer Cadets. As Physical Education Officer (PEO), my role was to run the Physical Fitness Programs for all the officer-cadets at CMR. I had a staff of 10 senior Non Commissioned Officers to deliver the program. As Athletic Director, I was lead for all the Physical Fitness and Varsity Sports Program at CMR.
e-veritas: Did you coach varsity team(s)?
Gaétan Melançon: Yes, I coached the CMR Men's Volleyball team from 1985 to 1987. We played in the Collège d'enseignement général et professionnel (CEGEP) league in all regions of Québec.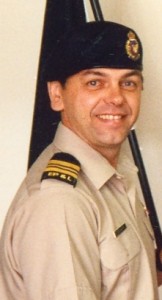 e-veritas: What do you consider the high-light of serving at the Military College?
Gaétan Melançon: The high-light of serving at CMR was developing the Athletic Infrastructure. I was the OPI for the project of modernizing the CMR gymnasium, swimming pool and arena complex. We also built a new football stadium, which included a 400 meter track and lights. The completion of the athletic infrastructure gave CMR`s Fitness and Sports program a big boost. The high-light of serving at RMC was the athletic infrastructure project to double the number of playing fields. At that time, all of the sports fields on the left side of the road going into the College were part of Navy Bay. Part of this land was reclaimed from Navy Bay and landfill was used as a means to increase useful land area on the peninsula. New playing fields built on land reclaimed from Navy Bay was a major step toward promoting the College athletic program. The sports fields have been well used for over 20 years now.
e-veritas: What memories of CMR stand out?
Gaétan Melançon: I recall that we had winning teams at all levels at CMR. The CMR Football team win of the Bol d'Or, CEGEP AA Football Championship in 1987 was the most emotional victory during my time at CMR. I remember watching the players cry in the coach's arms. At RMC, the memories that stand out involve beating the West Point Hockey Team at the Kingston Arena in 1978. The RMC Hockey Team dominated West Point from mid-second period until the end of the game. Since the West Point goaltender had forgotten his glasses, the goalie did not even move when our defenceman simply cleared the puck on their net. The coach knew then that even long shots had a good chance of going in (they did).
e-veritas: Did you have a role in research?
Gaétan Melançon: We preformed research at CMR to determine the validity and reliability of the physical fitness test and to set appropriate standards for passing the physical fitness test. The research project involved 6 major steps: 1) determining a set of critical military criteria, 2) determining a battery of physical fitness tests to measure the fitness components associated with these criteria, 3) obtaining performance data on a representative sample of cadets 4) validating and cross-validating the fitness measures against the military criteria, 5) selecting fitness test score that represent acceptable performance on the criterion tasks, 6) periodically re-evaluating the fitness tests. We were assisted by a team of experts at NDHQ who guided us through the factor analysis process. When they were first introduced, the physical fitness test standards for chin ups and push ups were seen as too high for lady cadets. An excellent training program was put in place to improve and maintain physical fitness levels to meet the physical demands of combat. One year later, most lady officer-cadets were passing the test. We proved to the cadets that by working hard you can achieve your goals!
e-veritas: Did you have a role in cadet discipline?
Gaétan Melançon: I had the same role as all senior officers on the campus. The sports program was an excellent tool to evaluate the leadership abilities of our officer-cadets. I always apply the rule of not letting a fault pass. The cadets have to learn to accept their responsibilities before being in command. I believe that our team of officers and senior NCOs did a super job in preparing the officer-cadets to lead the CF.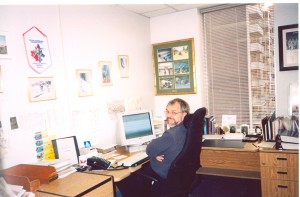 e-veritas: Are you still involved with the CF?
Gaétan Melançon: Yes. After retiring from the CF, I became Director Physical Education leading the Physical Fitness and Sports Program for over 12 years for the Canadian Forces Personnel Support Agency (CFPSA). After the transformation of CFPSA, I became the Special Assistant to Chief Personnel Support Program, Director General Personnel and Family Support Services (DGPFSS). I was appointed as Special Assistant, Chief Personnel Support Programs (PSP) (SA CPSP), responsible for PSP business planning, policy development, engineering, and sponsorship in 2007. Before that, I was Director Physical Education (DPE). The DGPFSS provides personnel support programs, including national and international sports, and services to CF members and their families. Our mission is to enhance the quality of life of the military community and contribute to the operational readiness and effectiveness of the CF.
e-veritas: CFPSA (now DGPFSS) organized Conseil International du Sport Militaire events at the Royal Military College.
Gaétan Melançon: Yes. Canadian Forces Base Kingston (CFB Kingston) and Royal Military College of Canada (RMC) hosted, for example, the Canadian National Tae Kwon Do (TKD) Championships in April 2003 and the 26th World Military Volleyball Championship in June 2004. Sport plays an important part in the lives of our military personnel and such high-profile international events are unique opportunities for our CF athletes. All games took place at the Kingston Military Community Sports and Fitness Complex on the RMC campus.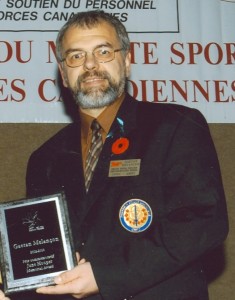 e-veritas: You were awarded the June Hooper Memorial Award in 2002-3.
Gaétan Melançon: Yes. The June Hooper Memorial Award (Builder of the Sport of Biathlon in Canada) is presented to individual(s) who have significantly contributed to the growth and development of the sport of Biathlon over many years with service of the quality, dedication and unstinting devotion exemplified by June Hooper. When receiving this award, you are inducted in the Hall of Fame of Biathlon Canada. I retired from the Board of Directors of Biathlon Canada in 2003 (as Vice President Administration) after 8 years of service.
e-veritas: Tell us more about the sport of biathlon.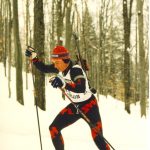 Gaétan Melançon: Biathlon is an Olympic winter sport combining cross country skiing from 7.5 to 20 km and small-bore rifle marksmanship. The rifle is designed for Biathlon with an action which is a variation of bolt or lever action, 22 inch in caliber, with a minimum weight of 3.5 kg. There are six international types of competitions: Individual, Sprint, Pursuit, Mass Start, Relay and Team. In international events there are four classes of competitors: Men, Women, Junior Men and Junior Women. Depending on the competition, five rounds are fired in each bout at five targets at a shooting distance of 50 m. In a Relay competition, the competitor has three spare rounds for each bout. The target diameters for the two shooting positions are 115 mm for standing and 45 mm for prone. Penalties for missed targets are imposed e.g. one minute of added time per target for the Individual competition or a 150 m penalty loop. Biathlon Canada is the National Sport Organization while International Biathlon is governed by the International Biathlon Union (IBU). The word competition is used in Biathlon instead of race because it is not only a race but a combination of two different competitive activities shooting and skiing. Cross-country racing requires intense, full out physical exertion over an extended period of time while shooting demands extremely fine control and stability. In the general category of biathlon, competitions may combine snoeshoe, skiing, running or mountain biking with shooting or archery.
e-veritas: How do you stay fit?
Gaétan Melançon: My plan for staying fit has changed over the years. While working at RMC, I ran the Hill five time a week and played sports including volleyball, basketball, squash, and hockey. At CMR, I ran, weight trained and played shiny hockey. When I moved to Ottawa, I continued my running program and started to skate and ski during the winter. A few years ago age and injuries became factors for me to consider before engaging in sports. There is no excuse for age but chronic injuries have forced me to modify my training program. I can no longer run or ski. However, I have discovered the joy of spinning, which I do four to five times a week.
e-Veritas: You lived the experience of the PERI trade / PERO branch standing down from the "inside". What do you recall as the biggest challenges in those early years 1996 -97 time-frame?
Gaétan Melançon: I was given the task to find a trade for any PERO/PERI who decided to remain in the CF. I was particularly proud to have found a trade for 112 out of 116 requests for voluntary transfer. The remaining four accepted a job with PSP.
e-Veritas: What was done right?
Gaétan Melançon: We took care of all the PERO/PERI. No one was left without a job.
e-Veritas: What could have been done better?
Gaétan Melançon: Giving the first choice of trade to all of the PERO/PERI. As you know, some trades were much more popular than others. We had limited number of positions available to us. It was based on merit and qualifications. I did not have a say in it, as the Career Managers were making the pick.
e-Veritas: Twelve years later what is your assessment of the change?
Gaétan Melançon: It had a very positive impact. We saw an infrastructure program of over $162M take place. We brought in very qualified civilians and RMC saw the benefits of having such employees in place. We were smart enough to retain enough former PERO/PERI at each location to offer on job training to all the new civilians. It was very difficult at first, as CFPSA did not have a good training program in place making it difficult for new employees to learn all the rules of operating a Fitness and Sports Centre. I did spend 24 years, as a PERO and I can tell you that we had remarkable success in our involvement in delivering fitness, sports, recreation, health promotion, messes and family programs. I am proud of all those who participated in this challenge and made a difference for our military personnel.
e-Veritas: Are the Canadian Forces better served? If yes, how?
Gaétan Melançon: I believe they are better served. We have personnel with the latest qualifications and with, as much passion about our job as we did when we were a military organization. We were a small branch with limited impact. For the past 12 years, we have had a MGen equivalent, as Director General in Ottawa leading the organization and we see daily the impact of having such leadership in place.