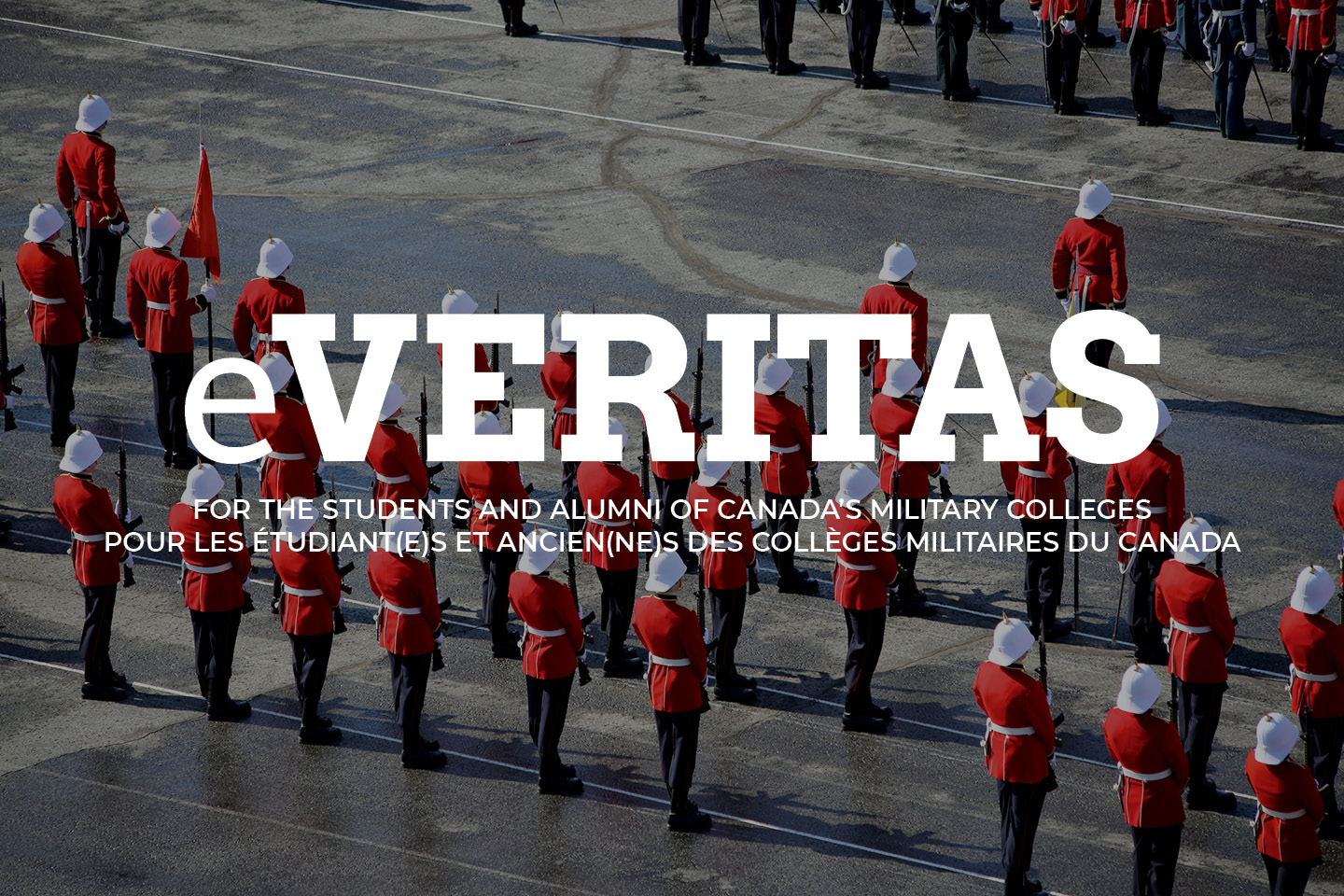 We experienced a technical problem about 24 hours after we  published Issue 27. Regular readers will notice that we have repeated a few of the articles in this Issue 28.
Over the rest of the summer we may catch up with other "lost" articles.
We regret the inconvenience.
Nous avons éprouvé des problèmes techniques environ 24 heures après avoir publié le numéro 27 de e-Veritas. Nos lecteurs remarqueront que quelques-uns de ces articles sont reproduits dans l'édition 28.
Au cours de l'été nous espérons nous rattraper sur d'autres articles "perdues".
Nous regrettons tout inconvénient que cela a pu vous causer.
Bill & Rolande Oliver
_________________________________________
IN THIS ISSUE 28:
To find an article: copy title into the search bar on the top of the website and press the 'enter' key.
To search for an individual: type their name into the search bar and press the 'enter' key.
Brent Fisher: OCdts Showing Great Leadership Throughout Summer OJTs;
Glenn MacDonald Stepping Down as VP – RMC Foundation;
RMC Band & Choir Comprised of High Achieving Cadets! &
FLASHBACK… Copper Sunday 1971
Hockey Coach Knows The Pyrimid Of Success;
Qu'est-ce qui se passe au CMR Saint-Jean:
Souper d'au revoir pour le Colonel François Pion; Farewell Dinner for Colonel François Pion;
APPEL AUX ANCIENS, COURSE À OBSTACLES, CMR SAINT-JEAN, 3 septembre; CALL TO EX-CADETS, OBSTACLE COURSE, RMC ST-JEAN, 3 SEPTEMBER (repeat from eV 27);
19788 Mike Barker (RMC 1995); 21868 Sarah House née Silliker (RMC 2000); 14585 Brigadier-General John Madower (RRMC RMC 1984); 15012 Major Tom Norris (RMC 1985); 8276 Marc Garneau (CMR RMC 1970); 15595 Billy Allan (RRMC RMC 1986)
7812 Mr. Reg Shortt (RRMC RMC 1968); 6368 Judge Hugh Landerkin (CMR 1960); 21295 Captain Brad Schur (RMC 1998); 20994 Capt Nicole Schur (McNutt-Holland) (RRMC RMC 1998); 4240 Cmdre Pat Finn (RMC 1984); 12287 RAdm Richard Greenwood (RRMC 1979); 17936 LCol Scott Wilson (RMC 1991);
Commandant & staff visit Gagetown
What's Happening at RMC (Repeat from e-V 27):
Cadet Earns Meeting Duke of Edinburgh;
Kingston Branch Attracts Young Blood and Great Speakers!
RRMC Memories: William Rodney (former RRMC Professor of History/Dean of Arts);
Deaths | Décès (repeat from e-V 27):
3579 Desmond Jerome (Jerry) Murphy (RRMC RMC 1956)
"Sky" King Memorial Walk 14 Aug; (repeat from e-V 27);
RMC, CMR and RRMC Class of 1995 / RMC, CMR et RRMC Classe de 1995;