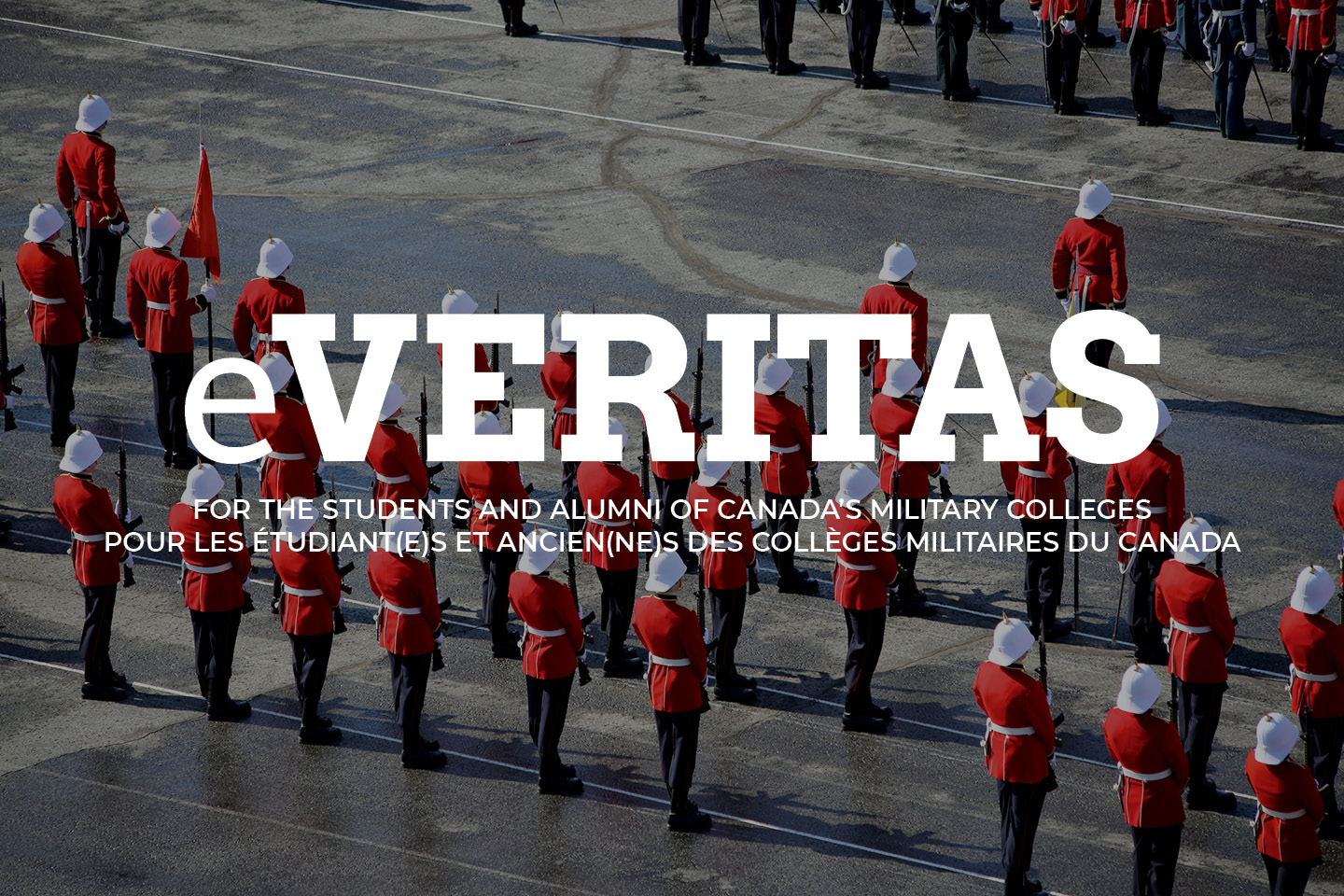 COURSE À OBSTACLES AU CMR Saint-Jean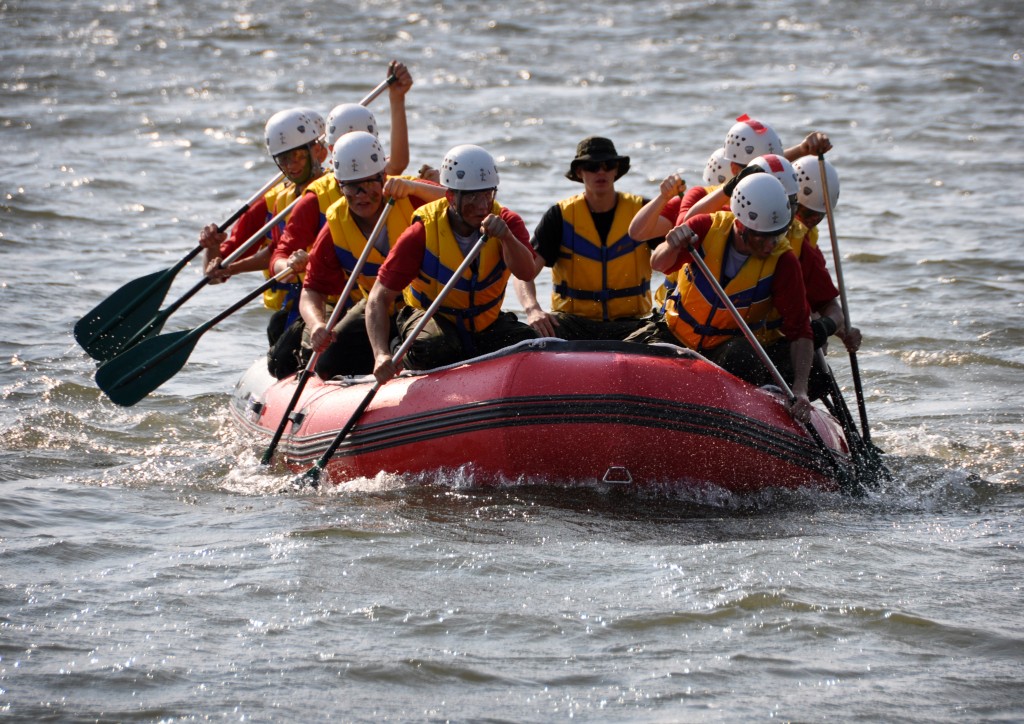 Vignette photo : La course à obstacles aura lieu le 31 août et le public est invité à assister à cet événement spectaculaire et haut en couleur.
Crédit : Mario Poirier
Le vendredi 31 août 2012 de 9 h 30 à 11 h 30
La population est invitée à assister à la traditionnelle course à obstacles à laquelle participeront plus de 140 élèves-officiers le vendredi 31 août, de 9 h 30 à 11 h 30, au Collège militaire royal de Saint-Jean, à Saint-Jean-sur-Richelieu.
Étape importante dans la vie de ces nouveaux élèves-officiers, cette course représente l'un des moments les plus mémorables de leur séjour au Collège et marque officiellement leur acceptation dans l'Escadre des élèves-officiers à la fin du programme d'orientation. La course à obstacles, qui permet de développer la persévérance et l'esprit de corps chez les élèves-officiers, est composée de 12 obstacles variés.
Une cérémonie aura lieu en après midi pour remettre aux nouveaux élèves-officiers leurs insignes afin de souligner leur intégration à l'Escadre des élèves-officiers du Collège.
Breaking News… 12192 Lt.-Gen. Tom Lawson named Canada's top general Article
RMCC Cadets Graduate from Basic Military Officer Qualification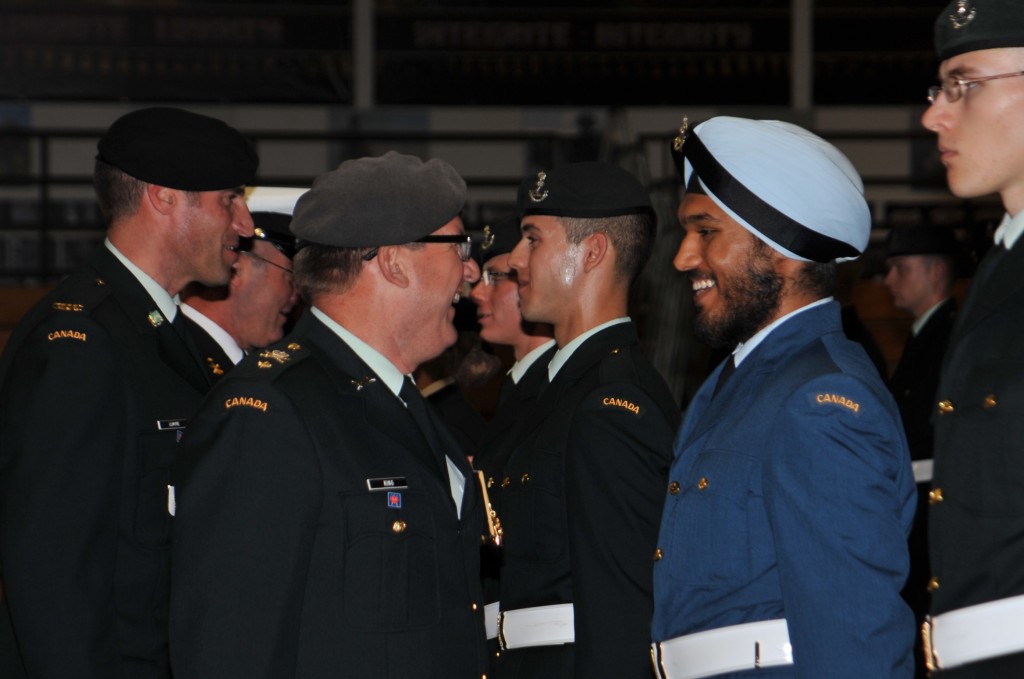 Basic Military Officer Qualification is an 11 week course which prepare future officers to effectively lead small teams in simple operations in both garrison and austere field conditions. reference
26288 OCdt. Sarabjot Anand (II) 2 Sqn talking to the reviewing officer 14034 Brigadier-General Craig King C.R. , and 26551 OCdt Colin Lussier (II) 10 sqn talking to, 19706 LCol Patrick Lemyre, recently appointed, RMCC Director of Cadets.
 Click on photos for better viewing
IN THIS ISSUE 33:
To find an article: copy title into the search bar on the top of the website and press the 'enter' key.
To search for an individual: type their name into the search bar and press the 'enter' key.
 Class of 2016 Cadets March Under the Arch

Ex-Cadets & More in the News

Catching Up With the News

What are these 24 up to these days…?

Strategic Review Approved!

Class Notes…

The Way It Was… In Photos

Retirements | Retraites

Varsity Back Early to Prepare for Upcoming Season

Colombian Officers Pay a Visit…

Qu'est-ce qui se passe au CMR Saint-Jean

Careers | Carrières / Tip of the Hat / Realtors / Why Not Be a 212 Partner?

"…to offer Imperial commissions to graduates of the Canadian Military College…" The Founding of RMC, Part 3

Deaths & Military Eulogy: 2524 Lt-Col Charles Train Gray, DSO, CD
Click for details…
OLD BRIGADE DINNER:
Please take note! The deadline for reservations for the Old Brigade Dinner is 7 September 2012 – just a week or so away.
There is still lots of room in the Ambassador Ballroom.
Call Mary or Linda at Panet House; 1-888-386-3762.
TDV
5611 Gerry Stowe
Adjutant Old Brigade