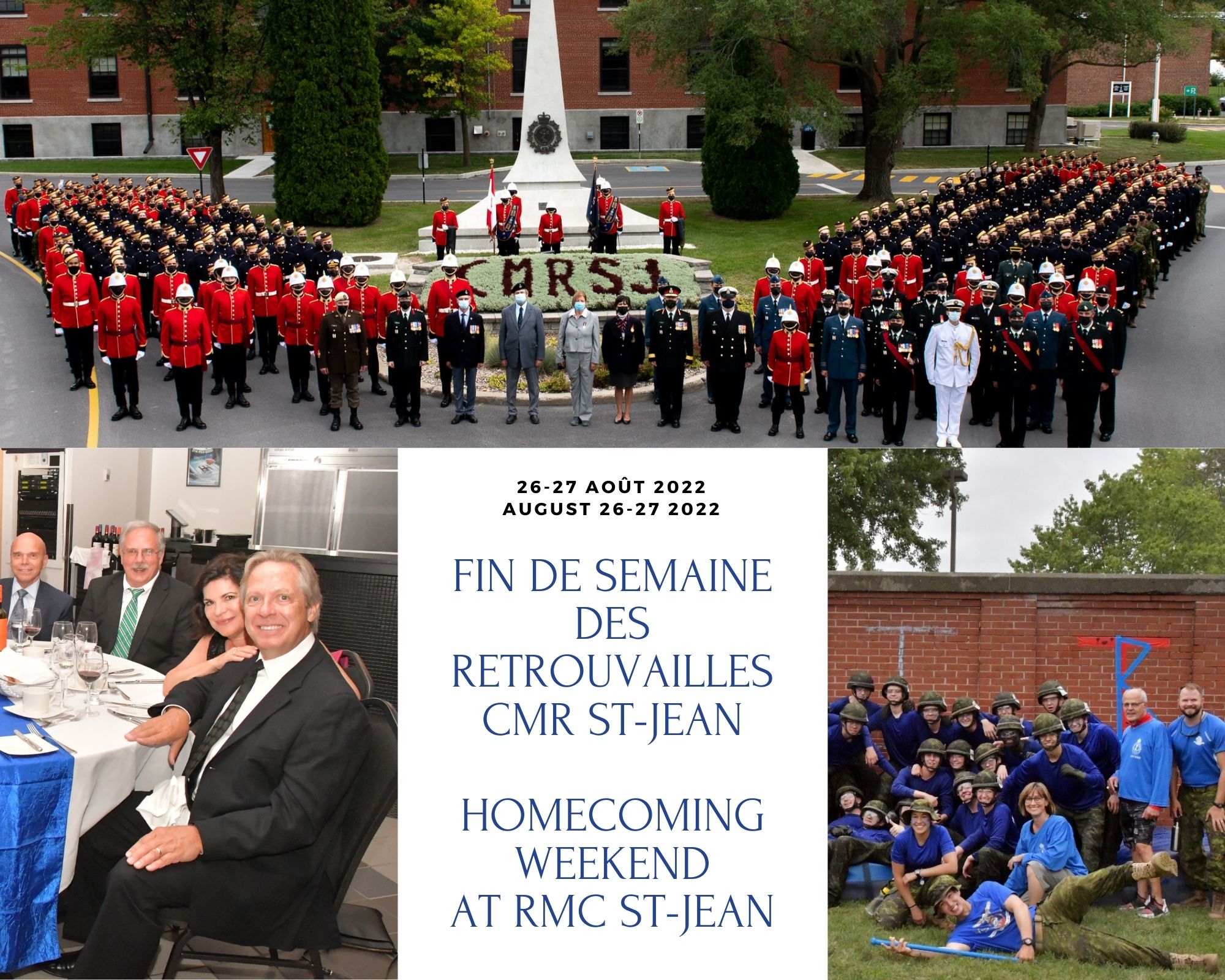 La fin de semaine des retrouvailles (FDSDR) 2022 au CMRSJ se tiendra les 26 et 27 août prochain. Le programme planifié présentement se déroulera comme suit: le vendredi soir l'heure de la bonne humeur (TGIF) ou anciens et anciennes se retrouvent de façon informel afin de de reprendre le temps perdu; le samedi matin aura lieu la course à obstacles , suivi en après-midi de la Cérémonie de remise des médaillons commémoratifs du Club des ancien(ne)s et des insignes, cérémonie qui regroupera sur la parade les classes d'entrée de 1972, 1971 et 1970 lesquelles seront intronisées au sein de la Vieille Brigade de même que tous les ancien(ne)s qui seront présents, par la suite il y aura le souper dansant pour la Vieille Brigade et tous les ancien(ne)s.
Le Musée du Fort Saint-Jean sera ouvert à tous pour la visite.
La FDSDR est planifiée pour être tenue en présentiel, cependant, les mesures sanitaires applicables pourraient avoir une incidence.
La programmation plus détaillée suivra.
---
Homecoming Weekend (FDSDR) 2022 at CMRSJ will be held August 26-27. The program currently planned will take place as follows: Friday evening, Thank God It`s Friday (TGIF) where Ex-Cadets meet informally to make up for lost time; Saturday morning the obstacle course will take place, followed in the afternoon by the Badging and the RMC Club Commemorative Coin Ceremony which will bring together on parade the entering classes of 1972, 1971 and 1970 which will be inducted into the Old Brigade as well as all the Ex-Cadets who will be present, thereafter there will be the dinner dance for the Old Brigade and all the Ex-Cadets.
The Fort Saint-Jean Museum will be open to everyone for the visit.
The FDSDR is planned to be held face-to-face, however, applicable health measures may have an impact.
More detailed programming will follow.
www.chapitrefsj.com