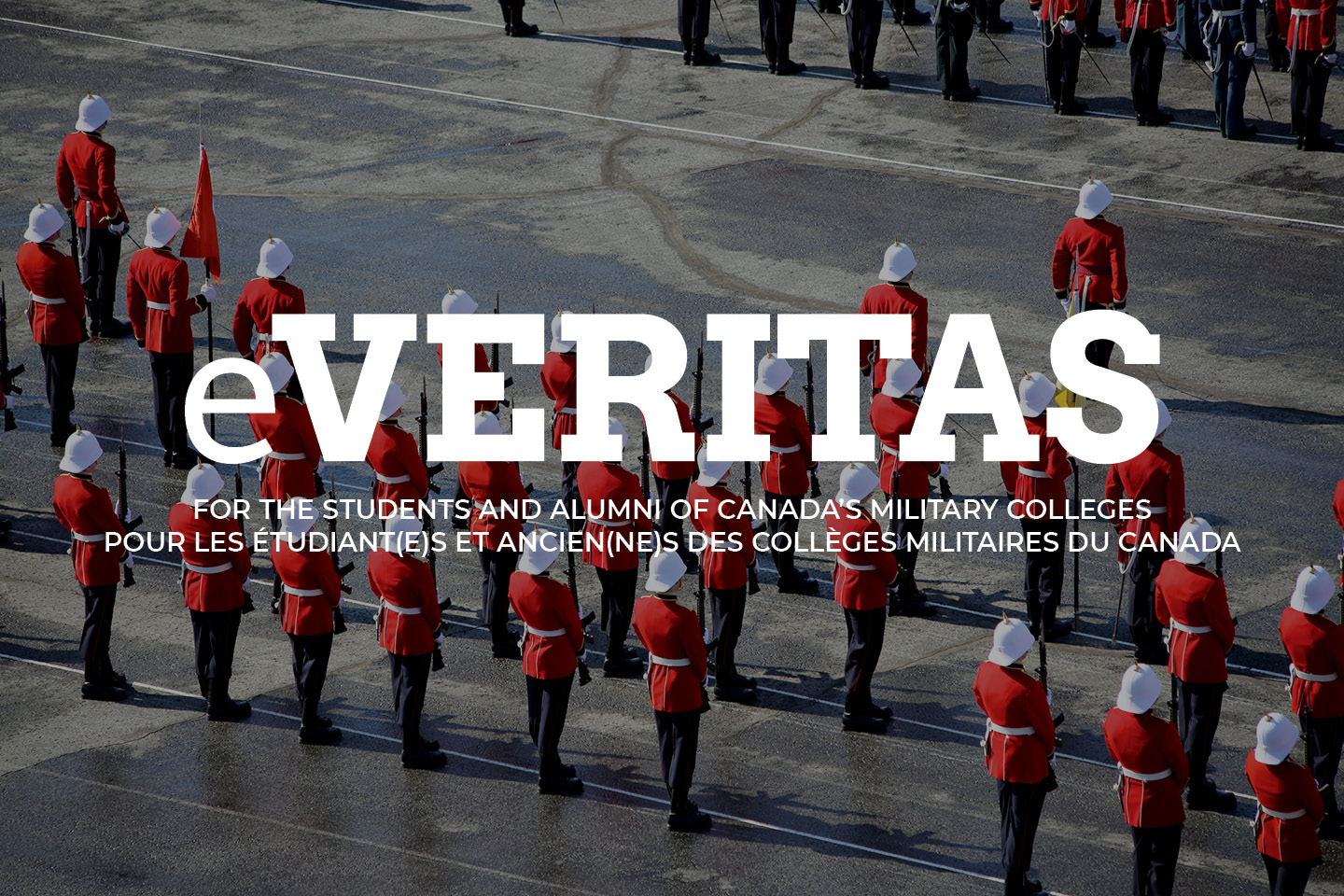 Lifeline for e-Veritas – volunteers
MORE…
***

Caption: (L-R) Rolande Oliver, Kai Zho, Bill Oliver share a few happy moments together following the March through the Arch by the Class of 2015. Over the past four years, Kai was our e-Veritas number one cadet volunteer. He is headed to 3 Wing, Bagotville and his new military occupation is Logistics.
Lifeline for e-Veritas – volunteers
By Bill & Rolande
26549 Kai Zhao didn't win any official college awards last week.
At both the convocation and the commissioning parade, a great number of very deserving cadets were recognized for academic, leadership, second language, and fitness achievements.  We salute them all!
At e-Veritas we are supported by a great number of cadets who volunteer their time taking photos and uploading them on Flickr; writing and submitting articles. Week in and week out. Usually with little or no fanfare.
We would be remiss if we didn't make mention of some of the main players.
For those readers who attended many of the events – convocation, sunset ceremony, and commissioning parade – you may or likely not have seen them with their cameras hustling around in their military uniform – not the familiar cadet scarlets.
You will definitely see much of their work in other spaces of this Issue 20. Because of our weekly self-imposed deadlines, much of their work takes place at ungodly hours of the day and night.  Last week was just one of many similar assignments over the school year.
Caption: Four cadets stood out this year:(L-R) 26659 Danielle Andela, 26653 Denice Zoretich, 26267 Erik St-Gelais & 26779 Kyle Tilley were all relentless in producing the very best they could for us. None of them have any advanced formal training as photographers or education in journalism. But that is fine – they are extremely reliable with super great attitudes.  When they say they are going to do something – they do it. We are indeed grateful for their efforts and loyalty.
These four are all going into IV Year in the Fall which means their time for us will be very limited to help us at e-Veritas.  Hopefully, a few like minded cadets in II or III years will step up. Time will tell.
Which gets us back to Kai Zhao. Over the past four years; this young Chinese Canadian who prior to entering RMCC, resided in Brampton, ON since coming to Canada with his mother when he was a young boy.
Kai is a bubbly personality but a person, who for the most part, goes about his business quietly.  He prefers to keep his contributions and accomplishments to himself.
We are aware of what he has done – mostly under the radar. Because of the high and quick turnover of the Military Wing, at the college, very few are in a position to know what he accomplished here (mostly after hours) – we will respect his privacy.
Well almost…
Chief of Defense Staff (CDS) General Tom Lawson in his formal address, on the parade last Friday, included some of the unique experiences which were  experienced by the Class of 2015.
A major event was the Gangnam Style video which was produced in their II Year – and has amassed over 1.5 million 'visits'.  The CDS remarked, "…arguably the best RMC recruiting tool in the history of the college." For those of you who never saw it – take a peek
To pull this off, required a great effort by many cadets, however, producer and director was Kai Zhao.
In short, we dearly appreciate the cadet volunteers who support us. Kai is moving on to the next stage of his career as a 2nd  Lieutenant, Logistics Officer at 3 Wing Bagotville, which  is located in Quebec's Saguenay region. Best wishes, our friend.
For those who are returning to the college in the Fall – be safe, enjoy your 2015 summer experience. We will be waiting anxiously at the end of August at Panet House to discuss your next assignments.