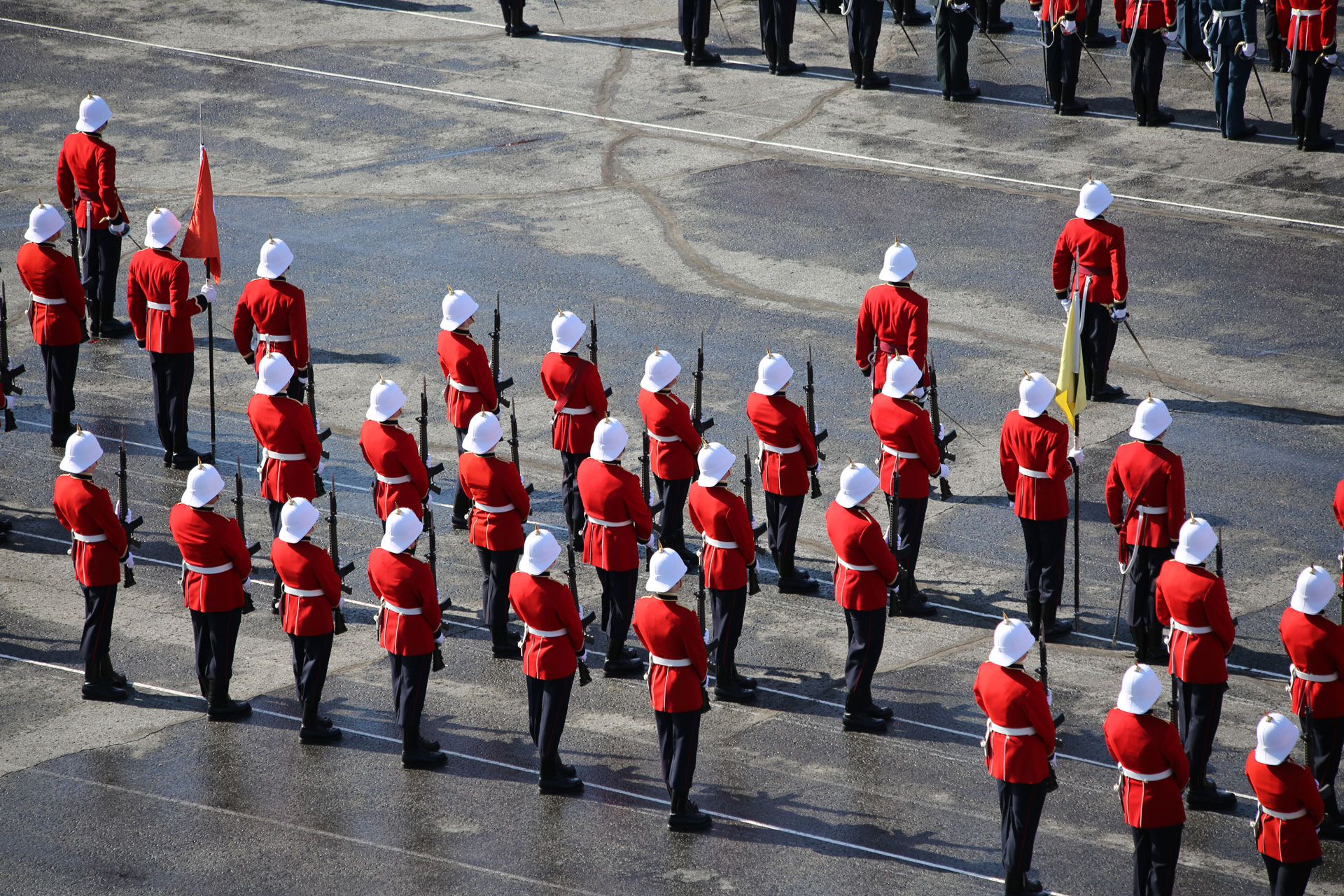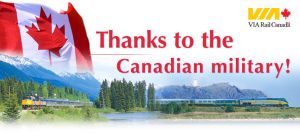 Via Rail Canada will honour Canada's current and former Canadian Forces personnel, with the Canadian Forces appreciation month offer, during the month of July. This offer will be available to current and former Canadian Forces personnel, and spouses of Canadian Forces deployed personnel. Appropriate identification or documentation is required in order to participate in this offer. A qualifying passenger may choose to travel free on via rail comfort class or select a 50 percent fare reduction on via 1 class or sleeper / totem class, subject to availability. A qualifying passenger may also book up to five immediate family members on the same trip, as well, and save 50 percent on their tickets. Qualifying passengers are required to purchase tickets at a via Rail ticket counter on / or prior to 15 June 2009 for travel during 1 – 31 July 2009 on via rail Canada's Canadian Forces appreciation month offer. http://www.viarail.ca/forces2009/en_conditions.html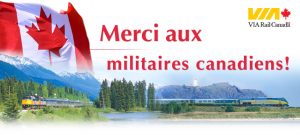 Via rail canada offre des tarifs réduits aux membres des forces Canadiennes en juillet. Via rail canada reconnaitra le personnel actif et retraite des Forces canadiennes en lui offrant des tarifs reduits dans le cadre du mois de reconnaissance des forces canadiennes au cours du mois de Juillet. Cette offre sera disponible au personnel actif et retraite des Forces canadiennes, et aux conjoints et conjointes des membres du Personnel des forces canadiennes en déploiement. Les passagers admissibles doivent présenter une preuve d`indenté ou les documents convenables pour beneficier de cette offre. Un passager admissible peut choisir de voyager gratuitement en classe confort ou réduire de 50 pour cent les frais en classe via 1 ou en classe voitures-lits / totem, sous réserve de la disponibilité. Un passager admissible peut aussi réserver le même voyage pour un maximum de cinq membres de sa famille immédiate et économiser 50 pour cent sur leurs billets. Un passager admissible doit acheter ses billets a un comptoir via Rail avant le 15 juin 2009 inclusivement pour un voyage effectue entre le 1 et le 31 juillet 2009 dans le cadre de l offre du mois de reconnaissance des forces canadiennes de via rail canada. http://www.viarail.ca/forces2009/fr_conditions.html
______________________________________________________________________________________________________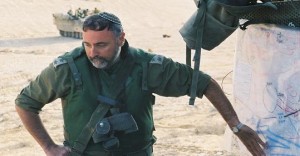 Col. Bentzi Gruber, a reserve officer in the Israeli Defence Forces (IDF), will speak at RMC's Massey Library Building, Room 7 on Thursday, May 7 at 1500 hrs on the ethical challenges facing IDF commanders.
Le colonel Bentzi Gruber, un officier de la réserve Israélienne (Israeli Defence Forces), vient discuter des défis éthiques qu'envisagent les commandants Israéliens. Sa présentation aura lieu dans la salle Massey 7, le jeudi 7 mai à 1500.Presented by IDF Colonel (res.) Ben-Tzion "Bentzi" Gruber
Written and produced by Col. Bentzi Gruber, "Ethics in the Field" is one man's personal initiative to show the world what goes on behind the scenes in the Israeli military's battle to ensure the country's security and prevent and eventually uproot Palestinian terrorism.
Combining classified IDF footage and well-organized statistics with riveting, sometimes humorous, but always enlightening personal narration, "Ethics in the Field" covers the dilemmas constantly facing IDF commanders in locating terrorists within a civilian population, the IDF's unique ethical code, and the effectiveness of the IDF's preventative efforts against terrorist attacks. The presentation ends with a few words about the motivation of these soldiers, both in regular and reserve forces, risking their lives to protect Israel.
Presentations now include new, exclusive footage from Operation Cast Lead, as well as personal accounts from the battlefield and insight into the painstaking decision-making process behind Israel's military policy.
Col. Gruber is currently Vice-Commander of an armored division, a position that followed other significant posts of command in the course of more than 20 years serving in the reserves; and this position within the army has given him access to and permission to present materials and information that is usually only seen by military or government officials, things the average Israeli, American, or even international journalist only hear about.
______________________________________________________________________________________________________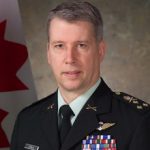 Aboriginal Awareness Week
As LGen Andrew Leslie, CMM, MSC, MSM, CD Chief of Land Staff, is the Champion for Aboriginals in National Defence, CLS is taking the lead in organizing Aboriginal Awareness Week events. In Fall 2004 to June 2005 LGen Andrew Leslie was a full-time PhD student at the Royal Military College in Kingston. The Aboriginal Awareness Week commemorates all aboriginal communities on their progress and achievements. Aboriginal awareness week, first introduced in 1992, is held on the four days that follow the Victoria Day long weekend. It was designed to increase awareness of aboriginal peoples among federal public service employees. For National Defence, it is a time to reflect upon the progress we have made to advance the aboriginal communities' equality in our workforce and to note some of the challenges that remain. This year's theme in National Defence is : 'Stand as One'
Semaine de sensibilisation aux cultures autochtones
Puisque le Lgen Andrew Leslie, CMM, MSC, MSM, CD Chef d'état-major de l'Armée de terre, est le champion de la cause des autochtones de la Défense nationale, le CEMAT dirigera l'organisation de ces événements. De l'automne de 2004 au mois de juin 2005, Lgen Andrew Leslie est étudiant au doctorat à temps plein au Collège militaire royal à Kingston. La Semaine de sensibilisation aux cultures autochtones rend hommage à toutes les communautés autochtones pour leur progrès et accomplissements. La présente constitue un appel pour des bénévoles, militaires et civils, qui aimeraient siéger au comité d'organisation. La Semaine de sensibilisation aux cultures autochtones, instaurée en 1992, se déroule pendant les quatre jours qui suivent la longue fin de semaine de la Fête de la Reine. Elle a pour objectif de mieux sensibiliser les employés de la fonction publique fédérale aux cultures des peuples autochtones. Pour le Ministère de la Défense nationale, il s'agit d'un temps de réflection sur le progrès que nous avons fait afin de faire progresser l'égalité des communautés autochtones au sein de notre main d'œuvre et de noter quels sont les défis qui perdurent. Le thème de cette année est : 'Soyons unis'
______________________________________________________________________________________________________
CF Retention Strategy – Reenrollment
As many of you are aware, the re-enrolment process for former Regular members was inefficient. In an attempt to rebuild and strengthen our forces, I am pleased to announce that the process to re-enrol has now been significantly streamlined effective 01 Apr 09. The regular force MPRR will be the main source used to determine rank and qualifications for individuals returning to regular force service. Rank, time in rank and years of service on release will be credited to the individual applying to re-enrol into the regular force. Former regular force members will be re-enrolled into the Regular Force at the substantive rank indicated on their regular force MPRR with their qualifying service used to determine pay and seniority levels. TOs will be offered on the basis of service requirement and Existing QR and O provisions. This is a very important change to current enrolment practices which I believe will go a long way towards reinforcing my commitment to former regular force members who possess skill sets that we
require.
Stratégie de rétention des FC – Réintégration
Comme bon nombre d`entre vous le savez, le processus pour réintégrer les anciens militaires à la force régulière était inefficace. Ayant pour objectif de reconstituer et d`énergiser nos Forces, j ai le plaisir d annoncer que le processus de réintégration a été simplifiée de façon notable à compter du 1er avril 09. Le sdpm de la force régulière servira comme principale source en vue de déterminer le grade et les qualifications des personnes qui réintègrent la force régulière. Le grade, l`ancienneté dans le grade et les années de service au moment de la libération seront inscrits au crédit des personnes qui demandent à réintégrer la force régulière. Cette information servira de base a l`offre de Réintégration du dcm. Les anciens militaires de la force régulière seront réintégrés dans la force régulière au grade inscrit dans leur sdpm de la force régulière et leur service admissible servira à déterminer leur solde et leur ancienneté. Les cs seront offertes en fonction des nécessites du service et des dispositions des actuelles orfc. Il s`agit ici d'un changement très important apporte aux actuelles pratiques d enrôlement qui, je crois, appuieront de beaucoup mon engagement envers les anciens militaires qui possèdent les ensembles de compétence qu`il nous faut.