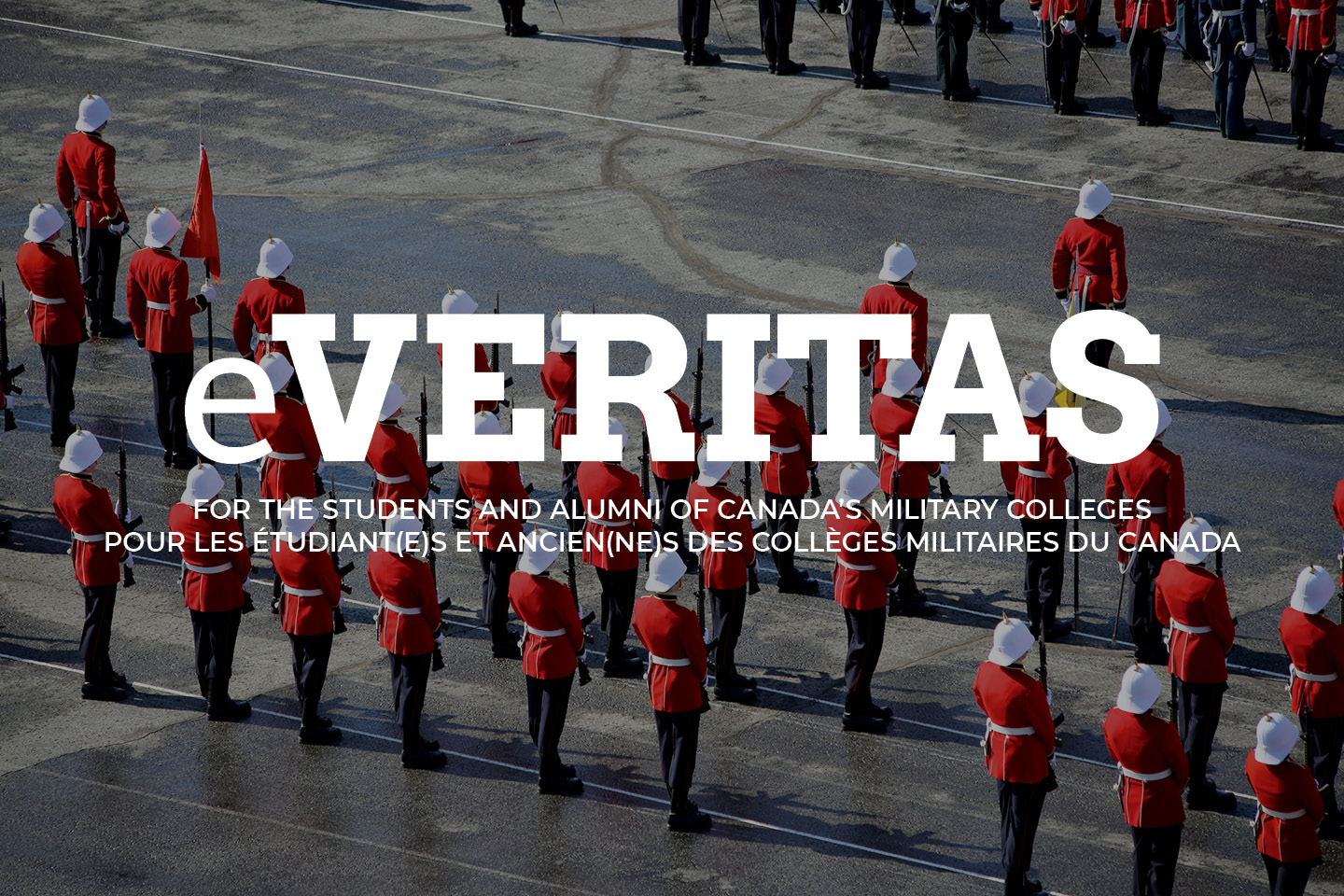 My Internship With the Privy Council Office
By (III) 26173 OCdt Emily Morgan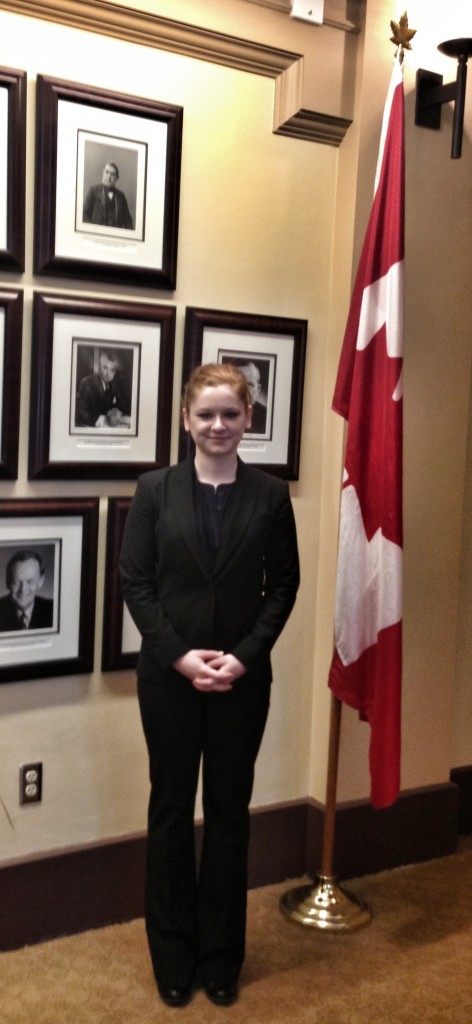 My name is OCdt Emily Morgan and I am the second cadet from the Royal Military College of Canada (RMCC) to receive an internship placement with agreement from Privy Council Office (PCO). I am currently in my third year of studies at RMCC and I am majoring in History and minoring in Political Sciences. I requested an internship with a Government of Canada agency whose security responsibilities include aspects of intelligence and security. Gaining this experience is valauble to gain a whole of government perspective. On graduation I will be commissioned as a military Intelligence Officer, and I will be able to build on this foundation.
15256 Mr. Jean-Philippe Caron, Executive Director, Security Operations for Security Operations at PCO is also the  Departmental Security Officer (DSO). Mr. Caron arranged for a special assignment to support Dr. Connie Delisle, management and operations of the Departmental Security Officer (DSO) Centre. The Centre was established formally in consultation with the DSO Commuity in June 2013 with view to collaboratively building. DSO Community of Practice inclusive of approx 120 fed depts and 60 small agencies and organizations.
I worked closely with RCMP Superintendent (ret) Tammy Smith to support direct outreach to the DSO Community. I have participated in review and providing recommendations for a security incident; attended Director General level meetings, focus groups and DSO meetings. Specifically, I participated in Operation INTERSECT (law enforcement and first reponders) to assist Supt. Smith in outreach activities such as coordinating Security Open Source Intelligence (OSINT) capability for the DSO community and working with the Security and Intelligence Library Community and DSO Community members to focus and formalize Critical Information Requirements.
I was also part of the Readiness Assurance team to collect observations during the March DSO Exercise, and have been working with MWO Mark West on the DSO Centre's to formaize the Readiness Assurance Program. My final project for PCO has been a case study of the DSO Community of Practice, focusing on the Defence cluster with the aim to provide Dr. Delisle and Mr. Caron with a diagnostic on the Centre's sustainability and formalization progress.
This internship has been an invaluable opportunity to gain work experience outside of RMCC and to learn ("what books don't tell you and people not working in academic areas don't know") directly about the role of security and intelligence within the various agencies of the Government of Canada. Being placed at PCO in particular has been an incredible experience, and has given me an insight and understanding of the Government of Canada security community that would have been difficult likely to obtain in a short period of time otherwise.
This internship program has also enabled me to combine academic theory and critical thinking skills with the practical, hands on decision making situations that are essential to manage everyday, as well as unique real-world, situations. This opportunity has provided me experience that cannot be duplicated in a class room. It has also been an excellent chance to network and to learn about the possible careers that exist within government in the fields of security and intelligence.
Having the opportunity to observe, and to participate in, both the military and civilian worlds of intelligence and security, while still at school, has been an invaluable and unique experience. It will help guide my future career ambitions and interests, especially since I am attending RMCC as a Reserve Officer in the Reserve Entry Training Plan (RETP).
I am very grateful for the opportunity to work and to learn through the internship, and I believe that there is no better way to supplement officer training and the fostering of young talent (and enthusiasm) within the Canadian security and intelligence community.
_________________________
Willing to learn – to be open-minded and creative
On the 11th and 12th of April, two Officer Cadets from the Royal Military College of Canada had the unique experience of attending the West Point Negotiations Project at the United States Military Academy at West Point, New York. The RMCC supervising officer for this project was Captain Sebastien Boucher M.Sc., M.A., CHRP – Lecturer with the Military Psychology and leadership Department.
The ongoing project is an endeavor undertaken by Major Neil Hollenbeck, an accomplished and experienced United States Army officer, and Jeff Weiss, professional negotiator, partner and co-founder at Vantage Partners, and professor of negotiations at West Point, to provide comprehensive and practical training in negotiations to incoming and junior officers in the U.S. Army. This project has also served clientele members of various agencies ranging from FBI Agents to Navy SEALS.
When most think of negotiations they think of the extremes: bartering at a flea market, or a teen convincing his parents to extend his curfew, or a high-stakes hostage situation or high profile business negotiations, a back of forth in concessions until the two parties meet in the middle. What many don't realize is that leadership itself is an exercise in negotiation, and our junior military leaders are increasingly being put in situations where they must influence human behaviour (often spanning huge cultural and linguistic barriers) without using the forceful tactics that make up the bulk of their training.
As war becomes less shock and awe and more hearts and minds, they way we change our frontline leaders must change too. Not only do they need to be capable of leading a platoon attack, they must also be able convince someone who has grown up thousands of kilometers from Canada with a totally different set of values that working in concert with Canadian efforts in their country is to their benefit. It was out of this need for negotiations skills that span borders and cultures that the West Point Negotiations Project was born.
Regardless of whether they grew up in a sleepy fishing community on the East coast of Canada, the busy streets of Toronto, or even a village compound in Panjwaii, everyone has interests. Through interactive theoretical lectures and practical exercises, the West Point Negotiations Project teaches attendees techniques to get to the heart of these interests, reconcile them with your own, and move forward together without making concessions or meeting in the middle. Attendees learn how employ communications skills, the importance of a good relationship, and also importantly, when to walk away and resort to alternatives.
If you are a leader or future leader in your field, then you will find the training offered by the Project invaluable. To be successful, attendees should be open-minded, willing to learn, and above all things, creative.
We really enjoyed the experience and we are looking at giving a short training session to our colleagues at RMCC in the Fall session.
Submitted by: OCdt Budnikas and OCdt Scott