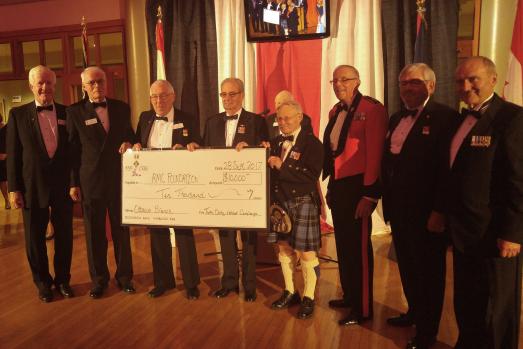 Over the years the Ottawa Branch of our Alumni Association has consistently supported the future officers of the Royal Military Colleges.  Individual members of the Branch have, over many years, demonstrated outstanding philanthropic leadership. In turn, the Branch itself has been an unwavering supporter of the Annual Legacy Dinner, each year sponsoring Cadet attendance and purchasing a table for Ottawa Branch members to attend.
Through the years the Ottawa Branch has directly supported multiple initiatives including the Birchall Cup, the Rowing Club, Danny McLeod Athletics, the Expedition Club and, largely, our Truth, Duty, Valour Fund (undesignated fund for donations), giving the Ottawa Branch a cumulative lifetime giving total of over $179,000!
Due to COVID restrictions 2022 was the first year since 2019 that the Ottawa Branch was able to hold their Annual Golf Tournament. ( https://everitas.rmcalumni.ca/another-successful-ottawa-branch-golf-tournament/) With the support of over 100 alumni and many generous sponsors (Canso Investment Counsel, CAE, Calian, Stoneworks (SWTI), Northern Micro, Palo Alto Networks, Orangutech, Maplesoft, Lansdowne and iTex/TIG.) the tournament raised over $16,000 for the Colleges.
At their November Branch luncheon, the members voted to increase their donation this year to $20,000 in support of the following projects:
RMC St. Jean Cadet Mess (St. Maurice Project) Fund
Expedition Club Fund
37th Annual Carr Harris Cup
Canadian Engineering Leadership Conference, and
Competitive Club Clothing
On behalf of the Board of Directors of the RMC Alumni Association, and the staff and students of the Royal Military Colleges, we would like to thank the Ottawa Branch for their continued support of the Future Leaders of Canada.
Jennifer Jordan
RMC Alumni Association
Fundraising & Marketing Manager