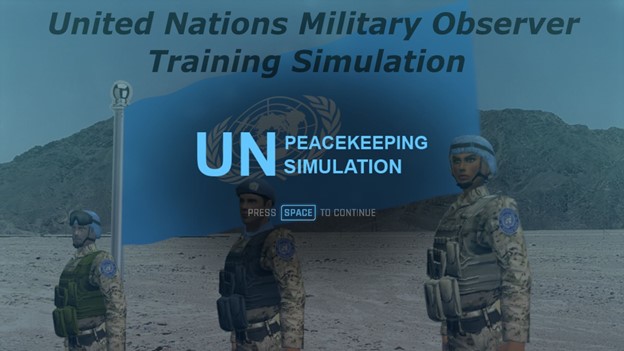 Article submitted by Dr. Walter Dorn, Professor of Defence Studies RMC, and Chair of the Department of Security and International Affairs CFC, with assistance from Ms. Erica Wilson, Executive Assistant to the Department of Defence Studies RMC. 
Video games to teach peacekeeping have arrived! The first peacekeeping simulation has been played in the Joint Command and Staff Programme (JCSP) at the Canadian Forces College.  It is soon to be used in RMC's War Studies Programme (WS508/608).
In the Peacekeeping Simulation "Investigating Atrocity" students find themselves in Naraland, where they must deal with a hostile guard at a bridge checkpoint, a shifty village chief, and traumatized villagers who give conflicting stories about an attack two days earlier. In this open world simulation, the player controls an avatar (a peacekeeper) in order to engage in dialogue and actions that promote peace and progress. The player must discover new evidence and try to solve some mysteries behind the attack. Students learn about UN missions and the many challenges of operating in war-zones while trying to be impartial investigators.
The simulation was designed and developed by Professor Walter Dorn (Department of Defence Studies at RMC and CFC). He is an operational professor who has served in UN missions and regularly visited them for over 20 years. Six years ago, during a sabbatical, he started exploring the new medium of digital simulation. He wanted to offer scenario-based learning to students in his courses on peace operations. To develop digital simulations, he created a team of a dozen researchers and developers who looked at UN operations and identified important lessons before gamifying them through the Unity Game Engine. A website is devoted to the project: https://www.peacekeepingsim.net.
The UN's Department of Peace Operations provided Dr. Dorn with a Table-top exercise (TTX) for the Naraland scenarios that his team used to create the first version of the Peacekeeping Simulation. The United Nations in New York and UN peacekeeping missions in the field are considering the use of Dorn's digital simulations for training, both pre-deployment and in-mission.
The RMC Alumni Association is providing funds to develop the simulation so it can be used in RMC courses (pending necessary authorizations).  In addition, the Collège Militaire Royale St Jean (CMR) has requested a module that deals with climate change and conflict. So, the same peacekeeping avatar must soon deal with flash floods and the problems of providing potable water to the local population living in a polluted water zone around internally displaced persons (IDP) camps.
The scope for exploring digital simulations is vast, with new modules envisioned that will deal with an impending attack on a village, where peacekeepers need to become peace enforcers in order to protect villages and prevent the attack. Future modules are also expected to deal with the difficult issues of sexual exploitation and abuse (SEA) and conflict-related sexual violence (CRSV).
As RMC and other institutions regularize hybrid teaching (virtual and in-person) in the pandemic-affected world, the use of digital simulations will take on extra utility. This efforts holds promise as a model for other digital simulations in many other areas of teaching and training.