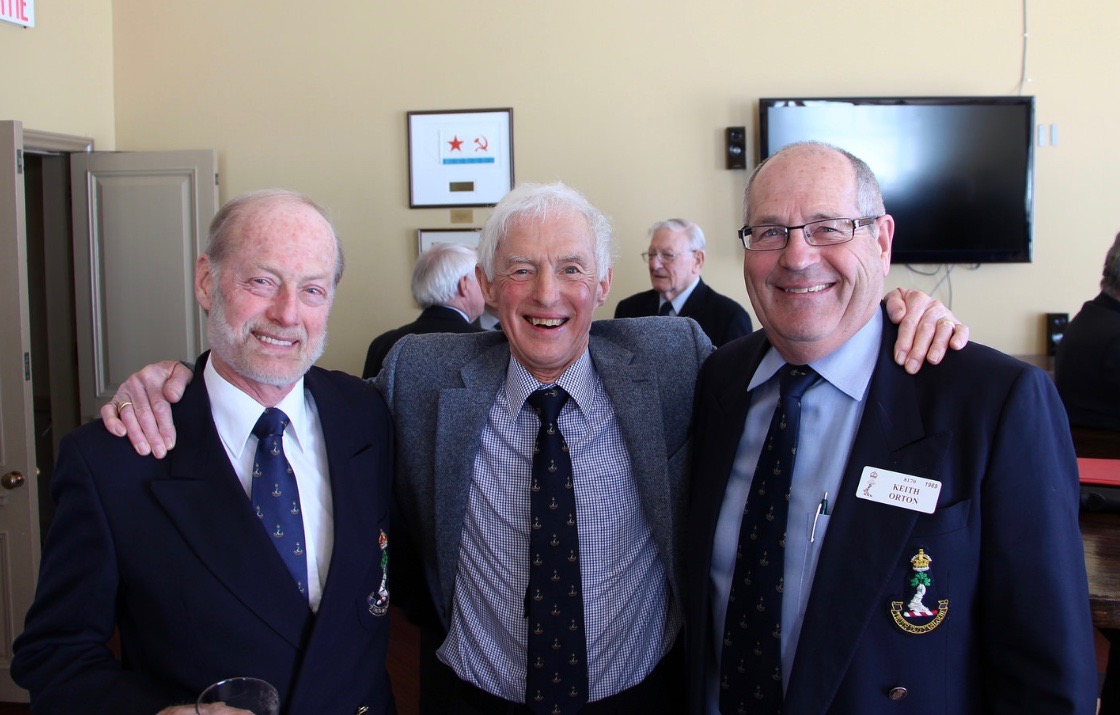 Branch Name:  Kingston Branch
President:  8170 Keith Orton, Class of 1969
Service Area: Eastern Ontario East/West from Cornwall to Trenton and North to Perth
Social Media:  Link to Facebook
My interest in the military started with my joining sea cadets at the age of fourteen. My father had served in the Royal Air Force in WW II and my grandfather had served in the British army in WW I. An uncle, who was instrumental in my joining sea cadets, served as the executive officer in HMCS Chippewa based in Winnipeg. I was fortunate to have been chosen as one of twenty-two cadets to serve aboard HMCS Saskatchewan (DDE 262) for a three-month cruise to the Far East in 1965 for the purpose of showing the new Canadian Flag.
I was accepted into Canadian Services College Royal Roads (my first choice), but due to poor eyesight had to change my preference from joining the navy to the army as an artillery officer. I graduated from RMC in 1969 with an Honours Economics and Commerce degree in 1969.
My service time was relatively short. I was posted to the Third Regiment Horse Artillery in Winnipeg, which was soon relocated to CFB Shilo where I had spent some time as a kid. Due to a lack of opportunity for promotion, I "retired" from the military after my obligatory term of service.
After leaving the military, I was accepted at Queen's University in Kingston. I graduated with an LLB, then decided to become a chartered accountant. I worked for a small manufacturing company before joining what would ultimately become Bombardier's rail group My career took me to England, the United States and Germany. I retired back in Canada in 2012 as VP Finance of one of their rail divisions.
My active involvement in the RMC Club started after retirement, although I had taken out a life membership years earlier. I also attended every five-year class reunion since graduation. After retirement, I started as the treasurer, taking over from Gwyn Griffith and became president three years ago.
The branch covers a wide geographic area of Eastern Ontario East/West from Cornwall to Trenton and North to Perth. Although we have over two hundred alumni on our membership list, only about twenty-five are active. Prior to COVID, we held monthly luncheons at the RMC Senior Staff Mess which usually featured a guest speaker. Other social activities include Spring and Fall "formal" dinners, a Valentines luncheon and a summer barbecue. Humanitarian activities have included Habitat for Humanity and donations to various charitable cause, the most recent being a large donation to Homes for Heroes.
Of course, we are always looking for new members and would welcome anyone interested in joining the Branch.
TDV
8170 Keith Orton