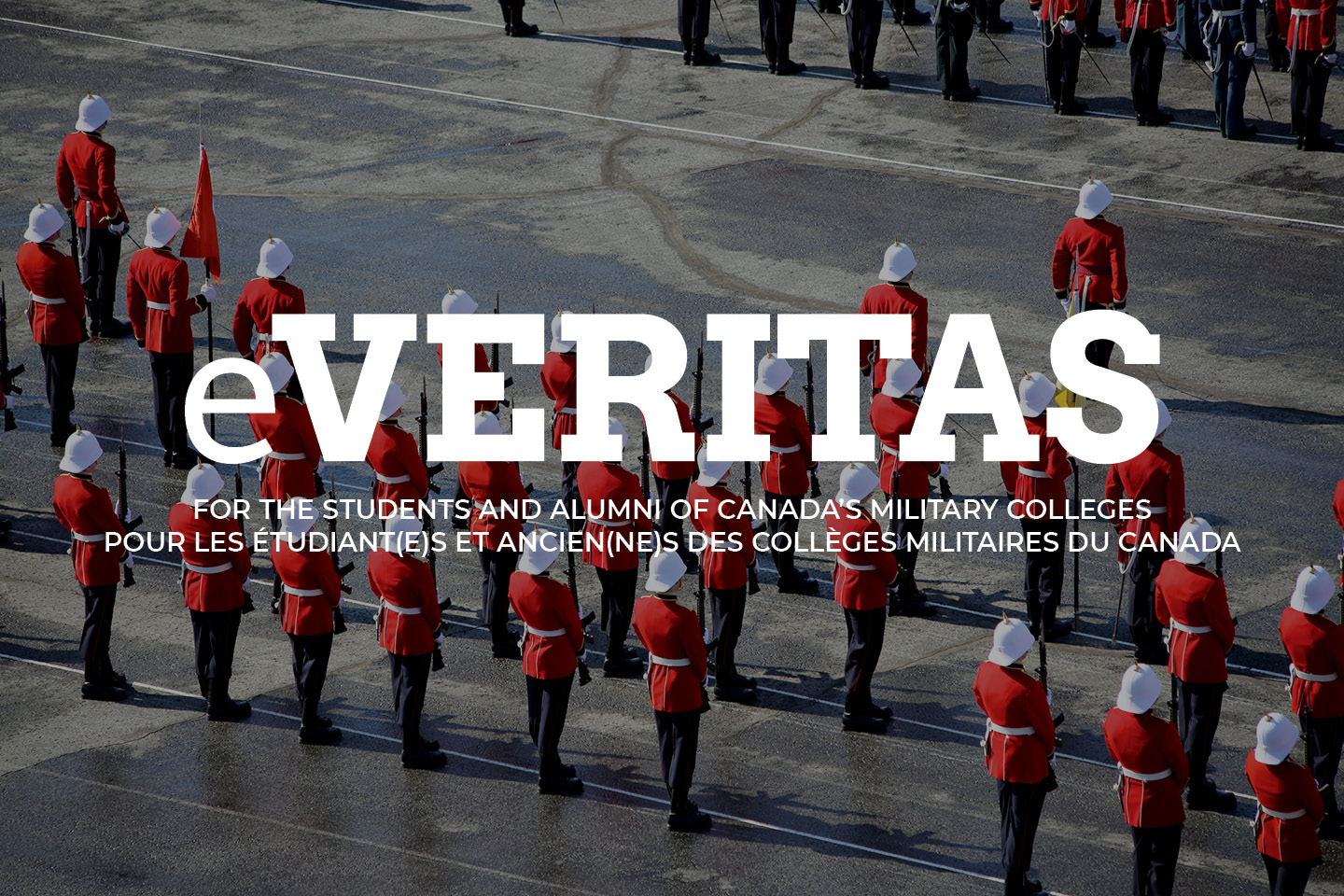 AVIS D'INTÉRÊT PUBLIC
EXERCICE MILITAIRE AU CENTRE DE LA NATURE DU MONT SAINT-HILAIRE
AIP – 12.33 31 janvier 2012
SAINT-JEAN-SUR-RICHELIEU, (Qué.) – Quelque 200 élèves-officiers du Collège militaire royal de Saint-Jean (CMR Saint-Jean), situé à Saint-Jean-sur-Richelieu, participeront à un exercice d'entraînement hivernal au Centre de la nature du Mont Saint-Hilaire le 18 février prochain.
Le but de cet exercice d'entraînement est de permettre aux élèves-officiers du CMR Saint-Jean de se familiariser aux opérations hivernales, ce qui est essentiel à leur développement comme futurs leaders au sein des Forces canadiennes. Les élèves-officiers participeront à une compétition d'équipe qui sollicitera le leadership, la forme physique, l'esprit d'équipe, la débrouillardise et le sens de l'orientation.
Les visiteurs du Centre de la nature du Mont Saint-Hilaire ne seront pas incommodés outre mesure et sont invités à observer les élèves-officiers. En cas de conditions météo extrêmes, l'exercice sera remis au 19 février.
PUBLIC SERVICE ANNOUNCEMENT
MILITARY EXERCISE AT THE MONT SAINT-HILAIRE NATURE CENTRE
PSA – 12.33 31 January 2012
SAINT-JEAN-SUR-RICHELIEU, Que. ─ Some 200 officer cadets from Royal Military College Saint-Jean (RMC Saint-Jean), located in Saint-Jean-sur-Richelieu, will participate in a winter training exercise at the Mont Saint-Hilaire Nature Centre on 18 February 2012.
The purpose of this training exercise is to allow RMC Saint-Jean officer cadets to become acquainted with winter operations, which is essential to their development as future leaders in the Canadian Forces. The officer cadets will participate in a friendly team competition which will challenge their leadership, fitness, team spirit, resourcefulness and orienteering skills.
Visitors at the Mont Saint-Hilaire Nature Centre will not be unduly disturbed by the exercise and are welcome to observe the officer cadets. In case of extreme weather conditions, the exercise will take place on 19 February.
 _________________________________________________

Team CMR Takes Gold in the Empire State
Article by NCdt Mladen Djekic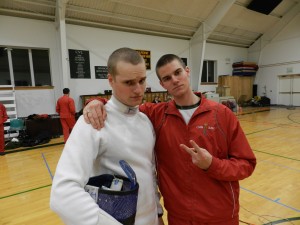 On January 28th, the RMC Saint-Jean Fencing team traveled to their third competition of the fencing season, and their first in upstate New York. 13 cadets, plus coach, took part in two consecutive tournaments in the small town of Westport, about two hours south of the US border. The first was a beginner's tournament; the second, an open tournament in which competitors from all across New England took part.
 By the end of the open tournament, the RMC Saint-Jean team had come out on top, as Officer Cadet Harrison Kelertas, an eight-year fencing veteran and former national competitor, won the gold medal with a 15-11 triumph over his opponent, achieving his second straight first-place finish at the competition. Also placing within the top eight of 27 were Officer Cadets Jeremy Gaulin, Johnathan Macnee and David Vanderleest.
 RMC Saint-Jean Fencing team is made up of 14 cadets and two coaches. They compete in four competitions each year – three in Vermont and one in New York. This was the third of four competitions; their next one will take place in Middlesburgh, Vermont, on March 4th, 2012. Having completed one tournament using the foil as their blade, and two with the épée, they will now switch to the usage of their final weapon, the sabre, and will undergo intensive training to prepare for their final competition on March 4th.
 _________________________________________________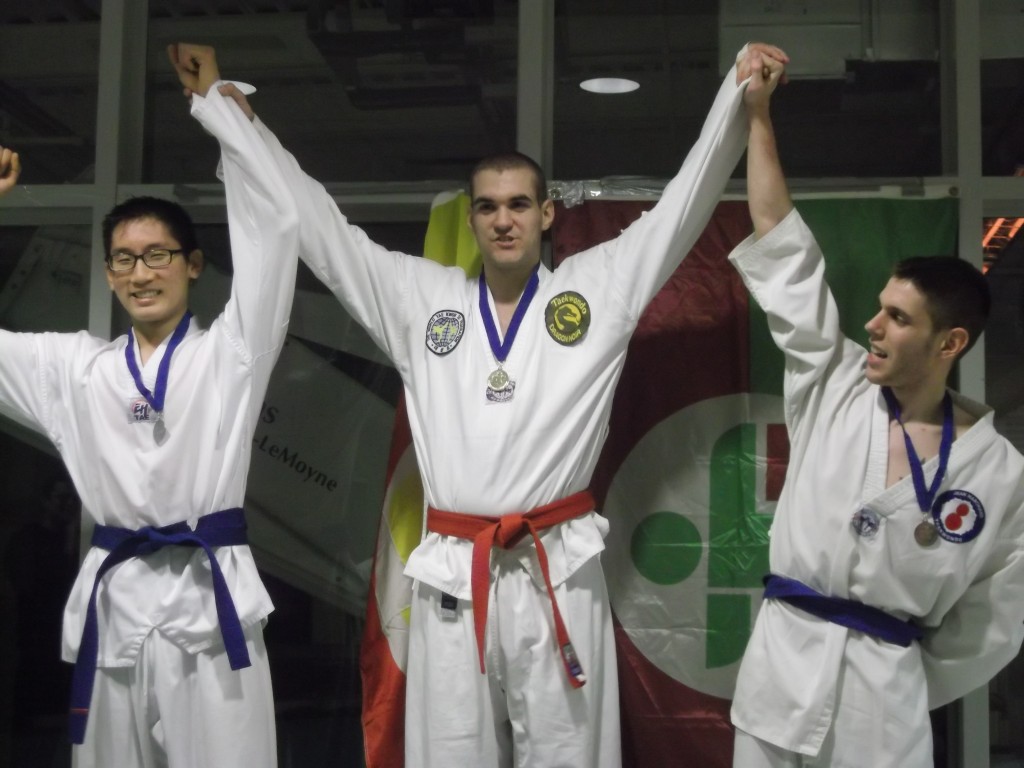 L'équipe de Taekwondo du CMR Saint-Jean aux Jeux du Québec
Un article de l'élève-officier Huard-Houle
Pour la deuxième fois cette année, l'équipe représentative de Taekwondo du Collège militaire royal de Saint-Jean délaissait la salle d'entraînement pour participer à la finale inter-régionale de taekwondo des jeux du Québec 2012. Cette compétition c'est déroulée le 28 janvier dernier et accueillait des gens des régions Rive-Sud de Montréal et Richelieu-Yamaska.
À la fin de cette journée, l'équipe rentrait au bercail avec 16 médailles, soit une pour chaque membre de l'équipe, incluant des 1re, des 2e et des 3e places. À souligner la performance du capitaine de l'équipe, Kim Hyun Jun, remportant la deuxième position dans la catégorie ceinture noir toutes catégories, poids et âges confondus. Également à souligner la performance du co-capitaine, Lee Min Hyung, qui s'est mérité la deuxième position catégorie ceinture rouge, 72 kg. La formation se fait donc une fois de plus remarquer à l'extérieur du Collège pour la qualité des athlètes qui la compose.
Entraînée par le Maître Darrell Hanegan, ex-champion du monde de taekwondo, cette équipe est formée de 18 élèves-officiers. Cette équipe fait partie du programme de sport du CMR Saint-Jean qui vise à développer la condition physique et l'esprit de corps de ses participants.
 _________________________________________________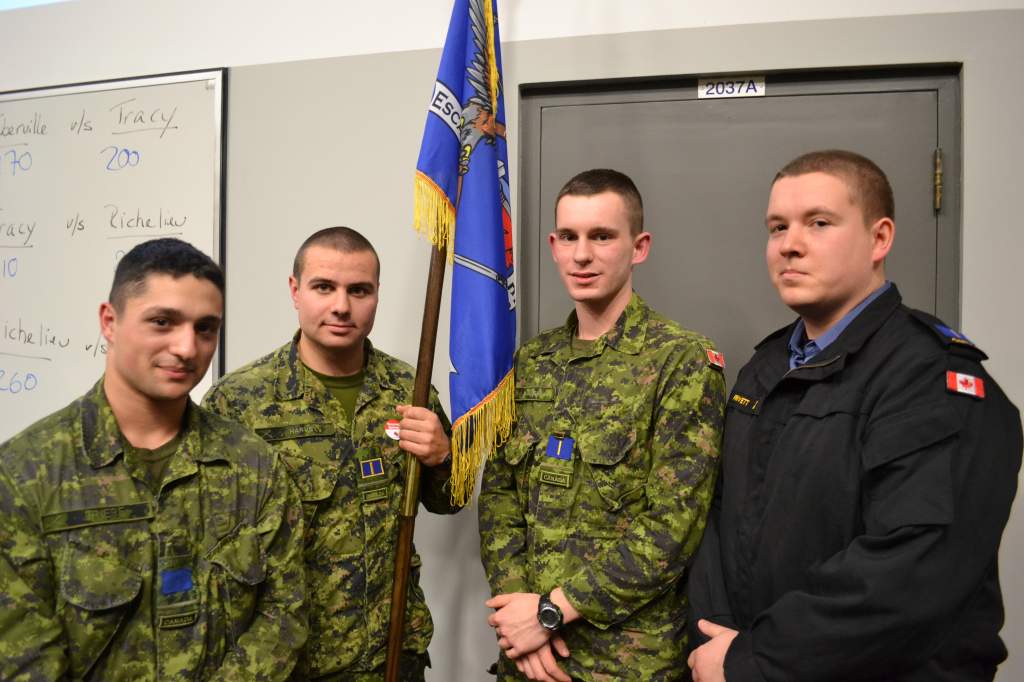 UNE SOIRÉE CULTURELLE DE TAILLE AU CMR SAINT-JEAN
Un article de l'Élève-officier Thouin 26065
Une fois de plus, les trois escadrons du Collège militaire royal Saint-Jean se sont affrontés dans un défi intellectuel qui risque de devenir officiel dès l'année prochaine. Ce défi, intitulé Génies en herbe, a eu lieu mercredi soir, 1ier février 2012 dans l'auditorium de l'édifice De Léry au CMR Saint-Jean. Il y avait quatre représentants par escadron pour cette compétition intellectuelle. Les élèves-officiers présents pour l'évènement ainsi que plusieurs membres du personnel du Collège ont eu la chance de voir à l'œuvre leurs représentants dans trois rencontres différentes.
La première joute opposait l'escadron Tracy à Iberville. Les honneurs de cette première partie sont allés du côté de l'équipe de Tracy. Par la suite, les spectateurs ont eu le droit à une victoire gagnée à la dure d'Iberville contre leur voisin de dortoir du bâtiment Cartier, c'est-à-dire l'escadron Richelieu. Finalement, pour la rencontre ultime, Richelieu était opposé à des rivaux de taille, l'escadron Tracy. Le camp des bleus qui est la couleur de l'escadron Richelieu se devait de remporter la partie et, de plus, il devait le faire avec un fort pointage. Question après questions, les représentants de Richelieu avaient réponse à tout. Ceux-ci ont remporté la partie, mais aussi la victoire face aux deux autres escadrons! Donc, l'équipe de l'escadron Richelieu composée des Élèves-officiers Harvey 26110, Mancini 26468, Privett 26403 et Brière 26741 ont terminé la soirée avec 490 points suivie d'Iberville avec 460 et de Tracy avec 310 points.
Organisée par Madame Anne Caumartin et Monsieur Alain Biage de la division des études, cette soirée fut un franc succès sur toute la ligne!
Layouts by NCdt (IV) Mike Shewfelt, 25366