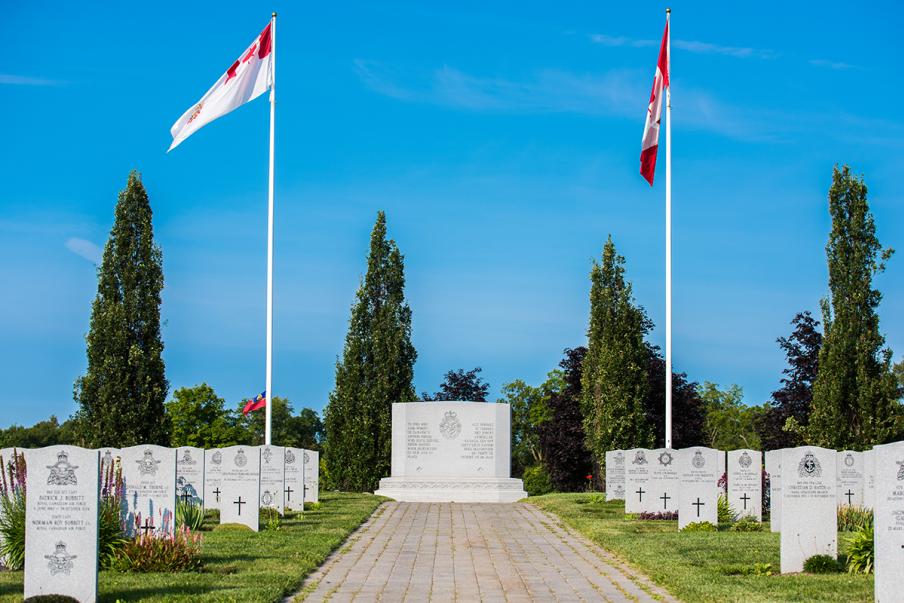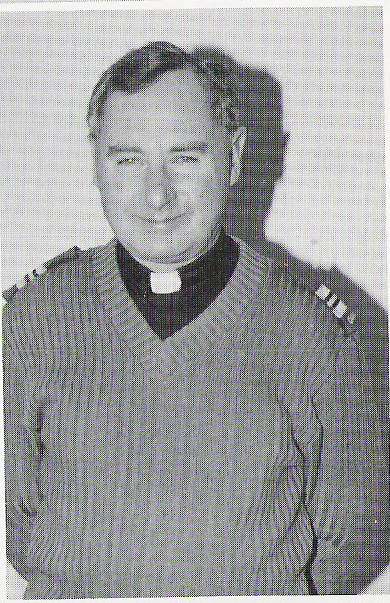 A Tribute to a Friend, Priest and Leader.
Co-authored by Merv Valadares, Dave Benoit and Pierre Marcoux
On Monday 29 July 2002, Major (Retired) Father Jacques Marcoux, former RC Chaplain at RMC from 1990-1996, passed away after a valiant fight with lung cancer. His funeral mass was held on Friday, 02 August in St-Charles Parish in Québec City. In attendance were twenty three different priests (4 of which were military) the Bishop of Sherbrooke and a large Church almost full of people who have been touched by this very charismatic and generous man. Graduates of RMC included five covering the period during which Father Marcoux had served at the College.
As an Honorary Graduate of the Classes of 93 and 94, I know that he touched many people in the college. His customary dinner invitations to his house (for some home cooked meals – of course we did all the cooking!), his generosity in lending his car to any cadet in need and his amazing ability to remember every student's first name impressed everyone.
I know also know that the Class of 94 had a special connection with Father Marcoux and he had a similar affection for this class. Father Marcoux always felt especially close to the Class of 94 as he considered that we entered the college on the same year. Although he wasn't actually part of any Squadron or Recruit Term, as I later came to find out, he was present (even when we didn't know he was around) at almost every minute during that six week period. He was very proud and felt very honoured to have been asked to be an Honorary graduate of the Class of 94.
His gentle nature, sense of humour and familiar face in the mess was known to all in the College and came to be appreciated by many of the cadets. He was a no-nonsense, inspired man whose quick wit and sharp mind were only outmatched by his love for life and for God. His lack of strict observance to bureaucracy or to be a slave to regulations, when solving problems usually landed him in the Director of Cadets' Office. However you could always be sure that the side of right was his and that he had the best interest of the person in mind and at heart.
His moral courage and physical courage never faltered no matter what the test. He was an excellent example of a Padre and Officer mixing compassion with the organizational goals. Through his actions he truly embodied the motto of "Leadership by Example" in all of his endeavours.
Any of us who have come to know Father Marcoux found a complex, interesting man who could be over looked to the causal observer but could not be ignored. God was in the foremost of all of his endeavours and he brought with him a sense of peace and quietness amid confusion and noise. All of us were able to take something from him and are better people for having had the pleasure of making his acquaintance. After his retirement, his sense of duty continued to help guide him as he went to Québec City to care for his elderly mother. During this time, he started to work within the Diocese of Québec City.
God has called Father Jacques home of which I know he will be eagerly welcomed into Heaven's gates. Indeed, our loss is Heaven's gain.
Rest in peace Jacques, you have done your duty well.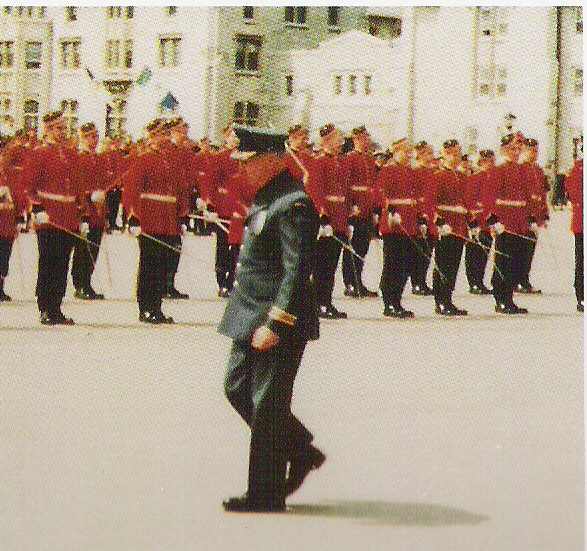 Hommage à un ami, un prêtre, un leader.
Par: Merv Valadares , Dave Benoit et Pierre Marcoux
Le lundi 29 juillet 2002, le Major (retraité) et Abbé Jacques Marcoux, aumônier catholique au RMC de 1990 à 1996 est décédé des suites d'un long et courageux combat contre le cancer. Ses funérailles furent célébrées le vendredi 2 août dernier à la paroisse St-Charles Garnier à Québec. Parmi ceux qui assistaient à la cérémonie, on dénombrait 28 prêtres, dont 4 militaires, l'évêque de Sherbrooke et une imposante foule de personnes ayant été touchées par la présence de cet homme charismatique doté d'une grande générosité. On comptait également des diplômés du RMC, dont 5 provenaient de la période où le Padre Marcoux a servi au collège, certains ayant eu la chance de le côtoyer de près dans le cadre de ses fonctions et de la vie de tous les jours au RMC.
En tant que diplômé honoraire des promotions de 93 et 94, je sais qu'il a touché plusieurs personnes au collège. Ces habituelles invitations à souper à son domicile (pour de délicieux repas maison que bien sûr nous préparions!!!), la générosité et la gentillesse avec lesquelles il consentait à prêter sa voiture à tout bon élève officier dans le besoin et son incroyable habileté à mémoriser les prénoms de tous les étudiants ont impressionné tous et chacun.
Je sais aussi que la promotion de 94 avait une relation spéciale avec le Padre Marcoux. En effet, il éprouvait une affection particulière envers cette promotion de qui il se sentait très proche car il joignit l'organisation du collège la même année, soit en 1990. Bien qu'il ne fut pas membre d'aucun escadron ou d'escadrille de recrues, je fus ultérieurement en mesure de constater qu'il était toujours présent (dans bien des cas à notre insu…) à presque tous les instants de la période de 6 semaines. Il était très fier et se sentait très honoré d'avoir été choisi comme diplômé honorifique de la classe de 1994.
Sa nature avenante, son sens de l'humour et sa présence familière au mess étaient connus de tous. Ses grandes qualités sont d'ailleurs devenues rapidement appréciées de plusieurs des élèves officier. Il était un homme de bon sens, doté d'une intelligence peu commune et dont l'esprit aiguisé était seulement transcendé par son amour profond de la vie et de Dieu. Lorsqu'il réglait des problèmes, son manque de stricte obéissance à la bureaucratie ou son refus d'être un esclave des règlements, lui valait habituellement une visite au bureau du directeur des élèves officier… Cependant, vous pouviez être assurés que ses actions étaient bien fondées, que l'intérêt de l'individu lui tenait à cœur, et que c'était là sa première préoccupation.
Son courage inébranlable, tant physique que moral, n'a jamais défailli peu importe les circonstances. Il était un excellent exemple d'aumônier et d'officier: un heureux mélange de compassion et de conduite envers l'atteinte des buts de l'organisation. Conformément à ses actes, il a vraiment fait sien l'adage "Leadership par l'exemple".
Ceux d'entre nous qui ont connu le Padre Marcoux ont trouvé un homme intéressant et complexe qui pouvait passer inaperçu, mais qui ne pouvait être ignoré. Dieu était à l'avant-plan de toutes ses actions, il amenait avec lui un sentiment de paix et de tranquillité où il y avait bruit et confusion. Chacun d'entre nous a eu l'occasion de retirer quelque chose de lui et nous sommes certainement devenus de meilleures personnes simplement par la chance d'avoir pu le côtoyer. Après sa retraite des FC, son sens du devoir l'a amené à Québec afin de prendre soin de sa mère très âgée. Pendant ce temps, il oeuvra aussi pour le Diocèse de Québec tout en menant plusieurs autres activités de front.
Dieu a appelé le Padre Marcoux à lui et il est évident que les portes du paradis lui ont été grandes ouvertes. En fait, notre perte est assurément un gain pour le paradis.
Repose en paix Padre, tu as bien fait ton devoir.