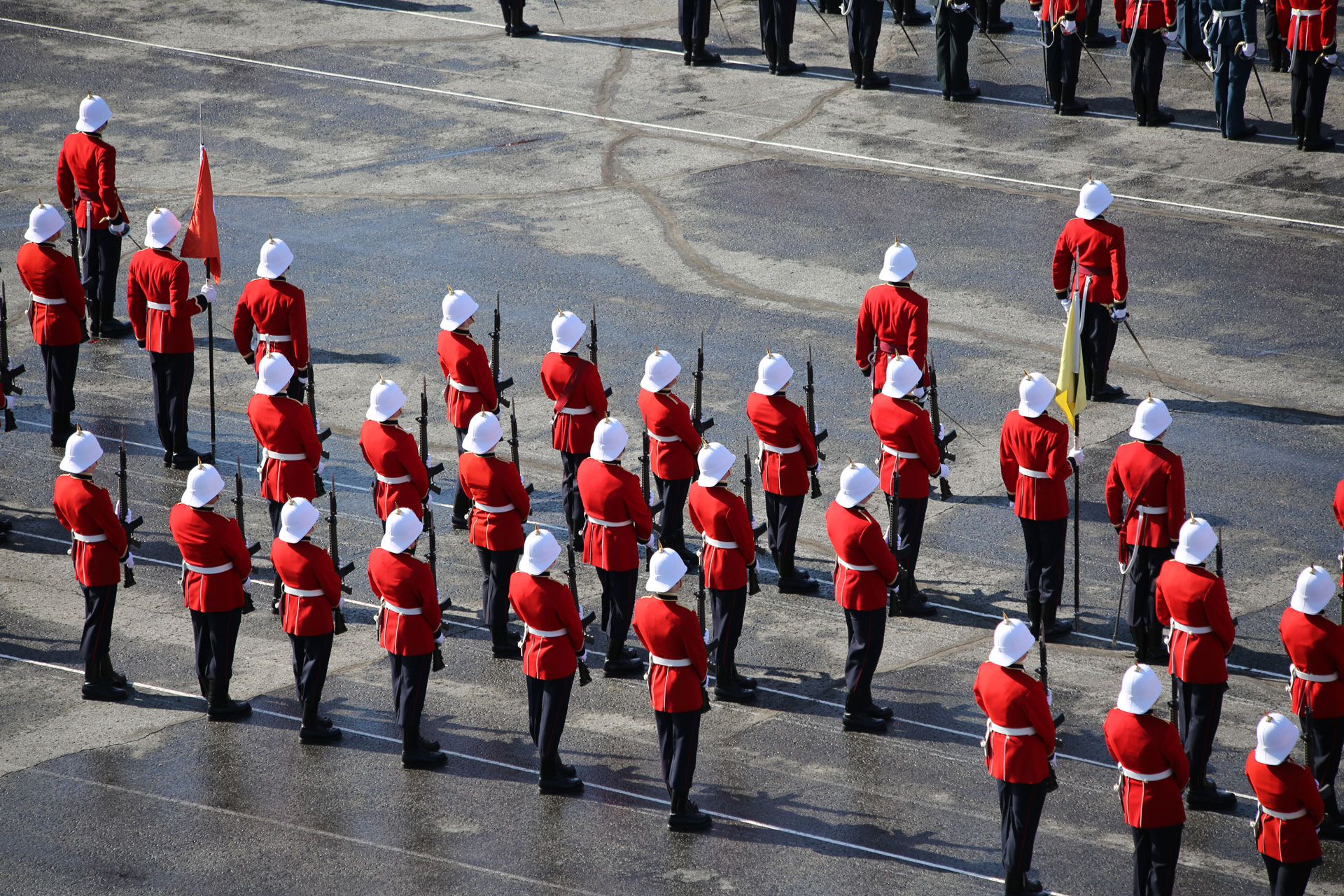 RMC Fencers Making a Mark at the International Level
Day III of the CISM France Training Camp at the Salle d'escrime Saint Cyr de Cöetquidan. The Canadian epee team is mixed with the French fencers for an afternoon exhibition team tournament. Canadian fencers are: from the left -4th fencer Cpl Jean Lelion -Montreal, 5th fencer Ocdt Liam Roach, 6th fencer Ocdt Andrew Sheahan (team photographer as well!) 7th fencer Cpl Hugues Boisvert-Simard -Valcartier, 8th fencer Ocdt Brendan Kilburn (last year's Tommy Smart male athlete of the Year) 9th fencer Ocdt Jacklyn Power (Cadet Wing Commander Fall 2008 and Varsity Women's Captain)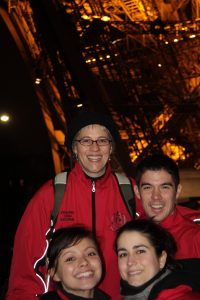 15566 Major Helga Grodzinski (RMC '86) the CISM Fencing Team Manager, Ocdt Eric Castallani men's foilist, Ocdt Michelle Guertin women's foilist, and 23022 Captain Marilyne Lafortune. This photo was taken at /le tour Eiffel/ on the final evening of the CISM France Training Camp.

23705 Ex-Cadet fencer Natalie Jones (RMC '06) (OUA Champion and OUA All Star) finished well at a North American Cup in Atlanta last weekend. After the first round of pools she was ranked 14/64. In Direct Elimination matches she won against USA fencers 15-8, 15-10, and 15-12. Her final loss was 11-15 placing her in the top 8 with a final placing of 7th/64 fencers.
Ocdt Michelle Guertin and Ocdt Jacklyn Power also competed at the NAC in Atlanta. This was their debut at North American Cups. Guertin finished 47th/110 fencers in Div III and Ocdt Power was 24th/82 after the first round but finished 33rd/84 by the end of the day.
The North American Cup (NAC) tournaments are a series of tournaments organized by the US Fencing Association. These tournaments give fencers from across the world the opportunity to fence each other in similar ability/age competitions.
NAC tournaments are open to foreign fencers who have an FIE license valid for the current season or can show proof of membership in another fencing federation, and who meet age/classification requirements for specific NAC tournaments.
RMC fencers, like ex cadets Marilyne Lafortune, Alex Prymack and Natalie Jones have been competing at North American Cups for about four years now. Usually the cadets competing at this high level of excellence are the athletes who are winning medals in the OUA league.
The reason RMC only send one or two athletes to these international events every year is because of the lack of funding. RMC funds mainly support OUA sanctioned events with a few exceptions.
To enable cadets to compete on the international stage, Coach Patricia Howes raises money through summer camps and her "Cutting Edge" program to help cover most of the costs for the athletes attending competition outside the OUA level of play. Ex-Cadets who compete at these events, of course, pay everything themselves because they want to be part of the CISM program.
The RMC Foundation helped out a few years ago, by providing some funding support for Marilyne Lafortune to attend a fencing training camp in Italy, and for Natalie Jones to compete at a World Cup in Budapest and a Grand Prix in London. Both were officer cadets at the time.
Asked how the RMC and CF program can be improved, Coach Howes replied, "CISM fencers need to be fencing at the national and NAC level consistently, as well as gaining greater international experience against European and South American fencers. This is why we took the CISM team to France for a training camp. We are working to raise the experience level and competitive level of the CF fencers as we build the CISM program."
There are approximately 20 members of the CISM Fencing program right now and the program is growing to fill out all 3 disciplines of foil, epee and sabre. Of this group 2/3 are either RMC fencers or RMC ex-cadets. 6 are ex-cadets, including Major Helga Grodzinski CISM Team Manager, and nine program athletes are RMC fencers who are medal winners in the OUA, several being recruited athletes to the RMC Fencing program.