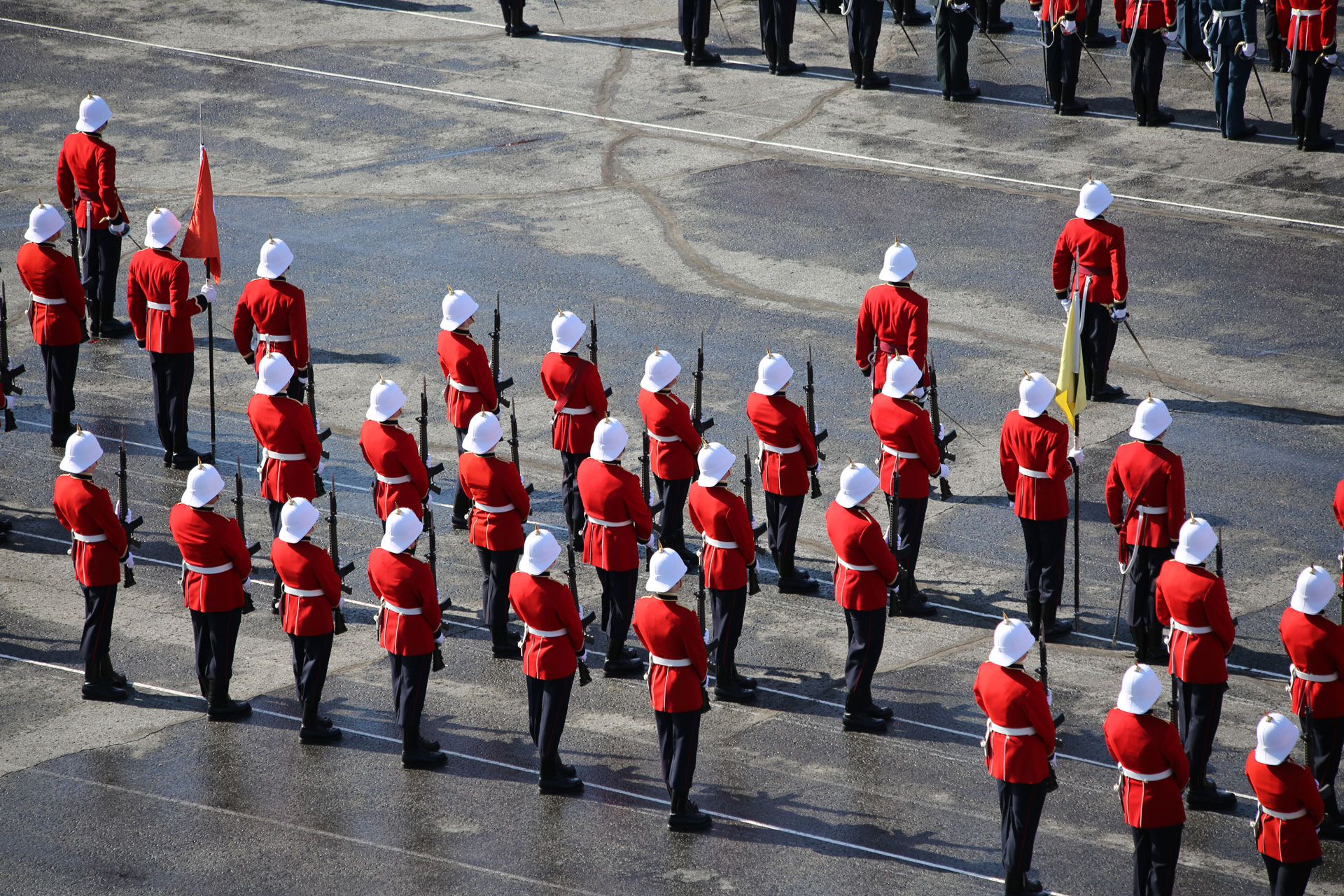 RMC Physical Fitness Strategy: Not only for Ocdts!
The aim of the directive — issued last week by BGen Tom Lawson —  is to outline the Commandant's direction with respect to the physical fitness of RMC military personnel.  It focuses specifically on staff and excludes civilian employees and Ocdts who fall under another series of instructions and regulations.  The text has been edited for publishing purposes.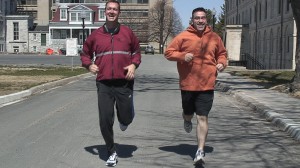 Maj Bruce MacLean, Chief Instructor and 20627  Deputy Director Cadet LCdr Hugo Laplante (RMC ? on a 10 KM run are typical of what most of the RMC military staff  are doing to maintain a high fitness level.

A high level of fitness is essential to the operational effectiveness of the CF.  Members are required to be physically fit and fully capable of performing general military, common defence and security duties, as well as being prepared to meet the demands of combat.
Leaders are accountable for the health and fitness of  their units, while individuals are responsible for their personal health and fitness levels.  To achieve these initiatives, I am committed to fostering a culture of fitness whereby all College military personnel are expected to include fitness-related activities in their work routine.
The RMC culture of fitness shall form part of an overarching lifestyle strategy that includes healthy eating, responsible use of alcohol and avoiding the use of tobacco products.  Fitness activities may include individual fitness programs, individual and team participation in sports day events and intersection sports, and the annual physical fitness evaluation.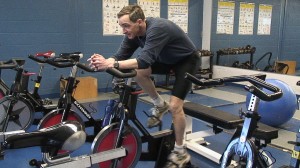 C Log O , 11947 LCdr Doug Poucher (RRMC  1978) biking up a sweat!  Doug is a former CISM X country runner  and an avid triathlete these days.

The coordination of all physical fitness training and activities for RMC military personnel is a leadership responsibility.  RMC military personnel shall not be excused from physical fitness evaluations and the CF EXPRES will function as the minimum standard for all personnel.  Administrative action will be taken if a member fails to meet the minimum standard or is not evaluated when required to do so.
I strongly encourage a culture of fitness in the same way as we pursue our mission.  By providing our military personnel with the time and support needed to participate in regularly scheduled fitness activities, we acknowledge the importance of fitness as a critical component to success in operations.
– 12192 BGen Tom Lawson (RMC 1979) – RMCC Commandant\
______________________________________________________________________________________________________
IM All-Star Games: The Start of a New Tradition?
Article by 24629 Chirag Joshi
First appeared in Precision, RMCC Journal
For the first time ever, intramural All-Star Games were held at RMC on the 31st of March, 2009. All 13 squadrons were represented in the sports of Basketball, Ball Hockey, Waterpolo, and Dodgeball, as the top players from the IM winter 09 season came together to compete one last time before the final push towards the last day of classes. Each league's most valuable player was given the responsibility of being an All-star team captain along with one of the other participants. Once the second captain was selected, teams were divided according to "old-school" street rules. The Cadet Squadron Sports Officers (CSSO's), who had been in charge of each of the particular leagues, were on hand to insure that all games ran smoothly.
At first glance, one could notice the elevated level of play at each venue due to the faster, more intense games taking place. Basketball went down to the very last second and resulted in the two teams being separated by only 2 points at the final whistle. Following the game, a slam dunk competition was co-ordinated to give the players a chance to show off their skills in a fantastic manner. Similarly, the competitiveness and skill level during the All-star ball hockey game was fun to watch as it was also intense and very close. In the end, the players decided that a shootout was an appropriate way to close the book for good on this year's IM season, and the goalies were more than happy to oblige with some great saves and solid play on the back end. The waterpolo and dodgeball games were also very interesting to watch, and despite all participants showing their competitive sides, one couldn't help but notice the fun atmosphere surrounding the All-star experiment. One of the dodgeball all-Star players later commented, "I've never had a dodgeball hit me so hard before", while one of the waterpolo players got people laughing in the pool when he attempted the ol' switcheroo play by changing cap colours to try and gain an advantage.
Overall, the first ever All-Star games were a big success and garnered positive feedback from all involved. The IM staff, with the help of each term's CWIMO and CSSOs, hopes to insure that this initiative continues on and becomes one of the newest traditions at RMC.