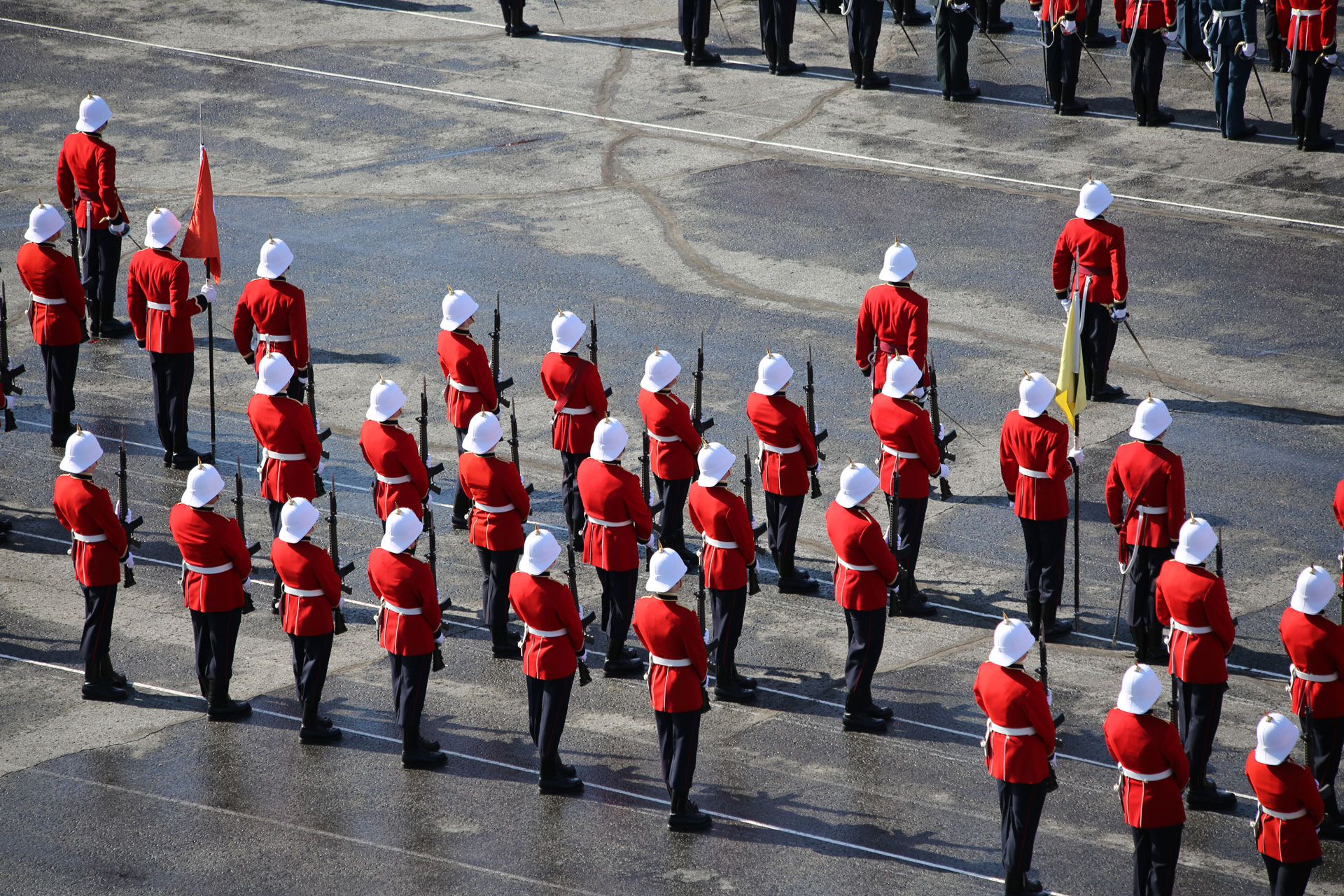 Sandhurst Competition
"To provide the Corps of Cadets with a challenging and rewarding inter-company military skills competition, which will enhance leadership qualities, professional development and military excellence in selected military skills."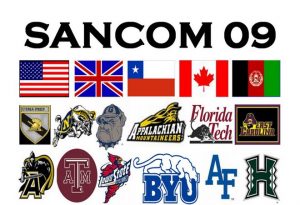 RMC earns 4th win in five years!
RMC bettered 47 other teams from the United States and abroad. West Point fielded 32 of them; along with the defending champions and 2008, 2nd place finishers – both teams from the Royal Military Academy Sandhurst .
Afghanistan, Chile, West Point prep school, Air Force Academy, Naval Academy, and Coast Guard Academy were all well represented.
Eight Reserve Officers' Training Corps (ROTC) squads divided amongst two regions in the U.S.: eastern and western rounded out the field.
The eastern region was represented by East Carolina University, Appalachian State, Florida Tech and Georgetown.
Hawaii, Iowa, Texas A&M and BYU competed for the western region.
RMC has participated in the Sandhurst competition since 1997. At first glance, winning the Sandhurst competition may come as little surprise. After all, it's Team RMC's 4th win over the past five years. However, nothing could be farther from reality. From the coaching staff and all the competitors it is an eight month grind. Arguably, the toughest and most challenging combination mental / physical competition any of the Officer Cadets have experienced in their lives.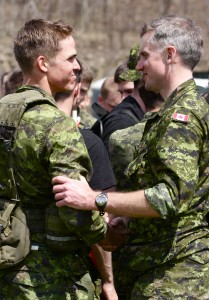 Director of Cadets, LCol Tony O'Keeffe (pictured above – right) likely sums it up best: "I think that this year's success was due to a lot of little things coming together, and the attention paid to details. There is plenty of credit to go around; however, 22853 Capt Issac Goldberg (RMC 2004) has played a prominent role in RMC's success. He coached them as one would coach high performance athletes. He did all of the little things right, he respected the principles of periodized training, and balanced hard training with quality rest and proper nutrition."
Tony O'Keeffe, a world class ultra marathoner in his own right, and a Canadian Forces Hall of Fame member, knows what he is talking about when it comes to competing. He added, "…The results allowed RMC to field a healthy, well trained, confident team whose focus was to submit personal "best efforts". They knew that by focusing on what they could control, ie: best efforts, the results would take care of themselves…"
He concluded with, "Capt Goldberg and Capt Nathan Price provided high quality coaching and mentoring to cadets that is consistent with their performances as Squadron Commanders. The RMC supporters who made the trip to West Point were superb in their energies and enthusiasm. I am proud of RMC."
As an aside, the first year, DCdt cycled from Syracuse to West Point on Thursday, to do some training in the hills. "My plan was to ride back on Sunday but I broke my chain, and so I am traveling back by van."
We expect the Sandhurst competition site to be updated very soon which will have a complete recap of the final results / standings.
The reaction at RMC …
"Like all members of the Royal Military College of Canada, this morning I bask in the reflected glow of our team's result in the Sandhurst competition. Though there will always be some element of luck in these events, the fact that the RMC team put in so much effort in the preceding months meant that they were very well prepared for whatever came their way, and once again they stand at the top of the mountain. I couldn't be more proud of the team members and coaches."
BGen TJ Lawson, Commandant – Royal Military College of Canada
"Ocdt Le Bouthillier did a fantastic job with his team; his outstanding performance during the competition was the catalyst for the win. During the first obstacle, each team was presented with a time/distance/speed challenge, which our cadets negotiated to perfection.
Each team had to cross a series of 45-gallon barrels using planks of wood of varying length, and purposely designed to be too short on their own to bridge the gaps. With the clock winding down and "Le Boot" as RMC's last man, he took a huge risk and, displaying ninja-like reflexes, successfully leapt from one obstacle to another, beating the clock and executing a perfect, unpenalized run for the team. RMC was one of the only teams to do so. That was the galvanizing moment for the team.
"From then on, each of them showed remarkable courage and superb fitness. They had the audacity to capture an orienteering point set on land but visible from the water, while executing the water/boat obstacle. This bold move required a diversion from the established course and cost them a few extra minutes on the water, but it saved them almost 20 minutes of bushwhacking later, to achieve the same result. This year's course designer, Col Haskins, made it clear that the course would be a "thinking persons" course. RMC cadets met the challenge by thinking "outside of the box."
LCol Tony O'Keeffe, Director of Cadets
"So happy for the cadets, hundreds of hours of training finally paying off. Letting everyone else know that we have the fittest and brightest cadets was pretty amazing as well"
22702 Nathan Price – Member of coaching staff & 1 Squadron Commander
"This year's competition was much more challenging for the experienced team from RMC. It was extremely physical as usual but there was also a huge thinking side that allowed RMC to win the event. The new competition had enough room for decision making that would affect the outcome and that is what allowed RMC to do a few daring moves that paid off. For a veteran like myself who lost the sword to the Brits in 2008, taking it back as the team captain was the culmination of three years of hard work representing RMC on the international scene. The hard training and dedication of my team was all worth it when we stepped on the podium to collect the title."
24174 IV Jean Le Bouthillier- 2009 Team Captain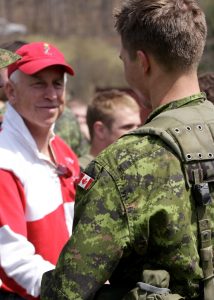 RMC Club Executive Director, S150 Peter Dawe congratulating one of the RMC particpants at the conclusion of the 2009 Sandhurst competition.  Peter has been a long time follower of the Sandhurst competition and has attended many of them over the past ten years or so.  See his comments below.
Two photos courtesy of 25490 Andrew Sheahan.