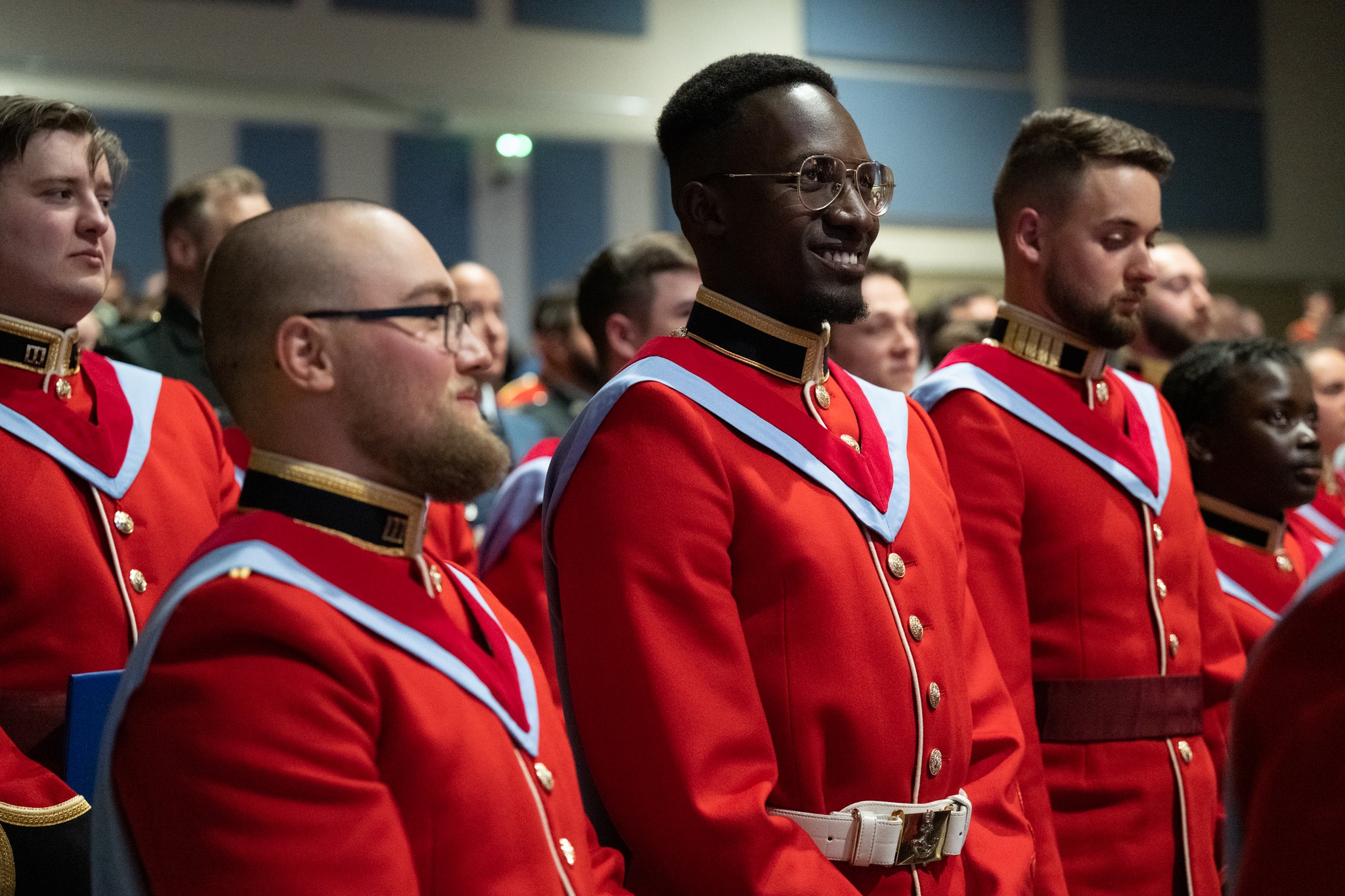 𝐂𝐨𝐥𝐥𝐚𝐭𝐢𝐨𝐧 𝐝𝐞𝐬 𝐠𝐫𝐚𝐝𝐞𝐬 𝟐𝟎𝟐𝟑/𝐂𝐨𝐧𝐯𝐨𝐜𝐚𝐭𝐢𝐨𝐧 𝟐𝟎𝟐𝟑
Félicitations aux nouveaux diplômés!
Congratulations to the new graduates!
Les photos des Cérémonies de fin d'année sont finalement disponibles en ligne!  Visitez les galeries sur notre page Flickr.
𝐏𝐚𝐫𝐚𝐝𝐞 𝐝𝐞 𝐟𝐢𝐧 𝐝'𝐚𝐧𝐧𝐞́𝐞 𝟐𝟎𝟐𝟑/𝐄𝐧𝐝 𝐨𝐟 𝐘𝐞𝐚𝐫 𝐏𝐚𝐫𝐚𝐝𝐞 𝟐𝟎𝟐𝟑
Félicitations aux aspirants de marine et élèves-officiers! Soulignons au passage les officiers de la classe 2023 qui ont obtenu leur commission d'officier, ceux et celles qui ont reçu des prix, mais aussi ceux qui ont complété leur cheminement au CMR Saint-Jean.
Congratulations naval cadets and officer cadets! We would like to mention the officers of the Class 2023 who obtained their commission, those who received awards, but also those who completed their training at RMC Saint-Jean. Would you like to watch the parade? Visit:
https://www.youtube.com/watch?v=6H2jVnDUPF0
Élof        Guillaume Jacques Dominique Bastien                    St-Césaire, Québec
Élof        Marc-Antoine Laurent Tristan Boucher                    Chicoutimi, Québec
Élof        Félix Paul Daigle                                                                Québec, Québec
Élof        Ludovic Forget-Roy                                                         Lévis, Québec
OCdt      Hussam Hamid                                                                  Hamilton, Ontario
Élof        Nadège Harvey                                                                  St-Denis-sur-Richelieu, Québec
Élof        Charles Joncas Roy                                                          Baie-Comeau, Québec
Élof        Calèb Kouamé                                                                   Marieville, Québec
Élof        Jeremy Labbé                                                                     Halifax, Nouvelle Écosse
Élof        Marie-Olphise Labité                                                       Québec, Québec
Aspm    Mélanie Fay-Yien Mallet                                                 Laval, Québec
Élof        Pénélope Milliner                                                             Montréal, Québec
Élof        Vandy Prakongkham                                                       Gatineau, Québec
OCdt      Athena Lourdes Pucovsky                                             Vancouver, British Columbia
Élof        Zacary Robichaud                                                             Montréal, Québec
OCdt      Daniel Sung-Hui Shin                                                       Montréal, Québec
Élof        Philippe Thérien                                                                Sherbrooke, Québec
OCdt      Michael Marcus Trenter Jacob                                     Wingham, Ontario
Élof        Laurier Valcourt                                                                Granby, Québec
Élof        Louis-Philippe Vallée                                                       Laval, Québec
Élof        Sara Wauthier                                                                    Chicoutimi, Québec