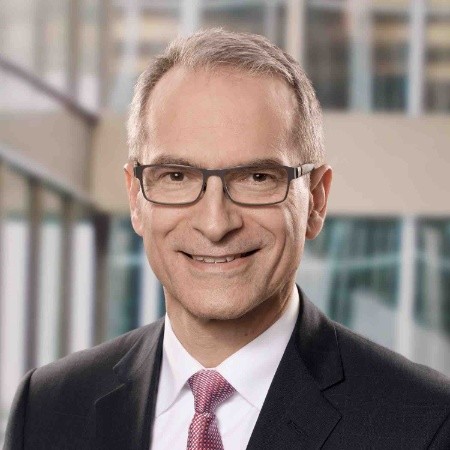 We sat down with 16454 René Lafrance, RMC Class of 1988, Treasurer Designate RMC Alumni Association, and Senior Director Financial Operations with the Bank of Canada, to see where life has taken him since his graduation.
What made you want to attend Military College?
I was born and raised in Quebec City, the site of the famous Battle of the Plains of Abraham and the home of the "Royal 22e Régiment". As an ambitious high school student, I wanted to earn a university degree, learn English and live in another city.
During a career orientation class, a Canadian Armed Forces (CAF) officer from the recruiting centre was invited to speak about the CAF and the Canadian military colleges (CMC). I remember the officer saying "… we pay for your education and give you a salary while studying, you learn English, you'll make new friends, and we give you a job when you graduate…". This resonated with me so much so that when the recruiting centre organized a tour of the Collège militaire royal (CMR) St-Jean, I quickly raised my hand to attend. The evening I returned home from this visit, I told my parents of my plan to enroll in the CAF and study at the Royal Military College (RMC) in Kingston (at that time, the window to enroll for CMR St-Jean had passed…).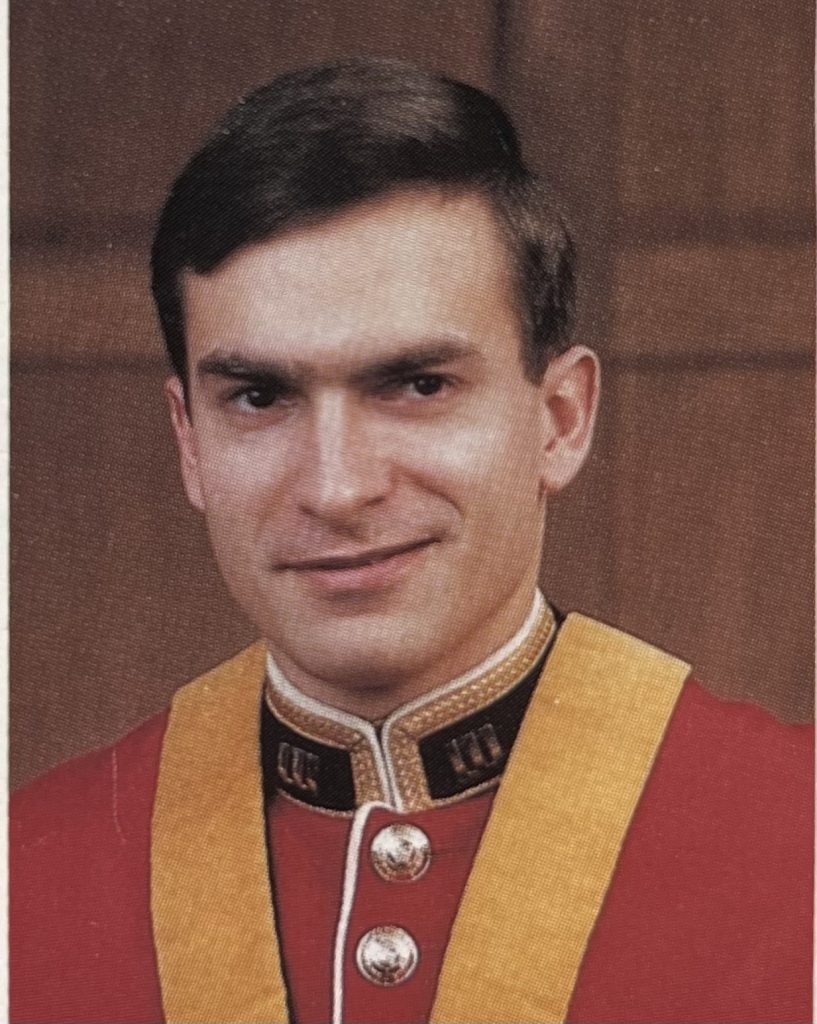 After working as a Signal Officer, you had several management and senior management positions at various companies and organizations. Do any of them stand out to you as being especially rewarding?
After leaving the CAF following a short posting as a Signal Officer at the National Defense Head Quarters, I pursued a project management career in the private sector where I worked on several interesting and rewarding defense projects such as the Tactical Command, Control and Communication System (TCCCS) program, NORAD's Region/Sector Air Operations Centers modernization and the CF-18 International Follow-On Structural Test (IFOST) Program.
In the late 1990's, I embarked on a 12-year journey in the telecom sector. I lived the growth and burst of the "dot.com" bubble of the early 2000s. Through this decade, the telecom industry faced enormous financial pressures and experienced massive layoffs. This is when I realized the importance for a leader to be resilient and to keep their employees focused on performing their work (skills I learned during my time at RMC and the CAF). Also, the company I worked for at the time went through a downward spiral of multiple financial restatements. The perfect storm. An organization may produce the best products in the market, but if its finances are not in order and not under control, it is doomed to fail.  This opened my eyes on the importance of sound corporate financial health, and I decided to revector my career (again) and pursue my accounting certification. Shortly after obtaining my Certified Management Accounting designation (now Chartered Professional Accountant) in 2010, I joined the Bank of Canada where I have occupied various senior leadership roles in banking operations, information technology and financial operations.
Going back to your question. I consider all of my leadership roles as rewarding. Before joining the Canadian Armed Forces, my leadership "toolbox" was almost empty. The training I received at RMC gave me a great starting point in my career, and each of my subsequent leadership roles added to my leadership experience. Actually, this variety of leadership experiences increased my breath of knowledge and positively impacted my career.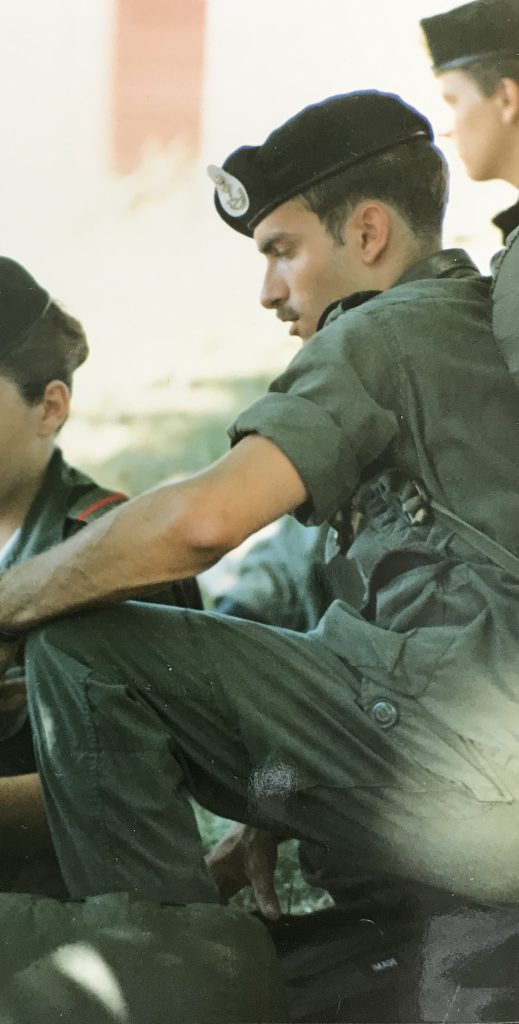 With 35 years of leadership experience, what does being a leader mean to you?
This is an interesting question. Being a leader means different things to different people. There is a plethora of theories, books, and courses that attempt to describe a leader in a single, simple definition. There's no single definition.
I had the opportunity to work for (and with) many leaders through my career. Each had different styles and different approaches to leading people. Some approaches were successful, others not so. During my leadership career, I learned a great deal from each of these leaders, even from those whose approaches, in my opinion, missed the mark… These experiences have shaped the type of leader I am today.
For me, a leader is someone who builds healthy working environments and brings the best from their employees through coaching, feedback and by providing them the tools and experiences that enable them to make their own decisions and grow successfully in their careers.
When I mentor leaders or aspiring leaders, I often say that as leaders progress in roles of increasing responsibility, they need to focus less on being the subject matter experts, and more on leading those who have that expertise. When an employee or leader comes to me looking for solutions to their problems, rather than telling them what to do, I help them find their own solutions.
Tell us about the work that you do on the Board of Directors for the RMC Alumni Association, and what made you want to join the Board.
Although my military career was short, I stayed connected to the community. I am supporting and volunteering for charitable organizations that support CAF military personnel and veterans, and mental health in general.
The four years I spent at RMC gave me the leadership skills, discipline, and resilience that continue to carry me through my professional career and personal life. RMC taught me the importance of collaboration in all aspects of life and also created friendships that stand the test of time.
I have been supporting the RMC Alumni Association (and formally the RMC Foundation) for many years and more recently, by volunteering as the treasurer of the RMC Class of 1988 Accumulating Fund, which supports inclusion and diversity of under-represented communities, and promotes reconciliation with Indigenous people.
I joined the RMC Alumni Association Board of Directors in the fall of 2022 after the association posted a call for nominations. As a director of the board and treasurer designate, I am very honored to have the opportunity to give back to an institution that has been instrumental in shaping the leader I am today.
Is there anything you would like to say to the RMC Kingston/CMR Saint-Jean classes of 2023?
To finish on a lighter note, here are my top key messages to the Class of 2023:
Learn from your mistakes – The CMC prepared you well for a career as a leader. You will make some decisions (or mistakes) that you may not be proud of. Learn from them and move on. These events will make you even greater leaders.
Stay physically and mentally fit – Life will throw you curve balls. Taking care of your physical and mental health will help you tackle life challenges. Continue the fitness discipline you acquired at the CMC.
Find a mentor, and be a mentor – Mentorship is a great learning tool. A good mentor will listen and act as a great soundboard when you experience challenges in your career or when you just want to grow your leadership. Even better, carve out some time to mentor other leaders. This is a very rewarding experience. You will also learn from mentoring others.
Strive to be bilingual (French/English) – Communicating in both Canadian official languages opens doors to new opportunities. Also, people you lead will appreciate that you can communicate with them in the official language of their choice.
Support each other – Long lasting camaraderie is unique to the CMC and the CAF. You will realize soon enough that your classmates will become an important part of your support system whether you pursue a military or civilian career.
Treat everyone with respect – Build working environments that promote diversity and inclusion, be open and listen to different perspectives. As a leader, opening yourself to different opinions and viewpoints will show respect, and will result in better decisions.
Give back – Volunteer time to support your favorite charities. As a leader, you will need to take a break from your daily work or challenges. Volunteering helps you recharge your batteries and expand your social network.
Find time to have fun.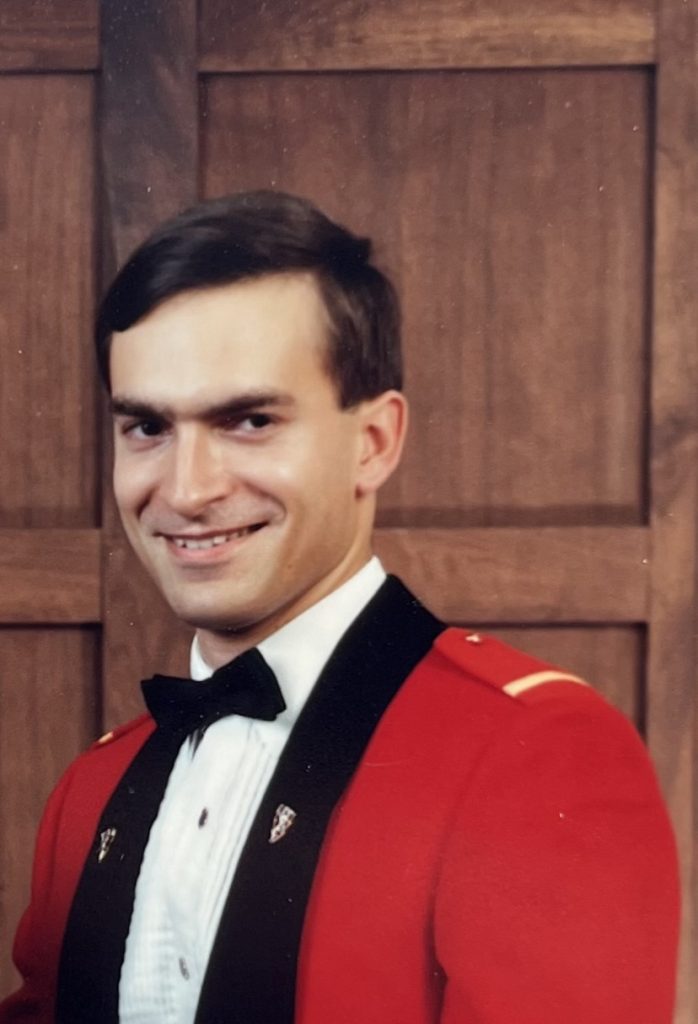 ---
Nous avons rencontré 16454 René Lafrance, promotion de CMR de 1988, trésorier désigné de l'Association des ancien(ne)s des CMR et Directeur principal opérations financières à la Banque du Canada, pour voir où la vie l'a mené depuis l'obtention de son diplôme.
Qu'est-ce qui vous a amené à fréquenter un collège militaire?
Je suis né et j'ai grandi à Québec, la ville où s'est déroulée la célèbre bataille des Plaines d'Abraham et où se trouve le Royal 22e Régiment. Au secondaire, j'avais de grandes ambitions. Je voulais obtenir un diplôme universitaire, apprendre l'anglais et aller vivre dans une autre ville.
Pendant un cours d'orientation professionnelle, un officier du centre de recrutement des Forces armées canadiennes a été invité à nous parler des Forces canadiennes et des collèges militaires. Je me souviens de ses paroles : « … nous payons vos études et vous recevez un salaire pendant que vous êtes aux études, vous apprendrez l'anglais, vous vous ferez des amis et nous vous offrirons un emploi à la fin de vos études… » Mon intérêt était si grand que lorsque le centre de recrutement a organisé une visite du Collège militaire royal (CMR) de Saint-Jean, j'ai rapidement donné mon nom pour y participer. De retour à la maison le soir après la visite, j'ai annoncé à mes parents que j'avais l'intention de m'enrôler dans les Forces canadiennes et d'étudier au CMR Kingston (la date limite pour s'inscrire au CMR Saint-Jean était alors déjà passée).
 Après avoir travaillé comme officier des transmissions, vous avez occupé plusieurs postes au sein de la direction ou de la haute direction de diverses entreprises et organisations. Laquelle de ces expériences vous paraît-elle particulièrement gratifiante?
Après mon départ des Forces canadiennes, à la suite d'une brève affectation en tant qu'officier des transmissions au Quartier général de la Défense nationale, j'ai fait carrière en gestion de projet dans le secteur privé. Je me suis occupé de plusieurs projets de défense intéressants et gratifiants comme ceux du programme du Système tactique de commandement, de contrôle et de communications (STCCC), de la modernisation des centres des opérations aériennes de secteur et de région du NORAD et du Programme international de tests structuraux de suivi (PITSS) des CF-18.
Puis, à la fin des années 1990, j'ai amorcé une période de 12 ans dans le secteur des télécommunications. J'ai vu croître et éclater la bulle des « dot.com » au début des années 2000. Dans le secteur des télécommunications, cette décennie a été marquée par d'énormes pressions financières et de très nombreuses mises à pied. J'ai alors compris que les dirigeants doivent absolument être résilients et aider leurs employés à rester centrés sur leur travail (des compétences que j'avais acquises pendant mon passage au CMR et dans les Forces canadiennes). De plus, l'entreprise pour laquelle je travaillais à cette époque a dû procéder à de multiples retraitements de son bilan, ce qui l'a menée dans une dégringolade. Même si une entreprise fabrique les meilleurs produits sur le marché, si ses finances ne sont pas en ordre et sous contrôle, elle se dirige vers la faillite. Cette situation m'a fait prendre conscience de l'importance de la santé financière des entreprises et m'a amené à réorienter (encore une fois) ma carrière et à aller chercher ma certification en comptabilité. Peu après avoir obtenu mon titre de comptable en management accrédité (aujourd'hui comptable professionnel agréé) en 2010, je me suis joint à la Banque du Canada. J'y ai occupé différents postes de haute direction dans les domaines des services bancaires, des technologies de l'information et des services financiers.
Pour revenir à votre question, tous les postes de direction que j'ai occupés ont été des expériences gratifiantes. Avant mon arrivée dans les Forces canadiennes, ma « boîte à outils » comme leader était pratiquement vide. La formation que j'ai reçue au CMR m'a bien préparé à commencer ma carrière, et j'ai gagné en expérience et en leadership à chacun des postes que j'ai occupés par la suite. En fait, cet éventail d'expériences dans un rôle de leader a enrichi mon bagage de connaissances et m'a bien servi au cours de ma carrière.
Sachant que vous avez 35 ans d'expérience en matière de leadership, que signifie pour vous le rôle de leader?
C'est une question intéressante. Les gens n'ont pas tous la même définition de ce qu'est un leader. Il y a une panoplie de théories, de livres et de cours qui tentent de décrire en un seul énoncé simple ce qu'est un leader. Il n'existe pas une seule et unique définition.
J'ai eu la chance de travailler auprès de nombreux leaders au fil de ma carrière. Chacune de ces personnes avait son propre style et ses propres méthodes comme dirigeant. Certaines de leurs approches produisaient de bons résultats, et d'autres non. J'ai beaucoup appris de chacune de ces personnes, même si leurs méthodes n'étaient pas les meilleures selon moi. Ces expériences ont fait de moi le leader que je suis aujourd'hui.
À mes yeux, un leader est une personne qui crée un environnement de travail sain et fait ressortir le meilleur chez chacun des membres de son équipe en leur offrant de l'encadrement et des commentaires ainsi qu'en leur fournissant les outils et les occasions nécessaires pour les amener à prendre leurs propres décisions et à faire avancer leur carrière avec succès.
Lorsque j'offre du mentorat à des dirigeants ou à des dirigeants en devenir, je leur dis souvent qu'à mesure qu'ils progressent dans les postes de direction, ils doivent délaisser leur rôle d'expert et se concentrer davantage sur l'encadrement des experts. Quand un employé ou un dirigeant cherche une solution à un problème et vient me voir, plutôt que de lui dire quoi faire, je l'aide à trouver sa propre solution.
Parlez-nous du travail que vous effectuez au sein du conseil d'administration de l'Association des ancien(ne)s des CMR et dites-nous ce qui vous a poussé à intégrer le conseil.
Ma carrière comme militaire a été brève, mais je suis resté en contact avec la communauté. J'appuie des organismes de bienfaisance et je fais du bénévolat auprès de ceux qui viennent en aide au personnel militaire et aux anciens combattants des Forces canadiennes, et qui soutiennent la santé mentale en général.
Mes quatre années au CMR m'ont permis d'acquérir des compétences comme leader. Elles m'ont aussi inculqué de la discipline et amené à développer de la résilience. Ces compétences m'ont servi tout au long de ma carrière et de ma vie personnelle et continuent de le faire. Au CMR, j'ai appris l'importance de la collaboration dans tous les aspects de la vie. Je me suis également fait des amis que je vois encore.
Je soutiens depuis de nombreuses années l'Association des ancien(ne)s des CMR (et anciennement la Fondation des CMR). Récemment, j'ai agi comme trésorier bénévole du fonds accumulé de la promotion 1988 du CMR, qui appuie la diversité et l'inclusion des groupes sous-représentés et favorise la réconciliation avec les peuples autochtones.
À l'automne 2022, je me suis joint au conseil d'administration de l'Association des ancien(ne)s des CMR dans le cadre d'un appel de candidatures. En tant que membre du conseil d'administration et trésorier désigné, j'ai l'honneur et la chance de redonner à un établissement qui a joué un rôle déterminant pour faire de moi le leader que je suis maintenant.
Aimeriez-vous dire quelque chose aux promotions de 2023 du CMR Kingston et du CMR Saint-Jean?
Pour terminer sur une note plus légère, voici mes principaux messages aux promotions de 2023 :
Apprenez de vos erreurs – Le collège militaire vous a offert une excellence préparation en vue de votre carrière de dirigeant. Vous prendrez certaines décisions que vous regretterez et ferez des erreurs. Apprenez de ces erreurs, et poursuivez votre route. Elles vous aideront à devenir des leaders encore meilleurs.
Restez en forme physiquement et mentalement – La vie vous réserve des coups durs. En prenant soin de votre santé physique et mentale, vous relèverez plus facilement les défis. Maintenez la discipline physique que vous avez acquise au collège militaire.
Trouvez un mentor et offrez vous-même du mentorat – Le mentorat est un excellent moyen d'apprendre. Un bon mentor écoute et fournit de la rétroaction lorsque la personne vit des difficultés professionnelles ou veut simplement accroître son leadership. Agir comme mentor auprès d'autres dirigeants est aussi une expérience très enrichissante. Nous apprenons des autres en le faisant.
Efforcez-vous d'être bilingue (français et anglais) – Pouvoir communiquer dans les deux langues officielles du Canada ouvre des portes. De plus, les gens qui feront partie de votre équipe vous seront reconnaissants de pouvoir communiquer avec eux dans la langue de leur choix.
Soutenez-vous mutuellement – Un esprit de camaraderie durable unique règne dans les CMR et les Forces canadiennes. Vos camarades de promotion deviendront vite une partie importante de votre réseau de soutien, que vous poursuiviez votre carrière comme militaire ou civil.
Traitez tout le monde avec respect – Cherchez à créer des environnements de travail qui favorisent la diversité et l'inclusion. Faites preuve d'ouverture et soyez à l'écoute des différentes perspectives. Comme dirigeant, accueillir avec ouverture les opinions et points de vue différents est une preuve de respect et permet de prendre de meilleures décisions.
Redonnez à la collectivité – Faites du bénévolat auprès des organismes de bienfaisance qui vous tiennent à cœur. Vous devrez faire une pause dans votre travail de direction ou vos défis quotidiens. Le bénévolat vous aidera à refaire le plein d'énergie et à élargir votre réseau social.
Prenez le temps de vous amuser.