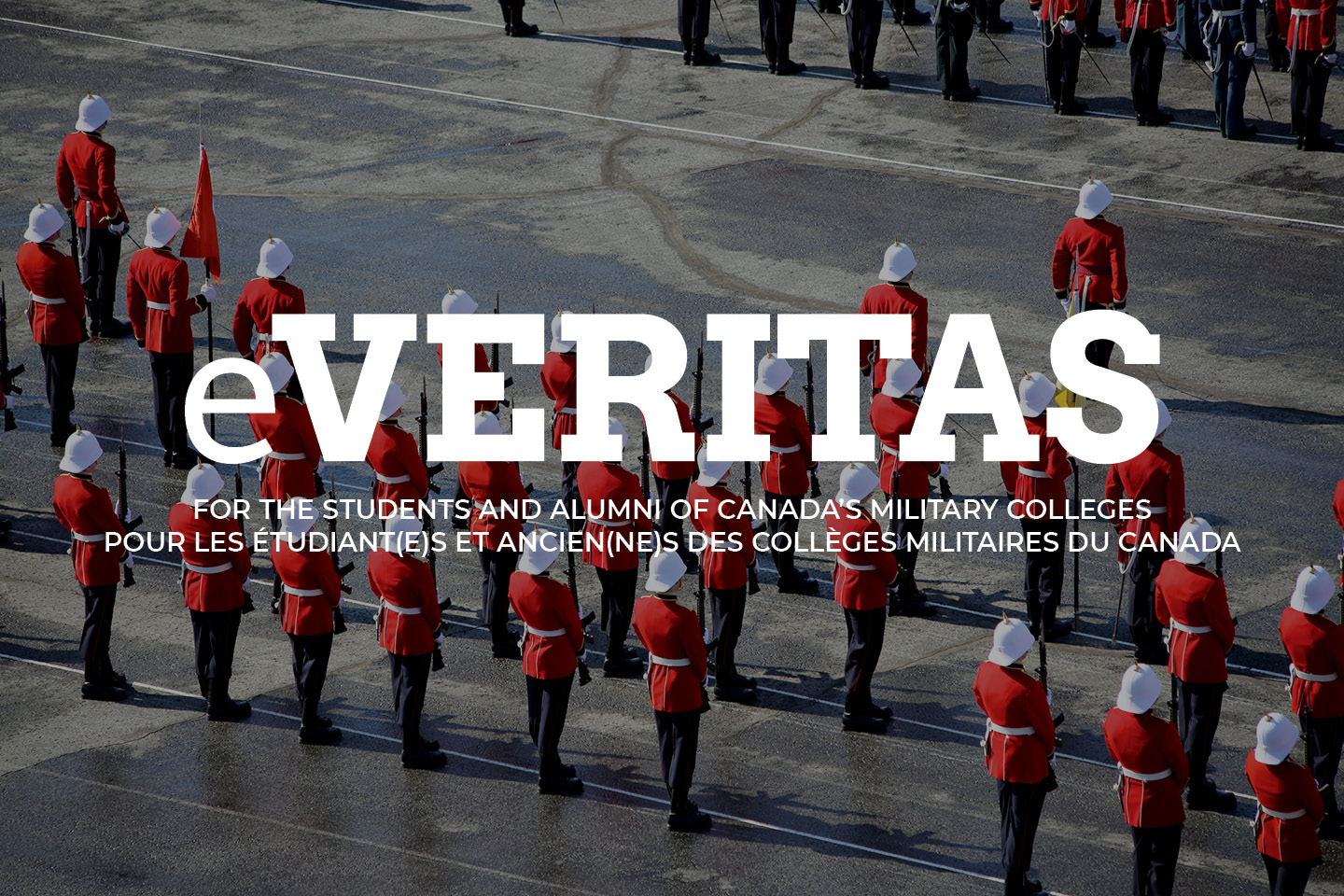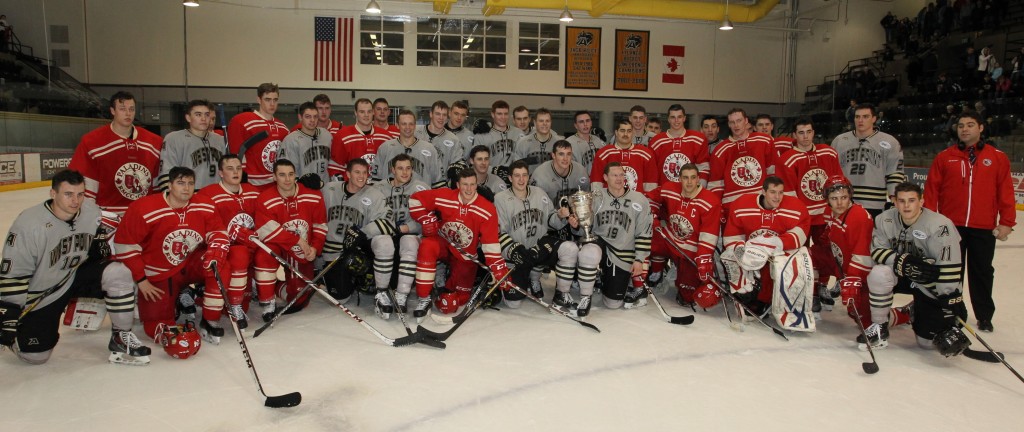 Paladins and Black Knights in a post game photo
West Point 8 RMCC 0

Coach, Brian Riley in a pregame interview

West Point visit through the eyes of a I Year – Chess Player

Closing words on the weekend from the Commandant…

Other Sports Scores
More

West Point Wins Big
By: WJO
RMCC Paladins renewed its rivalry with the Black Knights from West Point (Army) for the fourth-straight year in a battle for the Challenge Cup. The game was played, Sat (24 Jan) at West Point.
The final score was not pretty if you're a fan of the Paladins.
As what often happens when RMCC plays at West Point they run into a penalty problem. By the end of the first period, the visitors had four minors – including, two simultaneous calls, which put the Paladins down two players. By the end of the period it was 4-0 – with two of the goals on power plays.
The second stanza was even worse. RMCC racked up a total of 19 minutes in penalty time. Black Knights took full advantage and fired three more power play goals. West Point accumulated two minor penalties during this period. One during the first minute and one at the 20 minute mark. Paladins failed to register a shot on goal during their two power plays. Score at the end of two periods of play was 7 -0.
12215 Dave Mowat, former Redmen team captain ('79) and who played in four West Point / RMC games described the third period this way. "It was a good period of hard-nosed and fast-paced hockey by both teams, with West Point scoring one even strength goal after one of the RMC defencemen lost his stick and could not contain the Knight's player as a result."
A couple of other vital game statistics of note: Of the 66 faceoffs taken in the game – West Point won 45 of them. Army was also very impressive with the shots on goal – 60 to 19.
West Point Coach, Brian Riley, was pleased with the result. "We were able to bring in a pretty good First Year Class this year. It may not show in our wins but we have been a lot more competitive in our games this year. I think RMC had an off night. We got some bounces tonight."
The very personable skipper added, "I must admit, I was really nervous knowing that they had not yet won a game. I also knew that we were pretty even last year."
The historic series dates back to 1923. The scoreboard now reads 43-29-7 in favour of West Point.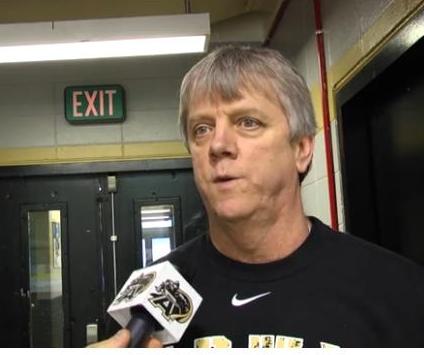 West Point coach, Brian Riley in a pregame interview
***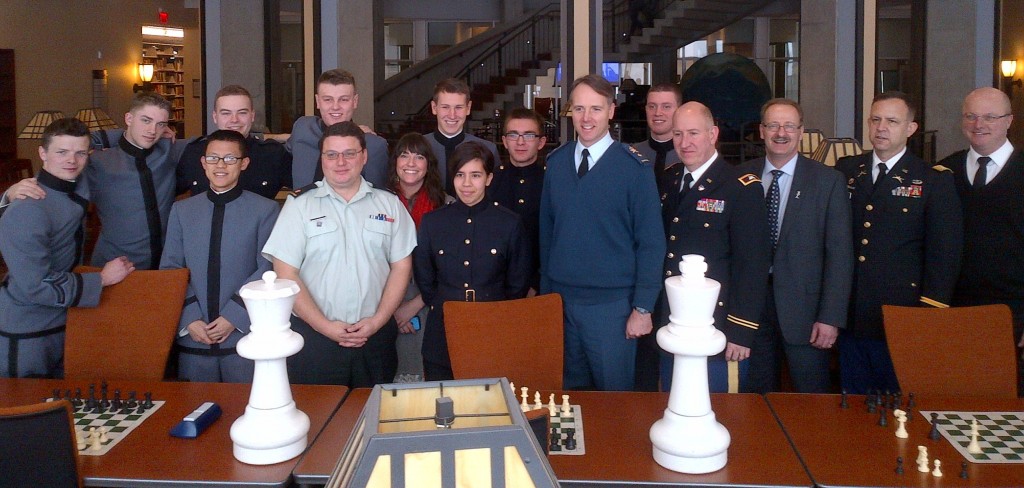 West Point visit through the eyes of a I Year – Chess Player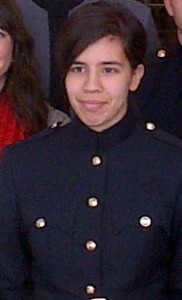 "It is common knowledge that being a first year at RMC is mentally and physically challenging. However, there are many ways to cope with the stresses of first year and create a more positive experience at the college. I thought it would be beneficial to join the chess club to make new friends and relax on Monday evenings; I certainly didn't think I would be president in just a few short months, especially considering my first year status. We have so far participated in two tournaments: one at the Aviation and Space Museum in Ottawa, and the second this weekend at the United States Military Academy in the state of New York. I had heard many things about West Point, and after reading Craig Mullaney's "The Unforgiving Minute," I was more than a little nervous about participating in the exchange. However, I was pleasantly surprised with the experience. The American cadets were very friendly, even taking us out to New York City Saturday night.
Saturday afternoon was the big chess competition, and the CF chess coordinator Major Bellemare was in attendance along with the American chess coordinator Colonel Hater. West Point Cadet Nick Oblak came in first place and our own Naval Cadet Owen Murphy came in third. Thanks to CWC Day and deputy first captain Boldt for coming out and supporting the teams!
I am incredibly grateful to have had the opportunity to visit and explore West Point. It has been an amazing experience and one which I will not forget."
OCdt  27513 (I) Lara Shalab Alsham – 12 Squadron
Ed Note, Debate: West Point won a very closely fought debate on energy security!
***
Closing words on the weekend from the Commandant…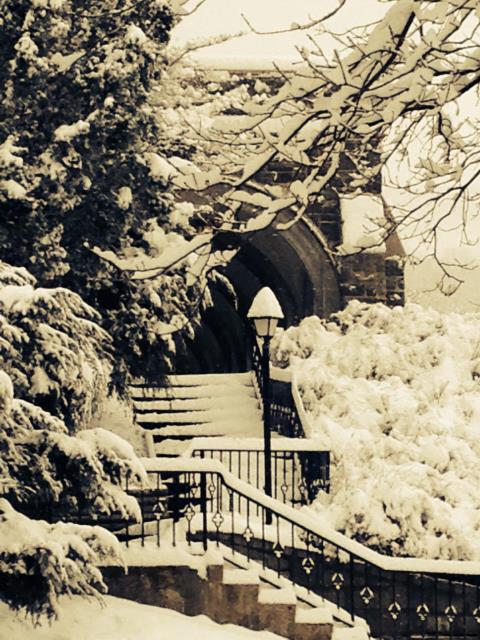 "Our RMCC cadets enjoyed a tremendously enjoyable weekend with their West Point counterparts on the banks of the Hudson River. Like last year's competitions in Kingston, Old Man Winter delivered a foot of snow on the eve of the engagements, reminding us all that Spring is still a few months away.
It was a delight for the Principal, College Chief and myself to witness first-hand the many competitions and Training sessions on Saturday which culminated in an entertaining debating match within West Point's impressive new library. The Principal of RMCC, Dr Harry Kowal, introduced the resolution to be debated, which resulted in a spectacular display of verbal jousting between the cadets.
The day concluded with the historic hockey match within Tate Arena. The sold-out crowd witnessed a spirited game, with the Paladins seemingly unable to maintain 5 players on the ice, providing the Black Knights with a power-play advantage for most of the game. Though losing 8-0, OCdt Evan Deviller stood on his head throughout the night, making many a herculean save to the delight of the RMCC fans.
Once again, the I-81 Exchange has served to strengthen the bonds between our two national institutions and established friendships that are sure to last a life-time."
BGen Al Meinzinger
Commandant
***
Sports Scoreboard
Recent Results:

Hockey:

21 UOIT 4 RMC 2  Box Score

24 Jan RMC 0  West Point 8  Box Score

(M) Volleyball:

24 Jan Ryerson 3  at RMC 0  Box Score

25 Jan Toronto 3 at RMC 0    Box Score

(W) Volleyball:

24 Jan Ryerson 3 at RMC 1  Box Score

25 Jan Toronto 3  at RMC 0  Box Score




Upcoming Games:

Hockey:

30 Jan Toronto at RMC 7:00 PM

31 Jan  Ryerson at RMC 7:00 PM

(M) Volleyball:

Sat. 31 Jan  RMC at Windsor 1:00 PM

Sund 1 Feb  RMC at Western 3:00 PM
(W) Volleyball:

Sun 1 Feb RMC at U of Ottawa 2:00 PM