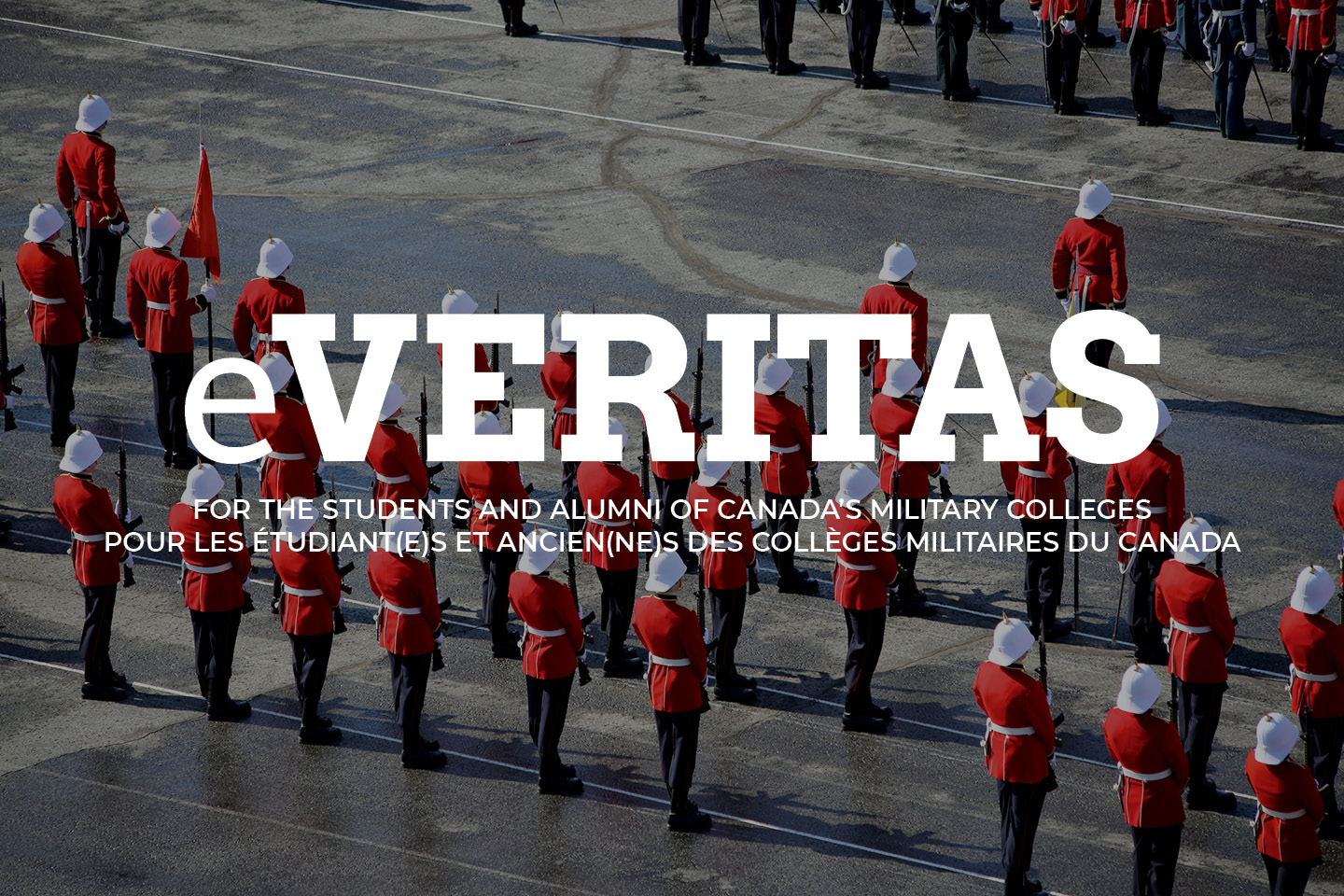 The West Point annual exchange took place this weekend ( 23-25 Jan). This year saw approximately 100 RMCC Cadets and Staff travelling to West Point with approximately 75 West Point's Cadets and Staff reciprocating.
More
***
An Enduring Friendship: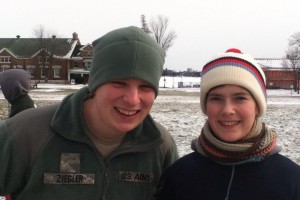 As a first year member of 1 Squadron I, like many others, enjoyed the chance to meet foreign cadets from the far away land of the United States of America! New connections and bond were formed quickly between all the cadets, including myself, and the West Point Cadets staying with 1 Squadron.
Matthew Ziegler was among the cadets who I had the opportunity to get to know through the social functions and even as my teammate in the inter-squadron football competition.
In 2014 I saw my good friend again when he visited for the second year in a row as a member of the fencing team. Though the weekend was packed we, once again, made sure to meet up and talk about the busy years we'd both had.
This is the third year in a row during which I have been able to see my good friend during the West Point Exchange weekend here at RMC. I hope I will be able to make it four years in a row and get so see my friend one more time before we all continue on to greater things!
OCdt 26659 (III) Danielle Andela
***
"Danielle and I have been great friends since my first visit to RMC in 2013. That weekend we participate in a variety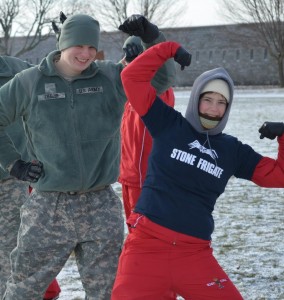 of fun activities to include the first time I tried the Canadian classic– Poutine. It's safe to say that even though we come from different countries, we share a love for our culture and food.
I was pleased by the strong camaraderie shared in a squadron and directly related to my own personal bonding with my classmates and company mates at West Point. We both share a strong dedication to service to our respective nations and appreciate being members of the profession of arms.
Each Academy shares a commitment to excellence that permeates through the cadets of both Academies. Activities like the Winter Games promote friendship and friendly spirit between academies and encourage us to incorporate different perspectives in an increasingly connected world. This friendship has encouraged long term communication that transcends borders and services."
– West Point Cadet X60408 (III) Matthew Ziegler
***
West Point and RMC Join Forces in a Battle of the Squadrons
OCdt 26659 (III) Danielle Andela
West Point Weekend and the Cadet Wing Sports Day has come to an end with some flashy goals and earnest handshakes. As usual the West Point cadets arrived this Thursday and were invited to attend classes on Friday. Teachers and students alike welcomed our American friends into the class rooms and made them feel as welcome as possible.
The real excitement started Friday night with the meet and greet for West Point cadets and the sports day activities the following morning.
Everyone staying at the college had the opportunity to play either ball hockey or dodgeball (flag football was cancelled due to ice on the field) and participate in the inter-squadron relay race! The Americans did West Point proud as usual and played their hearts out.
A social gathering occurred that Saturday night where everybody got together to relax after a day in the cold and warm themselves with the company of their fellow soldiers in arms.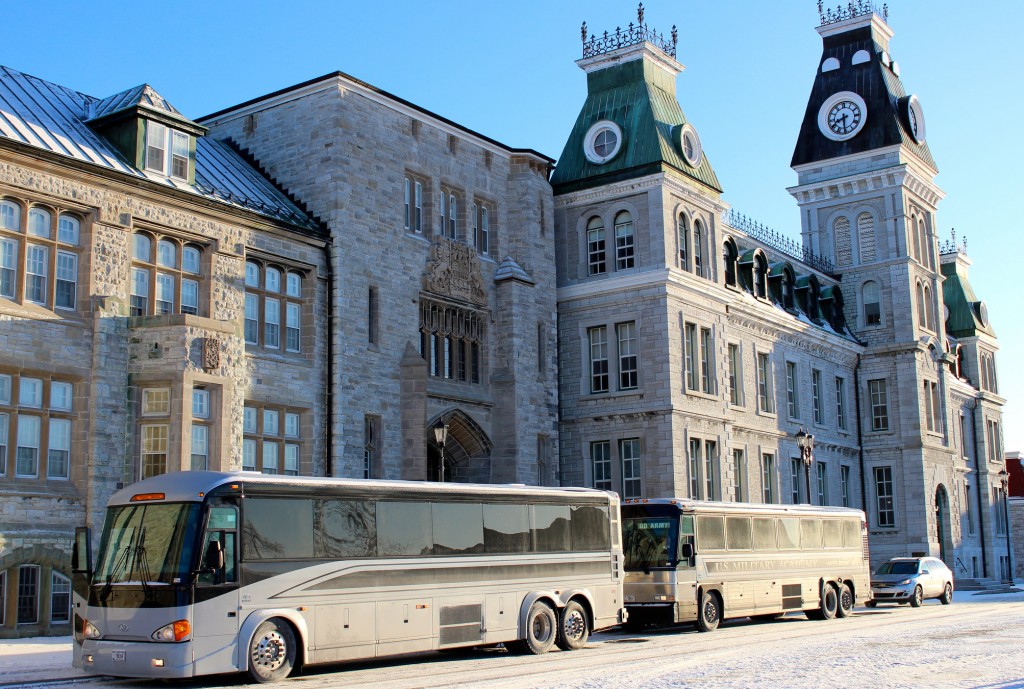 Our West Point guests left early Sunday morning in order to make the long trip back to the academy and everyone is already anticipating when they may see their new West Point friends again!
The following are the results of the Sports Day competitions:
Ball Hockey  
1st place – 2 Sqn
2nd place – 9 Sqn
Dodgeball
1st place – 3 Sqn
2nd place – 5 Sqn
Relay Race
1st place – 5 Sqn
2nd place – 2 Sqn

Photos by OCdt 26549 (IV) Kai Zhao and  OCdt 26573 (III) Denice Zoretich may be found here & here
***
Warming up Winter Sports Day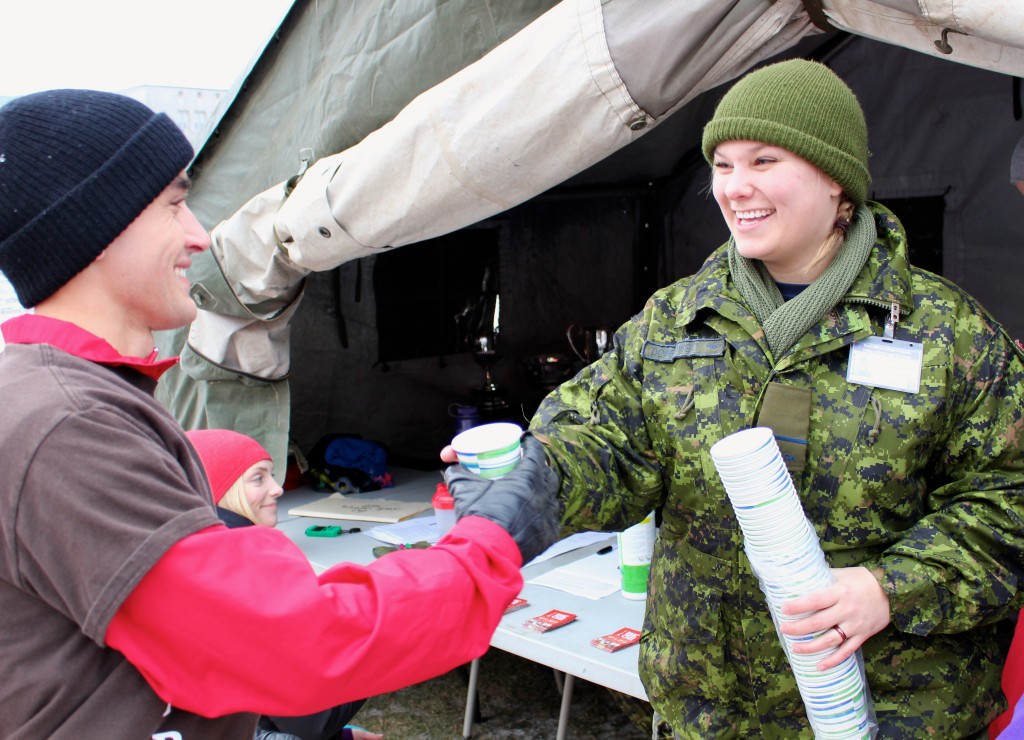 xx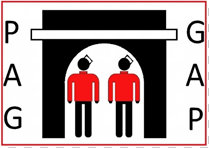 PAG was a part of the annual West Point exchange weekend and Winter Sports Day by doing what they do best – providing a morale boost. It came in the form of a cup of hot chocolate, readily available for all cadets.
It was a great way to warm up after playing a hard game, or to celebrate a victory with teammates. The Hot Chocolate stand was running throughout the day and also provided a social hub for RMC and West Point cadets alike to get to know their new friends and meet even more.
Thank you to the PAG president, OCdt Dombrowsky (26367) and the C-Div PAG Leader, OCdt Zoretich (26573) for boosting the morale of the college!