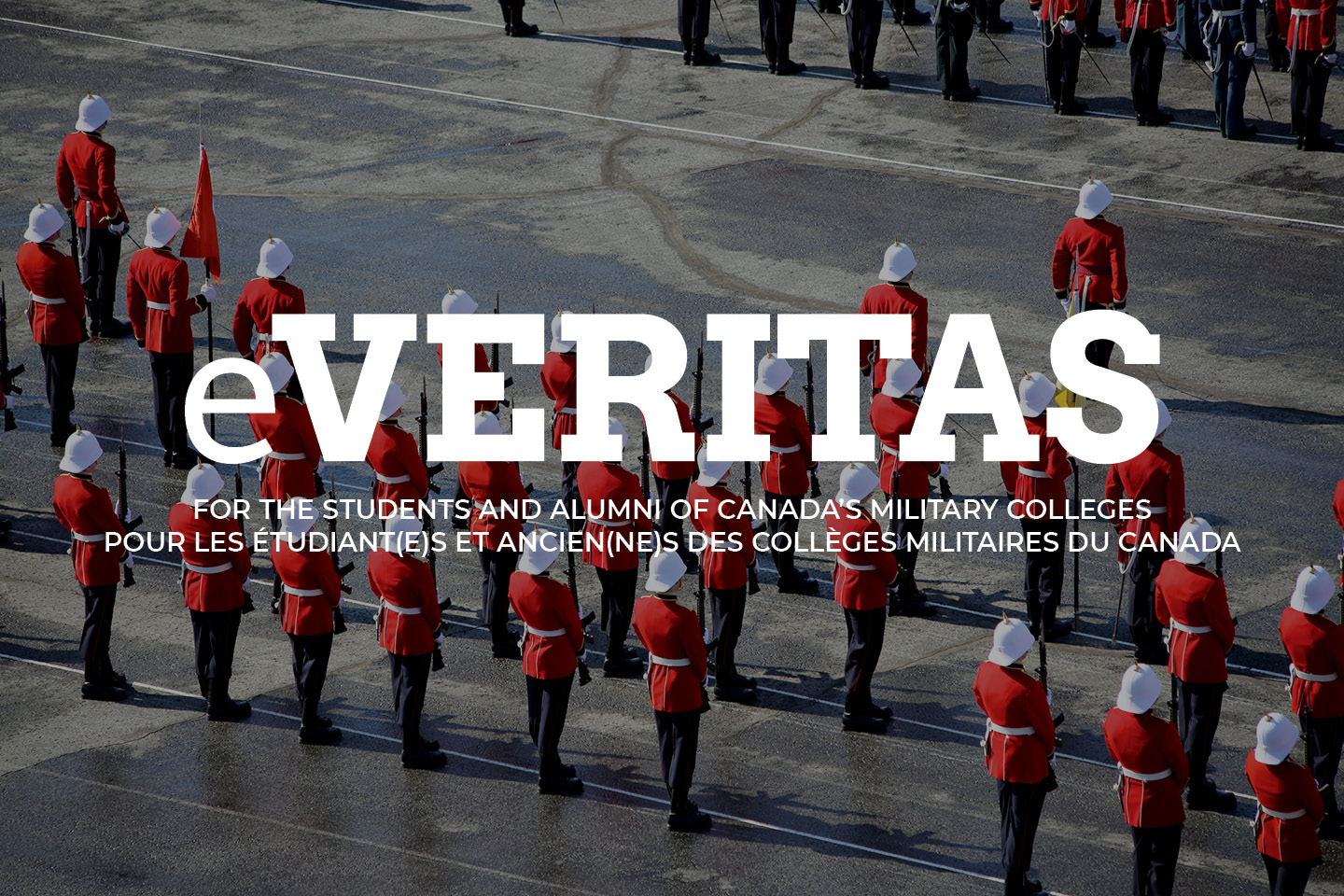 An Impressive Art Collection at RMCC
By Kamille Parkinson, PhD
Early in 2010 the Royal Military College of Canada Museum was tasked with taking responsibility for the College's art collection. While initially this new aspect of the Museum collections mightn't have seemed too daunting, the reality of it is that the art holdings at RMCC are quite varied and extensive. Cataloguing and reconciling the art collection represented a major undertaking for the museum – and one of quite a different character than the historical collection.
The art collection was actually slated to appear on the Museum's roster much earlier than 2010, but the lack of appropriate storage facilities was cited as a major reason for delaying the acquisition. With the creation of new storage facilities and office space in the newly renovated Fort Haldimand building, however, it became possible for the Museum to look after the art collection. Located approximately where the old swimming pool used to be, the new climate-controlled museum storage facility is equipped with compact shelving for RMCC related artifacts, and mobile racks for hanging framed works of art.
The final hurdle to be cleared before engaging with the art collection directly was finding someone with the expertise to do the work. The RMCC Museum hired Upper Canada Art Consulting to initiate and complete a Collection Management project for the art collection. Over the course of approximately 9 months (spread out over a year and a half of part-time contracts) the collection was fully photographed, described and catalogued, a management plan was implemented, and recommendations for care and conservation work were made.
The art collection at RMCC comes in at just over 1,000 discrete items. This, however, includes only two-dimensional works of art, such as paintings, prints, drawings and other works on paper. Three-dimensional works, such as sculptures and stained glass, have not as yet been addressed and may represent another phase of the collection management project. There are also thousands of photographs, both in the Museum and around campus, but it was felt that these are more truly archival documents and did not fall under the scope of the art collection.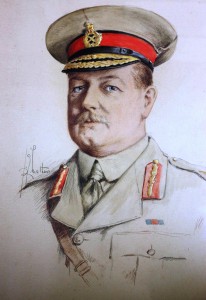 The RMCC Art Collection is quite fascinating in many ways, not only for the diversity of media represented, but also for the subject matter, artists, and (in some cases) the manner of acquisition of particular works. Take, for example, a watercolour and pastel portrait of #444 Major-General William Bethune Lindsay, CB, CMG, DSO. This painting is by Canadian artist Richard George Mathews (1870-1955), a noted "reportage artist" who early in his career captured the likenesses of celebrities visiting Montreal. In later years he recorded Canadian soldiers during the First World War and made a name for himself as an artist-journalist in England. The portrait itself was found hanging in a small restaurant near Bayfield, Ontario by ex-cadet, #10263 Don Lovell, in 1979. Lovell purchased the portrait for $17.12 (including tax), and the owner of the restaurant (who had acquired the portrait with the business) offered to dispose of the picture so that Lovell could make better use of its mahogany frame. Knowing better, and intrigued by the insignia the sitter wore, Lovell took both frame and picture and, after a little research to discover who the sitter was, subsequently donated the picture to RMCC in 1981. The subject, Major-General Lindsay, in addition to being an ex-cadet, was a significant figure in Canadian military history for he served as the Chief Engineer of the Canadian Corps, 1916-1918. Lindsay entered the College in 1897, graduating in 1900. He was one of the early officers in the Royal Canadian Engineers, and, in August 1914 it was Lindsay who organized and trained the 1st Canadian Divisional Engineers. Thus this portrait went from obscurity in a diner to an appropriate home at RMCC, thanks to the sharp eyes and generosity of an ex-cadet.
Most of the works in the art collection have much less drama attached to their arrival at RMCC, many of them having been presented to the College by graduating classes on the occasion of significant reunion years. Of this type of gift to the college, several are by artists who at the time were just starting to make a name for themselves, and the works today have significant value attached to them. In some cases works in the collection form part of larger donations made to the Museum by ex-cadets. Others have been presented as memorials, and still others have been straightforward commissions or purchases. As with any large collection, the works range from middling to fine in terms of their artistic merit, and from unknown artists to celebrated ones. There are works in the art collection by respected Canadian artists such as Manly MacDonald, C.W. Jefferys, Edward John Hughes, Thomas Hilton Garside, Forshaw Day, Robert Hyndman, Lawren Philip Harris, and Charles Comfort, to name just a few.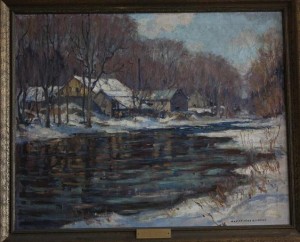 Of the artists mentioned above, there are two large paintings by Manly Edward MacDonald (1889-1971) in the collection at RMCC. One of these is a landscape painting of a lumber camp in early spring, a theme fairly typical of MacDonald's work. Though he worked in Toronto he frequented the Bay of Quinte area and was fond of painting rural scenes and activities in all seasons. This particular work was given to RMCC by the Class of 1918, and was presented by Dr. Clarence C Cook (#H6890) on the occasion of their 50th anniversary in 1968. Quietly evocative of the chill of an early thaw, the work presently hangs in the main dining room of the Senior Staff Mess..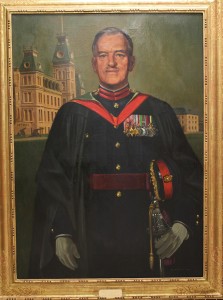 Charles Fraser Comfort (1900-1994) was commissioned, late in his career, to paint a posthumous portrait of No. 1557 Colonel William Reginald Sawyer, O.B.E., E.D, P.Sc, BSc, MSc, PhD (McGill), LLD (Queen's), DSc Mil (R.M.C.), F.C.I.C. Director of Studies 1948-1967. It is a ¾ length portrait showing Colonel Sawyer standing in front of the Mackenzie Building and the Stone Frigate, wearing academic robes over his uniform. Charles Comfort had a varied artistic career as a commercial artist, noted portrait painter, landscape and abstract painter, war artist, teacher, and director of the National Gallery. His portrait of Colonel Sawyer shows his later interest in the work of old masters of the Netherlands, with its close attention to detail and high-gloss finish. This work underwent conservation treatment early in 2010 and is presently housed in museum storage. It will be returned to the Sawyer building once renovations there are complete.
A large proportion of the art collection at RMCC consists of limited edition prints, watercolours, and other works on paper, all of various vintages. While a portion of these items were gifts to the college, a larger percentage was acquired in the mid-20th century through the offices of former librarian Mr. John Spurr. In part pursuing what was likely a personal interest, many of Spurr's acquisitions (facilitated by contacts he made at auction houses and galleries in England during WWII) deal with the Napoleonic era. These cover a range of subjects and include vintage limited edition maps and prints of key battles, caricatures by Thomas Rowlandson, other political cartoons, and illustrations of various types of uniforms of the day. This aspect of the collection also includes items addressing military and political events in late 18th and early 19th century North America.
Mr. Spurr's collecting habit appears to also have led to the acquisition of some truly amazing examples of the art of watercolour painting. There are several paintings by Richard Simkin (1840-1926), such as Battle of Ciudad Rodrigo, Jan. 19th 1812, and a handful of works by Orlando Norie (1832-1901), including a large framed watercolour depicting the battle of Fuentes d'Onoro, 5th May 1811. A real jewel of the collection is a work by Christopher Clark (1875-1942), a noted British painter and illustrator of military and historical subjects, represented at RMCC by the stunning Cathédral d'Ypres, Nov. 1917. This large watercolour is a night scene depicting the ruins of Ypres Cathedral, with Canadian troops in the foreground and artillery bursts lighting up the sky in the background. It is hoped that the Museum will be able to issue limited edition prints of this work at some time in the future.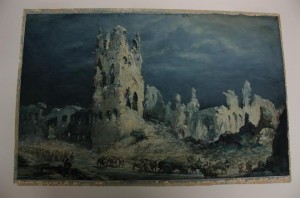 Further evidence of the depth and breadth of the art collection at RMCC is indicated by the presence of original works by 19th century artists such as Washington F. Friend (c.1820-1886), Kingston-based Jean Redpath Drummond (c.1845-c.1920), Admiral Henry Wolsey Bayfield (1795-1885), and Emeric Essex Vidal (1791-1861), all of whom are also represented in national and provincial collections.
While one can marvel at the unanticipated scope of the art collection at RMCCC, its impressiveness is slightly mitigated by the appalling condition in which some of the works were found. At the start of the project a "sweep" was done of the campus, making note of and transferring large quantities of artwork to the museum. A good number of paintings and prints were retrieved from the basement of a building on campus, covered in plaster dust, some with water damage or frames beyond repair, and others simply filthy with accumulated grime. In one notable instance, the back of a large oil on panel by William Thurston Topham (1888-1966) was used as a work surface and there is a drill hole through the front of the painting. A few works were also found in attics, their condition not materially helped by excessive heat and humidity. The majority of the items acquired by John Spurr were also retrieved from the library building (where the air conditioning reliably fails each summer), the sauna-like conditions there being especially bad for works on paper.
Most of the paintings already on display across the RMCC campus are in fairly good condition and were left where they were hanging, though not a few prints were removed because they were becoming very badly faded through continuous exposure to light. (These were generally replaced by works that are less susceptible to that type of damage.) Some paintings on panel and on canvas have been displayed and moved around the campus for many years, and several of these have battered frames, or the surface of the painting itself has been damaged. Of the latter case, some are scratched, have food and other stains, and others have suffered severe impacts that have caused the paint to crack in an outward radial pattern. Clearly it was time for the art collection to be taken in hand.
At present approximately 20% of the catalogued art collection at RMCC is on display and the remaining 80% is in storage – a ratio that corresponds exactly with a general rule-of-thumb regarding museum and gallery display practices. There are plans afoot to establish some kind of rotating exhibition of works from the collection so that more of it can be seen and appreciated, and so that sensitive pieces do not suffer from prolonged exposure to light. While most items in the art collection would lend themselves to temporary display, approximately 5% of the collection in storage is in such poor condition that it really should not be subjected to the stresses of display again. (As a case in point, two panoramic watercolours painted in 1815 by Emeric Essex Vidal, one showing Point Frederick and Kingston Harbour and the other showing Sackett's Harbour in New York, were displayed for so long that they have faded almost to the point of illegibility.) Another 10% of the collection requires professional cleaning and conservation treatment.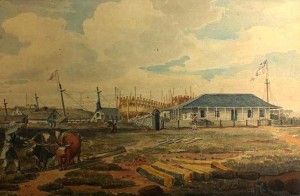 The difficulty with properly caring for an art collection such as the one at RMCC is of course one of resources. As at many museums, operational funding at the RMCC Museum is profoundly stretched, and the amount that can be devoted to the purchase of archival-quality storage materials or to having conservation work done is frustratingly small. Typically, museum/gallery fundraising efforts and donations are directed towards high-profile projects to which donor names can be attached, not to more prosaic purposes such as staffing and supplies. The collection, including museum artifacts, can unfortunately suffer in consequence. Museum personnel everywhere tend to develop a sort of fatalistic attitude towards these circumstances, but it is a situation that really should not exist.
When the collection management project for the RMCC art collection was initiated, it was impossible to foresee the scope and quality of the artwork housed therein. Ranging in date from the early 18th-century to the present day, in genre from portraiture to abstract art, and by artists from talented amateurs (including former cadets) to internationally recognized professionals, the art collection at RMCC is impressive for its depth and variety. It is a unique collection that reflects and celebrates the long history of the College, as well as the values and traditions that established and supported its heritage.
Kamille Parkinson holds a PhD in art history from Queen's University and is the owner of Upper Canada Art Consulting, specializing in collection management, art research, writing and consulting. www.uppercanadaartconsulting.com