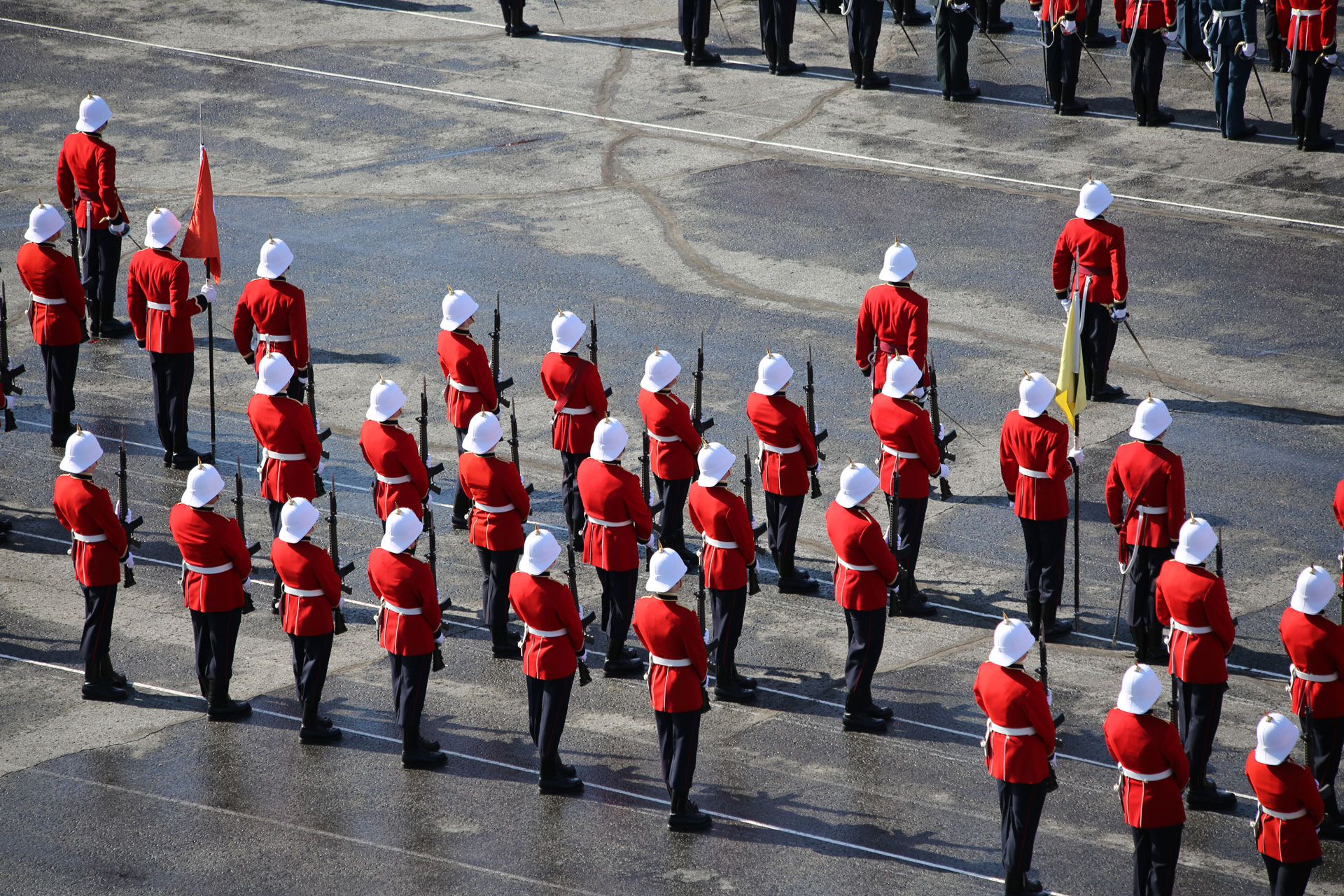 5298 Mr. William (Bill) Takaki,  (RRMC 1957-59)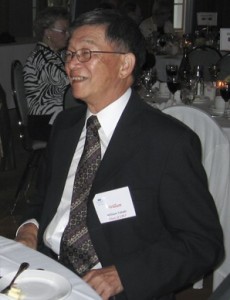 Bill Takaki entered Royal Roads in 1957 as part of the ROTP program. After two years he graduated with his classmates, and instead of heading to RMC, he entered a civilian university where he could study commerce and become an accountant. Bill lost touch with many of his classmates until 2009 when the RR Class of 1957-59 organized their 50th reunion at Royal Roads University. He was tracked down by a classmate and decided to come back to Homecoming in September.
This interview was conducted by Royal Roads University staff person, Karen Inkster (Karen.Inkster@royalroads.ca), during Homecoming Weekend, September 2009.
Bill: I do remember that day in September, freshly out of high school and coming here and jumping off the so-called bus – into sheer and utter chaos and confusion. When I think back over 50 years that wasn't a bad thing because it was during the course of that first period that the entire program was designed to elicit your leadership qualities and hone them for later years. And the second year you're able to refine them even further.
So no matter what field you went into, whether it was in civilian life or military you were pretty well equipped to be with whatever adversity might come your way. At the time you really didn't know that you had those qualities but as you looked back and you'd say, "Yes, those two years at Royal Roads were really, really beneficial".
I say that because shortly after I left Roads I went into commerce and back in the late '60s, '70s, jobs were plentiful and one day I made the decision to see what's out there. So I pulled out my resume and lo and behold I did get a reply and it was from a former cadet. He was a retired major – he knew what qualities I'd come out of Roads with you see and so he talked to me and he asked me if I could pick some of the issues that they had at that institution. I said I'll take a look and give it a shot. Well after about the first two, three weeks, it seemed to be an impossible task. I remember going back to one of my old buddies that had a big mining company telling them what I had run up against and he urged me, quit, quit, quit. But you know, after having been here for two years and having gone through all of that I very well couldn't back down.
So I stuck it out and it took me quite a few years to turn it around but I did. And in all that time I had to develop my own staff and I think I treated them the way I was treated here in the first few years – you know with dignity and respect – and they in turn came to understand that really if everybody cooperated and communicated openly you had more as a family at work.
So it all comes back to those three simple words that I saw when I was here: truth, duty, valour – and how that evolved over the years into the way I practice working and playing in my life. So yes, it was good.
Karen: So tell me what prompted you to go to military college? What was your background and why did you decide to come?
Bill: Well you know I think it's this story that's similar to others. I came from a large family and the cost of university back then was really quite expensive so then I came across the ROTP – Regular Officer Training Plan – and I thought okay I can get to university. I thought probably being in southwestern Ontario I'll probably get the University of Western which is in London, right? No, low and behold I ended up at Royal Roads and actually it wasn't really a bad thing after all.
Karen: And what were some of the most memorable things here at Royal Roads?
Bill: Well like I said the first day that we arrived here I don't think anybody would forget. And then there was the obstacle course and towards the last part of the first year everything seemed to calm down and then in the summertime you went off to your training for whatever service you were in. And the second year when you came back now the tables were turned, weren't they? And that was good. But all along when I think about it now, this entire program was designed to draw out the leadership qualities that were in you and how you defined your character in relation to others. I remember the good times too. What I liked about the whole thing was the camaraderie and the respect and the trust you had in your fellow classmates. And to this day I think that still stands true.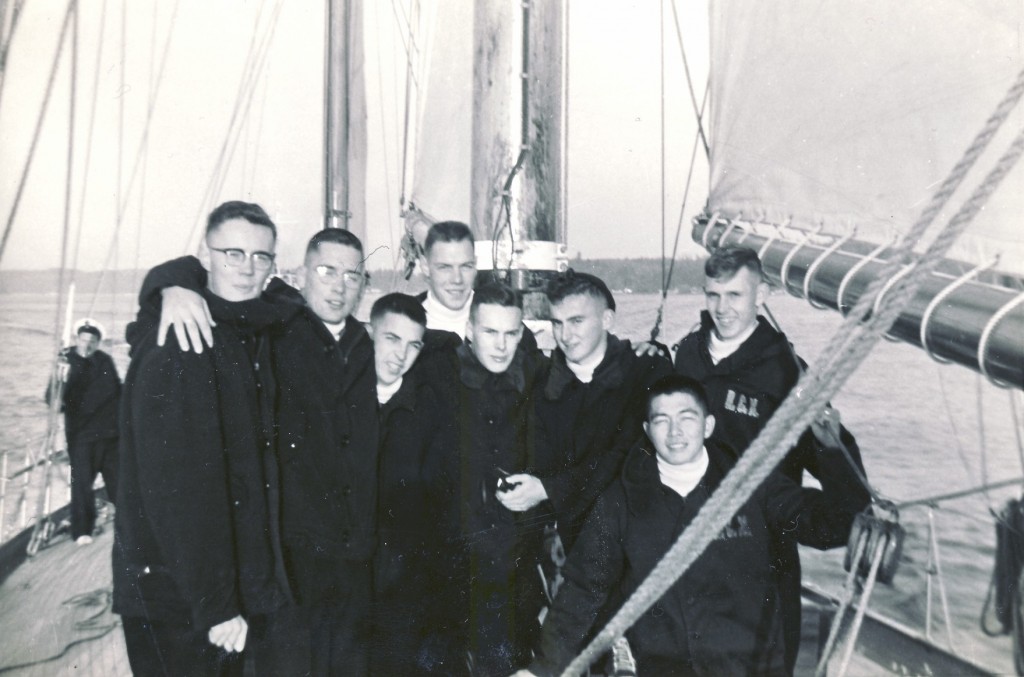 Caption: Aboard HMCS Oriole on way to Bremerton Washington for weekend fall 1958. Left to right: Tony Downs, Don Fallon, Glen Vardy, Merle Grott, Larry Gibbons, Graham Dallimore, Bill Takaki, Don Harris.
Karen: So you felt like you made friends right away and everybody supported each other?
Bill: Yes. And obviously I'm a visible minority, right? And this was not too long after the Second World War but not once did I ever encounter any form of discrimination or anything like that and yet after I left I did run across it in civilian life. So – you have all these cadets here from all walks of life, from across Canada and they treated me equally you know and I was extremely grateful for that.
Karen: Had you been concerned about that?
Bill: Well you know when I first arrived here it didn't even cross my mind. I mean I had no time to think about that right? But it was good, everybody got the circles and it didn't matter. I don't think I got as many as some of the others. It was enjoyable.
But you know you're a few thousand miles away from home aren't you? And when I used to do those circles and I used to look across the strait at Port Angeles, especially around five o'clock at night, and I'd see the lights and I used to think I'll bet you they're watching "Gunsmoke" or something like that back home. But you know sooner or later you're going to come across a senior cadet and those moments are gone in a flash.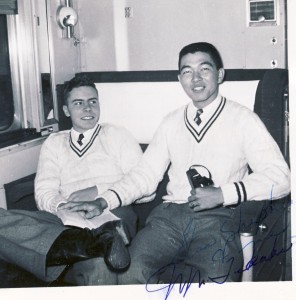 xxxx
Caption: Stan Shepherd and Bill Takaki on the way back to Roads, September 1958. What a difference from September 1957!
Karen: And was your family quite supportive of you leaving?
Bill: Yes. Well for the simple reason that there was a great cost relieved from them right? But they were a bit concerned that it was so far away and I was the first in my family to go away for so long and so far. But eventually they got used to the idea.
Karen: Did you ever participate in any skylarks?
Bill: Oh yeah – well (chuckles) when I got to the college I was involved in gun control. And in the first year when there was a turnover in the senior cadets administration part I think we broke down the doors to the rifle range – and now I realize how taboo that was then (laughing) and how wrong it would be today. But it was a skylark. We ran a few things up the flagpole and I think once we had to call the Victoria Fire Dept. to take those things down and we had to pay for that. And then there was a time I think we put the drill instructor's car on the steps of Grant Block and we got the bill for replacing the exhaust, simonize, wash, and so on and so forth.
Karen: It sounds like it was fun too then.
Bill: Oh yes it was, right, but the point is, we were all in it together, and there was no finger pointing or anything for those skylarks at all. So everybody was treated equally and respectfully.
Karen: And so how long did you stay in the military?
Bill: After two years because I was in commerce – they didn't have commerce back then. It was either art or engineering. So I left to pursue commerce and I did become an accountant.
Karen: So did you go to RMC at all after?
Bill: No, no, no, I went to a civilian school.
Karen: So did you stay in contact then with your friends from Royal Roads?
Bill: You know over the years I stayed in contact with one for a short while but eventually you get involved in your work and raising your family and you sort of drift apart so when Wayne Hammond called me back in June I thought well lo and behold there is somebody still out there who remembers. And he told me all about this reunion and I thought well you know what, an opportunity of a lifetime. And so it's been really great.
Karen: So how does it feel to come back after so long?
Bill: Fantastic. You know. Reliving all those memories and seeing all your old classmates. Yeah, it's been great.
Karen: Good. Any final thoughts?
Bill: Probably one is that maybe I should have come to the reunions sooner! (laughs).
Karen: So that's great that you're able to all reconnect with each other.
Bill: Yeah! And now we've decided to communicate with each other. And there are some unfortunate ones who couldn't make it because of ill health or just pure distance right? And so we'll connect up with them again and probably send them pictures of today.