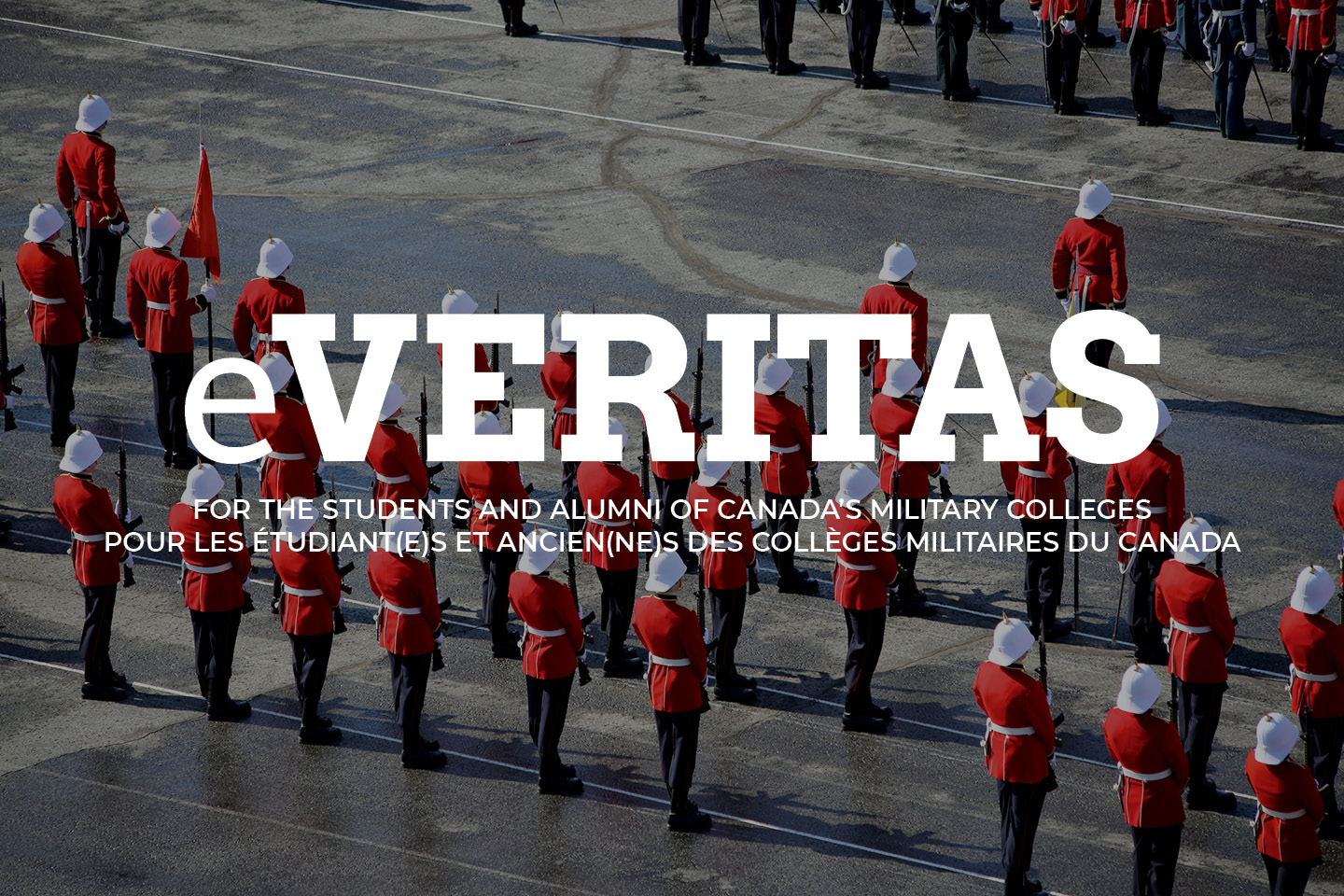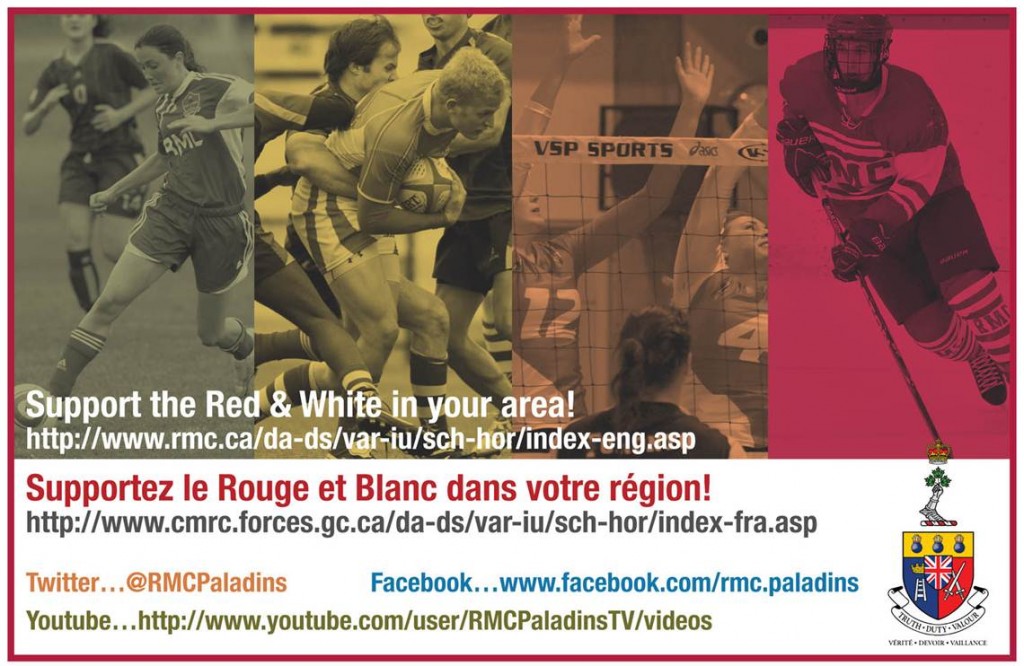 xxxx
__________________________
Recent Results: 

OUA Women's Fencing Championships results – not available at press time…(Check the OUA fencing link as the week progresses)

Hockey

Feb 8th – RMC 2 – UQTR 5 Game Summary

Feb 9th – RMC 1 – McGill 2 (OT) Game Summary

Volleyball (M)

Feb 9th – RMC 0 – Ryerson 3 Game Summary

Feb 10th – RMC 0 – Toronto 3 Game Summary

Volleyball (W)

Feb 9th – RMC 1 – Ryerson 3 Game Summary

Feb 10th – RMC 0 – Toronto 3 Game Summary

Upcoming Games:

The OUA hockey & volleyball league schedules are now complete.

Hockey & VB Play-offs start this week.

Unfortunately our three varsity teams failed to make the post-season.

For final standing results go to the OUA link for the specific sport.

2013 OUA Men's Fencing Championships, Carleton University, Ottawa, Feb 16-17th.
__________________________
___________________________

RMC WINS HISTORIC HOCKEY
For the eIghth time in nine years, Royal Military College has won the annual Historic Hockey Series at Feb Fest. RMC won both its games Saturday night; beating Queen's 4-1 in the opener and then thumping the 2nd Regiment from RCHA Petawawa, ON, 7-1 in the final game. Eric Berry was named MVP of the tournament for RMC scoring three goals ,
It was the 45th annual Historic Hockey Series presented by Kingston's Original Hockey Hall of Fame, it is a re-creation of the first games played on the Kingston harbour in 1886 using a square puck and the rules of that era.
____________________________
Canada Competes at RMCC
On the weekend of Jan 25-27, 2013, over a fifteen hundred people descended on the Field House at the KMCSC for the Canada Cup II Fencing Tournament, which was an outstanding success. Ironically, only two months before, no fencing club in Canada had even submitted a bid to host this major event, because it was such a huge undertaking. The RMCC coaches had been approached by many fencers and coaches in Ontario and Quebec, with pleas for us to host the CCII so that the event would be saved. With support from the Base Commander and KMCSC, RMCC Fencing agreed to submit a hosting bid in early December, to save the Canada Cup. The hosting bid was immediately accepted by the Canadian Fencing Federation (CFF) but this still left the Athletic Department, fencing coaches and cadet fencers less than two months to plan and prepare.
Much of the planning took place over the Christmas break, and upon the return to school in January, the wheels were put into motion for this massive tournament. Fencers from eight provinces registered, with more than 850 competitive registrations and over 550 athletes, including many members of the Canadian National Teams and our fencing Olympians from London 2012. Several RMCC fencers had the opportunity to fence Olympians such as Sandra Sassine and Philip Beaudry (sabre) in their pool bouts. Along with parents, coaches and supporters there were easily 1,500 people through the Field house over the course of this exciting fencing weekend.
The Canada Cup was an excellent opportunity for all RMCC varsity fencers and developing Cutting Edge Fencers to test their skills against the best in the country. We also had ex-cadet fencers come back to participate including CISM fencer Lt Emma McDaniel and Eric Castellani. The gathering was also an opportunity for the National Weapon Leaders to run pre-competition and post-competition training here at the RMC salle d'armes located in the Old Gym. RMC Fencers had the opportunity to train with some top level national team athletes, which is an outstanding experience, leading up to their own upcoming OUA Championships in February.
Besides being a great fundraising opportunity for our varsity program, it was also a terrific recruiting op. The Kingston CF Recruiting group was there for two days along with the RMCC Liaison Office, who conducted campus tours, answered questions about applying to RMC and promoted the CF. There are now fencers with hopes of attending RMCC in the future, as their university of choice, because they had the opportunity to travel and compete here at the college.
RMCC Fencing would like to thank CFBK, CFRC-Kingston, RMCC Liaison Office, Canadian Fencing Federation, Ontario Fencing Association, Kingston Tourism, Blue Gauntlet Fencing Equipment and all the parent, student and cadet volunteers who helped make this major event, the Canada Cup II, an outstanding success.
Click here for photos from the event!
____________________________

RMC Running Team Puts Forward Best Performance of Season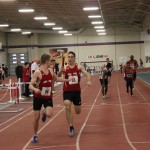 Article by 25842 OCdt (IV) Constance Aurélie Ratelle
January 2nd, the RMC running team participated to a competition in Toronto, at York university. 16 members of the team ran in 6 different categories which were 60m sprint, 300m sprint, 600m, 1000m, 1500m and 4x200m relay.
La plupart d'entre eux se sont démarqué dans leurs épreuves respectives, notamment les spinteurs qui, lors du relais, ont fourni leur meilleure performance de la saison. La prochaine et dernière compétition aura lieu le 16 février à l'Université McGill où 15 des membres représenteront le Collège.
RMCC Swimmers Compete in Ottawa…
This past weekend the RMCC swim team traveled to Ottawa to compete in the EOSA (Eastern Ontario Swimming Association) Regional Championship swim meet. This swim meet was host to some of the fastest swimmer in all of eastern Ontario as well as many swimmers striving for high level time qualifications. It proved to be a very fast competition, and forced each swimmer to push themselves to their limits as they strove to place well amongst the other 350 swimmers.
There was no shortage of amazing races at this swim meet for the RMCC athletes. Swimmers Ian Wilson (25953) and Jessica Henry (26171) posted 100 percent best times, and in some races took of 5-10 seconds, winning their heat and jumping several spots in the overall standings.
The First year swimmers on the team showed off their skill lead by Nicholas Swanson (26585) coming 4th in 50 meter Breaststroke just missing the podium and 5th in the 100 meter Breaststroke. The other first year (26715) Jean-Francois Levesque qualified for finals in several races, and posted astounding times even though only a week and a half before he had had his wisdom teeth removed side lining him from practice. Swanson and Levesque both were side by side in the 100 meter freestyle consolation final where Swanson edged Levesque by .78 seconds to win the first year show down with a time of 56.25.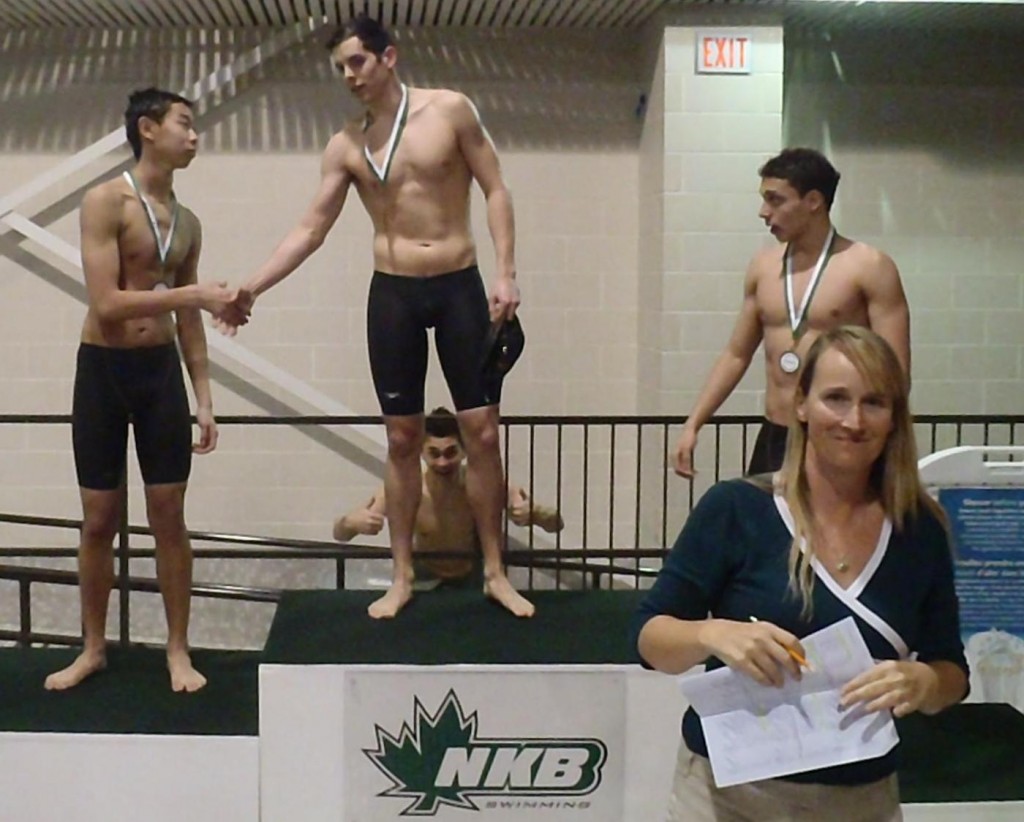 Nicholas Lightbody (s26209), (Pictured above – we are unable to identify the cheerleader between his legs) swim team captain and head coach, brought home two medals, one bronze and one gold, in the 100 meter and 50 meter butterfly respectively. Sandy Edmison (s25933) qualified for finals in the 50-meter backstroke and 100 meter backstroke and managed to go up two spots in the standings between heats and finals coming in 6th place for both races. The 4x50m Freestyle relay team managed to post an incredible time of 1:41.09 placing them an impressive 5th overall and less than a second off of a bronze medal with a highlight swim from former varsity basketball player Connor Duke (s25966) posting a 50-meter freestyle split of 25.64 seconds.
The swim competition proved to be challenging and exhausting, many swimmers racing in two sessions a day, but also proved to be very successful. The team will now go back to training in preparation for the long course season starting in April.