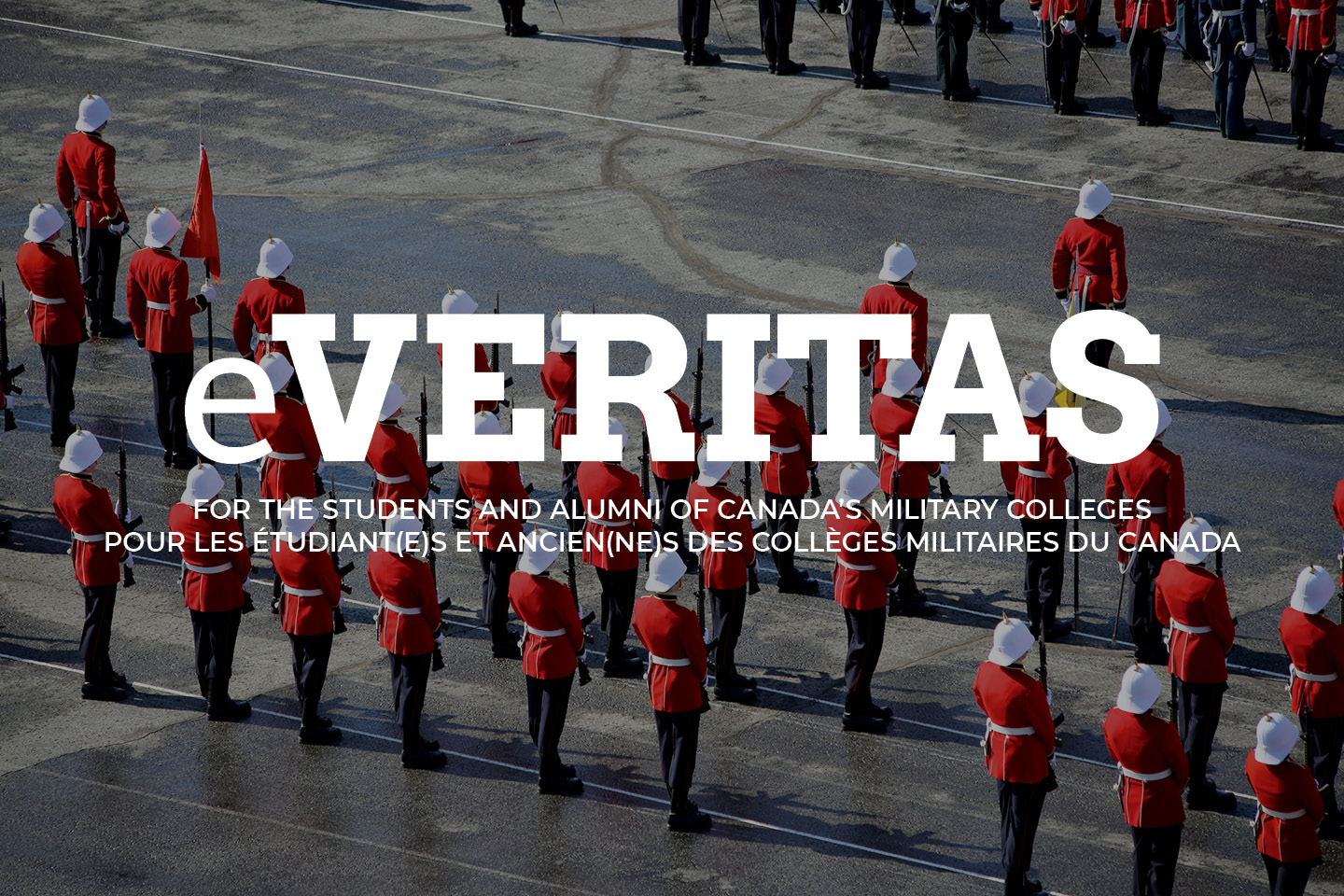 Engineering Cadets Earn Berth at National Competition
Article and Photo Courtesy of 26131 OCdt (III) Kyle Helm 
This past weekend RMCC sent nine Cadets to the Ontario Engineering Competition (OEC) to compete in the Junior and Senior level design categories. The senior design team, consisting of Third Year Cadets 26013 Ryan Perry, 26049 Evan Southern, 26208 David Boots and 26016 Justin Conroy, was tasked with producing a autonomous robot capable of finding and collecting resources (colored balls). The junior design team consisting, of Second Year Cadets 26351 Todd Bethune, 26302 Brent Kershaw, 26324 Sam Hogg and 26439 Daniel Albrecht, was given the challenge of creating a set of three fully functional wind turbines.
Our senior team managed to place second in the competition earning them an invite to compete at the national level. Unfortunately our junior team did not place.
Both teams represented RMCC in a very professional and impressive manner, earning the College much esteem with students from other schools as well as the judges of their respective competitions and members of industry. James Wilkinson, a HATCH senior engineer and Mechanical lead in the Greater Toronto Area and a speaker at the OEC awards banquet, was particularly happy to see students from RMCC at the competition, and expressed a wish to see the OEC held at RMCC in the years to come.
As a result of our participation in this event we have been enthusiastically encouraged to send delegates to more events within the engineering community, and have been approached by members of the OEC advisory board on the topic of RMCC potentially hosting the OEC in the future.
_____________________________________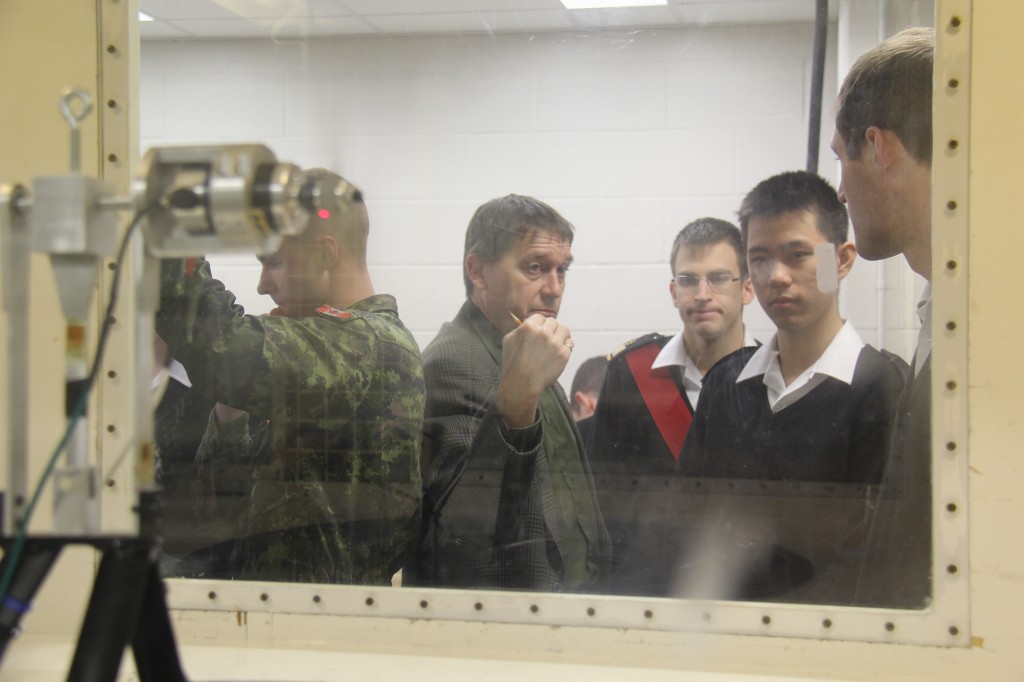 College Wind Tunnel Back In Business
RMCC's wind tunnel is back in operation for the first time since its closure in 2011. Over the course of the renovations to Sawyer Mod 1, the drive system seized, rendering it inoperable. Through the efforts and support of various members of the College community, the approval of unforecasted funds, contracting, shipping and receiving, customs, on-site troubleshoots and repair, the wind tunnel was finally returned to service. Aeronautical engineering students used the tunnel to test propellers for their Air and Space Propulsion course.
_____________________________________

"The Historical Problem With Military Culture"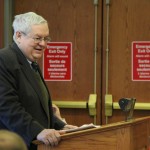 Dr. Williamson Murray, Minvera Fellow at the Naval War College in Newport, Rhode Island, delivered this year's Thompson Memorial lecture in front of a relaxed crowd in the Cadet Formal Mess this past Thursday evening. Dr. Murray, who spent a year in South East Asia during the Vietnam War, used his own experiences and his extensive research background to examine military cultures throughout history; he touched on the Union Armies of the American Civil War, the German Army of the early twentieth century, and the United States Navy of the interwar period.
Dr. Murray highlighted a similar problem in all the military cultures he touched on, he put described the problem most eloquently when referring to his own experience. "After Vietnam," he said, "we [the United States] didn't think we could make the same mistakes again. In the Iraq War, in the years following the 2003 invasion, we repeated every single one of those mistakes. You either learn from the past or you learn from body bags."
Oliver Smith Off to Gagetown in the Ranks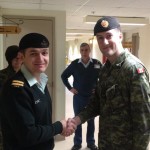 Last Friday, February 8th, OCdt Oliver Smith was relinquished to the rank of private by the staff officer of careers, Capt. Besmir Shurdha, in Currie Building. Looking on in the background is Warrant Officer Jim Harper from Military Training Wing.  Pte. Smith will be posted to CFB Gagetown later this month to begin his training as a combat engineer. Best of Luck to Pte. Smith in his new career. (Photo by JMH)
xxxx
Click on photo for better viewing
_____________________________________

Peer Assistance Group Hosts LGBT Panel
Article by 26437 OCdt (II) Mark Adams
Photo Courtesy PAG
This past Wednesday, January 30th, the RMCC Peer Assistance Group (PAG) hosted a panel discussion on LGBT (Lesbian, Gay, Bi-Sexual, and Transgender) questions within RMCC and the Forces. The event was open to the entire Cadet Wing and was designed to provide useful information and resources in support of Cadets struggling with their sexuality and gender identity as well as their friends and supporters. The intent was to open discussion on issues that are generally unaddressed, by providing an open forum in which to ask questions without worrying about unintentionally causing offence.
The panel consisted of several CF officers, RMCC professors, NCMs, and former and current RMCC Cadets. The primary themes of the event were helping Cadets support one another while dealing with issues such as coming out, and addressing common questions that get asked by and about people who identify as LGBT. One of the panel members identifies as transgendered, which provided a great opportunity to learn about issues that many Cadets have never been exposed to. In the end, the event was successful in encouraging open discussion about LGBT questions and educating members of the Cadet Wing.
Mercredi le 30 janvier, le Groupe d'assistance aux pairs du CMRC a organisé une discussion sur la question LGBT (Lesbienne, Gay, Bisexuel(le) et transgenre) à l'intérieur du CMRC, et des Forces Canadiennes. L'événement était ouvert à l'escadre entière, et a été créé pour transmettre des informations utiles et des ressources afin de supporter les Cadets aux prises avec leur sexualité ou leur identité de genre. L'intention était d'ouvrir la discussion sur des sujets généralement non explorés, en fournissant un forum ouvert à tous les étudiants, où ils pouvaient poser des questions sans s'inquiéter d'offusquer quelqu'un.
Ce panel impliquait plusieurs officiers des FC, des militaires du rang et des étudiants ou d'anciens étudiants du CMRC. Les thèmes principaux de l'événement étaient pour les membres du GAP de supporter d'autres Cadets qui vivent certaines difficultés comme essayer d'admettre sa sexualité publiquement et d'adresser les questions souvent demandées au sujet des personnes qui s'identifient sous le titre LGBT. Un des membres du Panel était même transgenre, ce qui donnait une excellente opportunité aux Cadets d'en apprendre un peu plus sur un sujet auquel ils ne sont pas souvent exposés. En fin de compte, l'événement a été un grand succès, encourageant la discussion ouverte sur les questions LGBT et aidant à éduquer les membres de l'escadre des cadets à propos de ce sujet.
_____________________________________

Les Élofs font des Présentations à la Conférence de la Littérature Française
Article et Photo par Élof (IV) Constance-Aurélie Ratelle, Élof des Services d'Information de l'Escadre
Le mercredi 6 février dernier, le collège de St-Jean fut hôte d'un colloque étudiant en littérature française. Organisé en collaboration par Mme Anne Caumartin et Mme Soundouss El Kettani, quatre étudiants de Kingston soit Alexia Croizer, Catherine Houle (en remplacement d'Ariane Philippouci), Marion Agier, Fanie Simard et Constance Aurélie Ratelle et 2 de St-Jean-sur-Richelieu, soit Marie-Claire Pharand et Samuel Brière, y ont présenté des communications sur divers sujets notamment, la politique, la vertu, l'immigration et le roman. Cette première édition du colloque sera une expérience à répéter dans les prochaines années puisqu'elle offre la chance aux étudiants de partager les fruits de leurs recherches et permet à ceux qui désirent poursuivre leurs études au cycle supérieur, d'expérimenter l'univers des colloques, passage obligé au niveau de la maîtrise et du doctorat. Cela va sans dire que la journée dut une réussite sous tous les aspects.
_____________________________________

Cadet Wing Talent Show a Rousing Success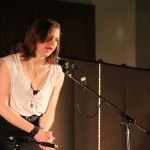 With the excitement and challenges of starting the winter semester behind them, the Cadet Wing always looks forward to the annual Talent Show. This evening of laughter and wit, music and comedy, typically provides a welcome respite from the mid-winter blues, and this year's show was no exception. On the evening Friday, Feb 1, under the direction of 25927 OCdt Rikki Bell, Cadet OPI,the rock bands, pianists, improv artists, poets and dancers had the audience, including BGen Eric Tremblay and LCol Patrick Lemyre, laughing til they cried and then on their feet with appreciation. This year's Masters of Ceremonies, 24554 NCdt Francis Montagnese and 26202 OCdt McKayla Couch delighted as well, even provoking a smile from the Director of Cadets with the ever-popular "Top 10 Reasons to Get 4's & Gators."
The hi-jinx was all for a good cause, as well; $1100 from ticket sales went to Soldier On.
Click for more of the Talent Show and the Week That Was.
Photos from the night (click to enlarge):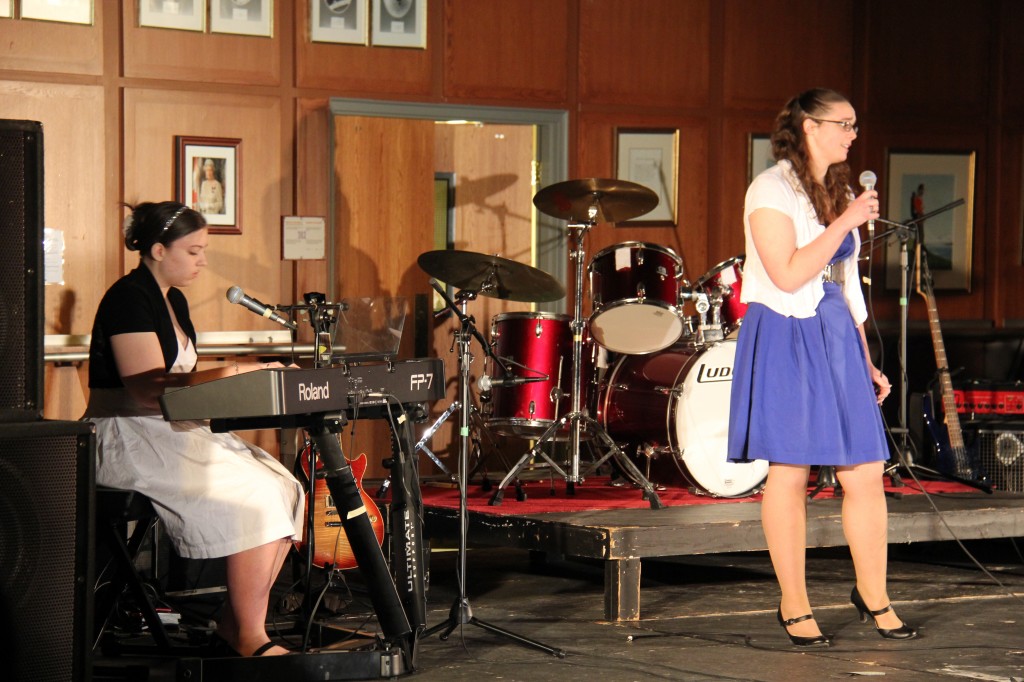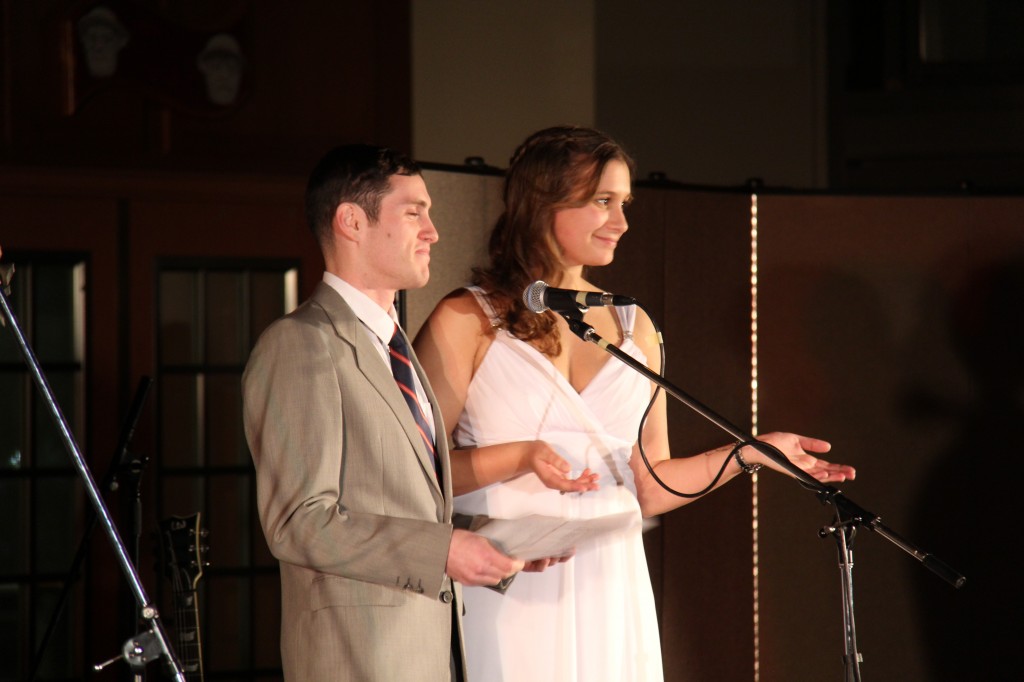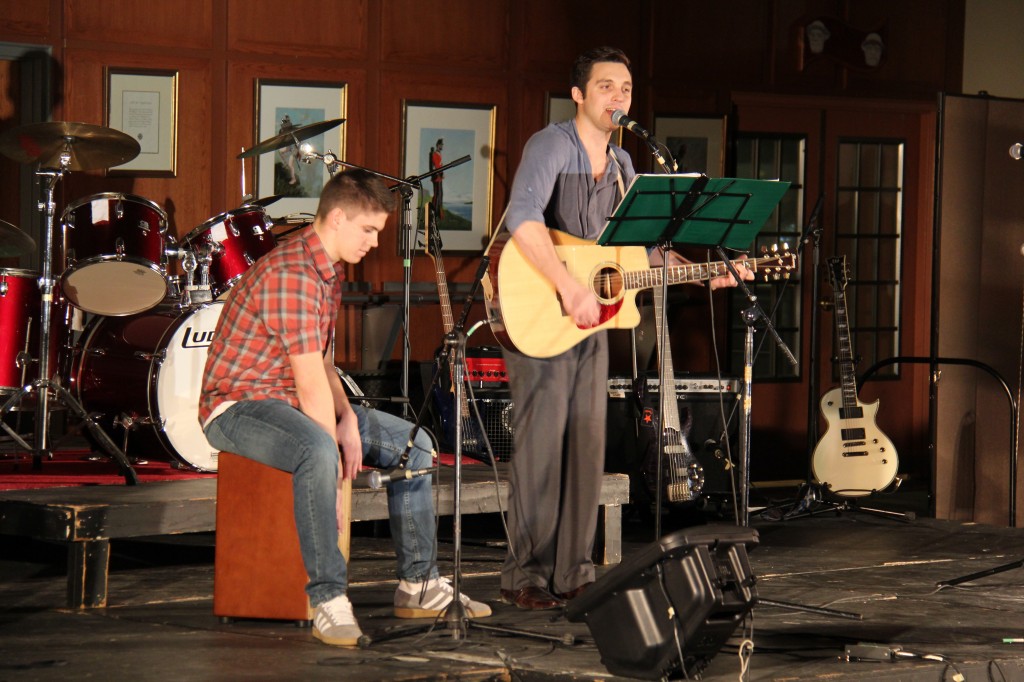 Unless otherwise indicated, photos and articles by 25366 Mike Shewfelt.